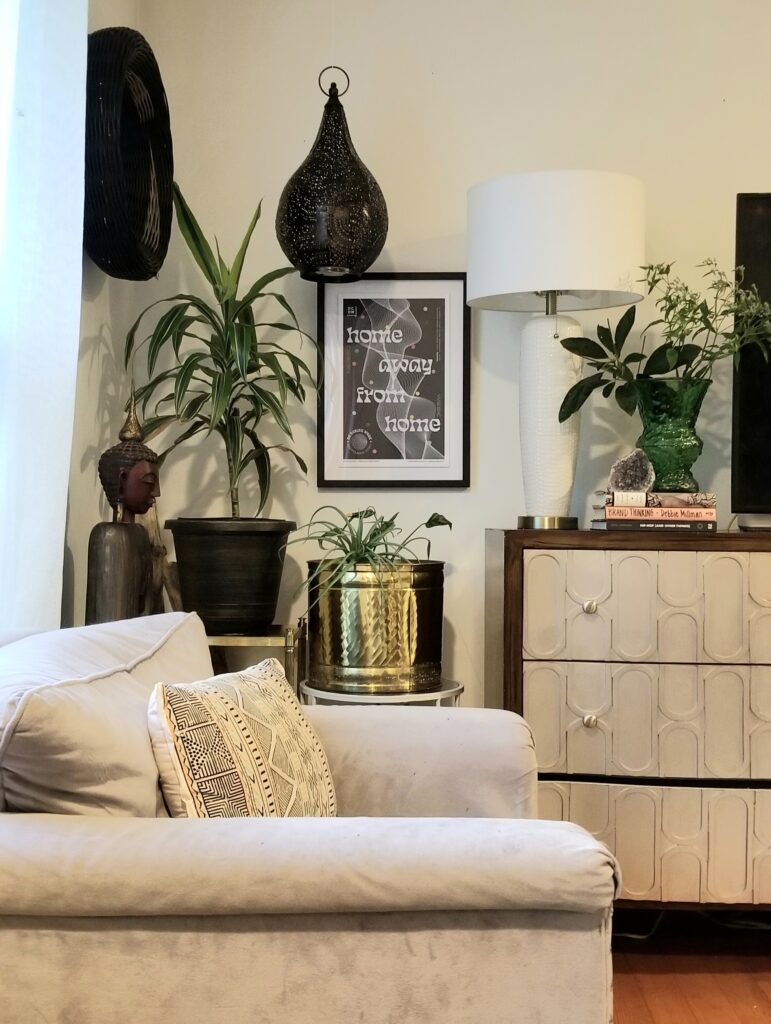 I recently challenged myself to a Goodwill shopping trip with a $25 limit on my spending funds. I took the opportunity to do this fun challenge in preparation of National Thrift Shop Day which was on August 17th. Let me start by saying, Yay for a national day to highlight local thrift stores! I didn't even know such a glorious day existed:) My goal for this trip was to purchase items to finish a little reading corner in my home. I had existing pieces already in this space from other thrifting trips throughout the years. I just needed a good décor package to complete the space.
Here are some tips to keep in mind when curating a décor package for a room:
Know what you like [have an idea of textures, patterns, and the style you like]
Bring Measurements with you [Especially if you are looking to fill a specific space on the floor or wall]
Have a color palette in mind [what colors will play nicely with each other. What wood tones do you tend to gravitate towards and what kind of metal finishes excite you]
Keep your eye open for small and larger items to fill the room [Layering is key for a designer and well-balanced look]
Remember to keep the same materials and colors consistent throughout to create a cohesive look [up to 3 colors is your best bet, plus the addition of wooden tones and metals]
Now that we know the general rules, it's time to go shopping! I visited the DC Goodwill on South Dakota Ave. I love visiting this location because it is always getting filled with fresh new finds each and every day because it is one of the main donation center locations in the area. Plus the staff there feels like family and they always treat me with special care and attention.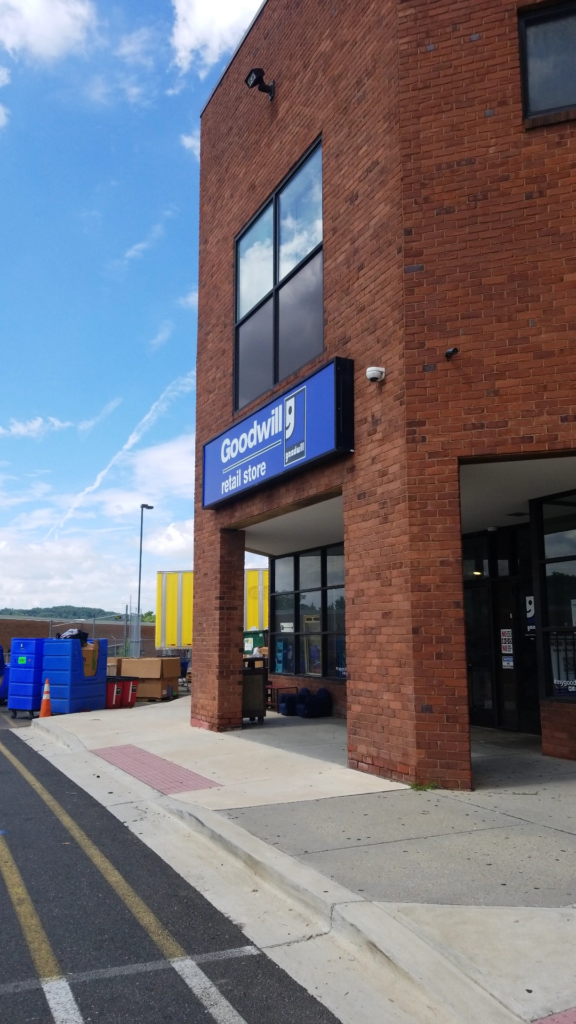 Here are some of my favorite sections I love looking through when shopping for a décor package at Goodwill:
The Art Wall Section (for unique art, mirrors, and frames)
The Linens Section (for pillows, fabrics, and curtains)
The Housewares Section (for vases and home décor)
The Book Section (for good reads and coffee table books)
The Basket/Wooden Section (for storage baskets and unique natural weave items)
The Electronics Section (for Lamps)
The Furniture Section (for one-of-a-kind accent furniture, smaller pieces included)
The first section I checked out was the art and book section.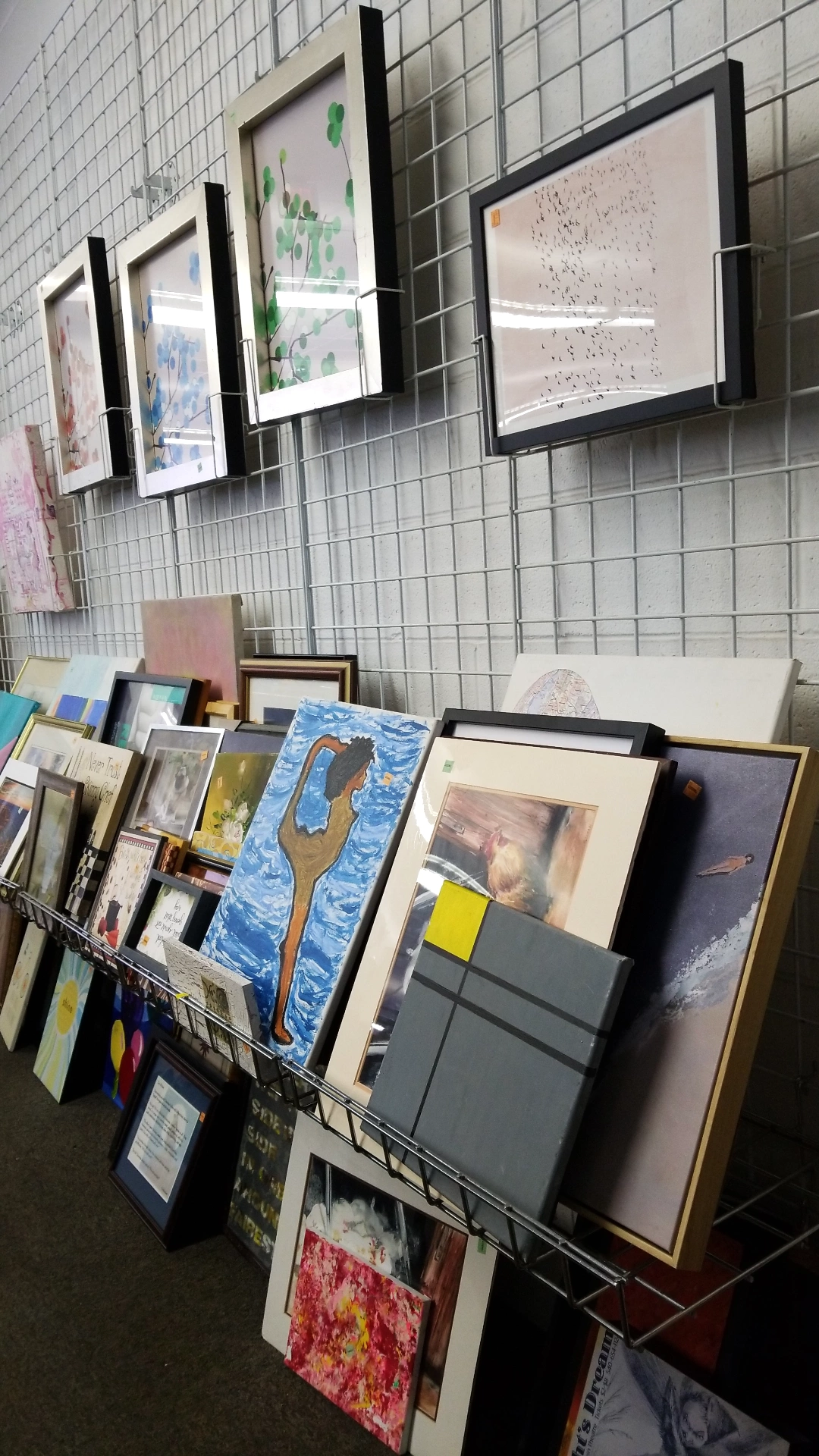 Here I found a unique framed graphic art that was designed by a local DC artist. The piece is titled, "Home away from Home" by Zar Dela Cruz. I gravitated towards it for the fun shapes and title but also because it was made specifically for DC Design Week back in 2020. Which I attend every year as a Designer, so that was exciting to come across. It was custom framed by Framebridge and found at Goodwill for only $5.99.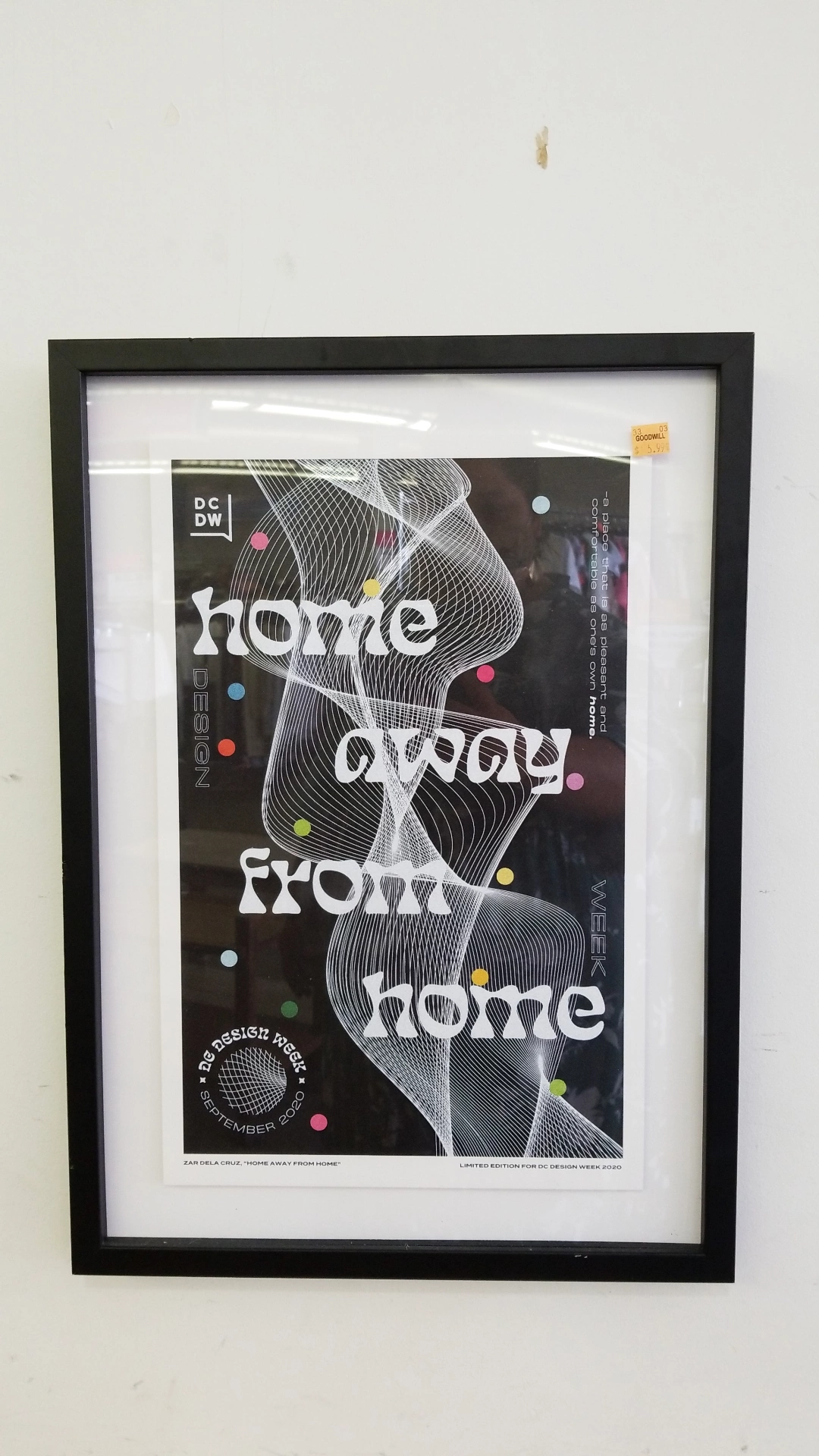 Next, I found 3 very cool books! I chose them because of the titles, the fun colors, and the graphic shapes on them. I can't wait to study and read them. The best thing is that two of the books were 75% off because they were marked with the sticker of the week, Lavender. Originally $1.99 and I only paid $0.49 for each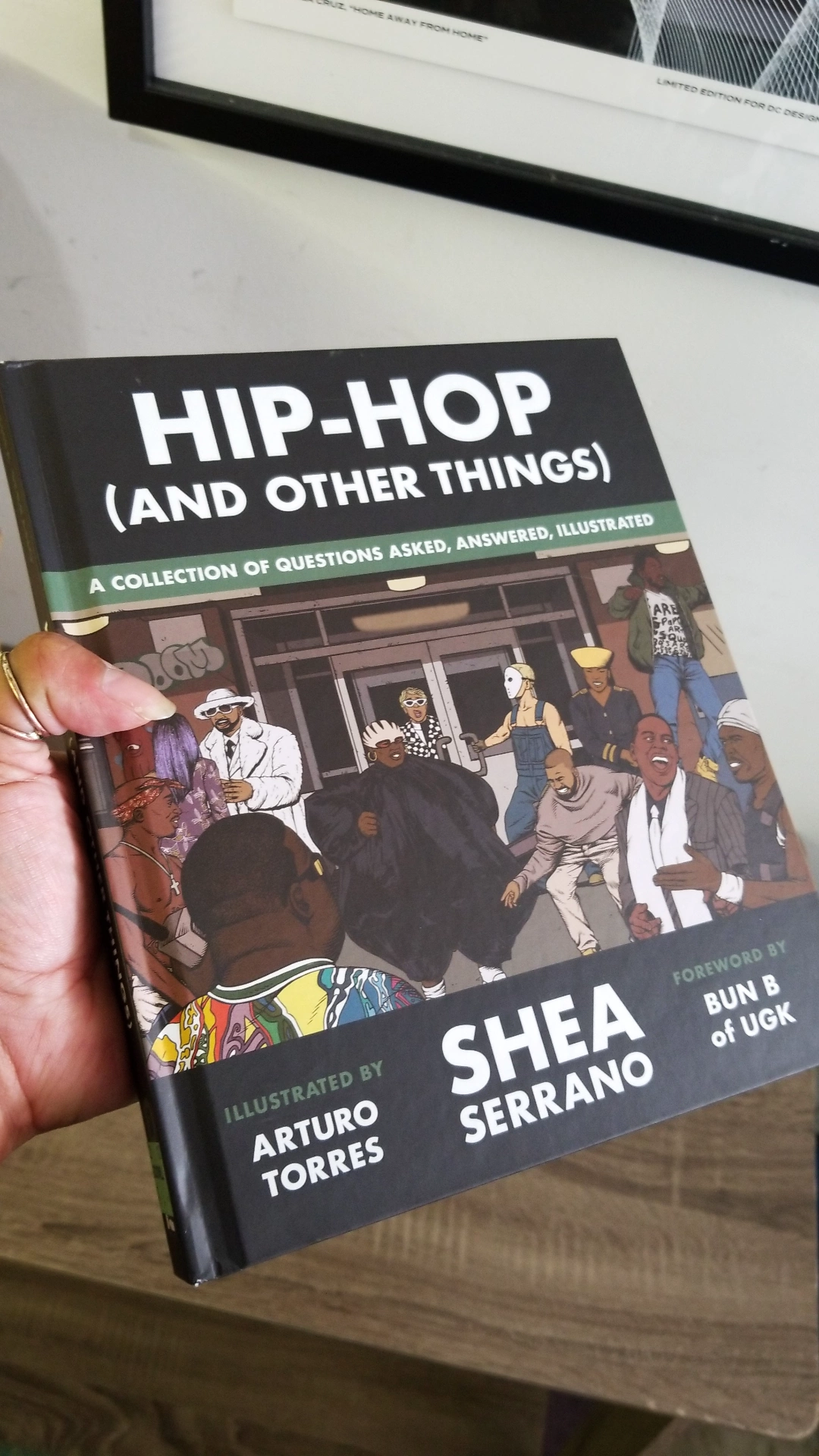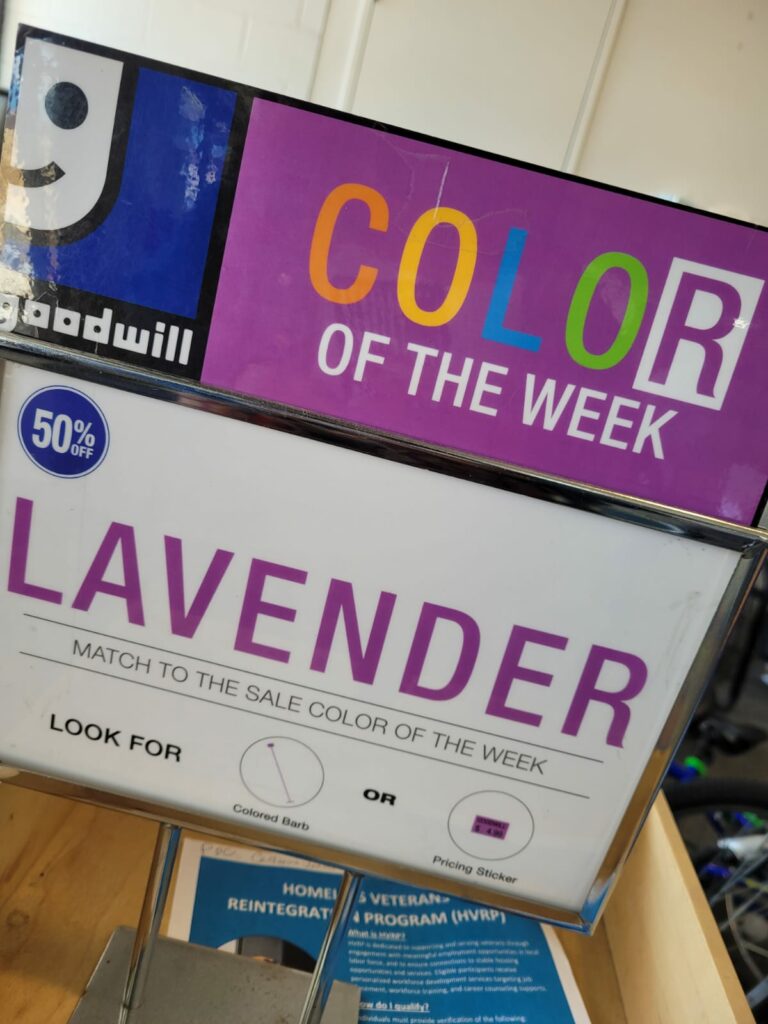 I then stumbled across a gorgeous metal etched hanging lantern for only $4.99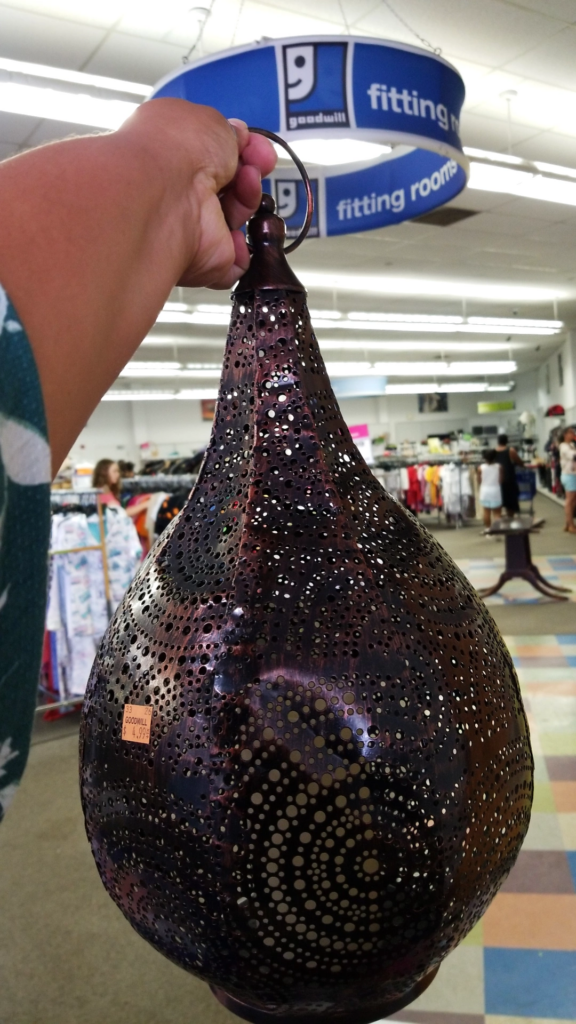 Next, I found a beautiful green glass vintage vase for only $1.99 and a pillow for $.99.
I also grabbed a set of 3 vintage handmade pottery bowls from France. Each for only $.99
They weren't a part of my vignette but I really had to have these because they were so intricate and beautiful.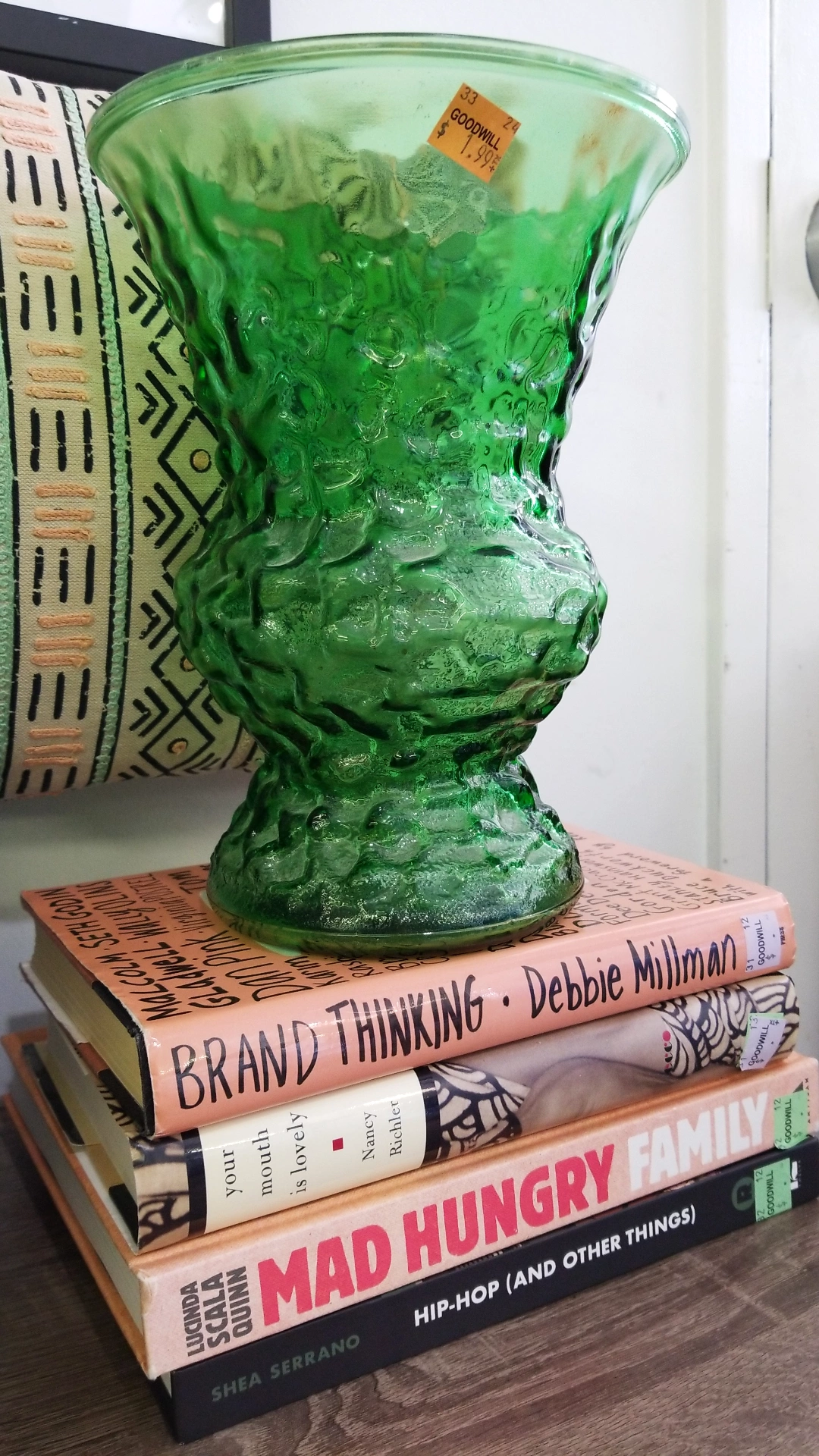 And the last piece to complete my vignette was this beautiful large hand-woven rattan basket with a top for only $6.99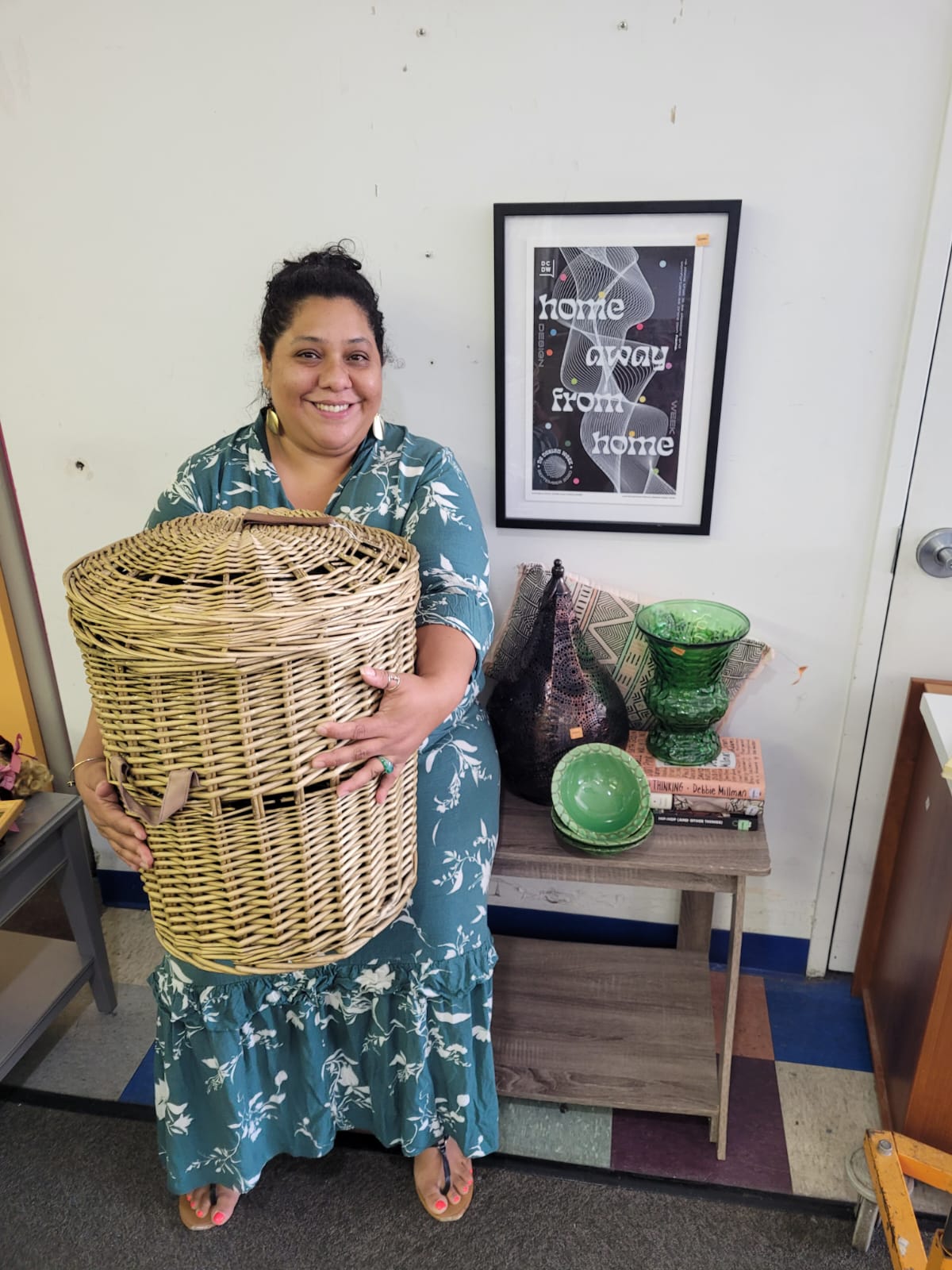 This home décor package went from the store straight to my home. See the before, after, and vignette pictures below:
Did I beat the challenge you ask? Well technically yes I only spent $25 with some added change, haha. My total came out to $25.36 with tax for all these incredible finds. But I didn't stay under $25, regardless it was a fun challenge and I still felt like a winner!!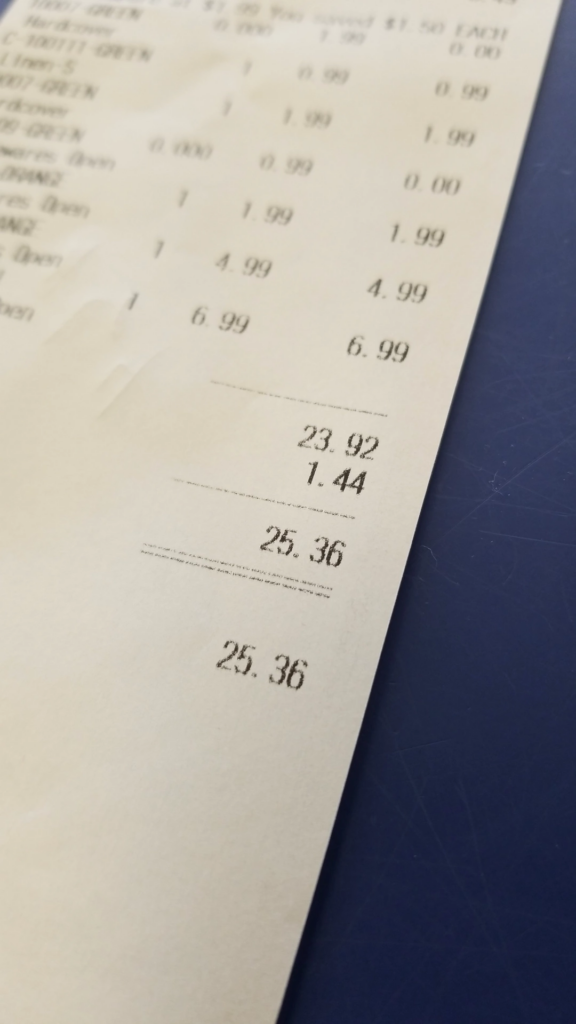 It was time to say goodbye to the incredible Goodwill employees! They were all smiles and loved the challenge themselves!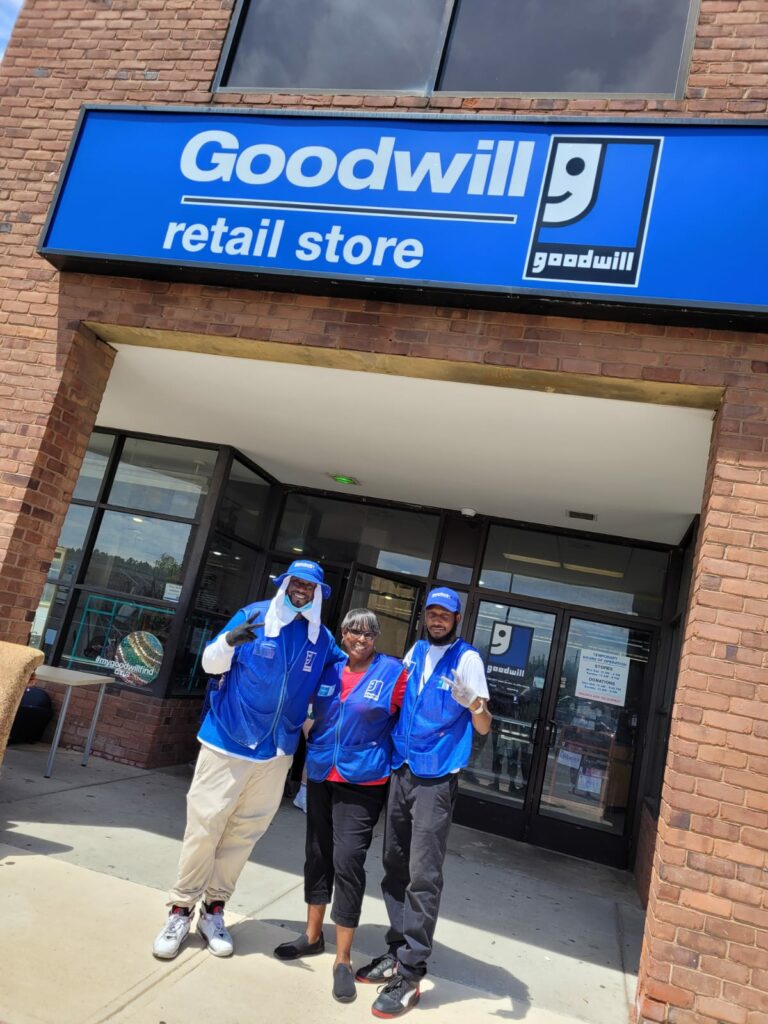 Once I got home, it was time to put it all together. The first thing I did was I went foraging in my backyard for summer greens to throw in the vase. Next, I hung up the art and lantern!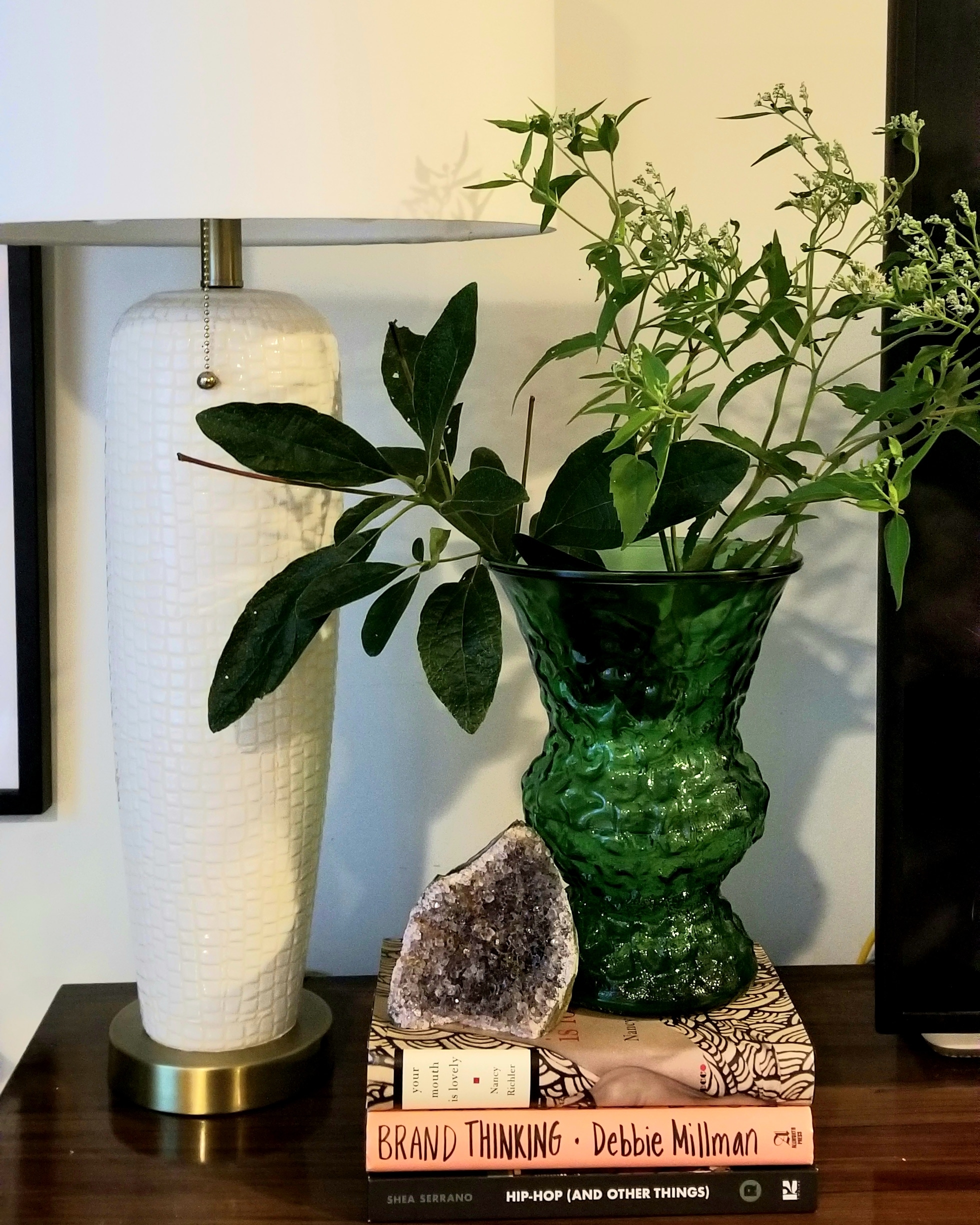 I then placed the pillow on my chair and the basket next to my chair to store blankets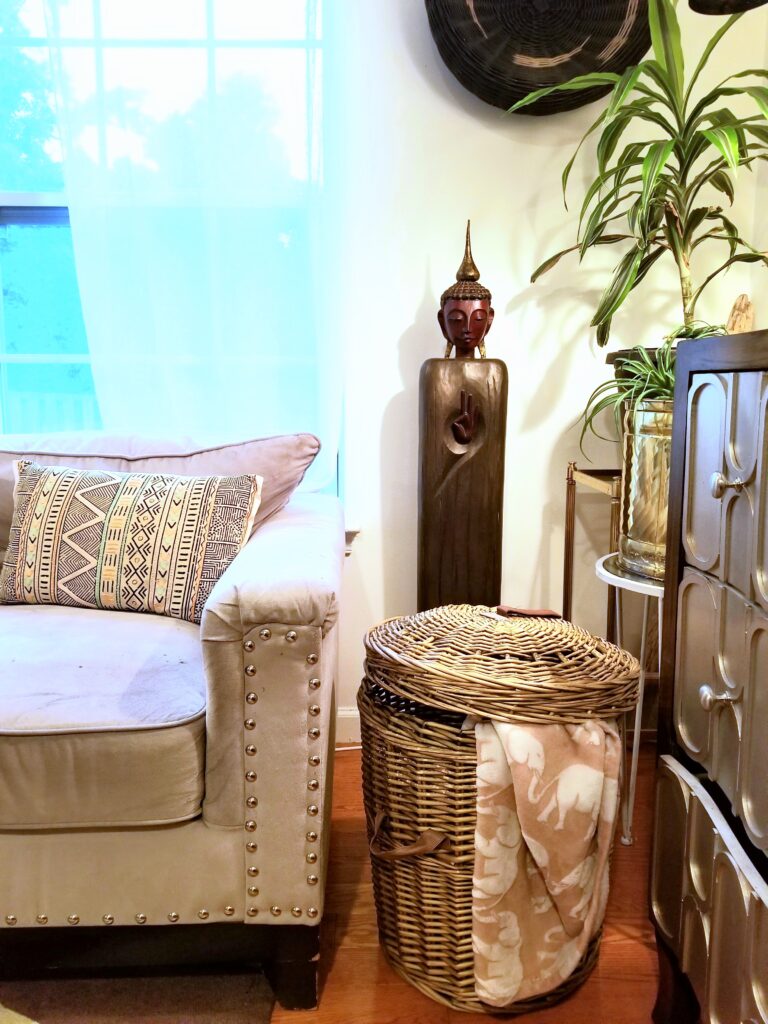 And that is my home décor curation story on the day of my thrifting challenge! I had such a blast that day as you may have seen on the Finding Your Good Instagram reels. I hope you have a better understanding of how to curate your own décor package! I encourage you to do this fun $25 shopping challenge at Goodwill next time you are there.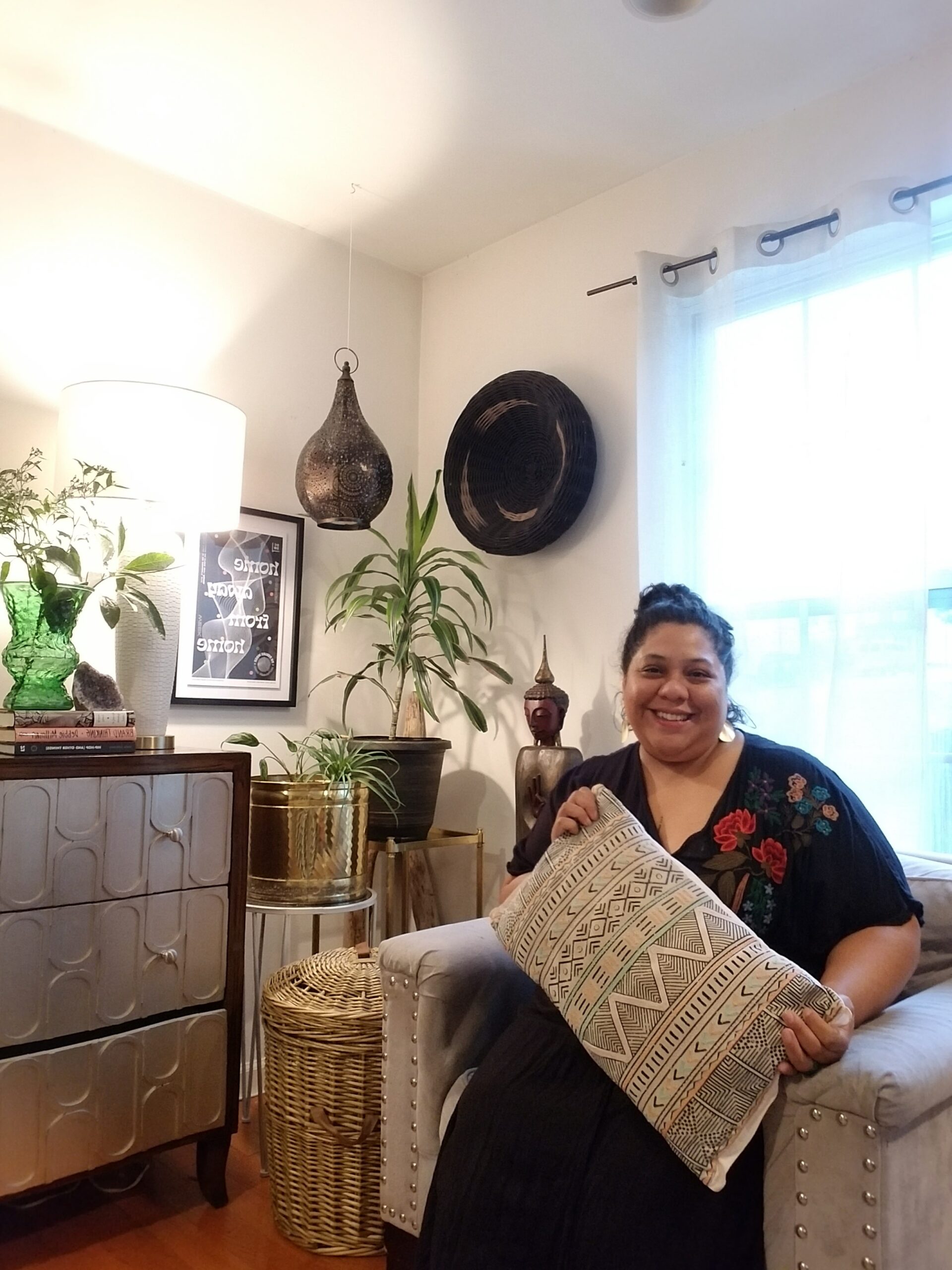 Thank you for following along this month! Until next month my thrifty home décor enthusiasts!
Love & Design,
Cat Guerra
About our fabulous blogger: