Let's get physical, fashionistas!
Today's #MyGoodwillFind look will keep you stylish and cozy while running through the sunny streets of DC (before it gets way too hot!). The temperatures are rising, but a nice evening run around 7-8 still looks promising.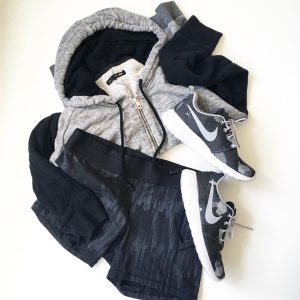 For the top of this Goodwill look we have a size medium, comfy, soft gray and black, paneled hoodie by Rag and Boone. It has a silver zipper with dark metal hardware on the ends of the hood strings. This sweatshirt originally sold for $100+.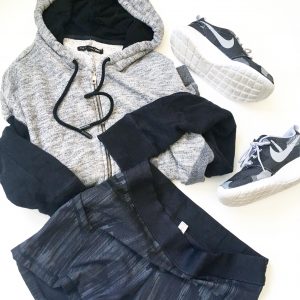 Whether you're engaging in an indoor or outdoor physical activity, a well-made, stylish, and practical hoodie is a necessity. It's the perfect piece to keep away the chills and to store your phone and headphones in while on the move.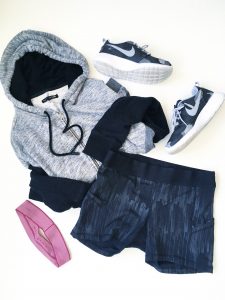 Along with this hoodie, we have these amazingly comfortable, stretchy, elastic, black Lululemon fitness mini running shorts in a size 8. The fabric has a subtle, grayish, pattern but the elastic waistband is a solid black with "Lululemon brand" written on the exterior. At full retail, these would have sold for at least $60+.
I know these shorts are on the mini side. If you wouldn't want to wear them by themselves you can always pop them under a skirt or over leggings.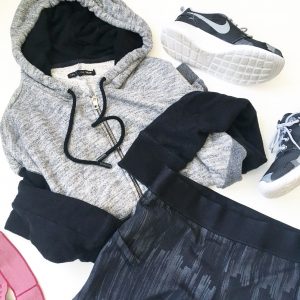 To tie this sporty look together you can easily find a pair of hip running shoes and a headband at any DC Goodwill store.
Although the shoes in today's look are my own, I've seen similar pairs sold for $10 at all my favorite Goodwill locations. Even though I've styled today's look, including the Nike patterned shoes, to be monochromatic, a pair or colorful athletic shoes, headband, or storage tote bag can add another layer of visual interest to your look.
When I'm out running, I prefer to add in mini pops of color to my ensemble because I like to look a tad stylish, even while sweaty! Who says you can't look cute while trying to live a healthy, active lifestyle?!
How would you style today's #MyGoodwillFinds, fashionistas? Would you keep the look monochromatic or add in some bright colors?