Here's One More Halloween Upcycle Before the Big Night: Create Creepy Collectibles
Does anyone really collect those little statues and tchatchkes anymore? These collectibles won't collect dust — but will attract cool creeps when you transform them into eye-bulging, chill-enducing Halloween decorations. These aren't your Grandmother's little knick-knacks anymore—unless she's the Bride of Frankenstein, that is!
Age level: Older kids, teens and adults
Time requirement: 30 minutes each, not including paint drying time
Items needed:
1. Various figurines
2. Black spray paint, flat finish
3. Craft paints, red, white, green, purple
4. Fine point belt tip pen/marker, black
5. Small detail paint brushes
6. Drop cloth
Cost: $8 per piece
$3 per collectible
$5 for spray paint
$3 for craft paint

Step 1: Get your grim reaper going on at Goodwill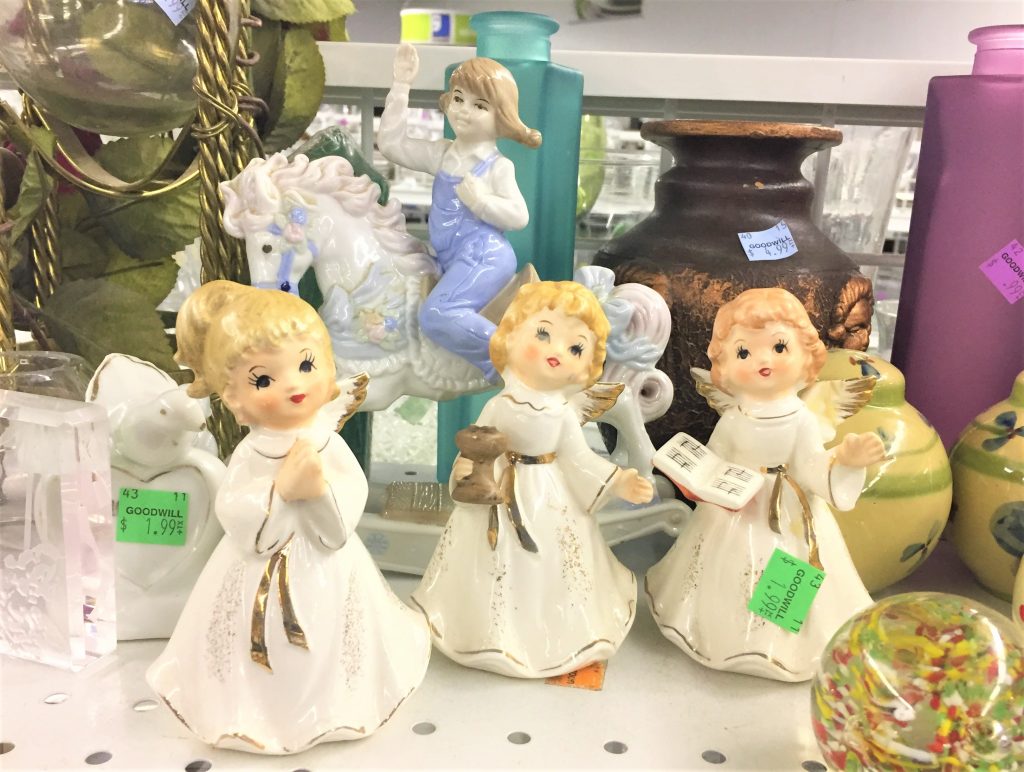 Halloween is just hours away so hustle on over to your nearby Goodwill store and make a b-line to the Housewares section.
Look for the area where those small decorative items await you and others. Hopefully, you will be lucky like me and find a variety of little statues and other collectible items to transform for this spooky project.
It's kind of ironic that these very cute little figurines will be turned into something rather ghoulish!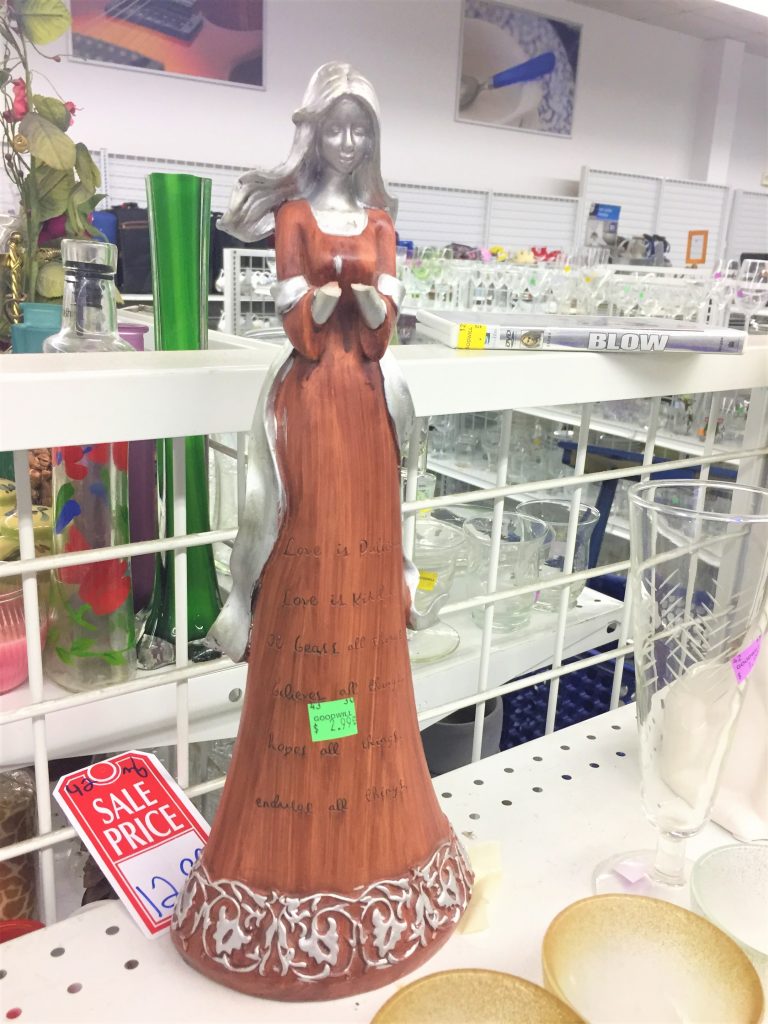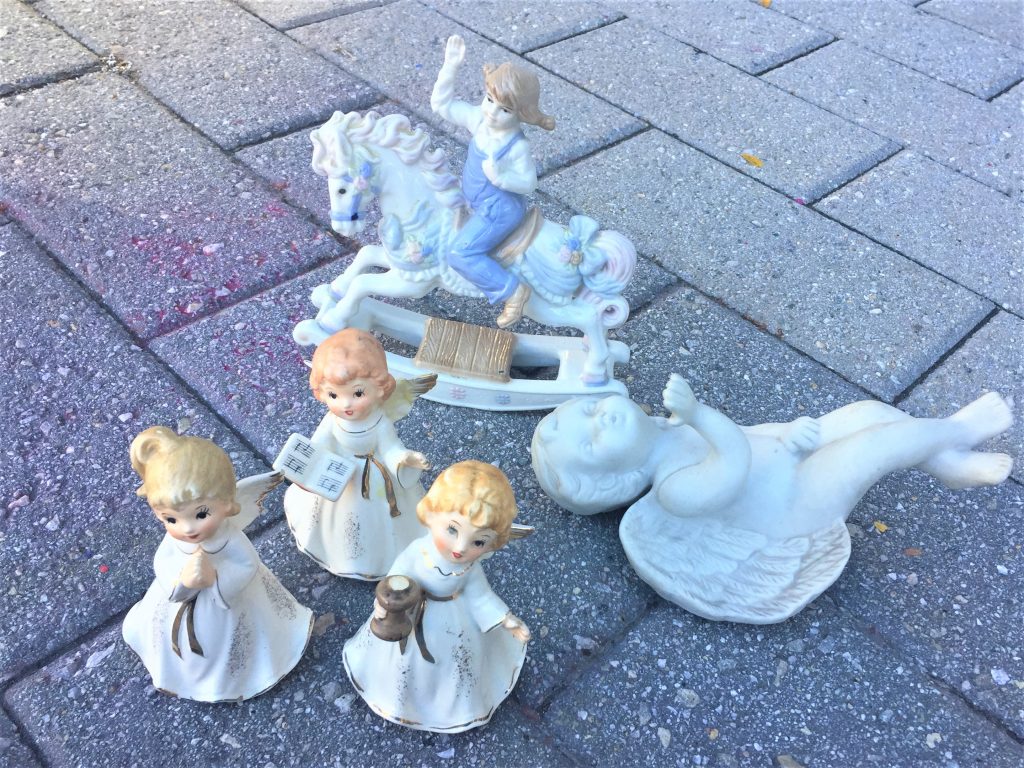 Step 2: Spray away the adorableness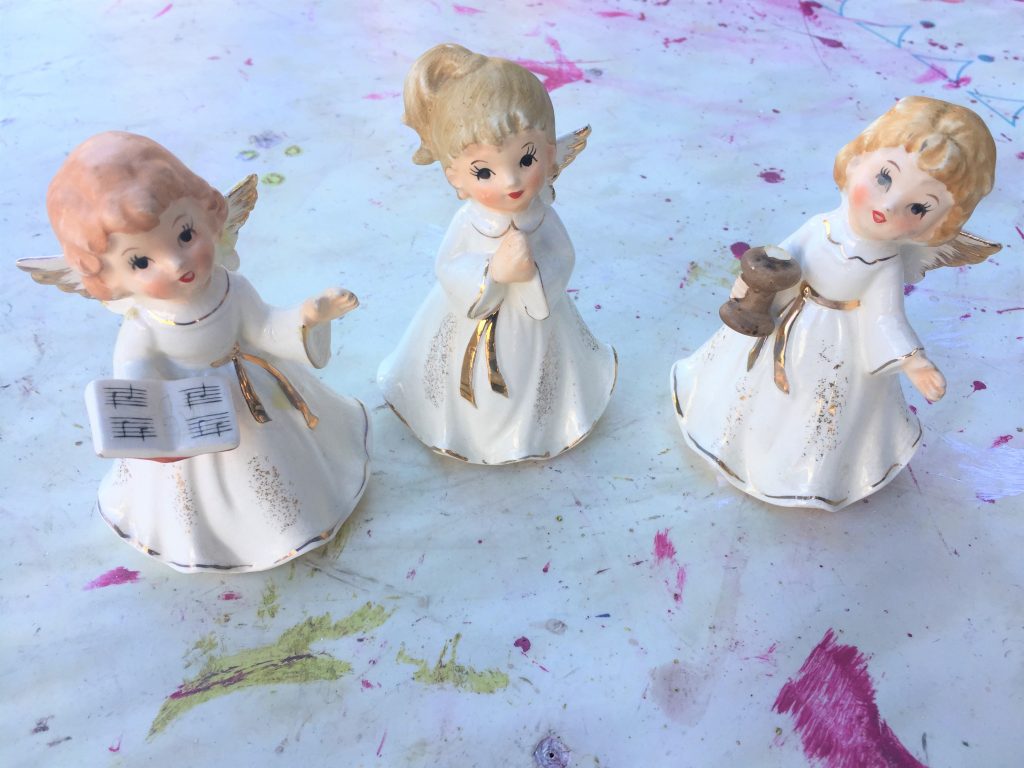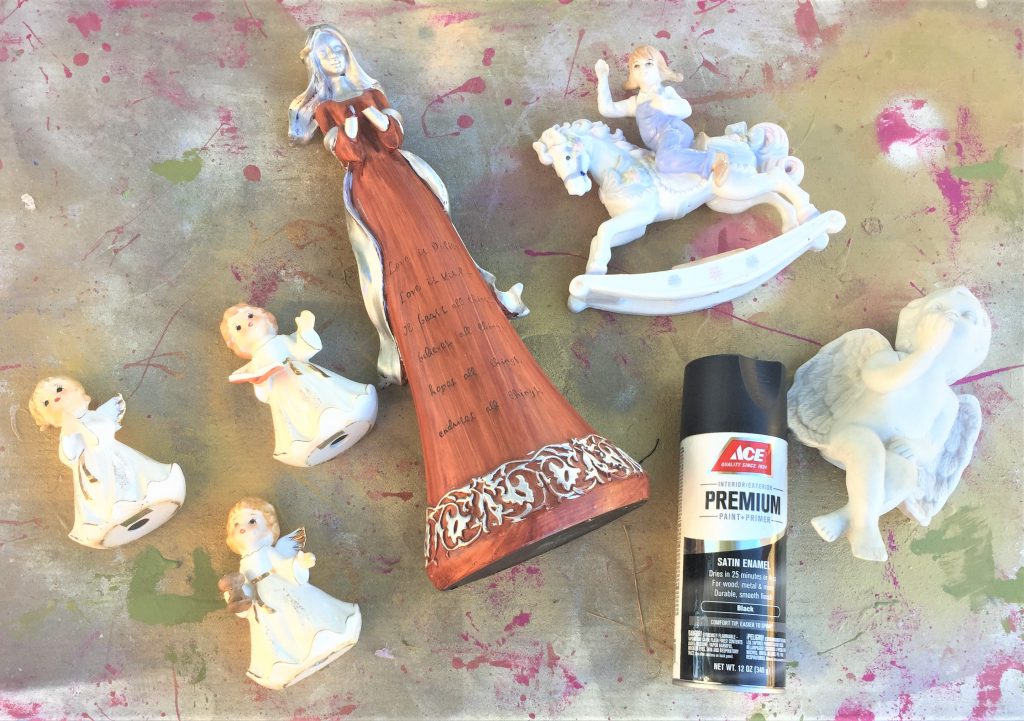 Either outside or in a well-ventilated area, place your collectibles on a drop cloth.
With your can of black spray paint, add a light layer to all pieces, working to get all visible angles and sides.
Let them dry for a while, following the directions on the can, then turn them over and spray paint to the other side.
Repeat this step until each item is totally black from top to bottom.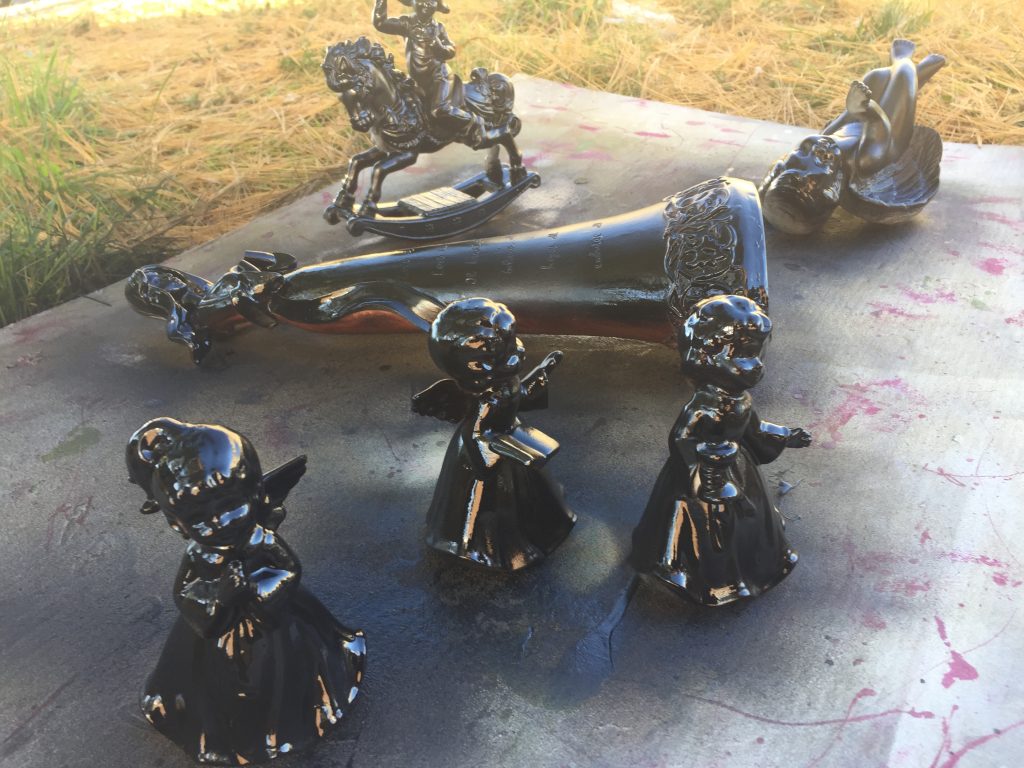 Step 3: Brush on the horror
Okay, maybe I watched too many scary movies growing up and it impacted my perspective, but this step is sooo much fun because it brings each piece to life—or should I say after-life?
Based on your item's design, you might want to paint in some scary skin.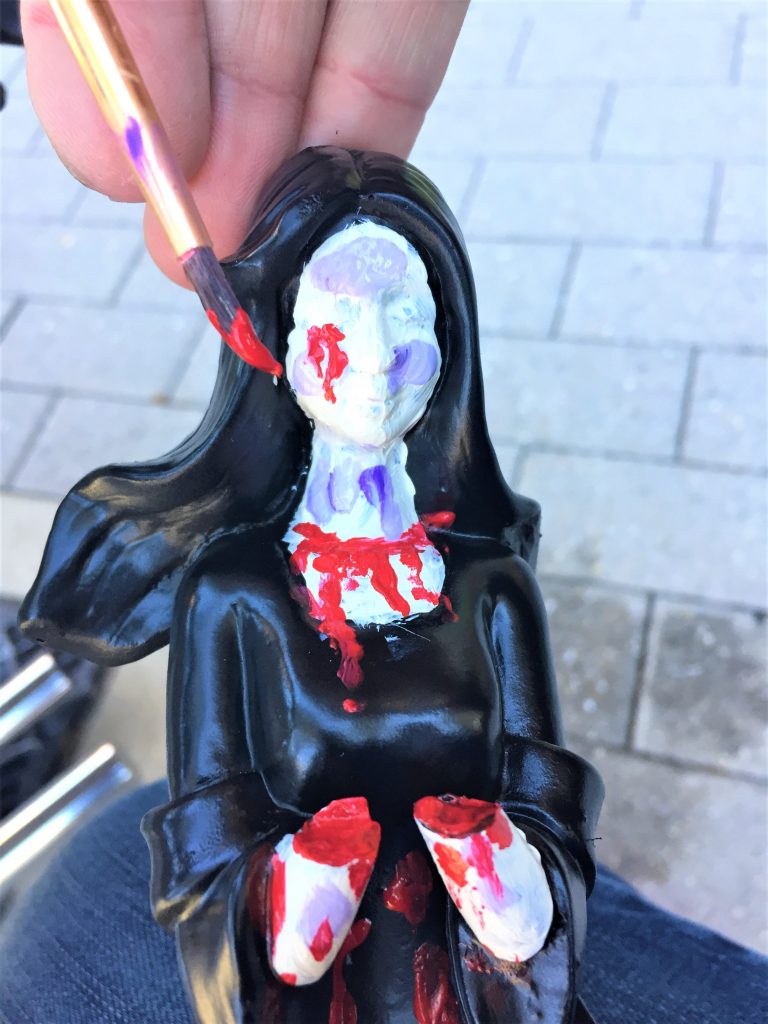 Consider a stark, lifeless white or moldy green color.
Don't forget the eyes—paint them red or green to make them look totally spooky.
Next, paint in "blood" with more red craft paint. Maybe color in red tears. What about painting in a gash around the neck?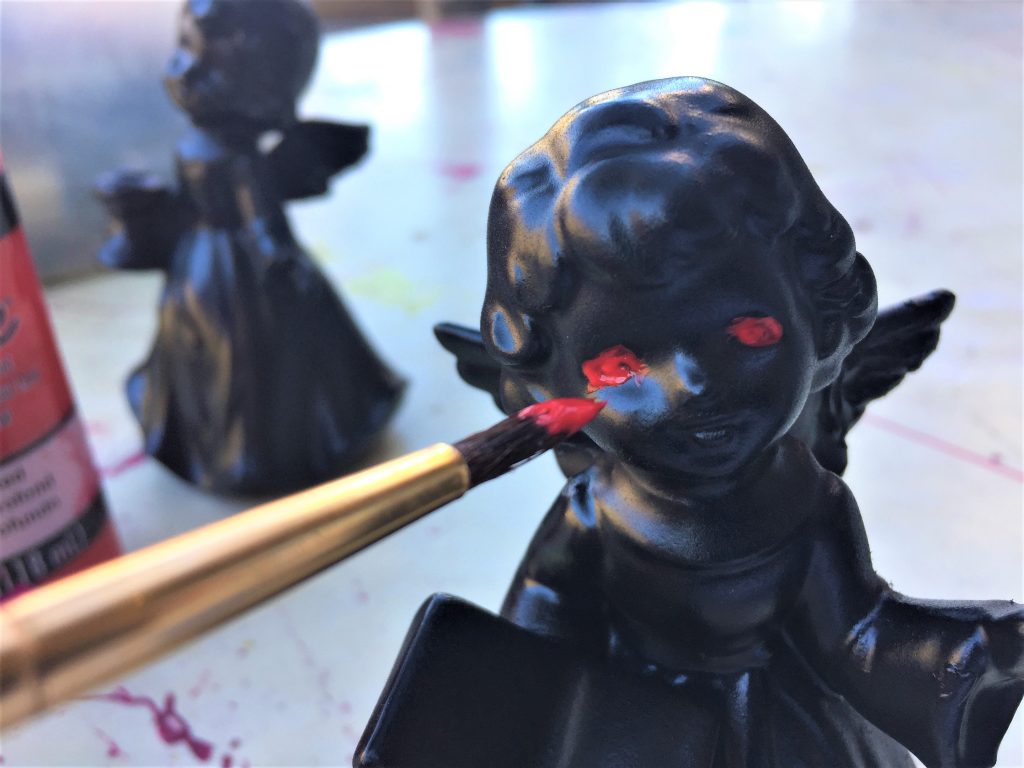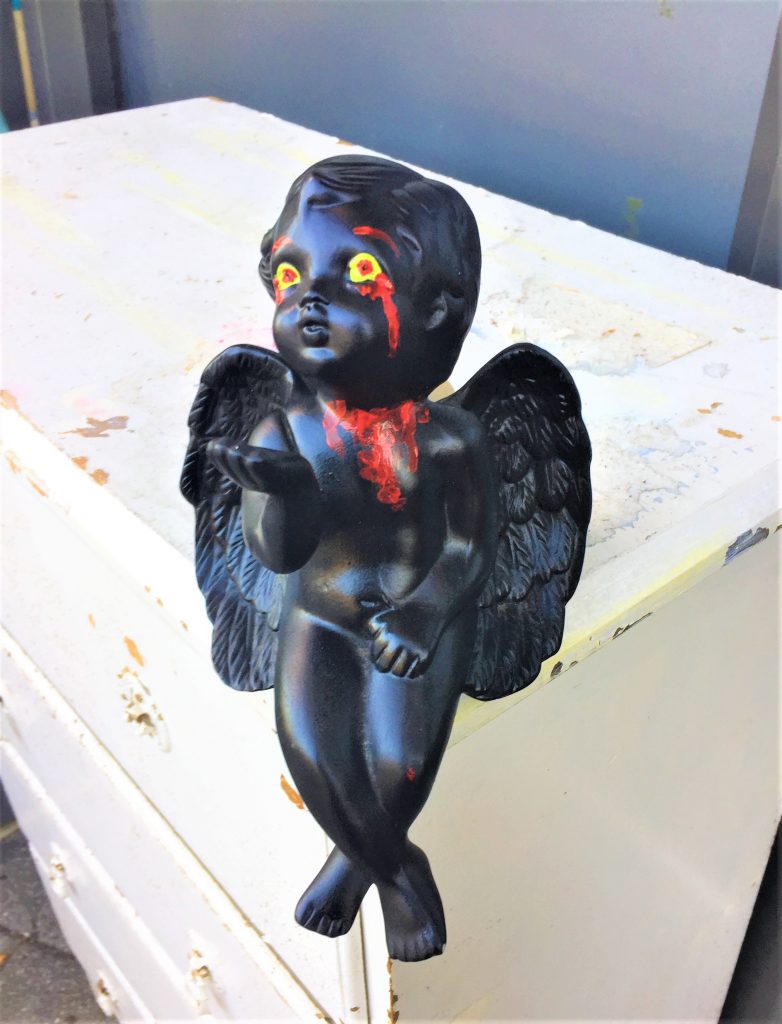 Dive right in and don't get squeamish!
Step 4: Draw in deathly details
After the paint has dried, use a fine point black felt tip pen to add eye lashes, eyebrows and lips.
Draw in scars as you are moved to do so. This last step can be tedious so take your time and enjoy the Transylvania-inspired transformation process!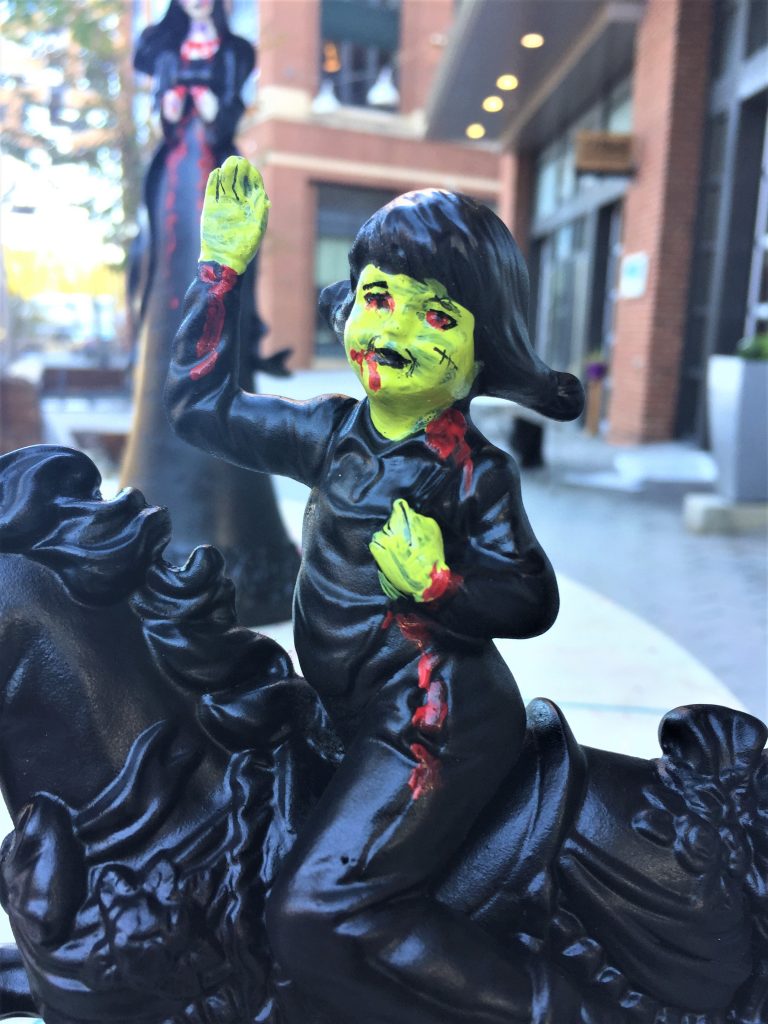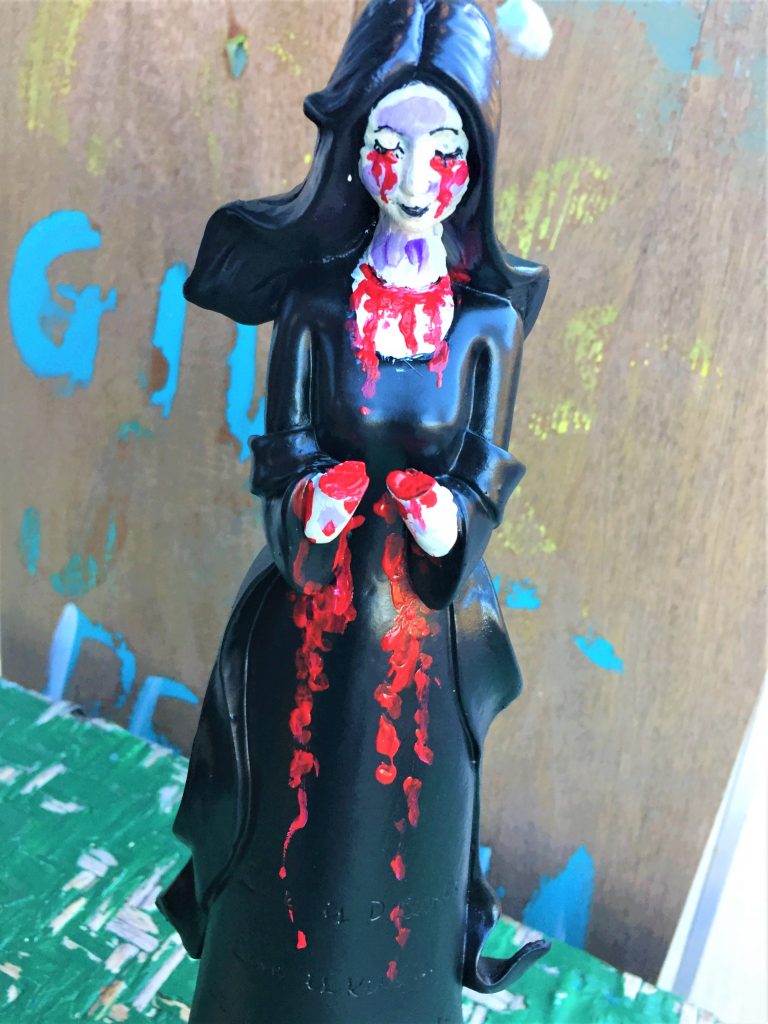 Step 5: Showcase your collection
Place your collectibles, along with fake eyeballs, spider webs, plastic black bats and other spooky accessories, on your holiday table.
Add red or black candles.
Include a bowl of candy.
These make a gorgeously gross addition to your food spread or beverage bar.
One thing is for certain….these creepy collectibles won't remain forgotten in the curio cabinet but will become part of your annual Halloween decorating tradition for years to come!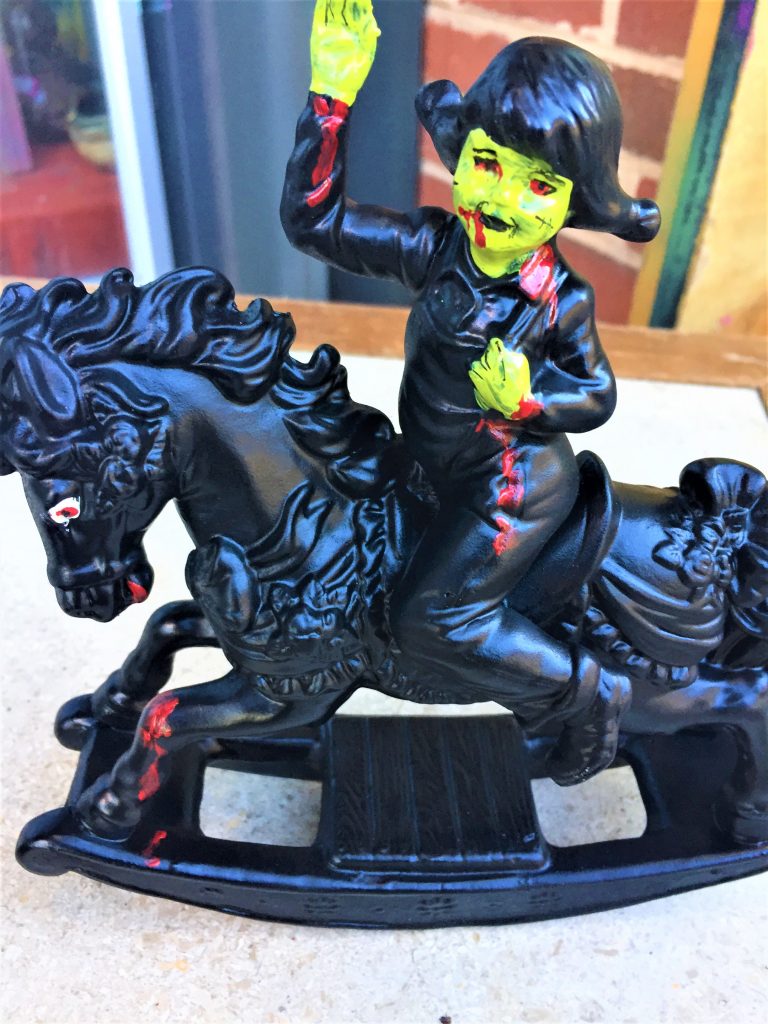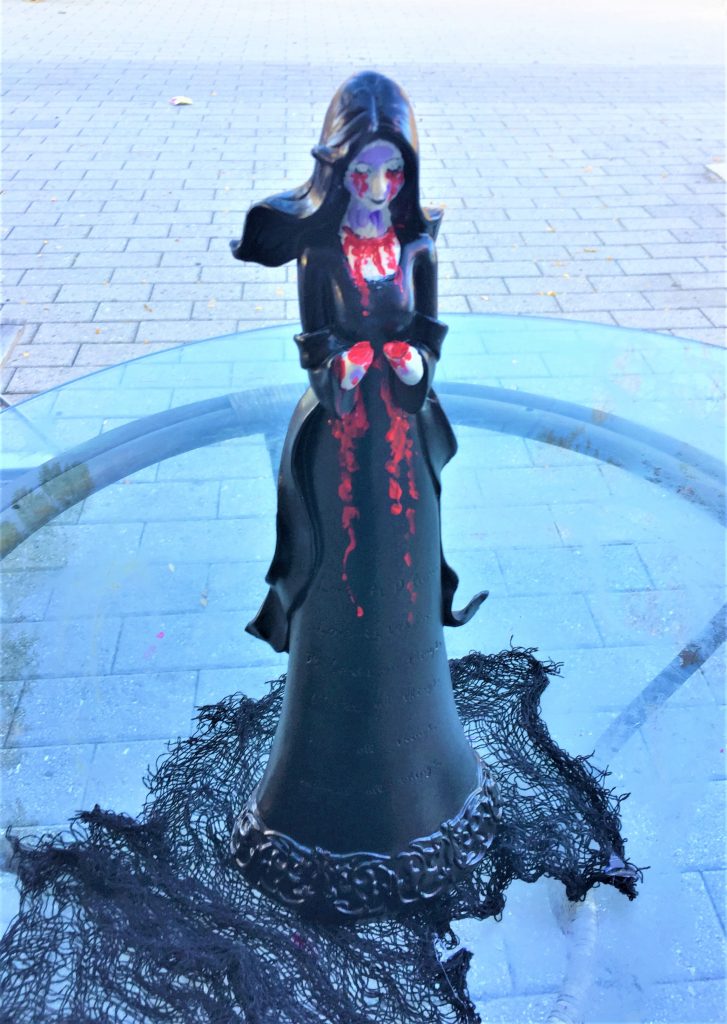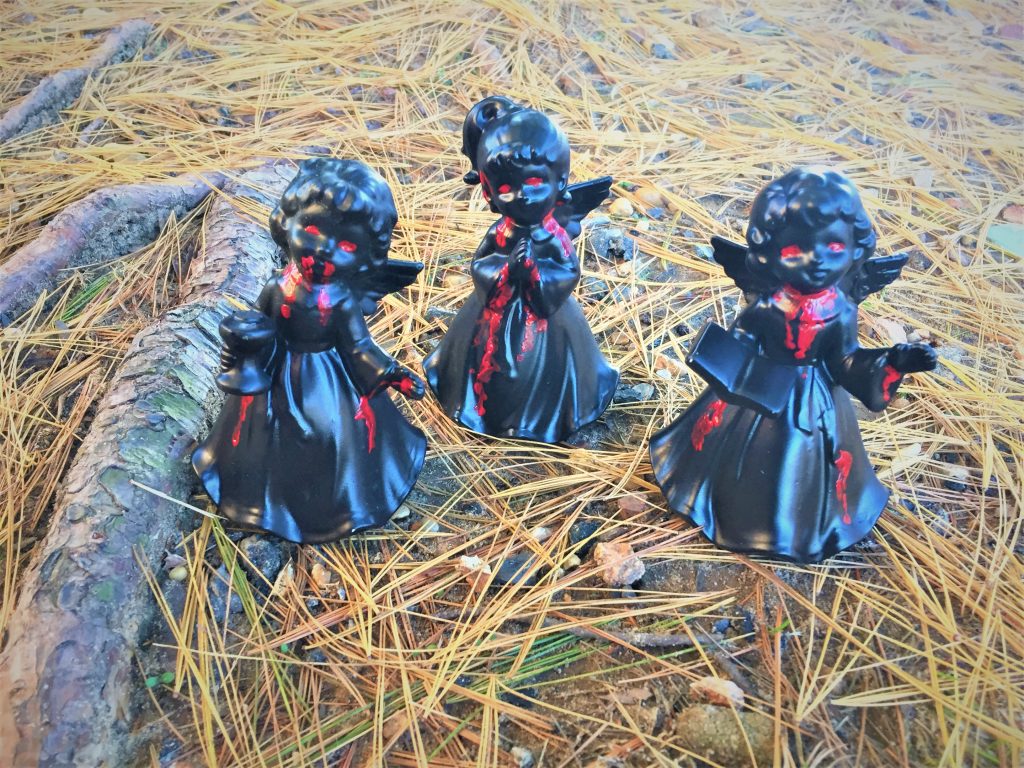 And I really think your grandmother would be proud, in a twisted kind of way, of your Halloween-focused, DIY talents, but proud never-the-less!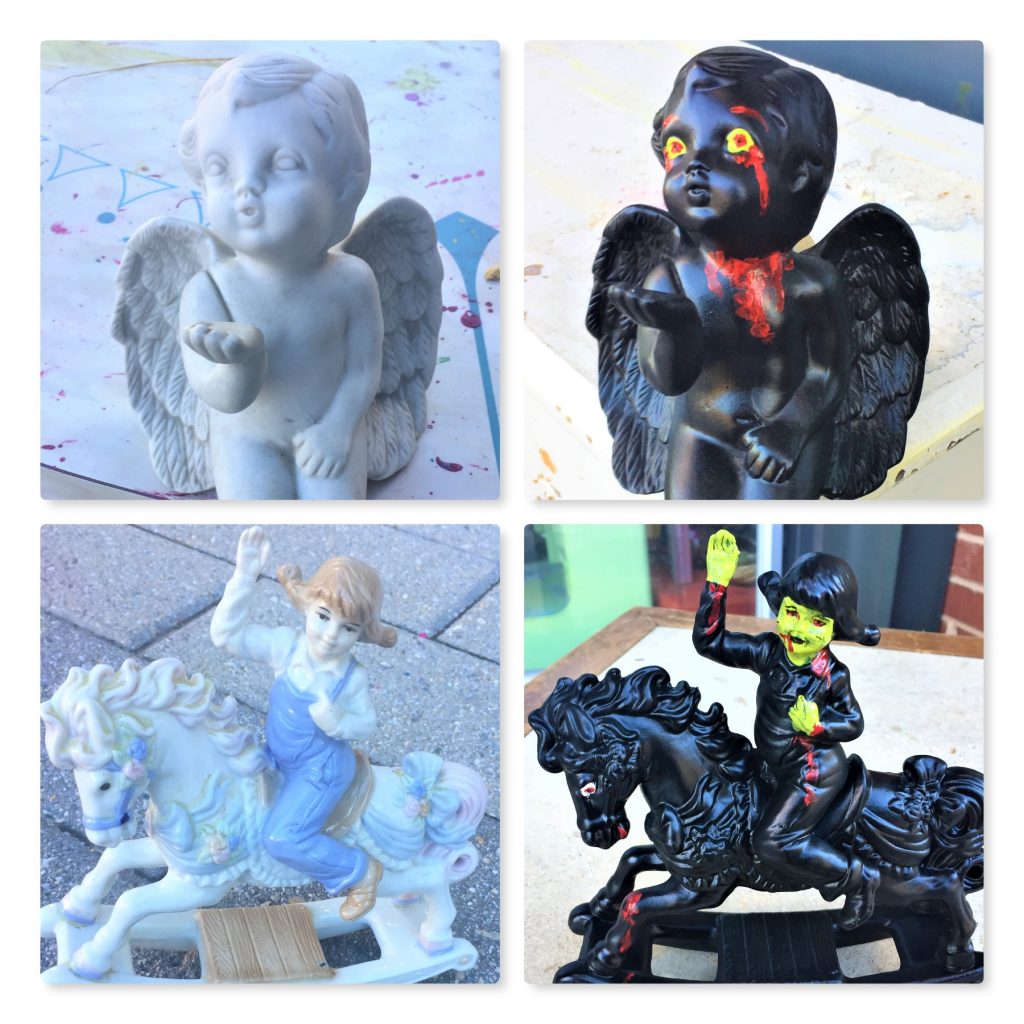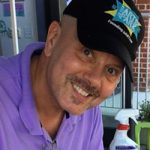 Tim Kime
Tim Kime is an artist, life coach, connector. He is President of Kime Leadership Associates offering executive coaching, meeting facilitating and motivational speaking. He is also Chief Creative Force of Transformation Junkies which upcycles furniture and other household items into functional works of art. He combined his two passions—unleashing the potential in people and transforming items with the launch of the Art of Possibilities Workshops. These workshops are part upcycling, part dreaming, part goal setting.