When I think of spring, I think of vibrant and blooming flowers, pastels, and the cool weather. Since spring is approaching, I wanted to shop at my local Goodwill to find some springy apparel. Below I have rounded up my four items consisting of a top and three cardigans that I found at Goodwill over the weekend.
Multicolor Cardigan
I found this multi-color cardigan by No Boundaries for $5.99 which usually sells for in Walmart around $20 brand new.
It has elements of coral, light brown and gray to it. I paired this cardigan with a light brown tee shirt from Merona, dark brown beaded necklace, a pair of Bill Bass denim jeans, and some beige converse shoes from my closet.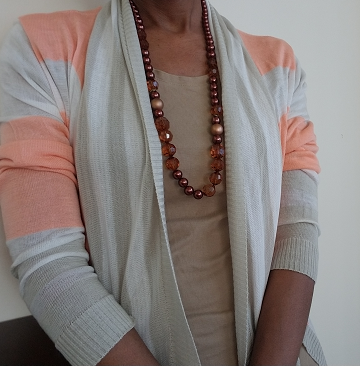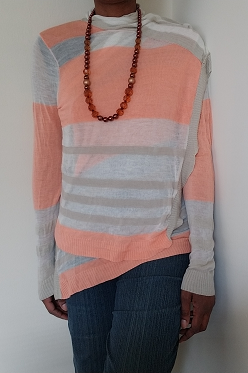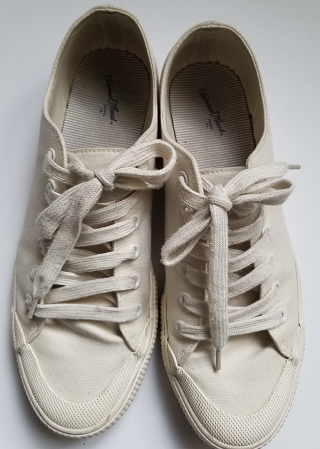 White Fishnet Cardigan
This white fishnet cardigan by Cynthia Rowley usually retails around $50 in TJ Maxx or Marshall's stores in which I only paid $5.99 at Goodwill. I paired this white cardigan with two looks:
First Look:
Dark blue tee by Merona
Bill Bass blue denim jeans
Pair of sneakers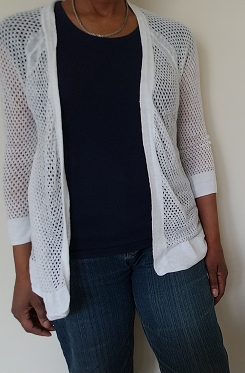 Second Look:
Dark blue tee by Merona
Gifted Denim skirt ­­
Pair of flats
Vibrant Pink/Black Floral Top
Elementz typically retails for about $20 a top at full price brand new. I found this black pink ruffle short sleeve blouse for $4.99 at Goodwill. This pretty tiered blouse is embellished with hints of floral that can be wormed to work or on the weekend. I paired this top with a solid black jacket, Bill Bass denim jeans, and a pair of flats to match.
Two-Piece Blue Floral Cardigan
This blue mesh cardigan by Alfred Dunner would typically run about $60 retailed brand new. I found this for $5.99. This blue floral cardigan has a dark blue non-detachable blouse paired with this mesh like cardigan. I paired this with a pair of dark blue pants and pink shoes from my closet to wear to work
Ready for spring? Here are my three tips for shopping for spring apparel:
Prepare a list of apparel items that you would like to incorporate for spring. Usually I like to take a look at my clothing items already in my closet so that I can mix and match pieces.
Get inspired. I look for inspiration at other stores such as Macy's or Target that may have the look I like. I usually take photos of the items and I go from there.
Sign up for Goodwill Rewards. Usually the cashier will ask you if you are a rewards member to receive Goodwill discounts. If not, I would recommend so to receive emails to know the color of the week to find clothing items that are half-price.
Tammy is a fashion + lifestyle blogger that focuses on finding affordable and attainable apparel and home décor items while thrift store shopping. Her blog Fashion Boutique Clothing details finding casual style outfits for the weekend or for the office wear. Her blog also focuses attending events in the DC metro area to write about. Follow her on Instagram (@fashionabletammy) for more shopping tips and lifestyle journeys.