There's nothing like starting the New Year with a little good old-fashioned reflection. I shared my thoughts with you last year (aka earlier this week!) about what trends we should consider retiring for a fresh and fashionable start to 2015. Well, we are here now, dear readers, and it only seems right to balance that notion out with a little bit of what we definitely should consider keeping! I'd love to hear your thoughts on fashion trends to keep (or maybe even start!) in 2015. Leave me a comment below if you've got a trend to share.
Midi Skirts. Undeniably my favorite trend of the 2014 year, we've definitely got to keep these in our fashionable rotation. What's so wonderful about this style is that all women, regardless of body type, can rock this skirt. It's the ultimate flattering cut that perfectly accentuates feminine shape. These are my two favorites I found for less than $6.00 at DC Goodwill stores in 2014.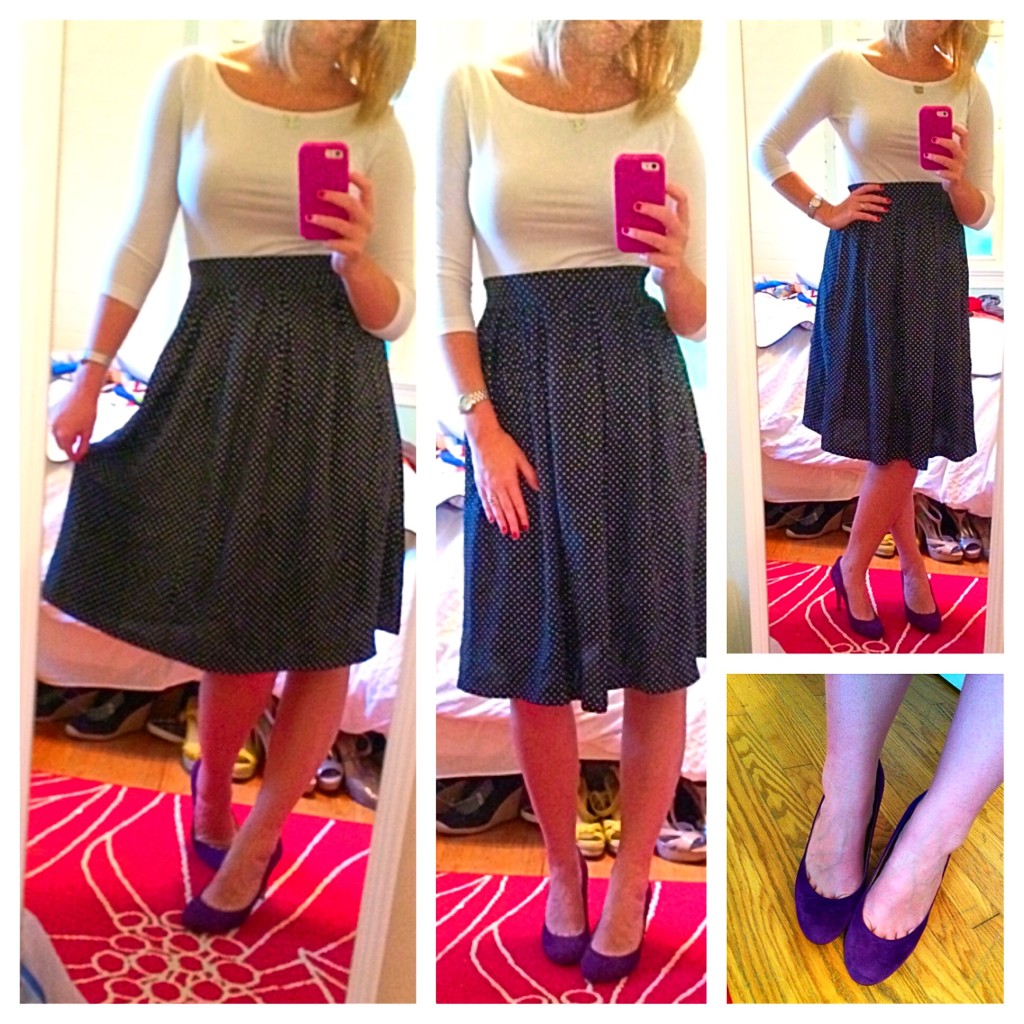 Leather Leggings. I'll be honest, it's taken me a long time to warm up to this trend but I think I've finally been convinced that these are actually incredibly chic. Leather pants scared me for the first few months they showed up on the fashion scene. You know I always remind you that I'm conscious of my ladylike hips – I just didn't think that leather would be the right fabric for them. Well, after seeing my fellow fashion bloggers of all shapes and sizes rock this trend, I am convinced these deserve another year of fashionable fabulousness. They're on my Goodwill Wishlist for 2015!

Blanket Scarves. 
We've got to keep the blanket scarf around in 2015 because it really didn't get it's deserved moment in the spotlight until the last few months. What's not to love about this style? If you tell me I can take plaid blanket, soft and warm, wrap it around my neck and be the chicest of chic – I'm gonna listen! This is just one of those effortless trends that all fashionistas can join in on with ease. I love that!
Bootcut Jeans. 
I've made my plea to give something besides the skinny jean a chance in your denim wardrobe but it hasn't completely taken flight. I think we ought to give this one another year, dear readers. Bootcut denim has the potential to be the next big thing in denim if we just lay the "mom jeans" fears to rest. Just because you're not wearing ultra-skinny jeans, doesn't mean you're going to look stuffy and frumpy! Did you see
my post with some style-inspo
earlier this year? There are so many options on how you can style a jean with some give through the knee.
There you have it, dear readers. What trends are you going to be keeping in the New Year?