Scrabble Tiles + Thrifted Frames = Heart Art Pieces
Valentine's Day is coming up soon, so spell out heart-warming messages for your sweetie inspired by this week's love-filled DIY blog. Create special heart art from Scrabble game tiles and thrifted frames that will last much longer than roses and chocolates. No need to play games when you upcycle these tiles to show how much you care!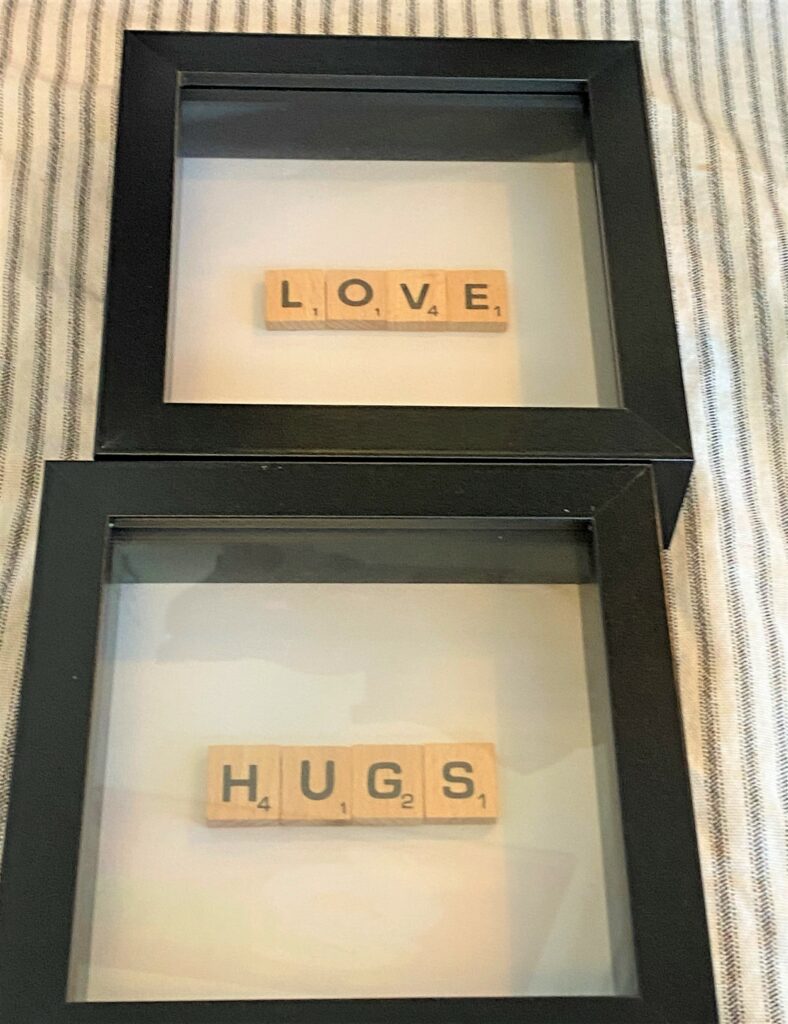 Here are several approaches which will yield the same result: Happy loved ones who will appreciate these gifts received for Valentine's Day—or any day of the year.
Items needed:
· Scrabble game tiles
· Small to medium-sized frames
· Glue guns & glue sticks
· Scissors
· Scrap paper
· Craft paints
· Ribbon
Games & Frames: Check out Goodwill for these items to repurpose
Goodwill always has a plethora of board games which are great to pick up to play during the winter doldrums when folks and families are keeping warm inside. And when you are done having gaming fun, consider ways to reuse them. Scrabble tiles are perfect for DIY projects to add words to items—-like frames which you usually always find when looking for treasures at Goodwill.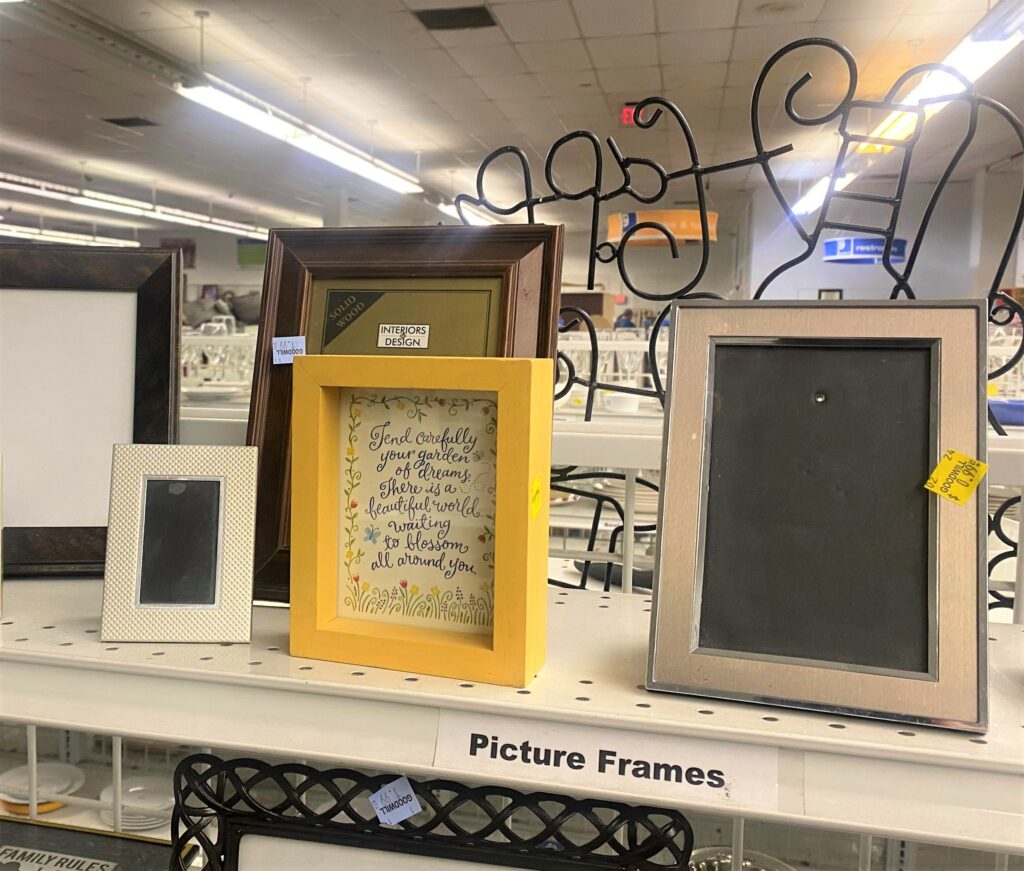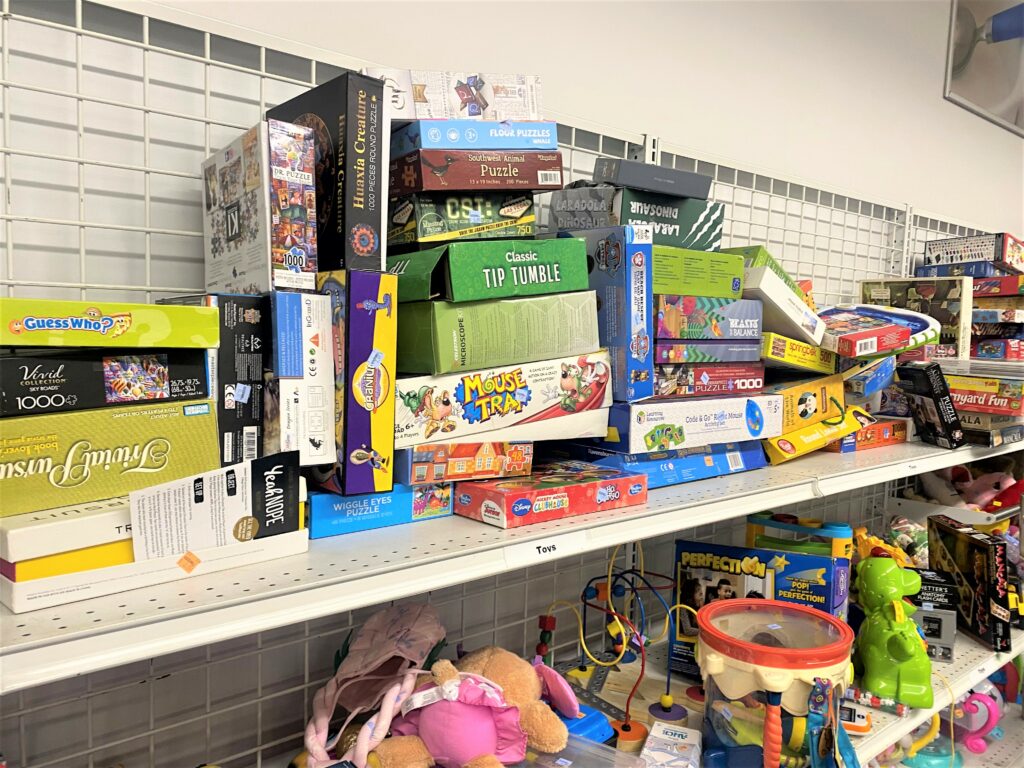 During a recent Facebook Live event, I had the chance to walk through the South Dakota NE Store with Finding Your Good's Carolyn Becker as we considered what items there could be upcycled into fun and funky things. We came across a Scrabble game board for only a couple of bucks, so I had to buy it for a project like the ones featured here!
Approach 1: K-I-S-S, Keep It Simple Sweetie
Since this project involves some spelling, it is fitting to start with KISS—standing for Keep It Simple Sweetie. A pair of small, square frames were perfect as they were. White paper was used as the backdrop, and a hot glue gun helped secure the words "Love" and "Hugs" positioned in the center. The black letters and black frames looked great together. Simple look. Simple message.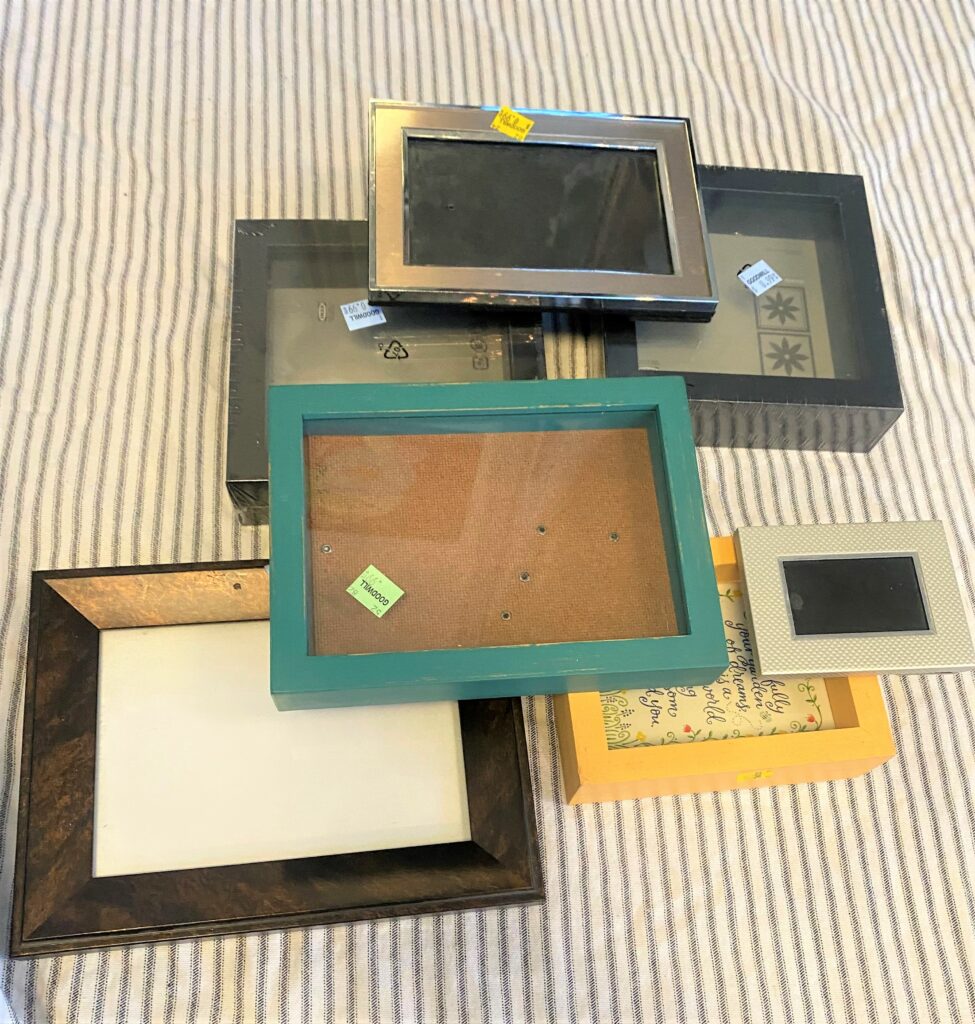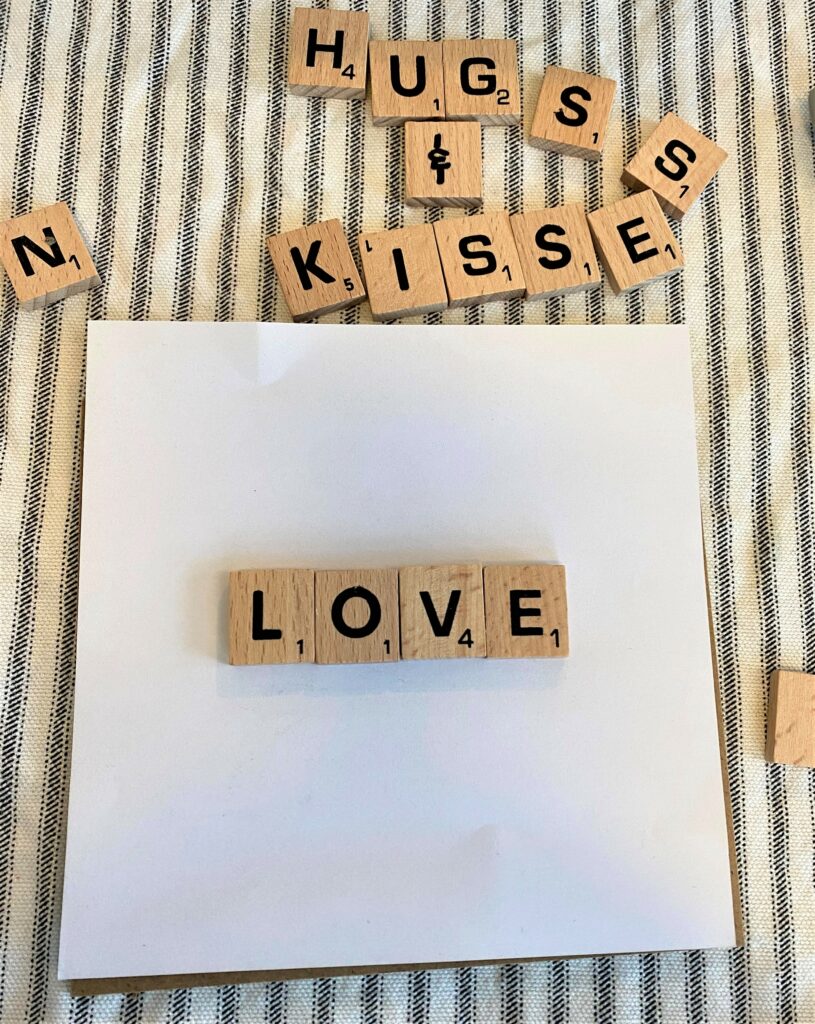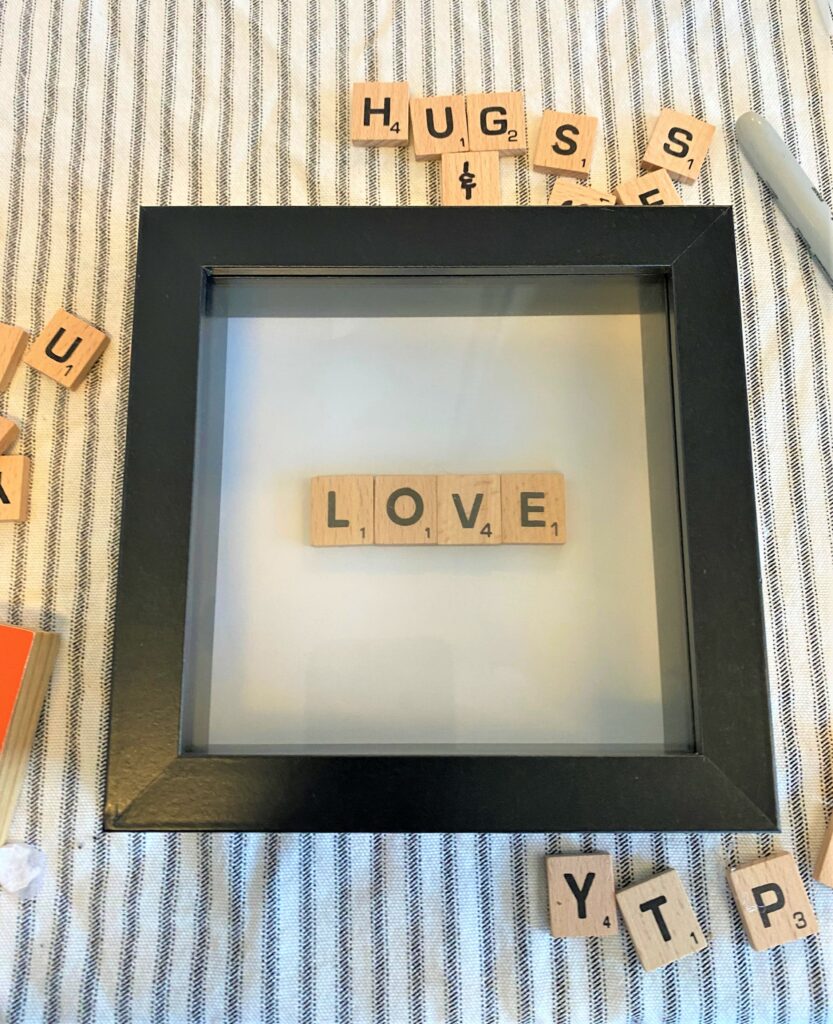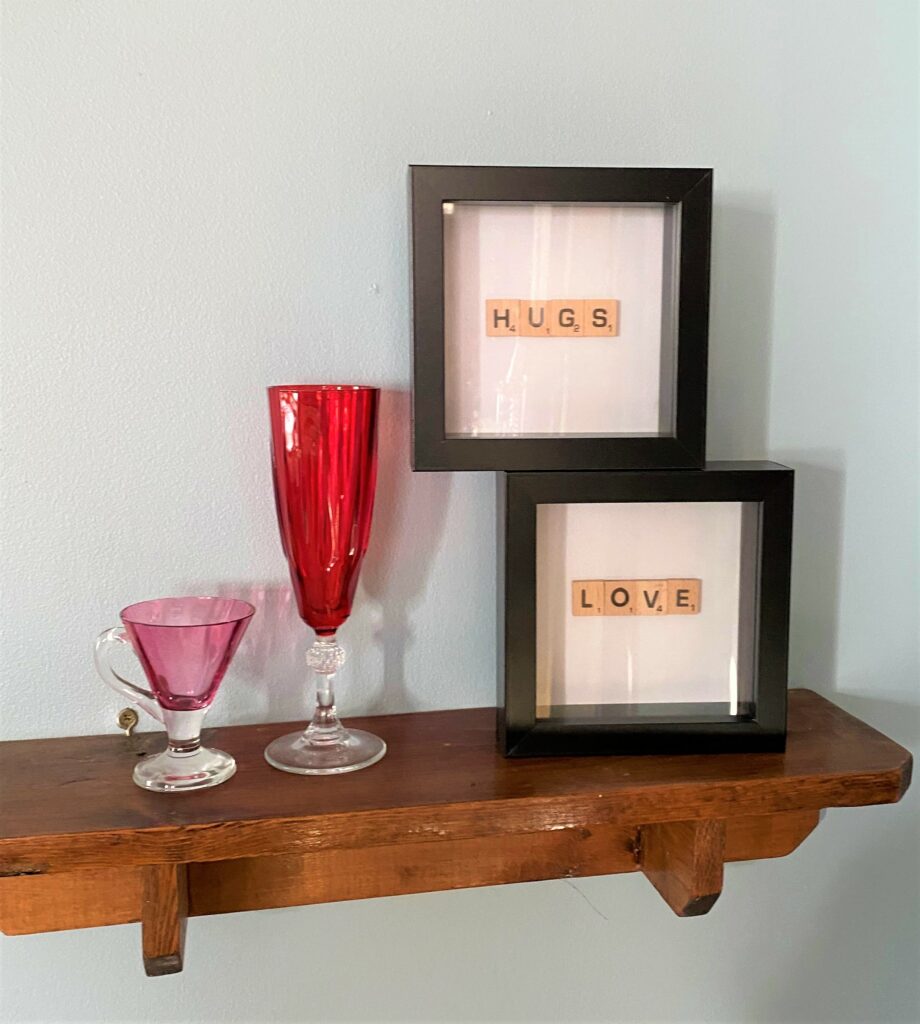 Another black frame, larger with a broad border, was also kept as it was. Inside, a white piece of paper was added as well as a small red heart cut from scrap paper. On top of that, "You touch my heart," written in Scrabble tiles, was glued in place. It makes my heart happy to see its simple yet powerful message!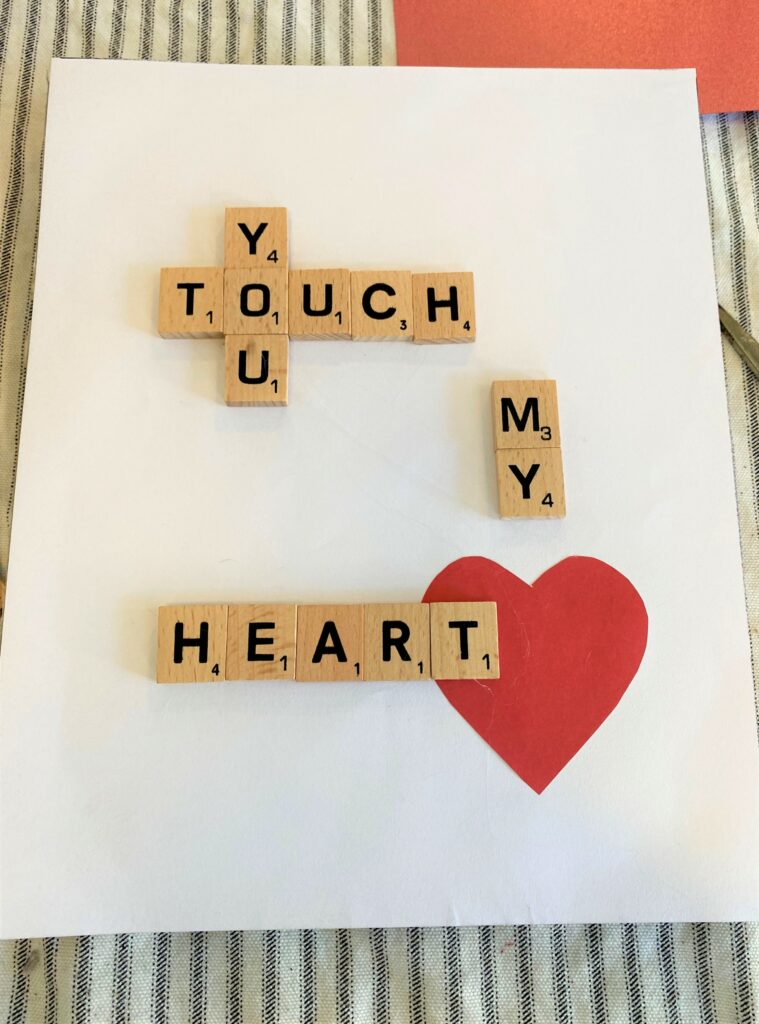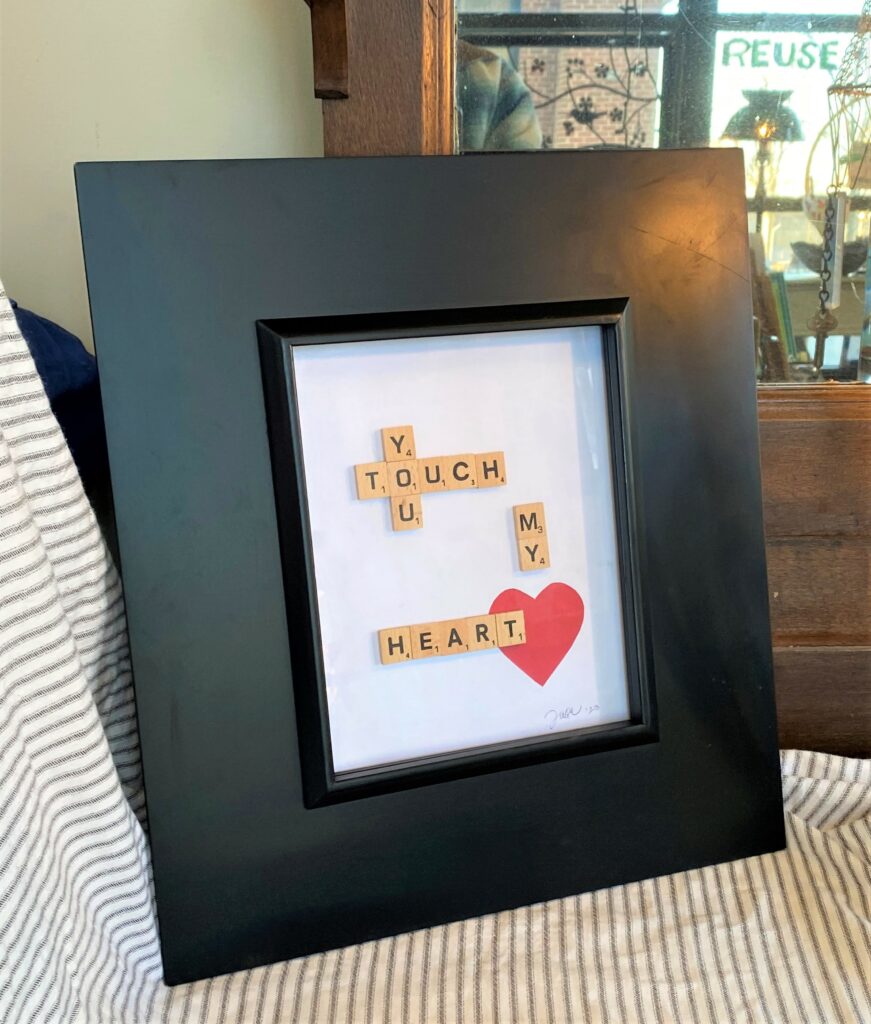 Approach 2: Paint the Frame
If you come across a frame or two (or three!) you like, but the colors aren't cute, then consider painting them to refresh them.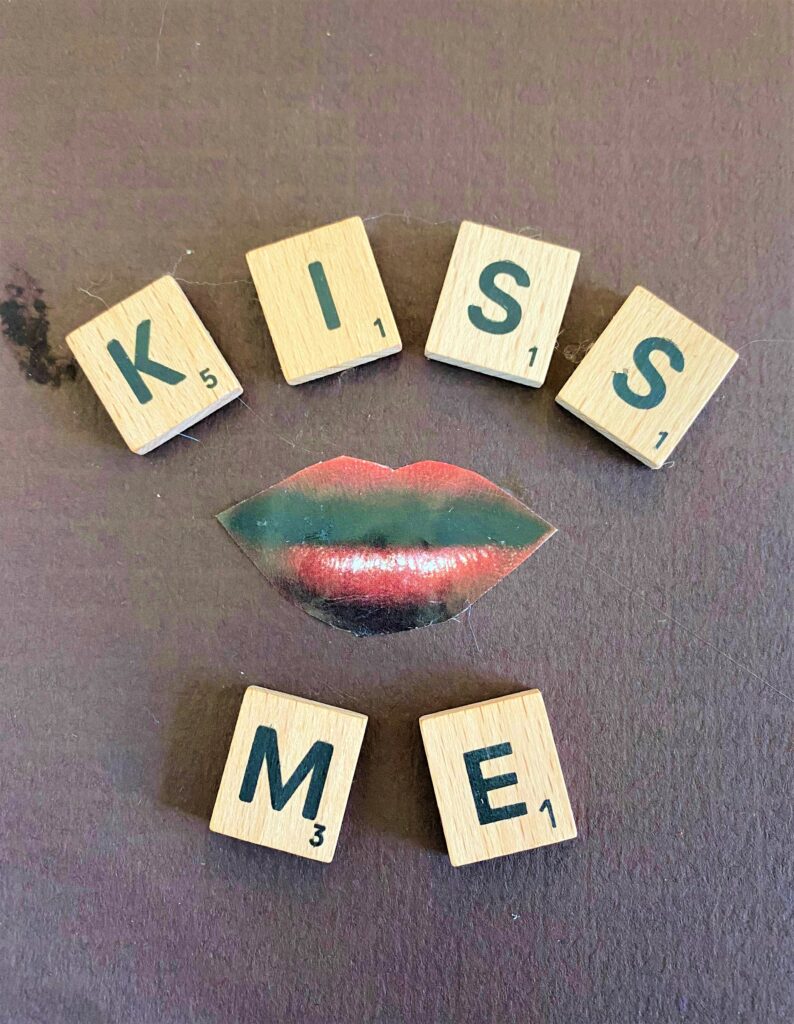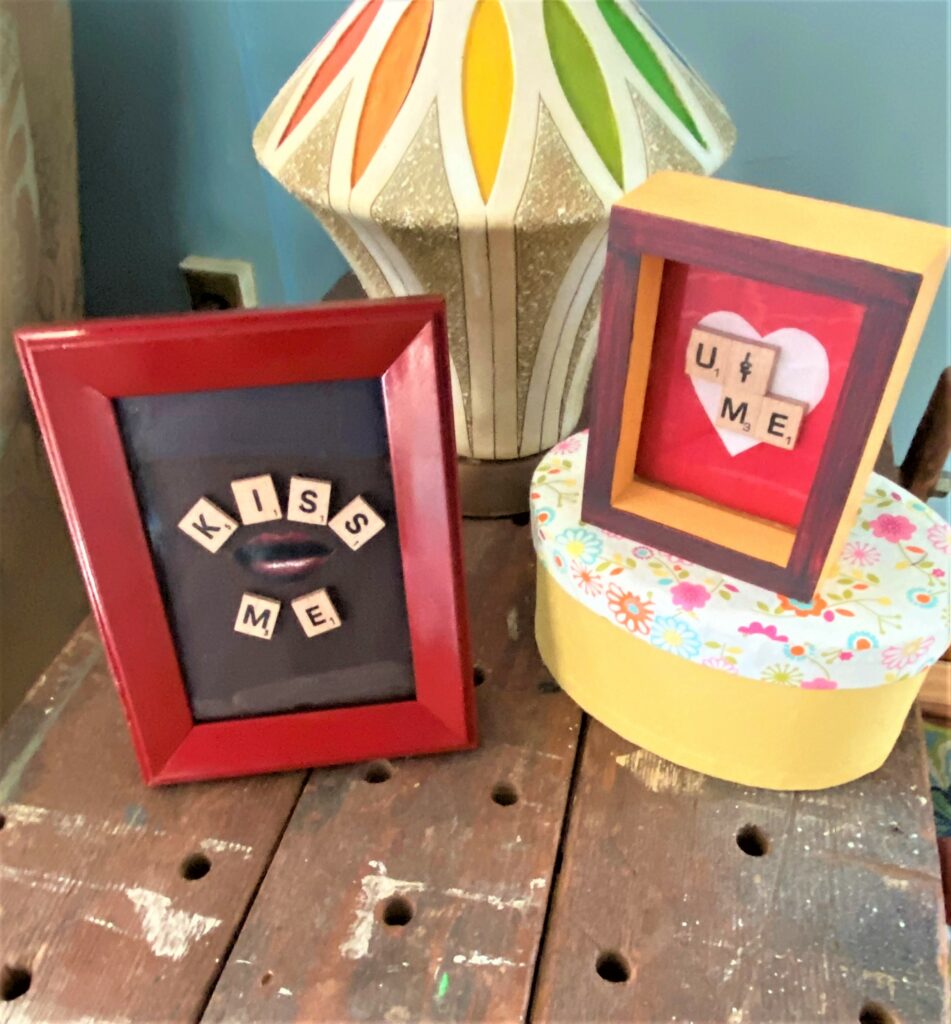 One frame was spray painted a deep red to connect to love and Valentine's Day.
Remove the frame's glass, set it aside, and add a couple of light paint layers to your frame.
A pair of red lips were clipped from a magazine ad and glued on a dark brown piece of paper.
"Kiss me" was added around the lips. Now it's got smoochy-style!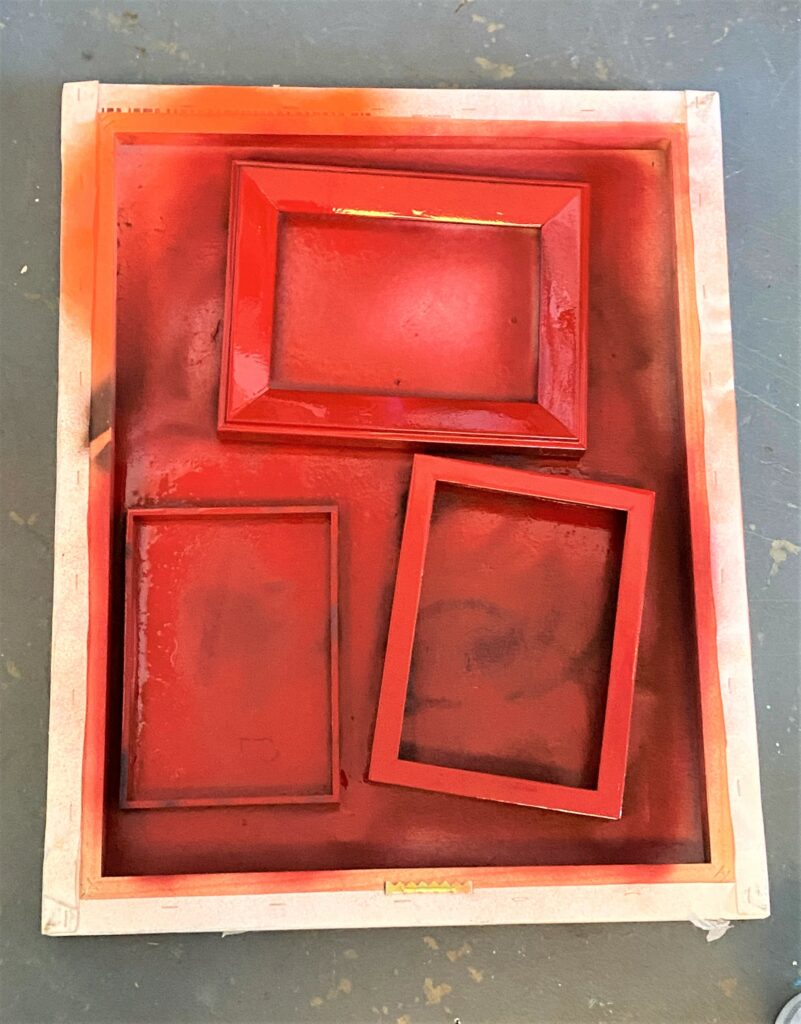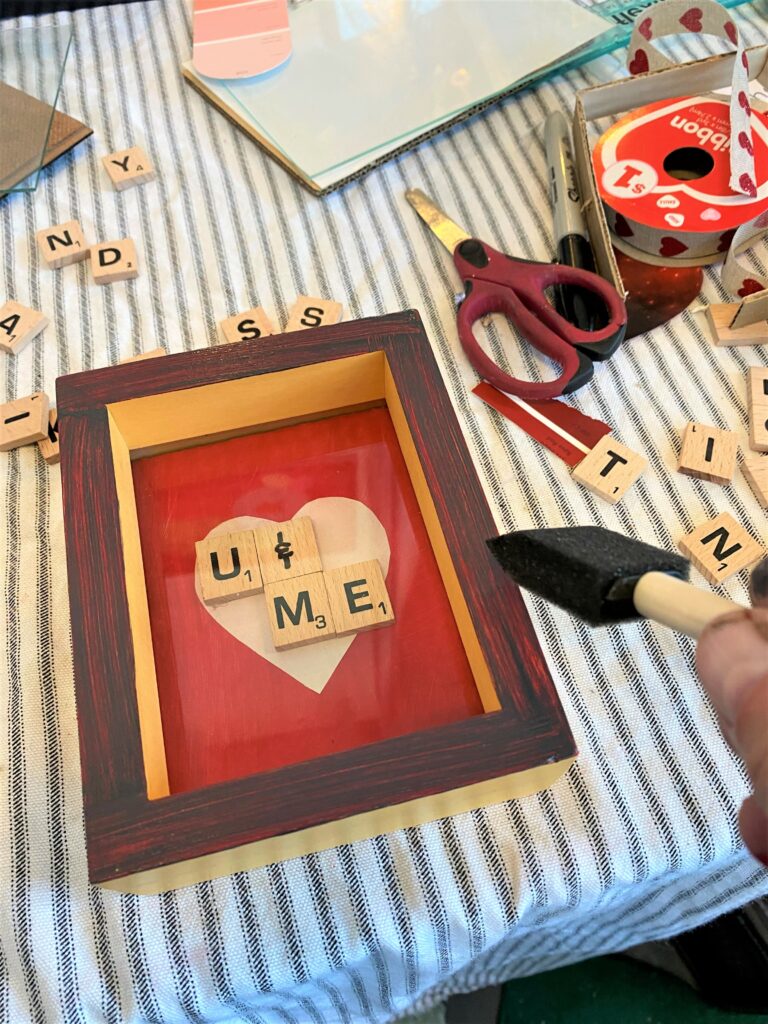 Another frame's front edge was painted red with craft paint; after the red dried, a light layer of black was brushed to give visual interest and to connect it with the black letters.
The same red paint was used to paint the background inside the frame, and when dry, a small heart cut from scrap paper was secured, followed by "U & ME" on top. U R gonna love it!
Approach 3: Ring with Ribbon
You can easily give an old frame a new look by using ribbon. A band of ribbon with glittery hearts was cut and glued on the front edge of a silver metal frame. Now that the outside was ready for Valentine's Day, the inside got the love treatment, too.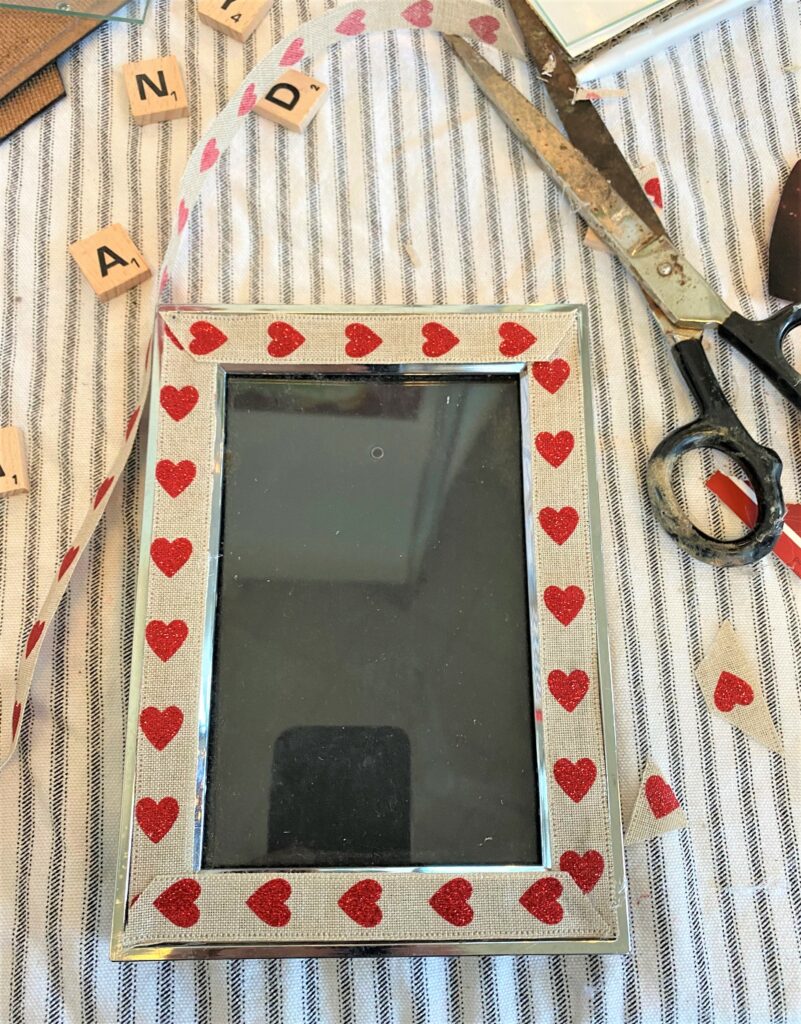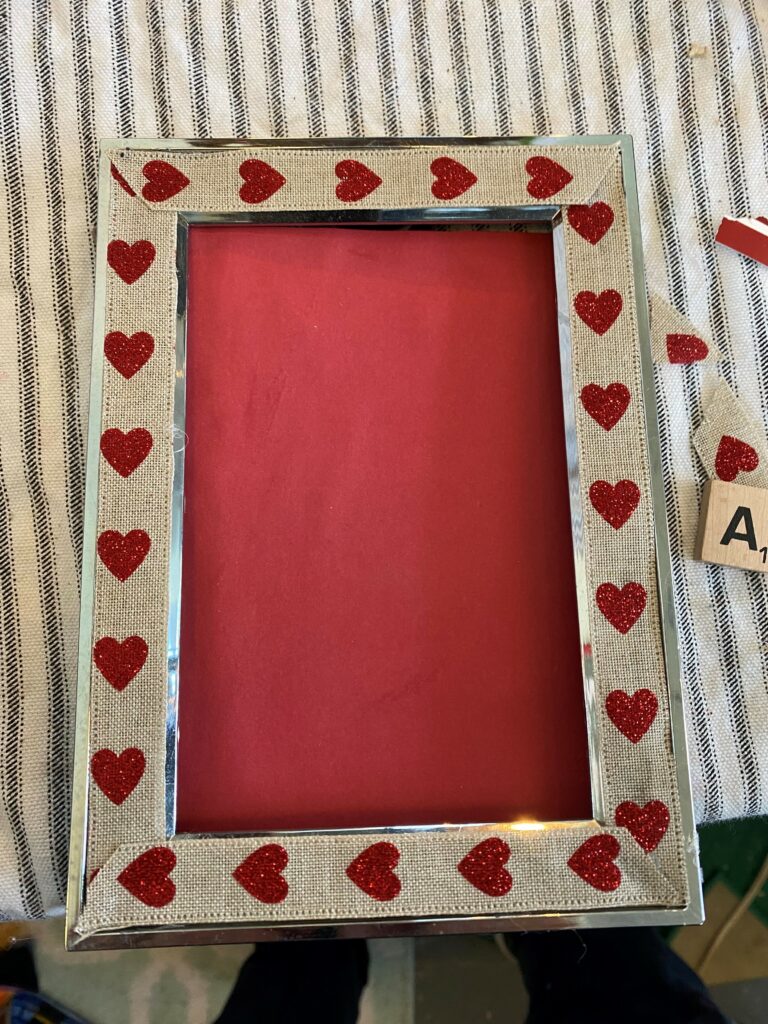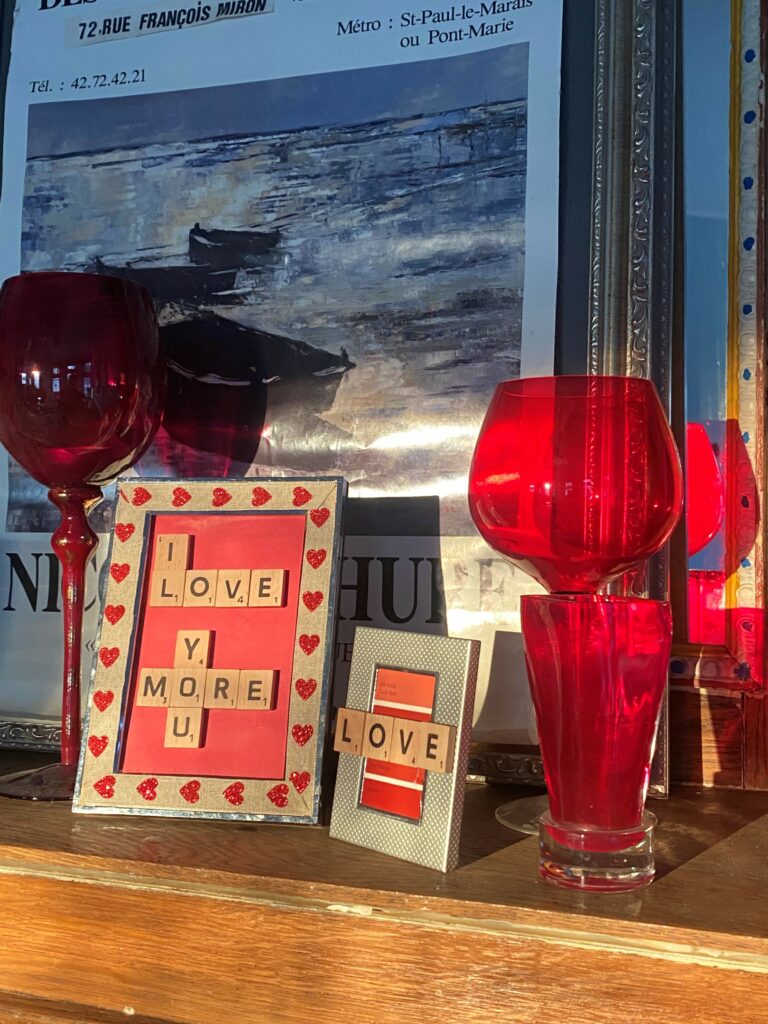 Red craft paper became the backdrop to match the hearts on the ribbon. "I love you more" written from tiles was glued in place to mimic the way Scrabble is played—words connecting by their letters. Score!
Approach 4: Pick Paint Paper
Keep with the repurposed theme of this DIY project, so collect red-colored, paint sample paper from your hardware store. Remove the backing from your frame and cover it with pieces of these strips, and adhere securely with a glue stick or glue gun. A small metal frame now had the paint strip paper in it, so "Love" tiles were added on top. So charming it makes my heart beat faster!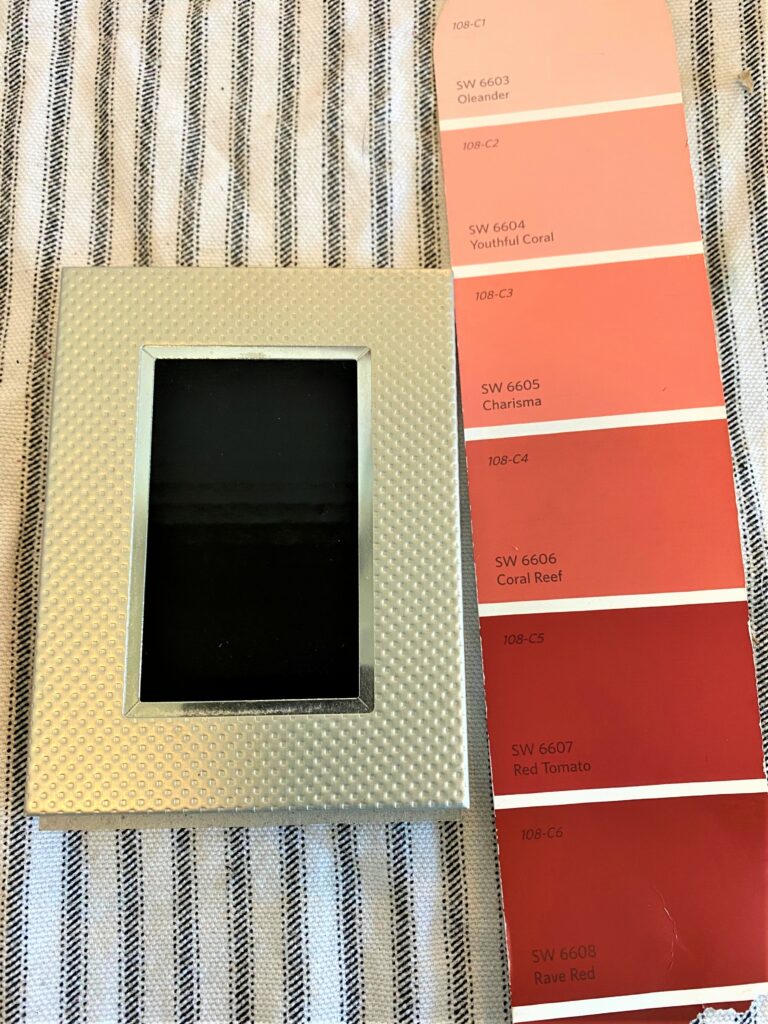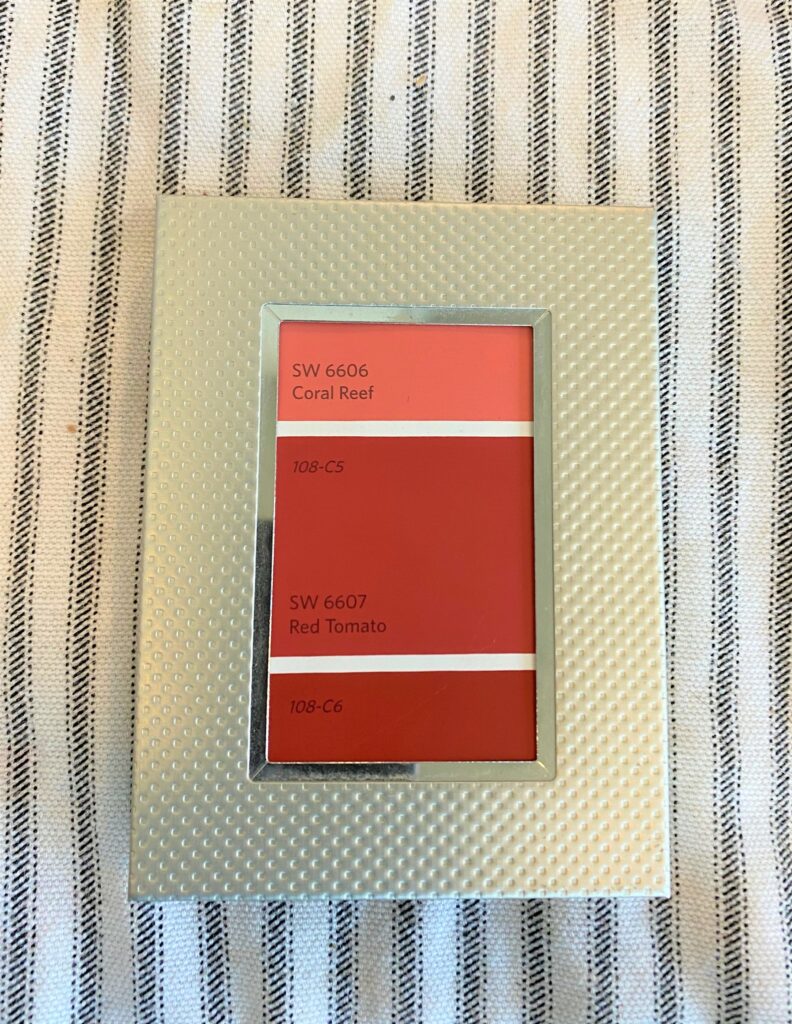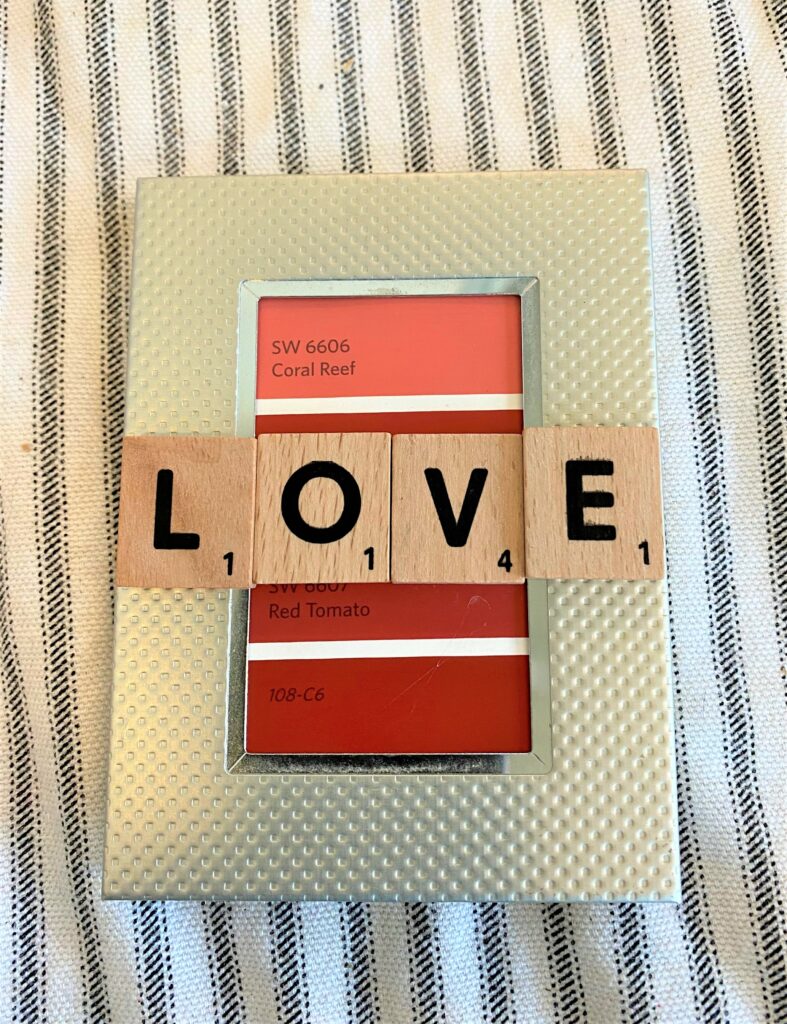 A larger-sized frame's inside was also covered with paint strip paper and, again, "Love" was added, as were Amour, Amar, and Amore, which also mean love in French, Spanish and Italian, respectively. Did you know that "Ifunanya" is love in Nigerian? I wanted to add that, too, but it was too many letters. I might have to create one just with that word in it! No matter how you spell or say it, love is truly universal and the most important thing anywhere in the world!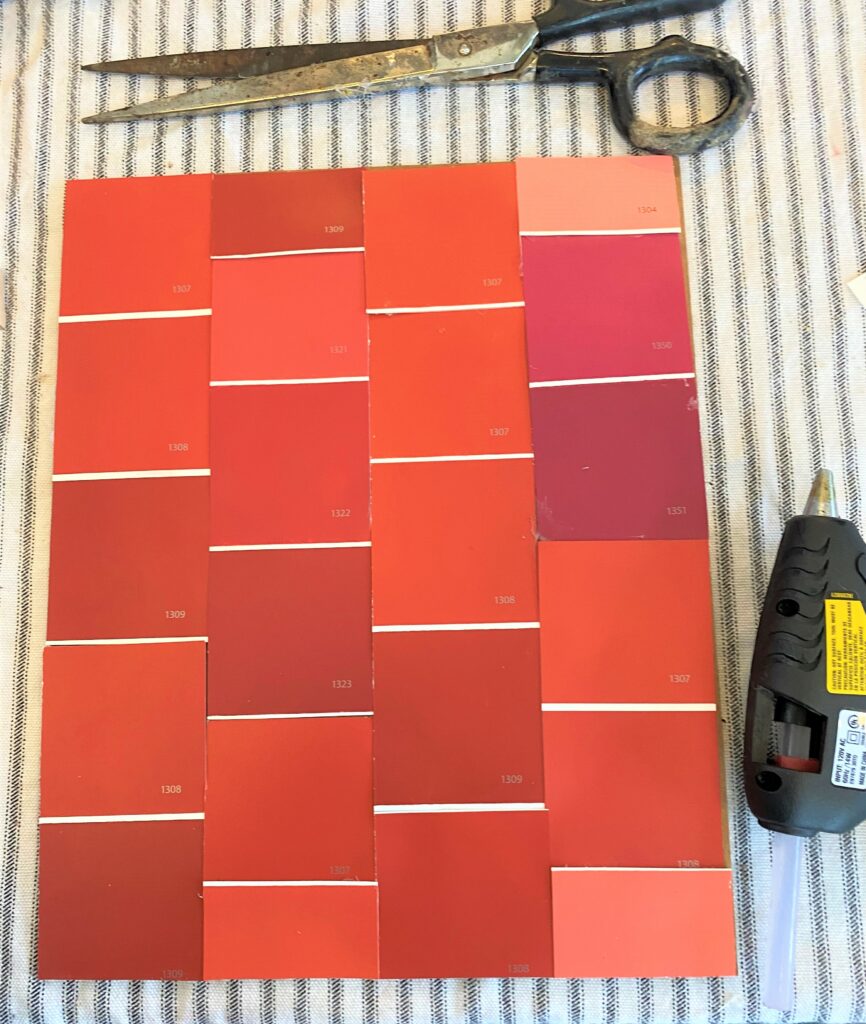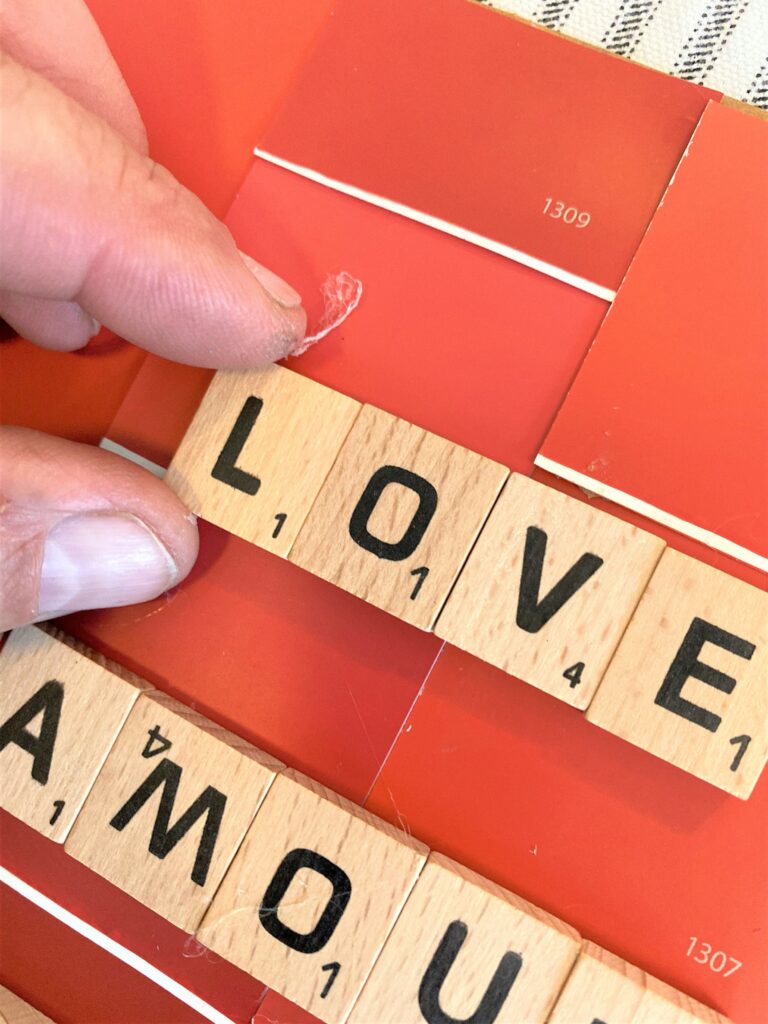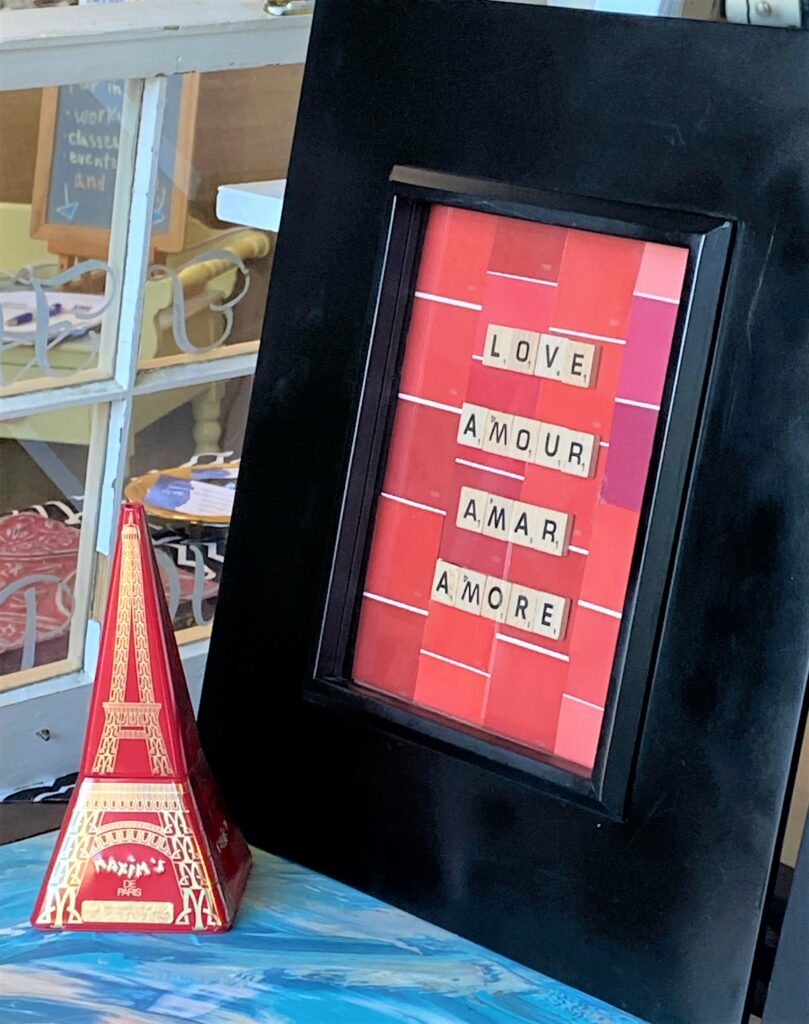 Thanks to Finding Your Good for all the ways you show love to others, to your team members at Goodwill, and to our community!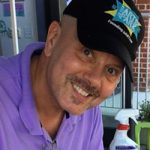 Tim Kime
Artist, Motivational Speaker, Life Coach
Tim Kime is an artist, life coach, and connector. He is the President of Kime Leadership Associates, offering executive coaching, meeting facilitating, and motivational speaking. He is also the Chief Creative Force of Transformation Junkies, which upcycles furniture and other household items into functional works of art. He combined his two passions—unleashing the potential in people and transforming items with the launch of the Art of Possibilities Workshops. These workshops are part upcycling, part dreaming, and part goal setting.