I never pass up an opportunity to pop into Goodwill. You never know when you will find something wonderful!
Since I was running errands near the Goodwill store in Sterling a few weeks ago, I decided to stop in to see if they had anything good. Of course they did!
I found this pretty little nightstand.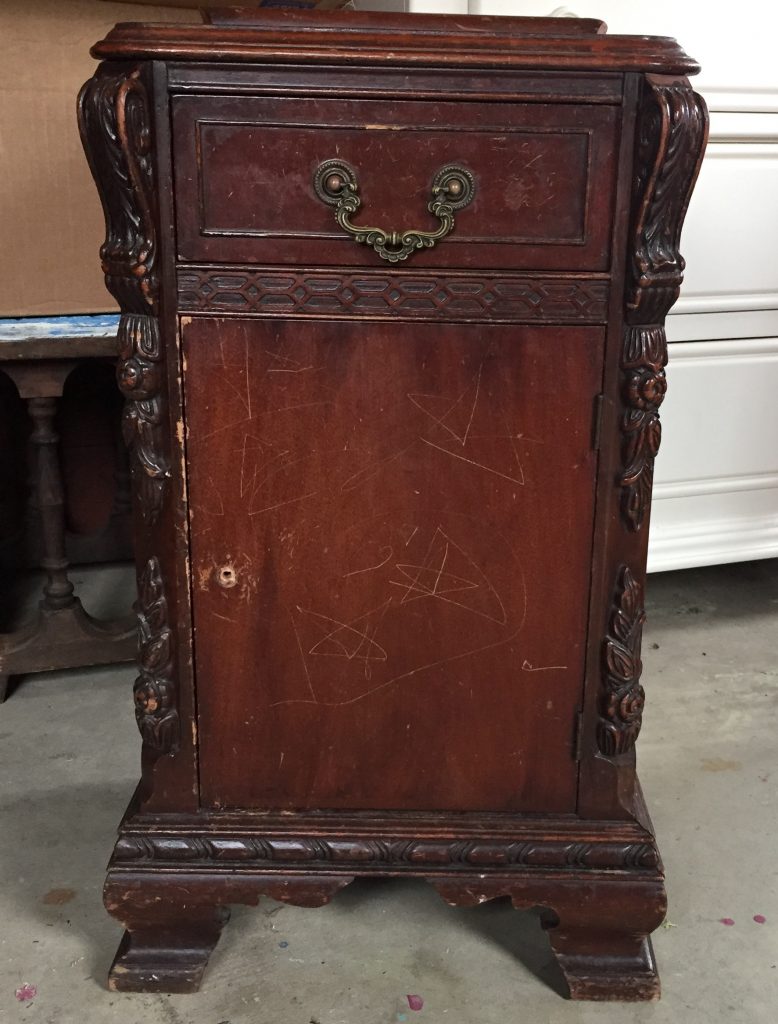 OK, so it doesn't look so pretty in this "before" shot. It was a little banged up, somebody carved stars all over it and the door was so jammed shut I needed to pry it open with a screwdriver.
If you can look past all of those issues, this nightstand was really pretty!
Don't let cosmetic damage like scratches and star carvings prevent you from buying an awesome piece of furniture. This nightstand met all of the criteria on my Checklist for Choosing Furniture at Goodwill. It just needed a little TLC and a vintage makeover.
First, I sanded away all of the stars, scratches and little dings.
Then I painted a primer onto this piece, which I like to do before painting dark-stained furniture white. The primer helps prevent the old stain from "bleeding through" the new white paint.
Next, I painted the nightstand white and accentuated those beautiful details with black wax. 
You can never go wrong painting a piece of furniture white. White furniture looks crisp and clean—and it fits with so many decorating styles.
Glossy white is perfect for modern pieces. To emphasize the vintage style on older pieces like this nightstand, try adding a little antiquing wax around the edges. Or mix-and-match modern and vintage for an eclectic style all your own.
The nightstand looked much better at this point, but I wasn't finished yet.
I applied a colorful transfer from ReDesign with Prima to the door. (I sanded a little around the edges first so it opens and closes smoothly again.)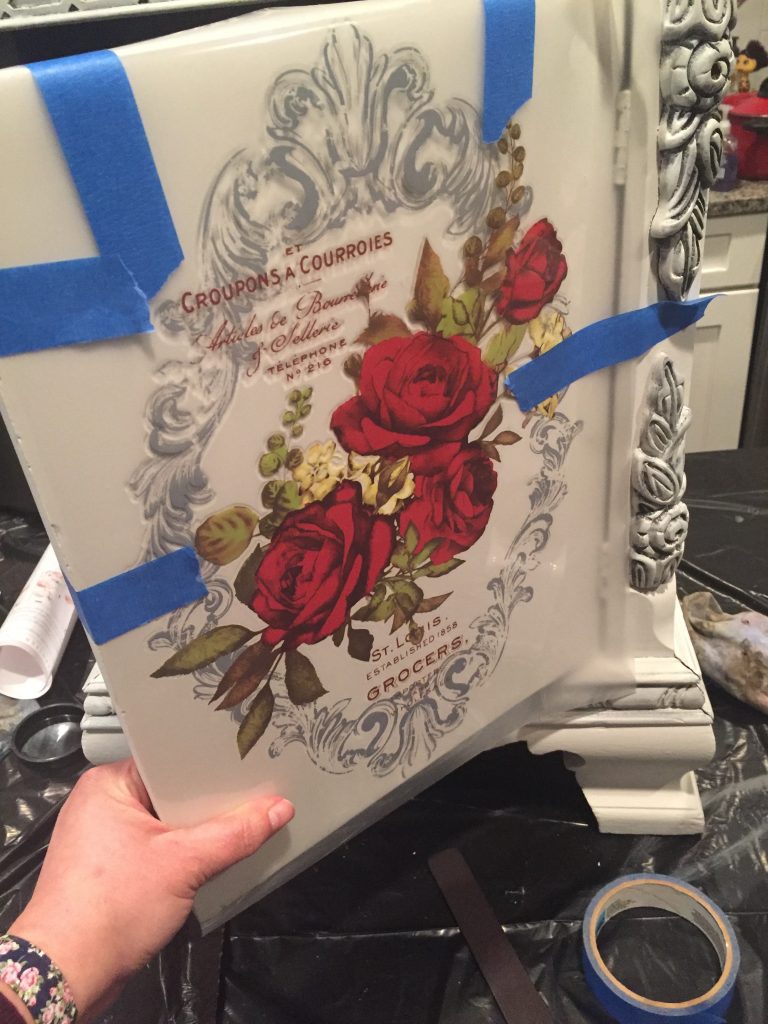 I chose a vintage-inspired floral design with big red blooms. It fit the space and the vintage style of this nightstand perfectly.
Transfers are easy to apply. Just tape in place and rub over it to transfer the design onto your surface. It's kind of like scratching a lottery ticket.
Here's my nightstand now.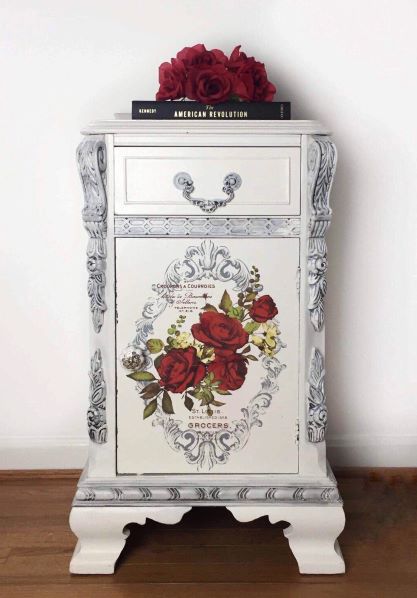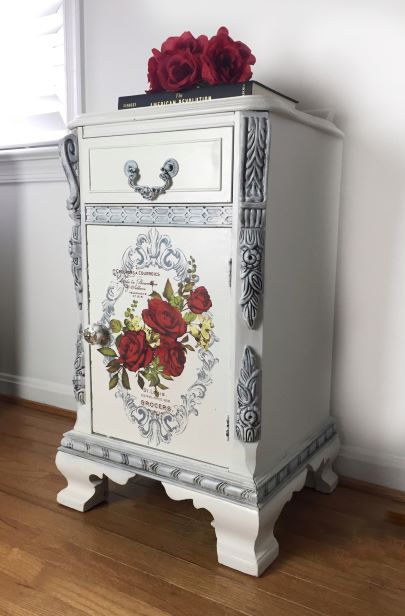 I love how it turned out! Never pass up an opportunity to stop by Goodwill. You never know when you will find something wonderful!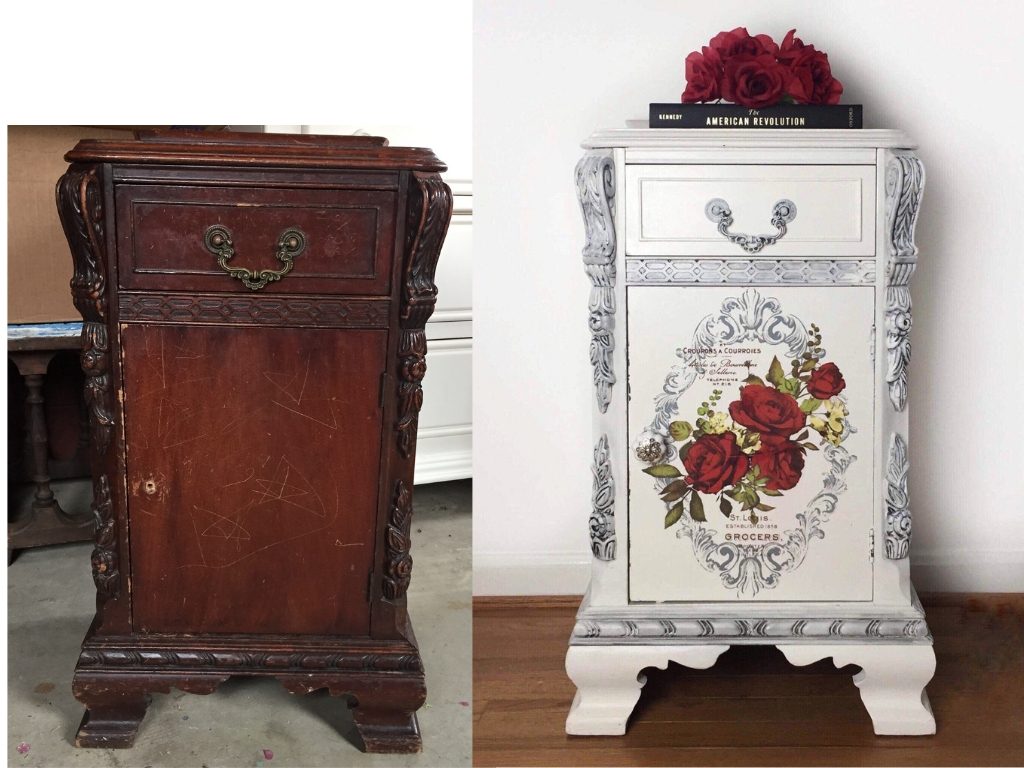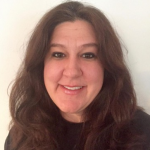 Courtney Mickalonis
Courtney Mickalonis is an artist, teacher, and treasure hunter at All Things New Again, a furniture and paint boutique in Leesburg, VA. She finds old furniture that nobody loves anymore and makes it beautiful—and useful—again. Courtney teaches a monthly Learn How to Paint Furniture class at their Leesburg studio and hosts The Furniture Painting Friday Show every Friday at 12 noon on the All Things New Again Facebook page.