Give a second-hand mirror the chance to shine by giving it a rainbow-inspired transformation. To continue the celebration of Pride Month throughout June, here are two mirrors that show unity, love, and pride—no matter your background or cultural connection.
In the famous story, poor Alice in Wonderland had to step through the looking glass to find a magical place. However, with this project, you'll stand up proud right where you are when you see your efforts in their full glory and colors!
1. Meander over to mine for mirrors at Goodwill
Most anytime to stop in your favorite Goodwill store, you can be sure to find a mirror or two to transform in this colorful way.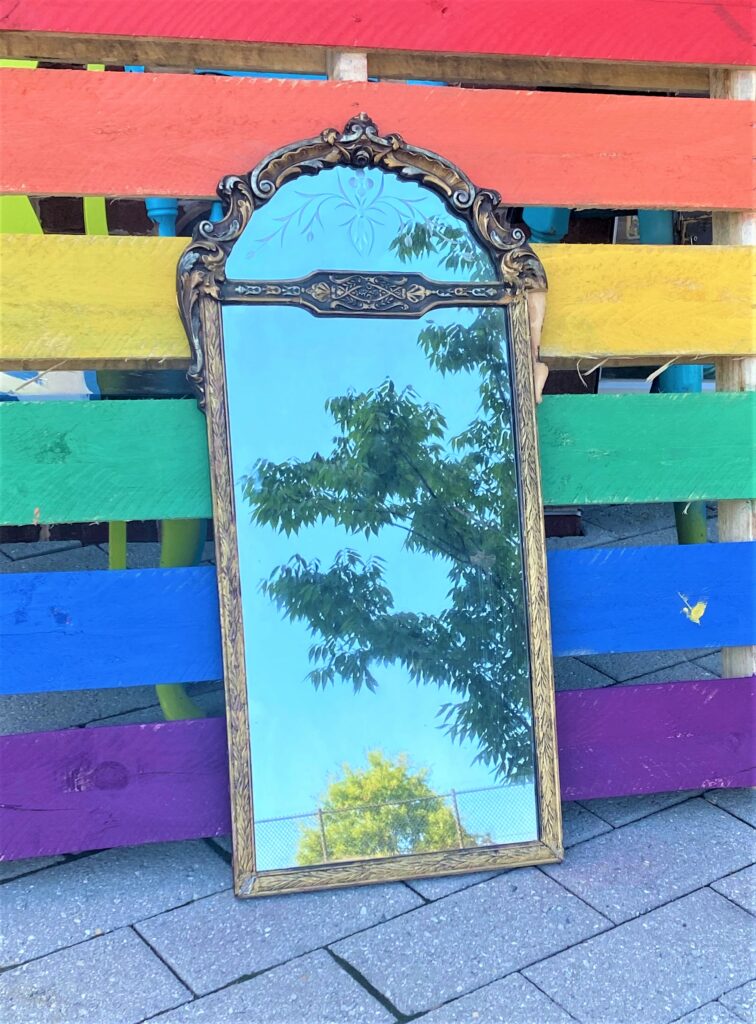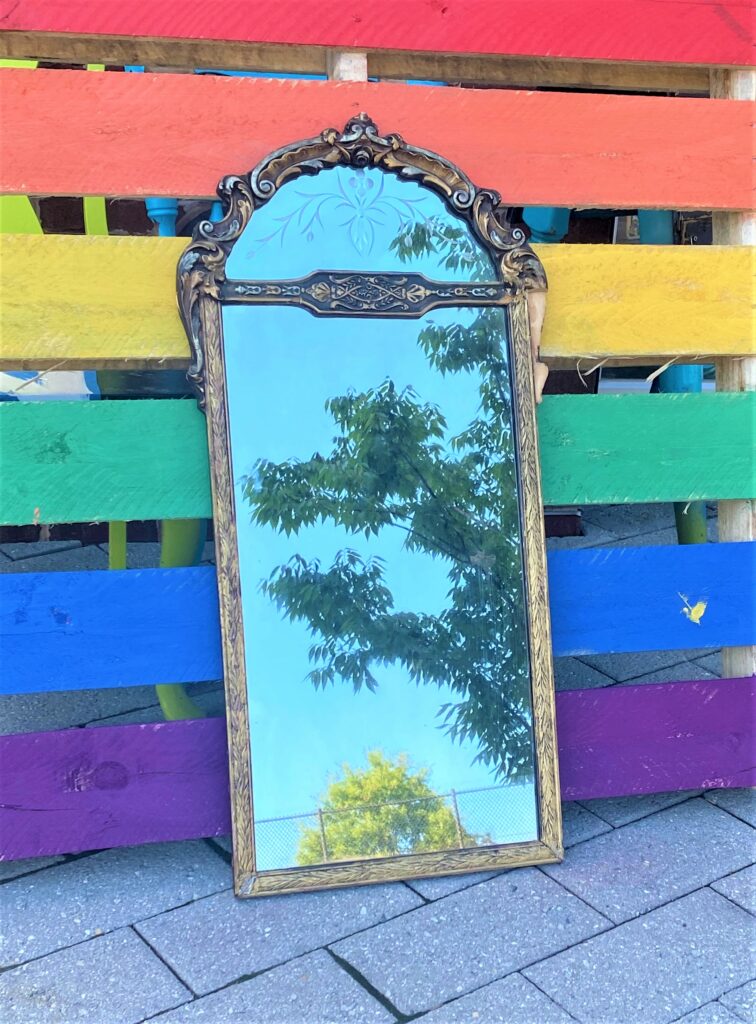 The mirrors that take the center stage in this week's blog were very different yet had lots in common. The arched part of one mirror had some beautiful and elegant etchings. The other was very contemporary looking with a broad brim around the glass. Two totally different looks and feels. However, both were very well-constructed and their frames were ripe for a re-do. And yes, they were both remarkably low-priced, so both left the store with me.
2. Get it ready to transform
Tighten screws or hammer any nails which keep your mirror together to ensure it is solid and sturdy. The arched mirror needed some gluing so that was an easy fix.
Lightly sand the frame, then wipe down to remove dust created or dirt from the hands which have handled it.
Protect the glass by enlisting painter's tape.
Super simple, don't you say?
3. Brush on the brightness
Place your mirror on a drop cloth on top of your work surface.
You will have six stripes of color (red, orange, yellow, green, blue, and violet), so you might want to place pieces of painter's tape on your drop cloth and along the edge as a visual divider, so each color is about the same width.
Begin with red with one brush, then move on to orange with another brush, then yellow, and so on, and so on. Given that you will be blending and shading the colors together where two come together, don't worry about perfection. While a rainbow is quite lovely, it is also somewhat organic and we don't want hard, sharp lines.
These mirrors took three coats of paint, so a little bit of patience is required, but the final look is so worth it!
4. Blend and shade your tones
After each mirror frame has received plenty of coats to ensure each color is as vibrant as possible, come back with a smaller, detailed paintbrush and blend the paints where the two colors touch. For example, where the red and orange meet, add small amounts of each color and blend away so that the transition from one color to the next appears to flow.
5. Remove the tape, shine the glass and say, "Voila!"
After you have allowed your mirrors to dry completely (ideally overnight at least), carefully remove the painter's tape.
Sometimes the tape pulls off some of the paint along the edge, so you might need to touch it up with a very small brush.
After all that is done, then get your glass cleaner out and make the mirror shimmer!
6. Hang it to show your pride all-year long!
Your Pride mirror is now ready to be proudly displayed in your home, office or anywhere you want to make a colorful statement. Either one of these mirrors, now sporting the rainbow colors, will look great as a bright accent in any place and with any décor from modern to traditional. And each time you walk by it or stop to check your reflection, you will smile with pride because you did it yourself!
When you finish this project and see how easy and fun it is to do, you, too, will quote that famous Alice who said, "I can't go back to yesterday because I was a different person then." We know you will agree!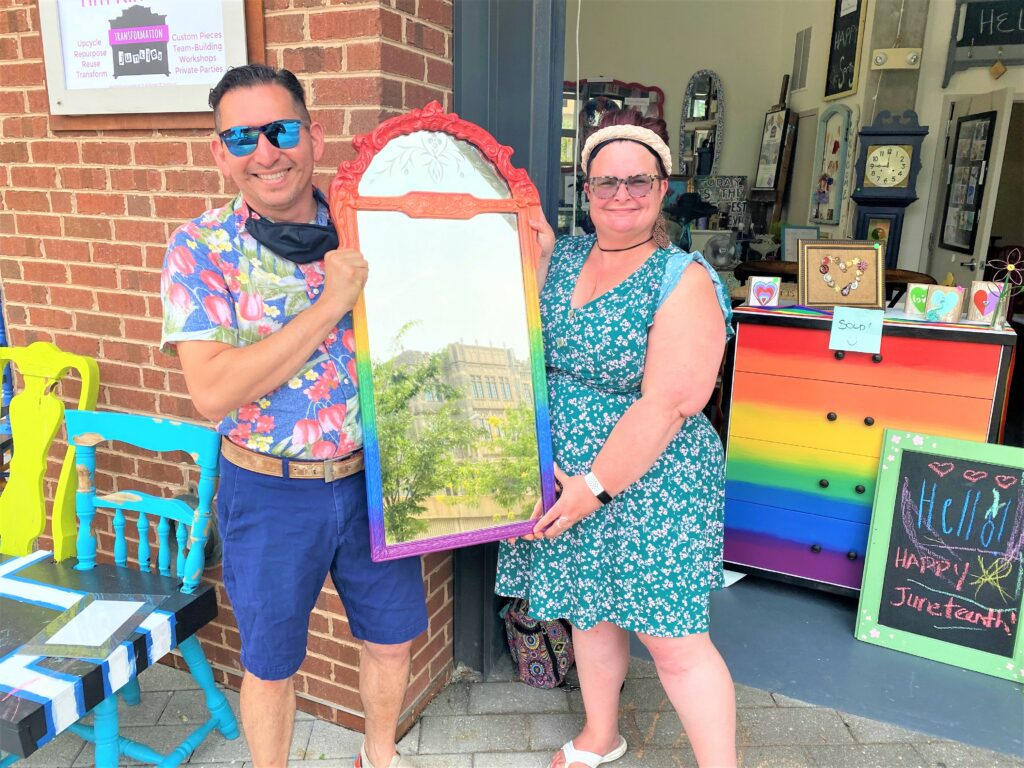 Featured here are Tammy and Gorky who joyfully took home one of these upcycled mirrors. Thanks to them for adding to my happiness—and pride, too!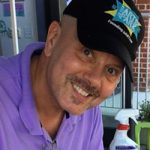 Tim Kime
Artist, Motivational Speaker, Life Coach
Tim Kime is an artist, life coach, connector. He is President of Kime Leadership Associates offering executive coaching, meeting facilitating and motivational speaking. He is also Chief Creative Force of Transformation Junkies which upcycles furniture and other household items into functional works of art. He combined his two passions—unleashing the potential in people and transforming items with the launch of the Art of Possibilities Workshops. These workshops are part upcycling, part dreaming, part goal setting.