The weather is warmer, the days are longer, and the feeling in the air is optimistic. This all means that Spring is almost here, making it the perfect time to get your personal space feeling and looking fresh and new.
Following the 6 Ds: Discuss, Declutter, Decide, Donate, Display & Dance, you can easily and joyfully transform your home for just a few dollars—or even less!
Many thanks to Heather for enlisting me to guide her through the process. I appreciate her being open to seeing her and her husband Bryan's existing space and items with new eyes and, like that old Patti LaBelle song, with a new attitude. Their living and dining room areas went from "cluttered and chaotic" to "simplified and clean" in just a few hours, and with a long-lasting impact on their daily living.
1. Discuss
Heather and Bryan's home has tons of charm and warmth—just a little bit too much for their limited space. Given the pandemic and all the time they spend there working and living, Heather decided it was time to make a change. I applaud her for reaching out to enlist my help because this process is so much more fun and easier with an "outsider," someone who is not attached to things and can help you move through any resistance and roadblocks.
As a life and leadership coach, I started the project with Heather by asking her about the outcome.
How does she want to describe their space after we're done with refreshing it? How does she want to feel when she is in the space after we are done? She wanted to feel relieved, peaceful and calm, so we kept those feelings in mind to keep us moving forward.
2. Declutter
Fortunately, this wonderful couple was miles ahead of others with their great couch, love seat, dining room set and many beautiful accessories. However, it was hard to see everything because they were buried under things, so first, we had to create a blank canvas.
We began by moving items from their coffee table, side tables, shelves, and love seat, and placed them on the dining room table.  Several items by their entry way blocked the flow into the space and were moved out of the way.  The majority of the artwork was taken down and placed to the side.  We dusted and cleaned.  I raised the blinds to let lots of sunlight into the room. 
What big difference these actions made! It gave us a chance to look at their living room to actually see the space and not just the stuff the in it. It also made it look tons larger, too!
3. Decide
Famed organizing consultant, author and TV show host Marie Kondo said, "Discard everything that does not spark joy." The next was to decide what was to stay and what could be donated or tossed. This is the hardest step because we have items we feel we "should" keep or use but don't like them or don't have a function for them.
For some items, Heather was clear that she wanted to keep them and find them a new home in the space. For others, she didn't hesitate to say, "Thanks and goodbye!" to it. Then she had items that she was lukewarm about, so I was able to ask her if they gave her joy, inspired by Marie Kondo who also said, "Letting go is even more important that adding." As she thought about it and considered her feelings with the item, it was easier for her to move it out. Also, focusing on our goal of clean, peaceful and modern in mind, kept us with an eye on the prize.

4. Display (with Delight)
With the approach of "less is more" in mind, we started placing things that she loved on the coffee table and in the shelving unit displaying their TV and electronics. Heather loves teal and she has lots of pretty pieces in that color. We lovingly put those in possible places, and then stepped back to determine if they worked. Part of the fun—and challenge—of this step is to not get stuck. Just because you put an item there doesn't mean it has to stay. Try something in a couple of locations and see how you feel.
Again, Heather and Bryan had so many great items including lots of lovely pieces of wall art. Heather knew she wanted to keep the big painting above the couch where it was, so we didn't move it but rather added to it. I lined up the couch with one side of the painting and hanged two smaller pieces on the other side to fill in the space above that part of the couch. Matching the big painting's light colors, the two additional paintings were white and lighter, too. One had some teal in it so it look connected and cohesive to the space.
A corner wall by the window needed something and all the existing artwork didn't quite work. My solution? We went "shopping" in her home and found the perfect photo of them from a special occasion that was in a white frame and featured Bryan in a teal sweater. Love it!
As we continued to remove items and move them around, an important and big decision was made. Two dark end tables, while nice pieces, took up too much real estate and didn't serve a useful function. Getting them out of the space, visually made the room look larger, too.
Heather is a creative type, too, so we ensured that some of her artistic touches were added. Hand-painted wooden initials for her and her hubby and a piece that had "Love" on it were added. All were happy pieces that underscored their feelings for each other and made the space very personal. I didn't want their home to look staged and generic, like a realtor might do if selling your home.
5.      Donate
If I see that an item that can be used some way, I often want to keep it rather than throw it out. After all, I tell myself, "Someone could use or will like this." While that may be true, it doesn't mean it needs to stay in your space.
The best solution is to donate it so that someone else gets to benefit from your item and it gets a chance to have a new home. And, of course, Goodwill is the best place in town to receive your donated items because their mission is so important. To make it easy for Heather, anything we knew would be donated was moved right out of her living and dining room space and onto her front porch.
When the project was finished, things were loaded right into her car so all she had to do was drive to Goodwill to drop off the boxes and bags. Easy, easy, easy!
6.      Dance!
Heather was so great to hang in there with me as we worked together and as I encouraged her to let go of items and to keep her focus on the vision of, "clean, simplified and modern."
Mission accomplished!
Now when you walk past their beautiful teal front door and into their living and dining room space, it feels very inviting and friendly. Gone are the items stored under the couch and love seat. Put away are all the papers and stacks of magazines. Donated are items that were no longer needed.
While it was lots of work, I could see a change in Heather in the process. She sent me a text to say that she and Bryan "love it and the openness." They now can dance in the space and her enthusiastic appreciation for my efforts makes me want to dance, too!
Thanks again to Heather for enlisting me. If I can help you, too, to refresh, transform, or update your home or office, please contact me at Tim@Tranformationjunkies.net. It would give me joy to do so for you, too!
.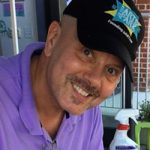 Tim Kime
Artist, Motivational Speaker, Life Coach
Tim Kime is an artist, life coach, connector. He is President of Kime Leadership Associates offering executive coaching, meeting facilitating and motivational speaking. He is also Chief Creative Force of Transformation Junkies which upcycles furniture and other household items into functional works of art. He combined his two passions—unleashing the potential in people and transforming items with the launch of the Art of Possibilities Workshops. These workshops are part upcycling, part dreaming, part goal setting.