Forget the travel-themed snow globes, postcards and T-shirts—transform a set of chairs to remember your summer adventures. Turn to colors from your vacation to create a colorful memento you will love to see and use every day! With several shades of spray paint and inspiration from your travel destination, you will love the results of this easy DIY project.
These were inspired by my recent family trip to Sedona, Arizona and picked up the colors of the mountains, rocks, sky and sunsets. What colors will you use?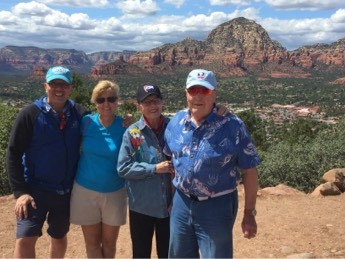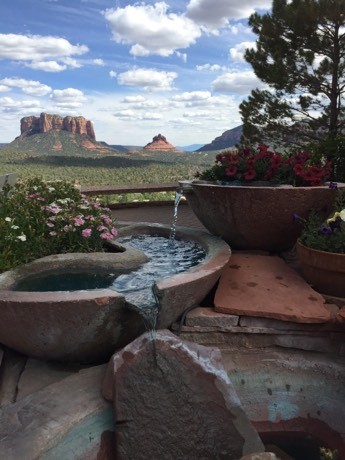 Age level: Teens and adults
Ability level: So fun and easy, you'll think you're still on holiday
Items needed:
1. Pair of wooden chairs
2. Spray paint, various tones from purples to yellows to blue
3. Spray polyurethane
Time requirement: 30 minutes per chair, not including paint and poly drying time
Cost: $50 for the pair
$20 for wooden chair pair
$30 for various shades of spray paint with lots left over
$6 for can of spray poly
1. Every great get-away starts with a trip to Goodwill
Set your GPS for a popular destination: your local Goodwill store.
Once there, navigate over to the Home Section where chairs and other furniture pieces await you.
Look for a pair of wooden chairs with simple and clean lines for the biggest impact. While you could apply the steps for this easy DIY project to other pieces, I think chairs are best because their height allows you to see the shading from top to bottom.
Luckily, I had acquired this pair of wicker chairs with tall backs and lots of flat surfaces on which to express myself.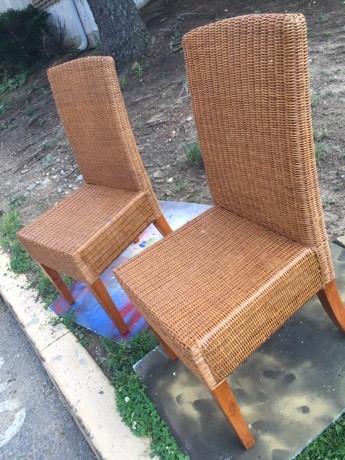 2. Prepping pleases passengers to any location
Based on the chairs you purchased, you may either just want to lightly brush them off and wipe them down to ensure a clean "canvas" for painting.
For chairs of solid wood, you will likely want to grab a sand block or sandpaper to gently buff up your entire chair to make its current finish more paint friendly. You are just making its surfaces ready for painting and not removing an entire layer.
Brush off any dust then wipe the chairs down with a damp rag.
Place your pair of chairs outside or in a well-ventilated area and on top of a drop cloth. To protect your hands from getting painted, too, put on plastic, disposal gloves if you have them.
Fasten your seat belts as your creativity is now ready to take flight!
3. Your first stop: pick your pallet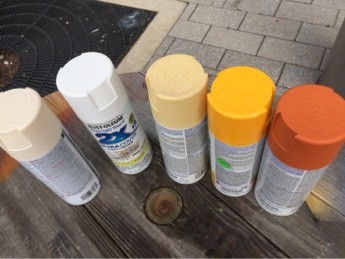 For this transformation, I collected cans of spray paint that varied in shades from light to darker. The mountains and rocks of Sedona have tones in deep oranges. At night, they seem to have more purples. The sky was bright so I wanted whites and a very light blue.
Starting at the top, I sprayed on the white cover a width of several inches.
Moving down, I added the next color which was yellow, overlapping a little of the white and covering several inches, too. Then oranges and purples until all was covered. Given that you will want an organic feel to the piece, you will want to slightly cover over the previous color but not in a harsh, sharp line but flowing from one color to the next.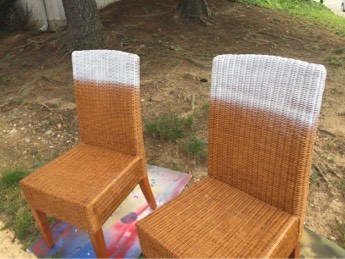 As you add one color, make sure you are working around the entire piece, so it covers the front, back and sides at the same level or dimension. Also, you will want the color layers to be the same on both pieces, so place the chairs up next to each other and work between the two so they truly compliment each other.
Add one layer on one chair then repeat the same color and step on the other.
Go back and forth between them.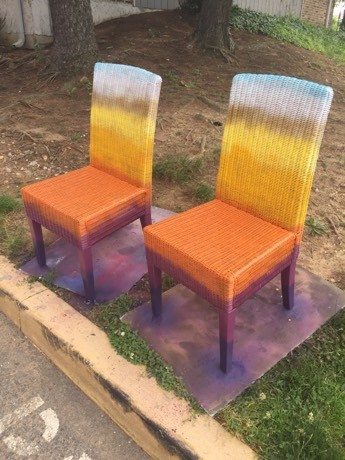 As with any painted project, spray on a solid but light coat and don't worry about perfect coverage. You will come back several times with light layers to avoid drips or smears.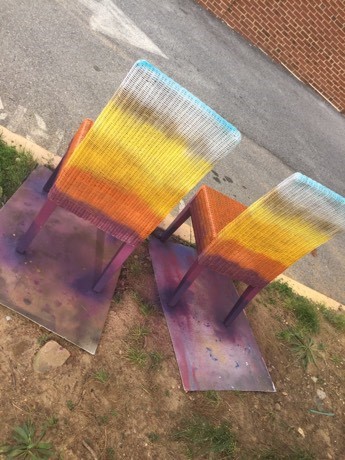 Design Idea: While the colors of the dessert provided inspiration for this project, consider where you have traveled and pick up cues—and hues—from that place. Been to the ocean? Select varying shades of blues and greens. Visited the country? How about shades of greens and yellows? Hit an urban area? You could select tones in blacks, grays and whites with blue accents. Visited a place with snow? Tones of whites, blues, silvers and grays could be really cool!
4. Spray on additional points of interest
After you cover your entire pieces from top to bottom and have ensured none of the previous colors or tones are showing through, you may want to add some extra visual interest.
I had a can of very light blue so added a splash of that color along the top.
Among the yellow tones, I added some gold paint to add some shimmer. If you are painting with tones from the ocean, you might want to add a splash of silver to mimic light reflecting off the water.
For your urban look, grab some red and add some fun graffiti to enhance the overall look.
5. Poly will keep your memories (and project) fresh and vibrant
Although most brands of spray paint are pretty durable and water-resistant, you might want to spray on the poly to add extra protection for your transformational efforts.
You can spray on a layer or two over the whole piece, then let dry overnight.
6. Add accessories and place in a spot where you don't have to travel far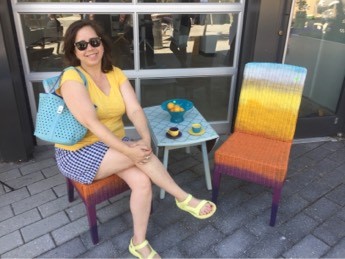 Have fun by positioning your trip-inspired pieces with other colorful objects and items.
An end table in light blue was put in between as a place to set drinks.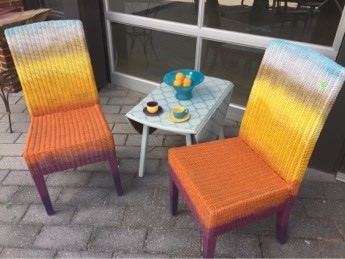 A turquoise bowl holding oranges was placed on top for extra pop. Each time you see your upcycled chairs, you will remember what a wonderful journey you had—-to that memorable destination AND to Goodwill!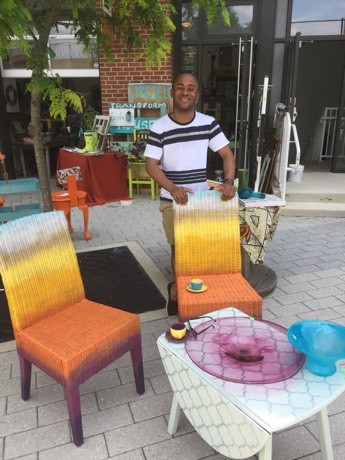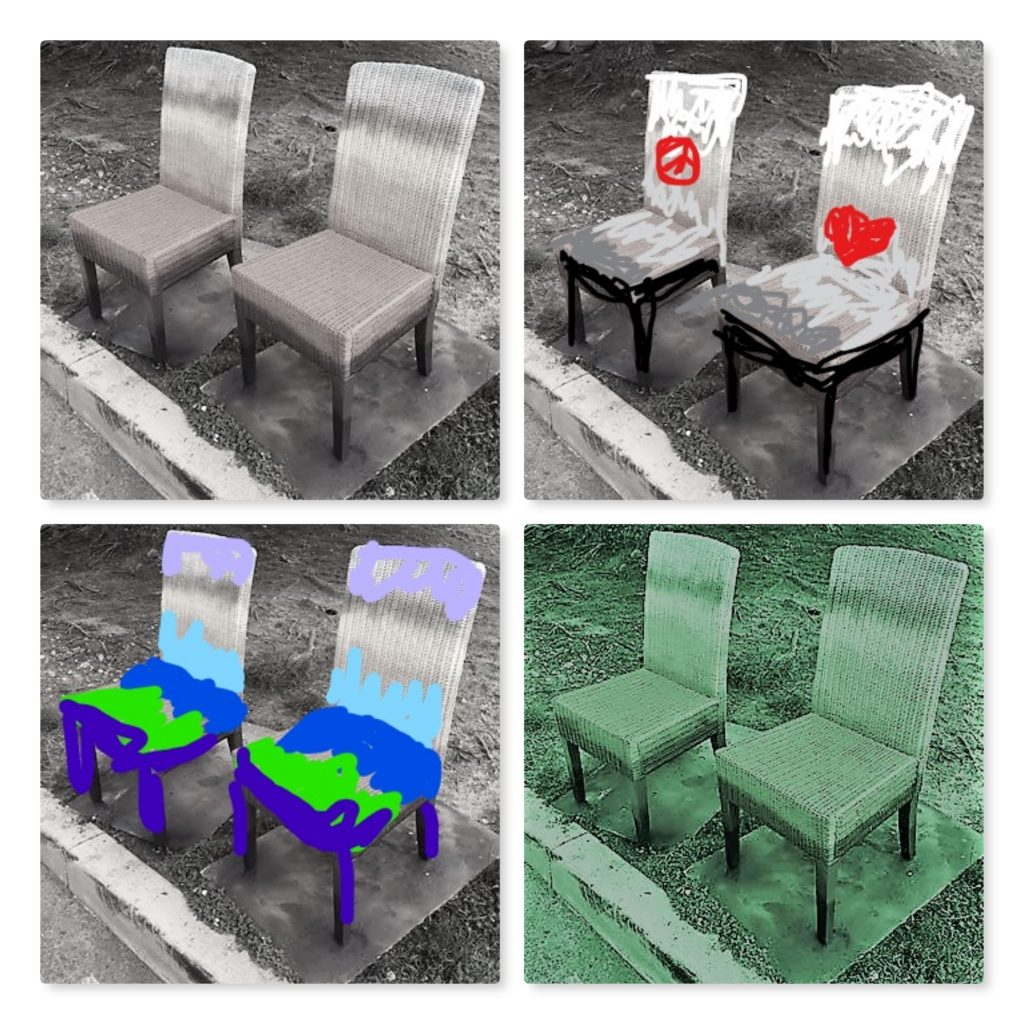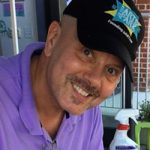 Tim Kime
Tim Kime is an artist, life coach, connector. He is President of Kime Leadership Associates offering executive coaching, meeting facilitating and motivational speaking. He is also Chief Creative Force of Transformation Junkies which upcycles furniture and other household items into functional works of art. He combined his two passions—unleashing the potential in people and transforming items with the launch of the Art of Possibilities Workshops. These workshops are part upcycling, part dreaming, part goal setting.