At Goodwill's New Headquarters, Random Chairs Come Together with Color and Purpose.
Looking for a funky, functional and visual way to show your organization's mission while engaging your team in the process? Then, model what we did for Goodwill of Greater Washington's new employee café: collect a variety of chairs and unite them with a bold and beautiful color. Each chair tells a story that, when combined, makes a big statement about the organization's transformative mission and its efforts to ensure a greener community in the process.
President & CEO Catherine Meloy had a brilliant idea—rather than purchasing traditional or brand new typical office chairs, what about gathering chairs from each of Goodwill's stores for the new space?
Well, here it is—her vision victoriously came to life. And what a great way to highlight part of the organization's business—donations and retail sales—for employees, visitors, volunteers, board members and donors who visit the new offices!
You could do the same for your organization to show you, too, care about Mother Earth. Or copy this idea for your very own kitchen or dining room! Individual pieces speak louder when working together as a unit, yet are unique in their own right. Sounds like how a great team functions—I think Catherine is really on to something here!
Check out the simple step-by-step ways this project took discarded chairs and made them into a masterpiece of a collection!
1. Engage your team in the selection process & foster ownership to the project
Goodwill has stores all over Greater Washington, 20 in fact, with thousands of dedicated employees who work every day to ensure excellent service to customers and the community. Given the size of the new headquarters' employee café, the idea of selecting one chair from each store was right on target. The word went out to managers to select several chairs to represent their store and Catherine Meloy would visit each store, connect with its leadership and lovingly bring "their" chosen chair back to be transformed. What is so wonderful about this approach is that it immediately got others involved in the look and feel of the new space and gave the managers a chance to show off their stores' unique addition to the collection.
If you are borrowing this idea for your home, you could engage your family in a similar process.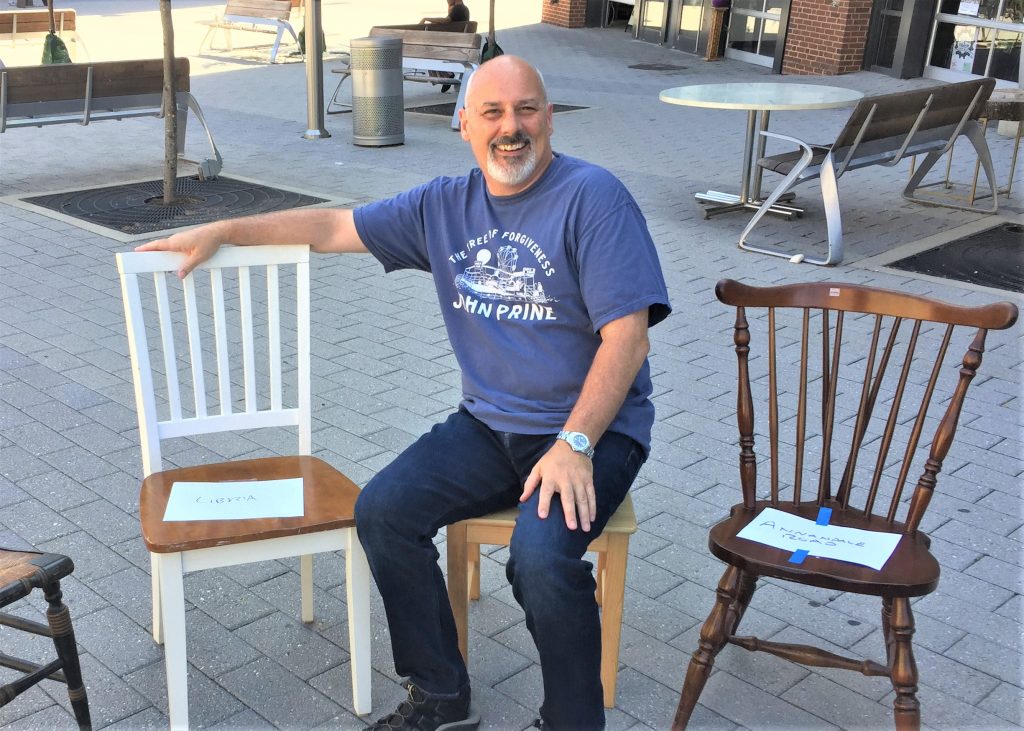 Have each person in the household select a chair to add to the group so rather than just getting chairs, you are involving everyone in the project and allowing them to express themselves through their selection. And you could add chairs that you currently have to "new" ones picked up at Goodwill!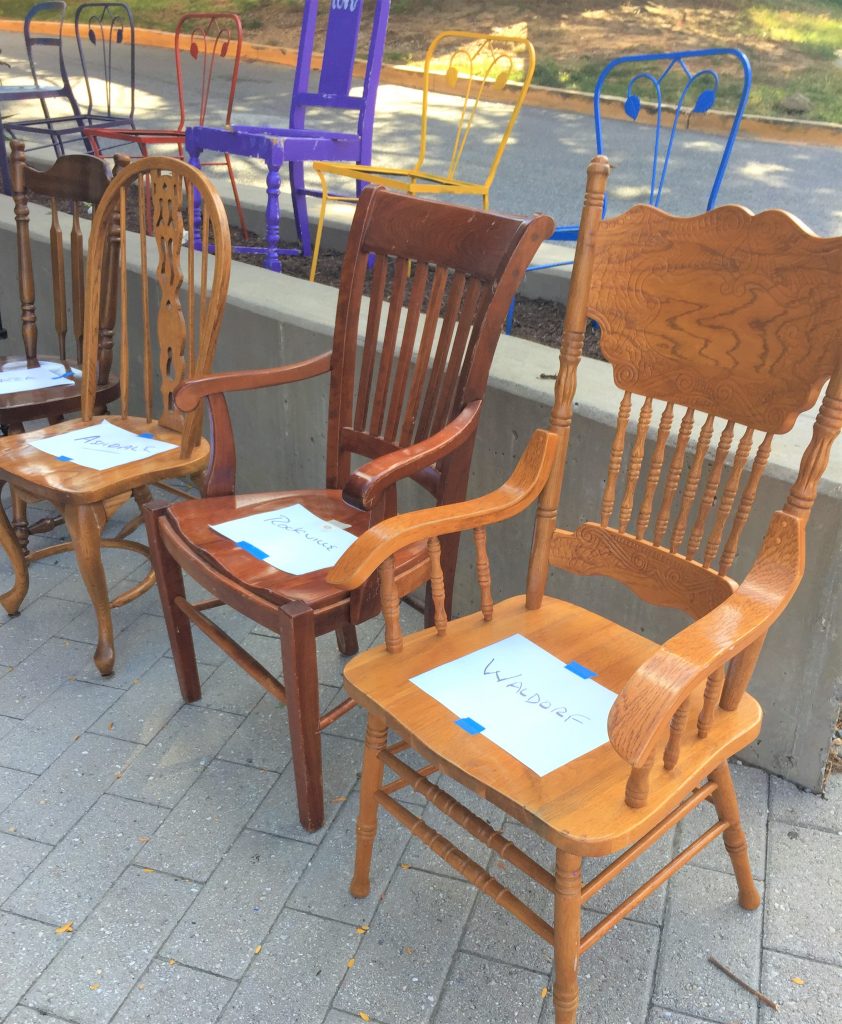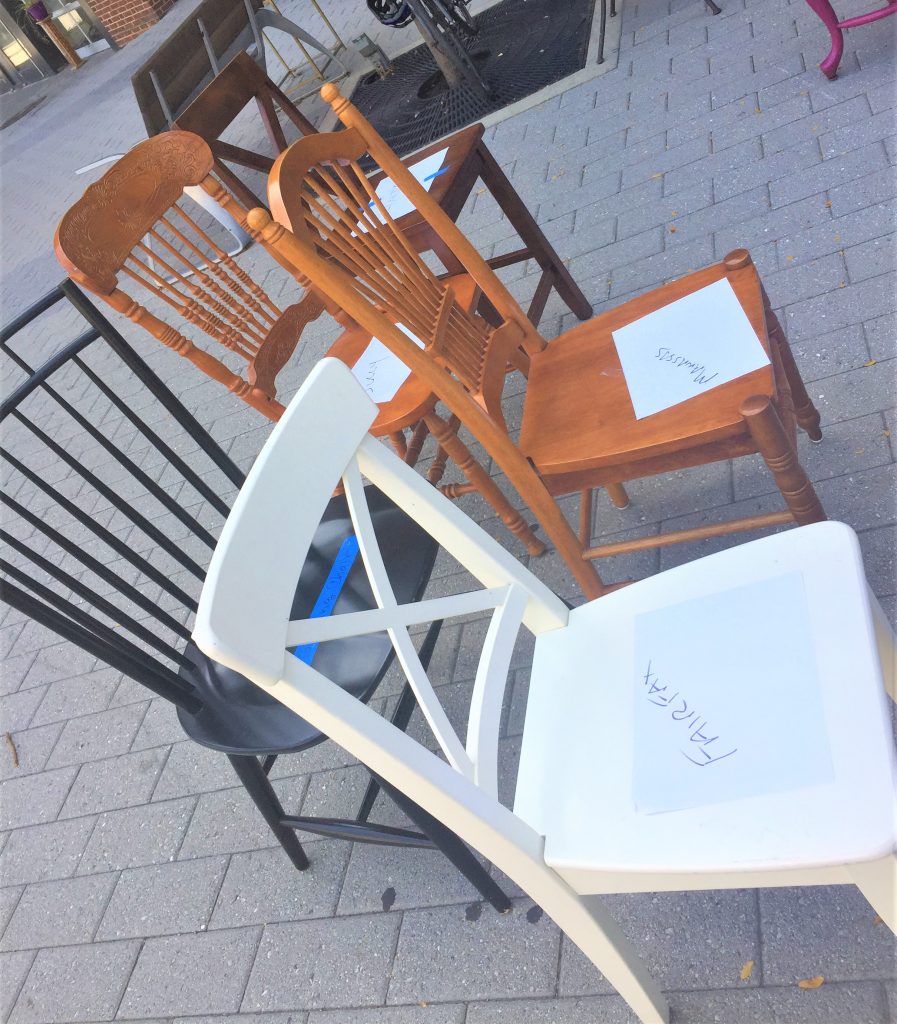 Consider adding that old chair from Grandma to others purchased for a totally fun and meaningful seating arrangement. And who says all chairs around a table have to be the same? Not me (and not Catherine!), in fact collecting lonely single chairs, often available at rock bottom prices at Goodwill, makes me happy thinking they will now have a home and be part of something—a family of chairs!
2. No boring allowed—pick a totally bright and bodacious color
One of the reasons why this project works so well is the vibrant color. Wooden chairs that were neutral in color for the most part—browns, blacks, even some white tones—were given a major jolt of energy with the selection of a totally out there color called "Forward Fuschia." And very traditionally shaped chair designs, like the Parsons, Fan Back Windsor, Mission Oak, Midcentury, Colonial, Farmhouse and more, suddenly felt totally modern and urban. What color will you chose for your project? I say let it all hang out and go very big or go home!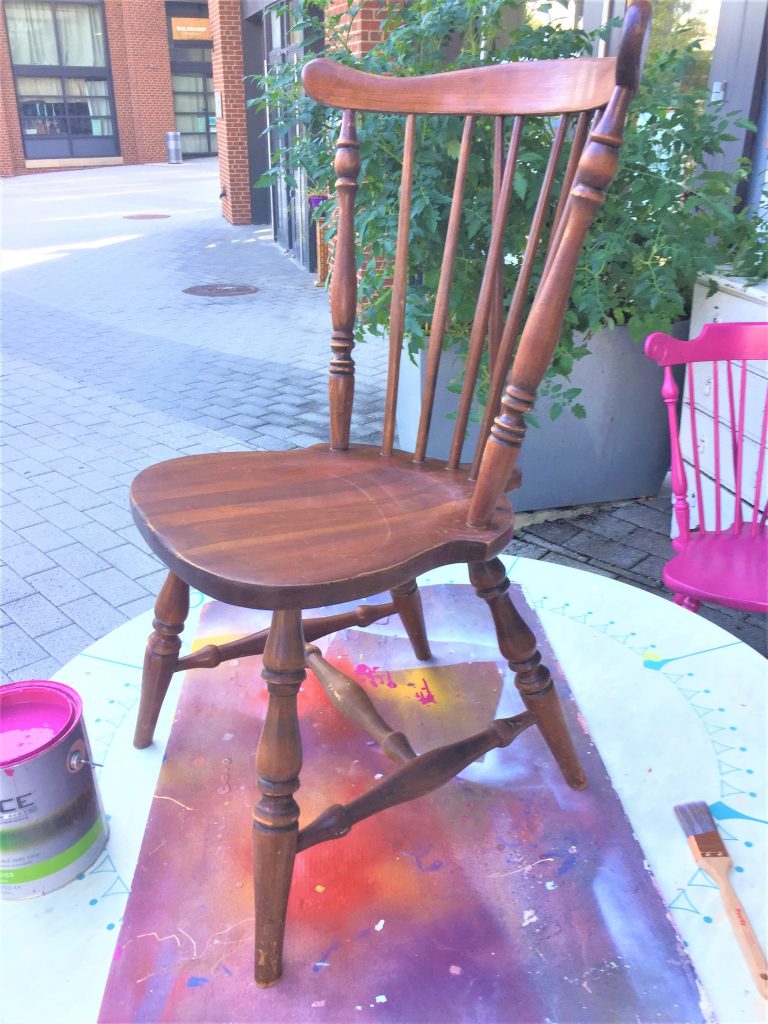 3. Make prepping playful
You now have your chairs collected and, hopefully, free from any repairs or fixing. (Another excellent reason to shop at Goodwill for your chairs is that they "screen" items so your only options are ones in great shape and ready to be used immediately.)
With sandpaper or sanding blocks in a medium fine grade finish, buff up each chair to make them more paint ready and friendly. This is the hardest and most tedious step in the process, and well worth it.
Invite a friend to help you!
If possible, do this outside to enjoy a sunny warm day. Or put on your favorite music and work away while you sing and move. Bottom line, making this step more fun will make it go by more quickly.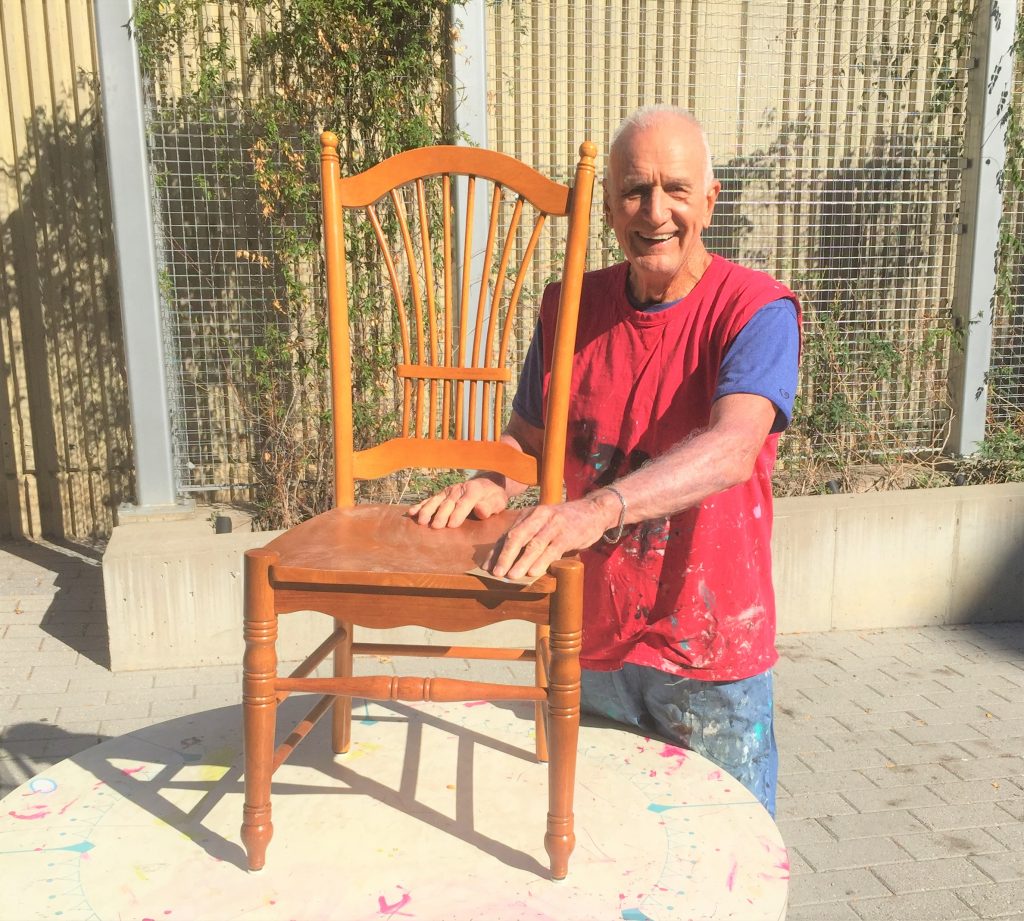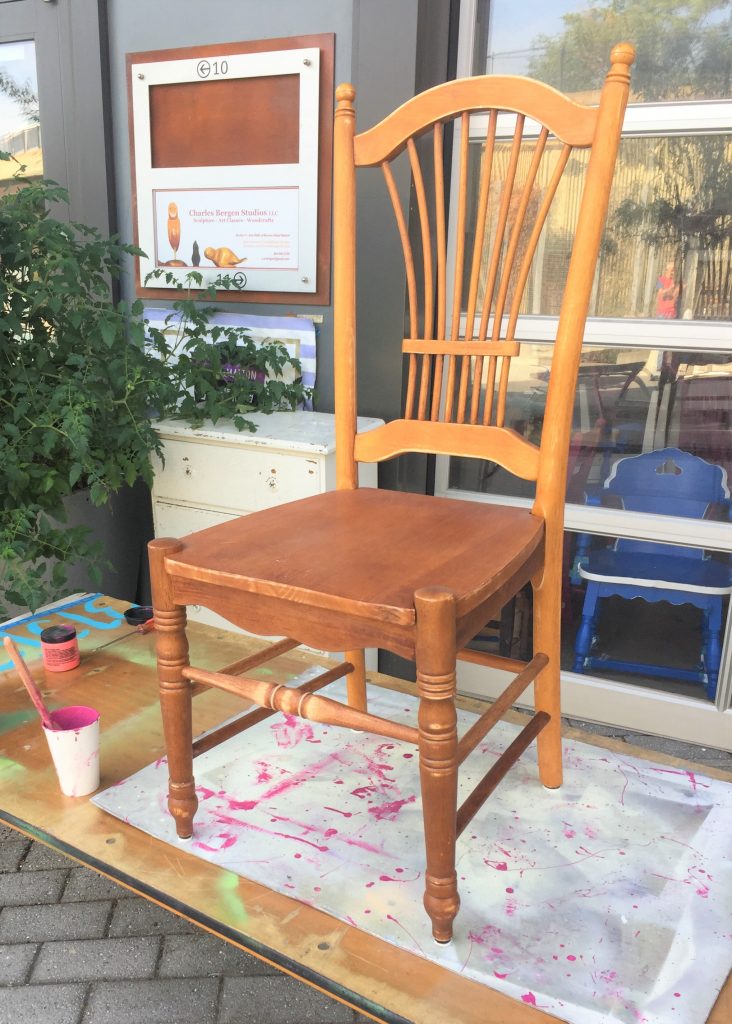 Remember, you are not stripping these pieces or removing the entire existing paint and colors. You are simply roughing it up, so to speak, to provide a surface for the paint to better hang on to.
Once done, wipe your chairs down with a damp rag to remove any dust and debris created. Let them dry and you are ready to start transforming with paint!
4. Painting on lots of light layers
Place your chairs on a drop cloth to catch any spills or drips.
With a light hand, gently apply a thin coat of paint on your entire piece. Most likely, you will be able to see the chair's current color show through—no worries at all.
Let it dry overnight if possible then turn the chair on its back or side and add another light layer. By placing it on its side or back, you will be able to see the chair from every angle and will ensure solid coverage. Again, don't worry about the original color showing through as your additional layers will mask it.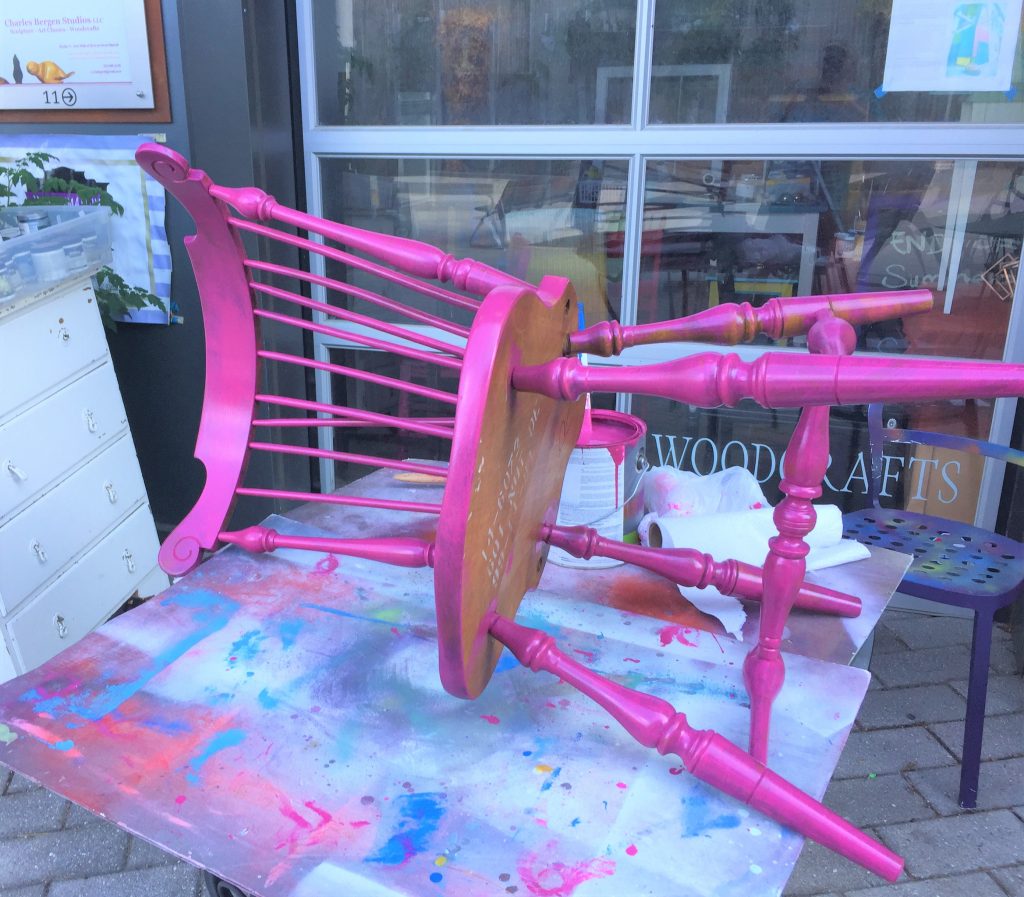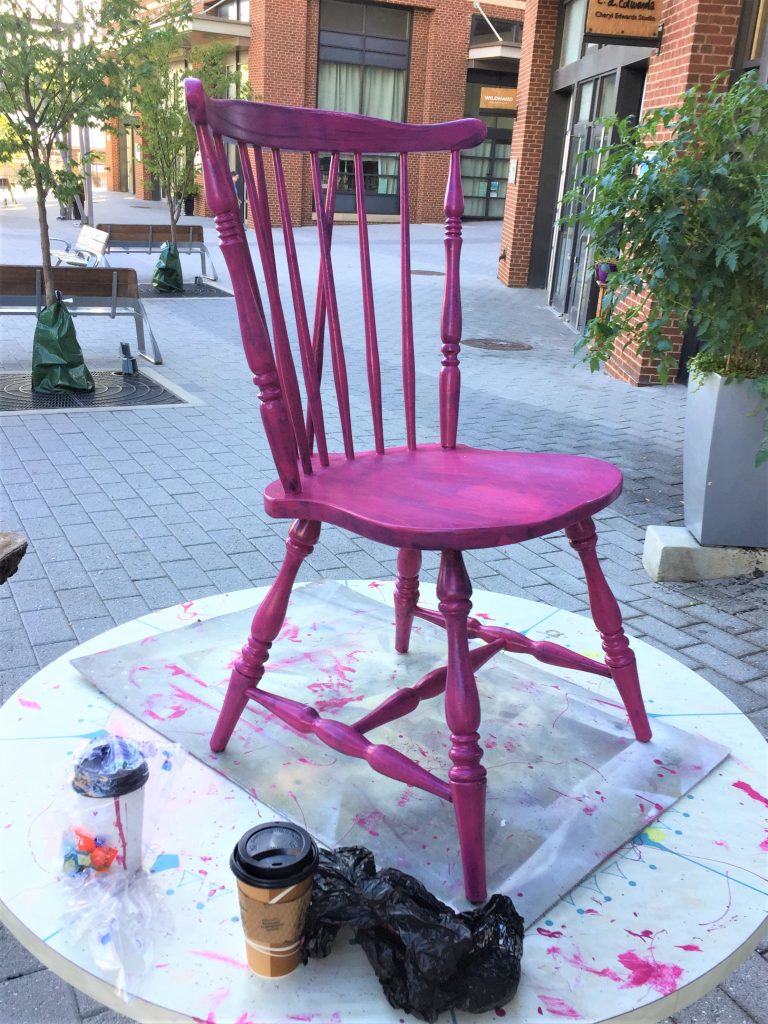 Repeat, repeat, repeat this step as many times as need to ensure a great final look to your chairs.
Keep placing them on their sides and add another thin layer.
Keep your eyes out for drips and runs and use your brush to get them before the paint dries.
Again, as a way to get your team or family involved, each person could help with painting, too. This will make it a fun project for all and make the final product enjoyed that much more by each person helping.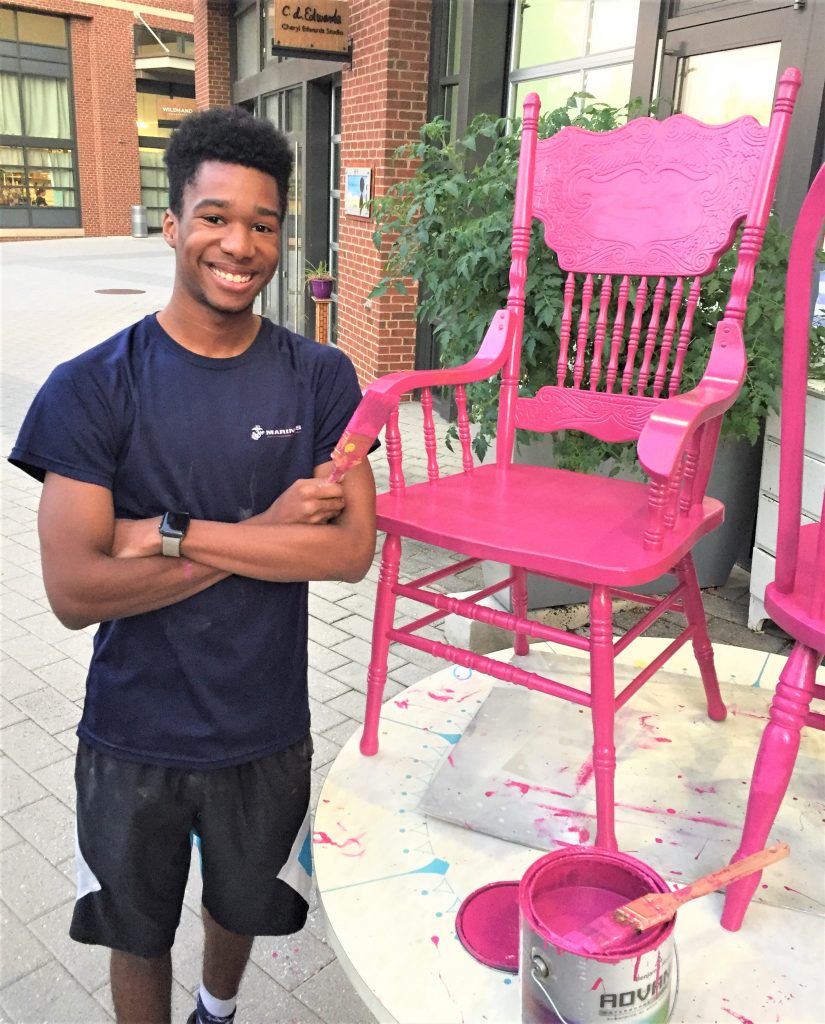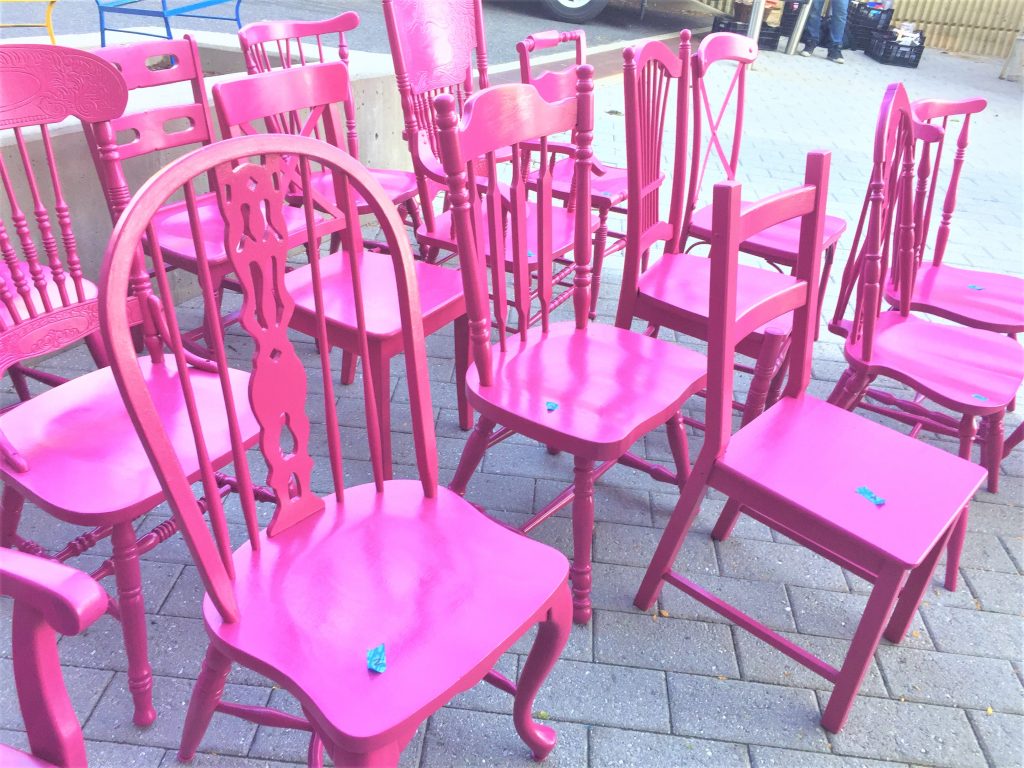 Expert tip: For extra durability, a special enamel cabinet paint was used for the headquarters' chairs. We knew they would be used often so it was worth the extra investment in paint as well as in additional paint brushes and mineral spirits to clean them. Also, a semi-gloss finish was chosen to provide some shine and to allow for easy cleaning of dirt and fingerprints. Consult the painting experts at your local hardware store for their recommendations; it will pay-off I promise!
5. Label with love
Another way to engage Goodwill's store managers in this cool project was to have each chair specially labeled so all who visit or use the employee café know where the chair came from for the grouping. And to take their level of engagement even further, linking each chair to Goodwill's important mission, each manager was invited to come up with a word or phrase about their transformative efforts.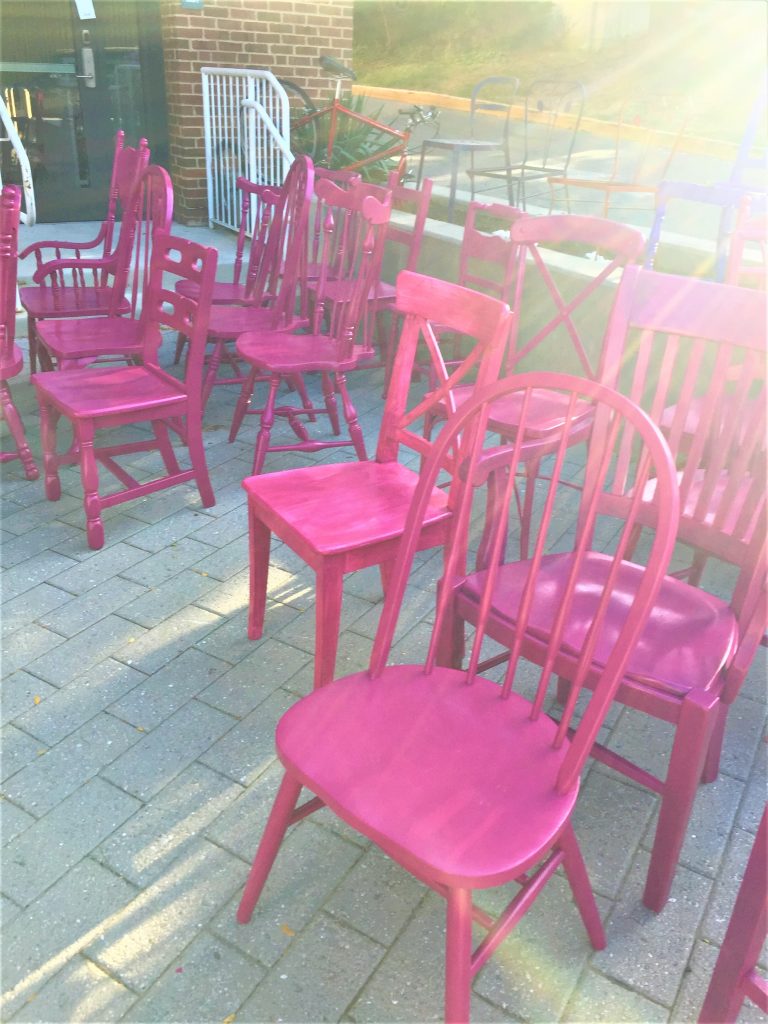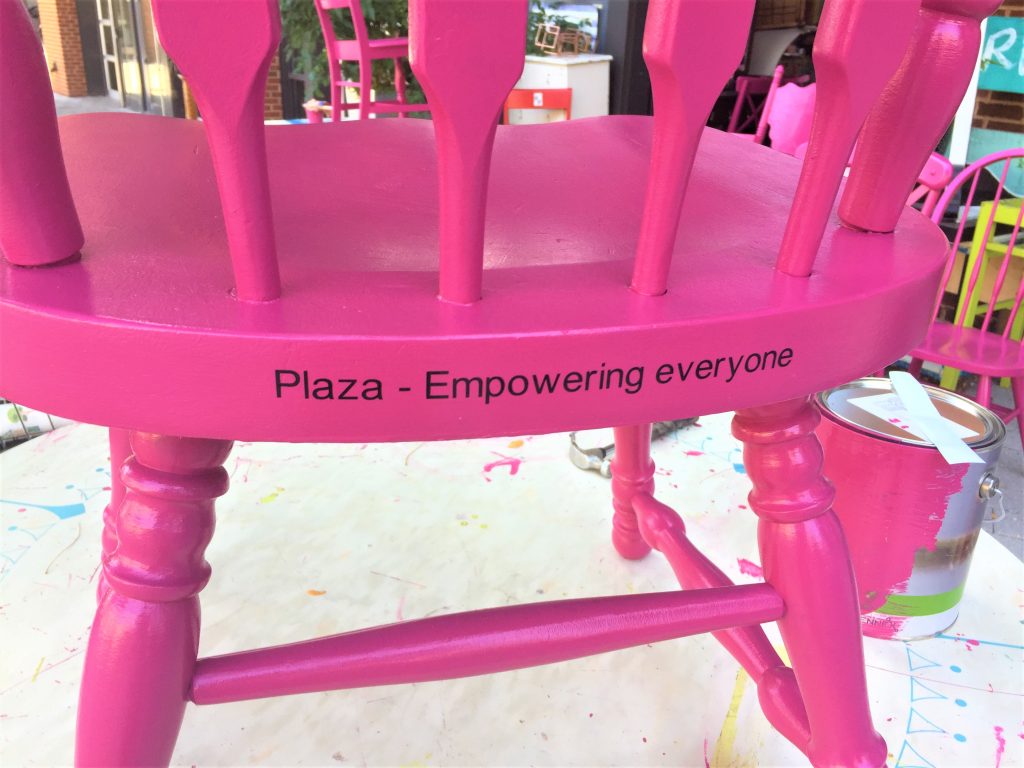 For example, in addition to the store name being added, so was the phrase, "Empowering everyone." Other's had, "Excellence," "You are valued here" and "Nothing is out of reach." Still others featured the phrases, "Serving the community" and "Giving our all, seeking greatness." These powerful words and phrases helped to transform these worn and weathered chairs into visual representations of a remarkable, life-changing organization. These chairs became pieces of pride for many and helped to tell the story. How powerful!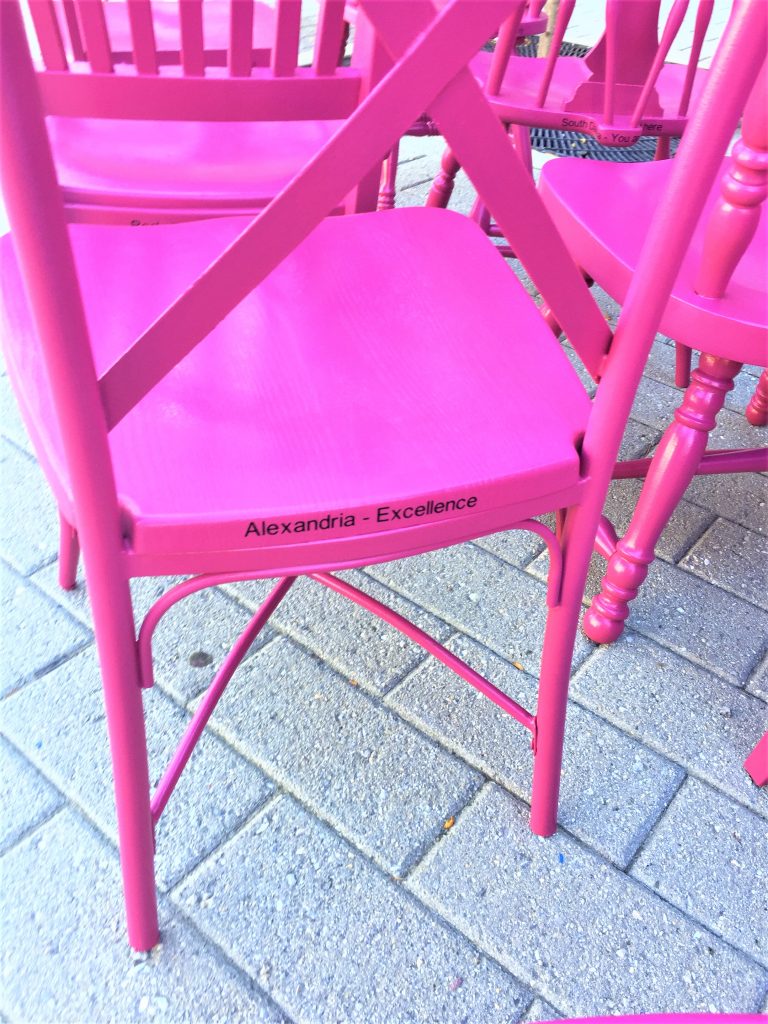 You could do the same thing for your grouping of kitchen or dining room chairs. It would be so meaningful to have each person's name on "their" chair with a word that means something to them like, "Love," "Laugh," "Share" or "Celebrate." While a special label maker was used for the headquarters' chairs, you could hand-write yours on with a thick Sharpie or get stick-on letters from your local arts and crafts store. This simple touch will help to make each chair really, really special!
6. Put in position and plan a party!
After your random chairs are all the same fun color and have lovingly messages on them, set them in place around your table. You will want to plan a special meal or host a party to show off your totally one of a kind table setting. Your team's or family's times together in the space will be even more meaningful because everyone truly had a hand in it. If you are inspired by Catherine's vision (and I know you are!), be sure to take pictures of your new table grouping and share with us! We love to see your efforts to transform pieces, to be kind to Mother Nature and to gather your family and friends!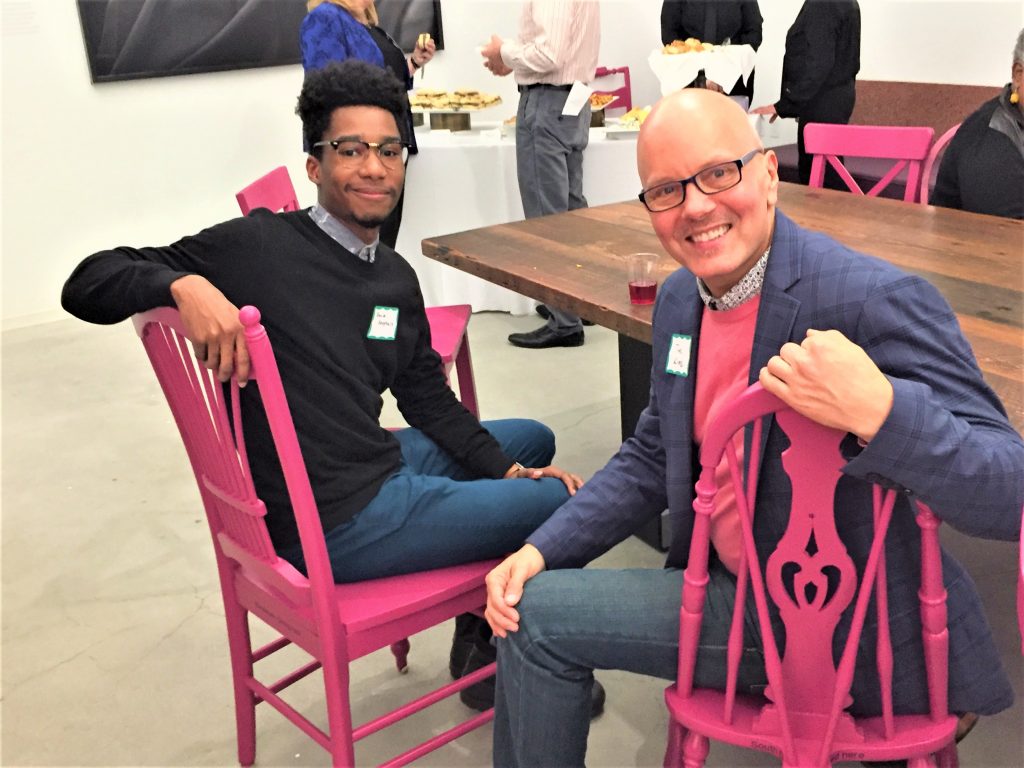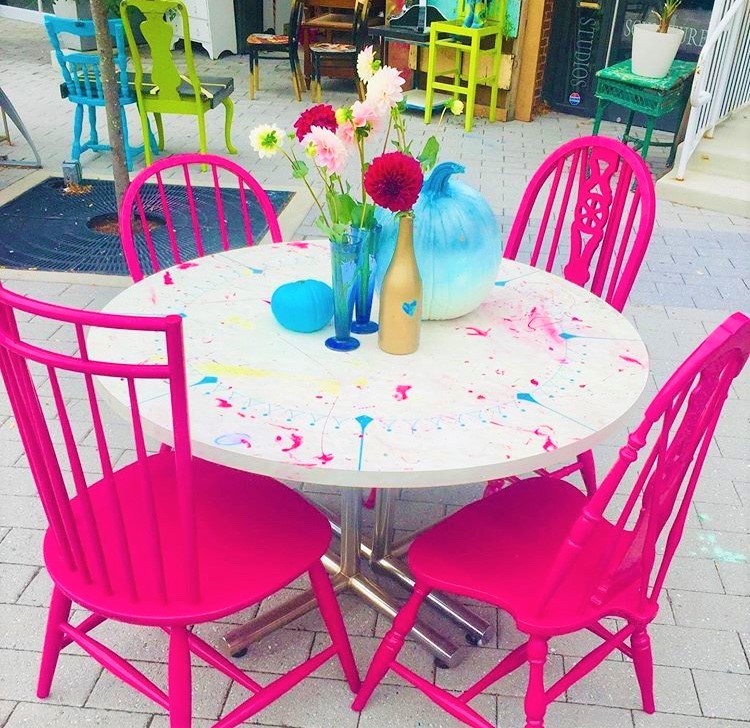 It was so exciting to come to Goodwill of Greater Washington's new headquarters' open house in early 2020 and to see how beautiful the chairs look in the employee café.  Also, seeing them being used by folks who believe and support the organization made my heart sing!  I am so grateful for the chance to support Goodwill in this unique and creative way!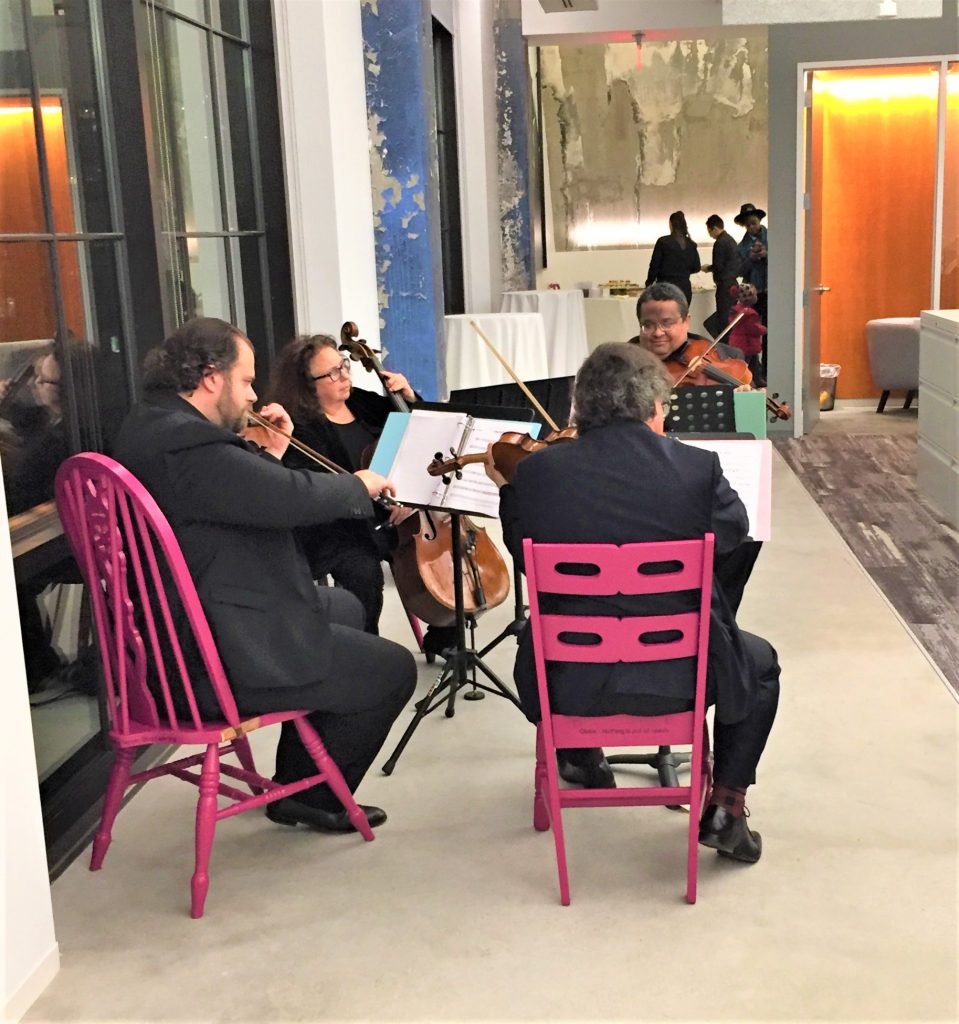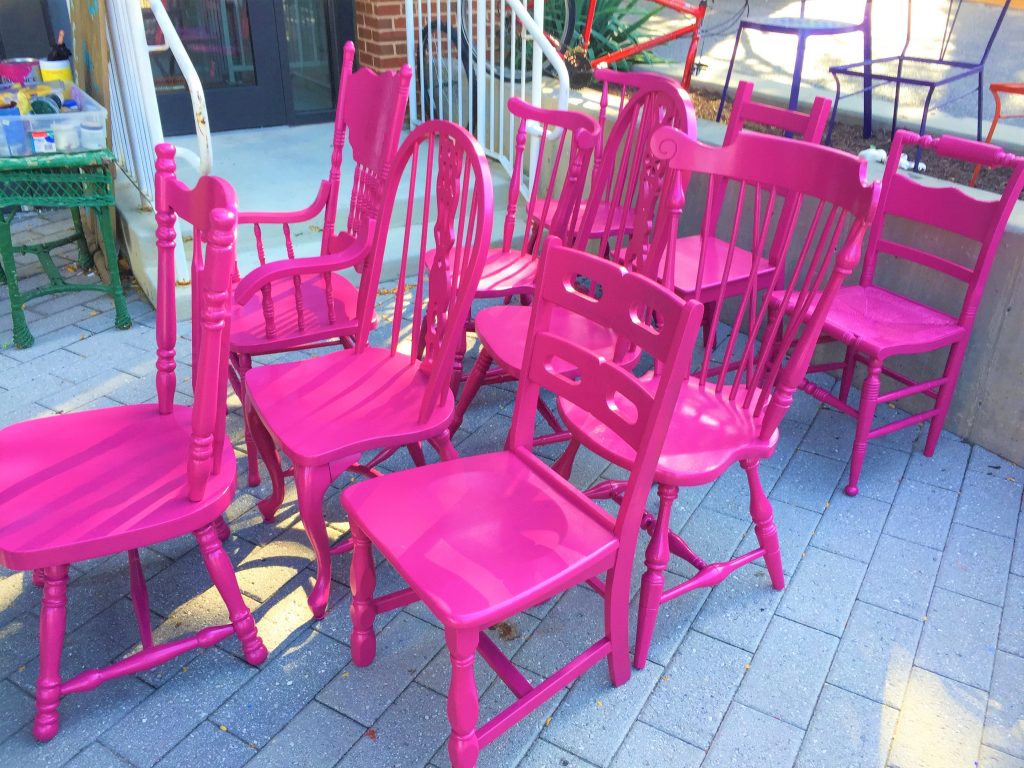 A special thanks to the "family" who helped with this amazing project:  Catherine Meloy for her vision and trust in me to make it happen.  Michael Frohm for his support and careful delivery.  Jeff Cole for keeping an eagle eye on things.  Carolyn Ginder, Daniel Shephard and Dennis Baker for their help in critical steps along the way.  And thanks to the remarkable team at Annie's Ace Hardware in Brookland for their expert advise and ideas. 
See it truly does take a village to transform items and our community!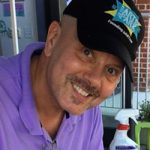 Tim Kime
Artist, Motivational Speaker, Life Coach
Tim Kime is an artist, life coach, connector. He is President of Kime Leadership Associates offering executive coaching, meeting facilitating and motivational speaking. He is also Chief Creative Force of Transformation Junkies which upcycles furniture and other household items into functional works of art. He combined his two passions—unleashing the potential in people and transforming items with the launch of the Art of Possibilities Workshops. These workshops are part upcycling, part dreaming, part goal setting.