I can't get enough of this bright blue color, dear readers. As you might've seen, last month I featured a cobalt blue Tahari blouse for this very series.
Ultramarine or cobalt blue is a staple color in my closet because it matches most anything. You can wear it with a wide variety of shades, patterns and tones all while keeping it a statement but not scary part of your outfit. The intensity of the color is so bright and unique that it's certain to turn some heads. Today's My Goodwill Find will do just that.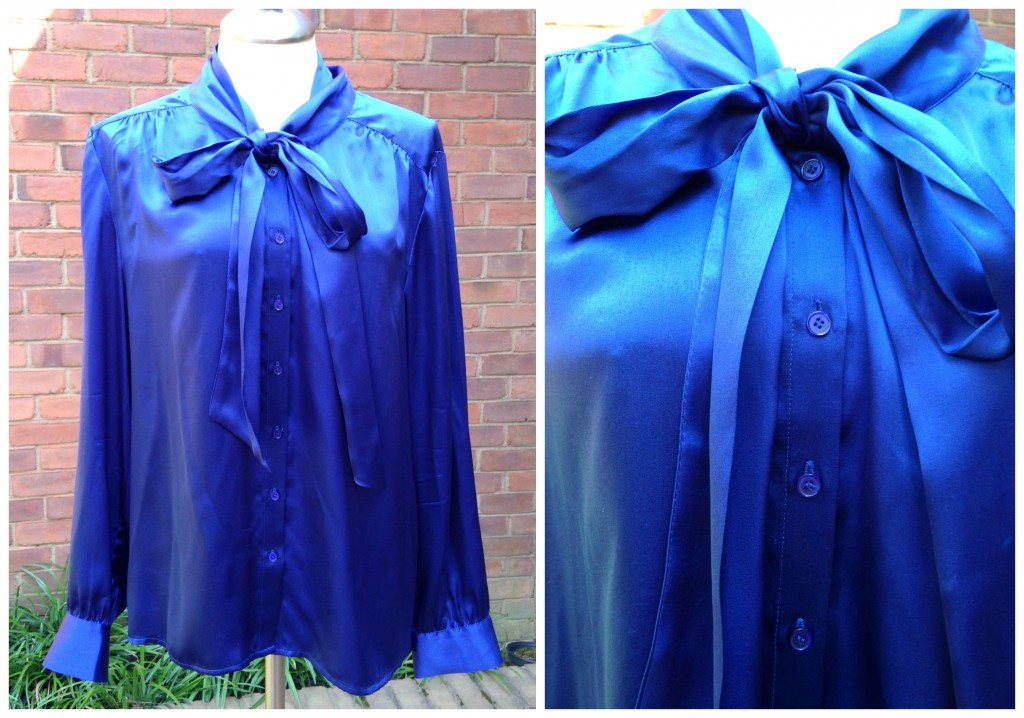 This exquisite and vintage inspired size 14 large/extra-large blue silk blouse is from Talbots. The reason why this top has reached My Goodwill Find status is because of the big bow on the collar area. It's sassy, it's playful, and adds a unique vintage note to the neckline. The original retail price is probably between $60-$70.
The fabric of this blouse is both shiny (it looks like silk) and is soft to the touch. I can imagine that this blouse is incredibly comfortable to wear as a result of the type of fabric and breezy cut of the blouse.

Similar to the Tahari blouse, I'd sport this top with a variety of garments. For this feature however, I'd like to keep it simple and wear only two other colors with the top: black and white. By wearing these two colors, you're sure to look classy and slick while allowing the top to be the only pop of color in your whole  ensemble.
For a work or evening look, a skirt or slacks are definitely a safe bet. With a high waisted skirt, the blouse will look very flowy and feminine without look frumpy. With any skirt that you wear, be sure to tuck the blouse in other wise the shape might look like bag. And that's SO unflattering. I'd also tuck this blouse in while wearing black, white or patterned slacks.
Polka dots and houndstooth are two patterns that are yelling, "Wear me!" with this blouse. I'm a big fanatic of both patterns because they're funky yet almost like solid patterns. They're worn so often that they won't make a boss or supervisor think you're dressed too crazy for the office.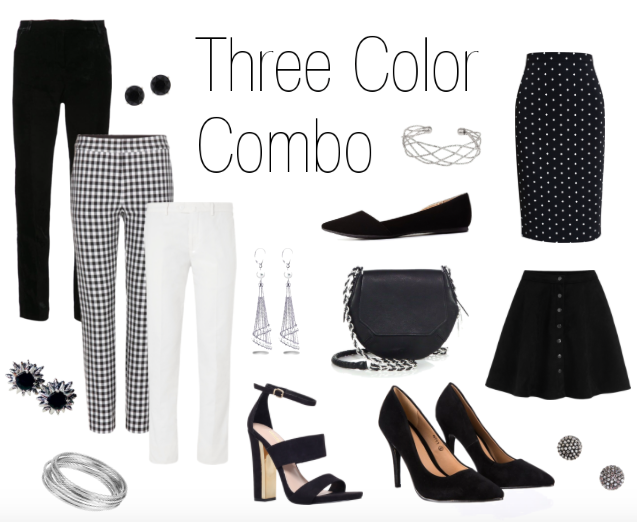 Image by Polyvore.
As for shoes, I'm feeling all black. Suede, patent leather, leather, heels, flats, sandals…they ALL will match perfectly. That's what's so great about keeping one colored item the star of your outfit; black shoes always match.
Finally, for bling I'm recommending a colored tone that I myself have to make a habit of wearing more often: silver. Blue and white colors are generally cooler and colder by nature, making silver a perfect match. If you wear gold a lot like myself and it better matches your skin tone, that color easily work as well in this type of outfit.
What would you wear with this blouse, dear readers? What other colors would look great besides white and black?