Oh, what a time it is to be alive! I (Carolyn of Petite Punk) am still buzzing with excitement about how we're FINALLY BACK with our popular monthly Goodwill Shopping Meetups.
After nearly three years of going on hiatus due to the plethora of challenges presented by the pandemic, we've finally resumed our goodie-filled Meetup series. What a relief! I sure have missed you all.
To kick off our 2023 program, we visited the newest Goodwill of Greater Washington Maryland location in North Rockville.
The event energetically began at 9 AM and spanned an entire exclusive hour of thrifting it up. Goodwill graciously opens the store an hour early – just for us! Handheld breakfast treats were provided, a 25% coupon was distributed to all attendees, and racks were fully stocked. These get-togethers truly make you feel like you're a part of the Thrift Cool Kids Club (let's make that a thing?!).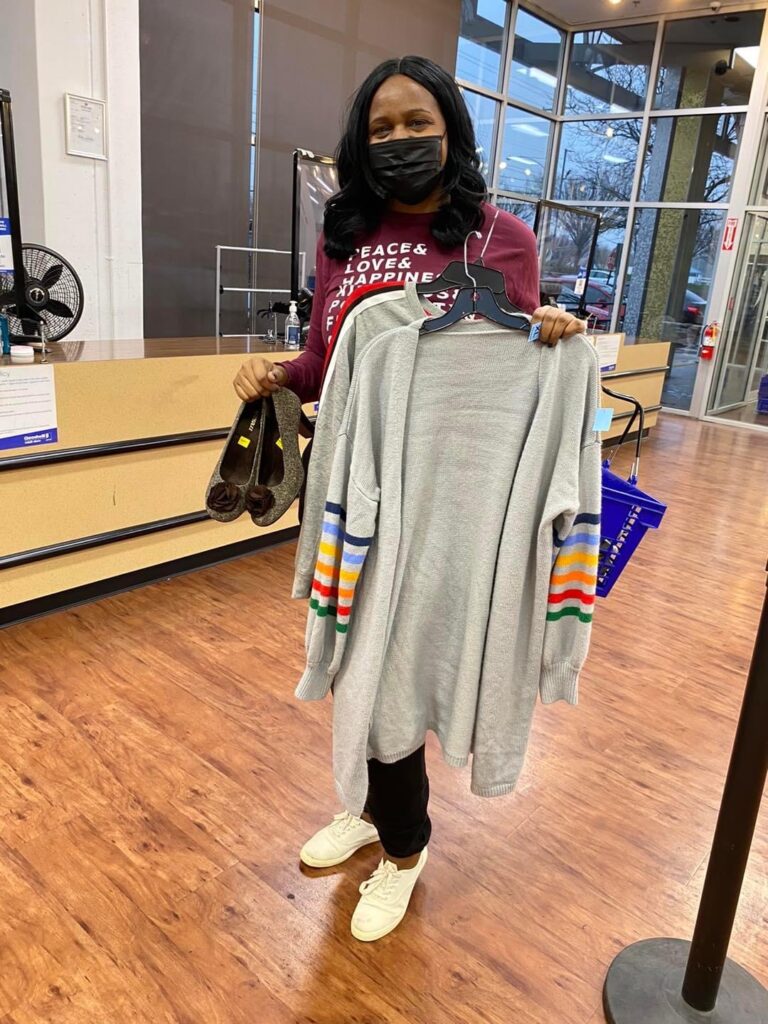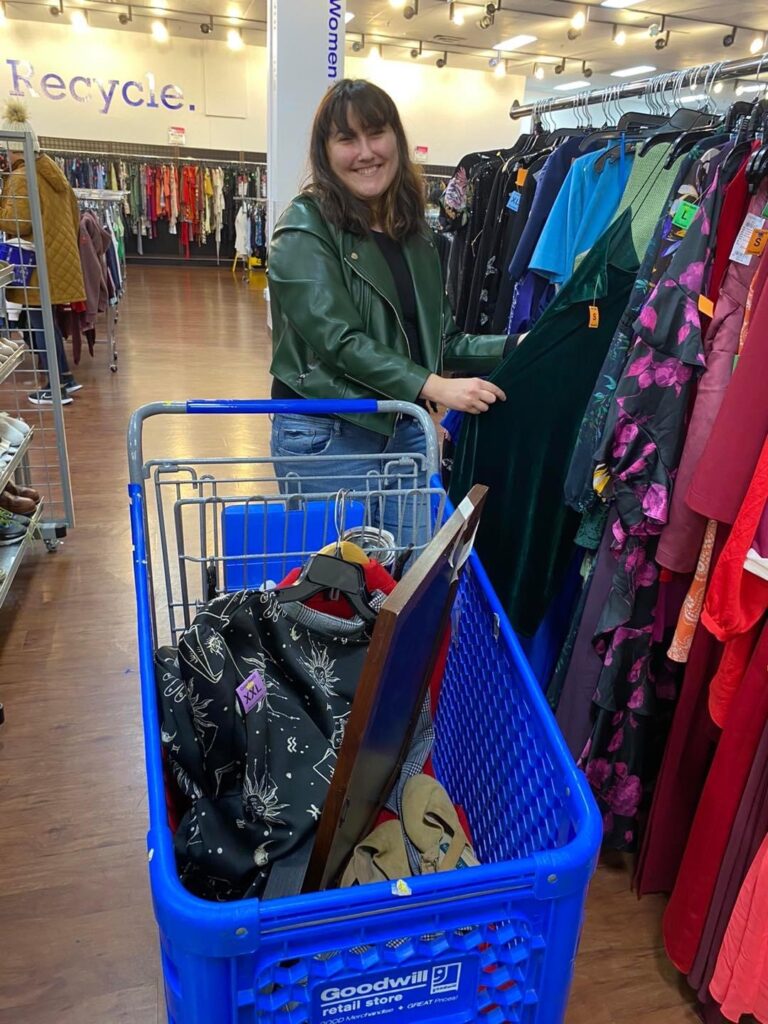 I'm happy to share that nearly 40 attendees came out on this rainy morning to sustainably shop the day away. It was such a delight to see new and familiar faces – even OG Meetup attendees who I met through Goodwill almost 10 years ago! Talk about a Goodwill Reunion!
Below are snapshots that capture the essence of the fabulous morning's festivities – which were filled with Goodwill gems and good company. As you scroll through the images, you'll see every single attendee was on a mission to score great Goodwill finds, while supporting a great community-focused mission that transforms lives in the DMV through job training and education.
Within minutes of the Meetup beginning, shopping carts were filled to the brim. Some local influencers and fashionistas I knew quickly revealed themselves! K. Simone, one of our bloggers, even came out – dressed to impress.
Unexpectedly, K.Simone found herself a well-made bench, ready to DIY and reupholster with their creative magic.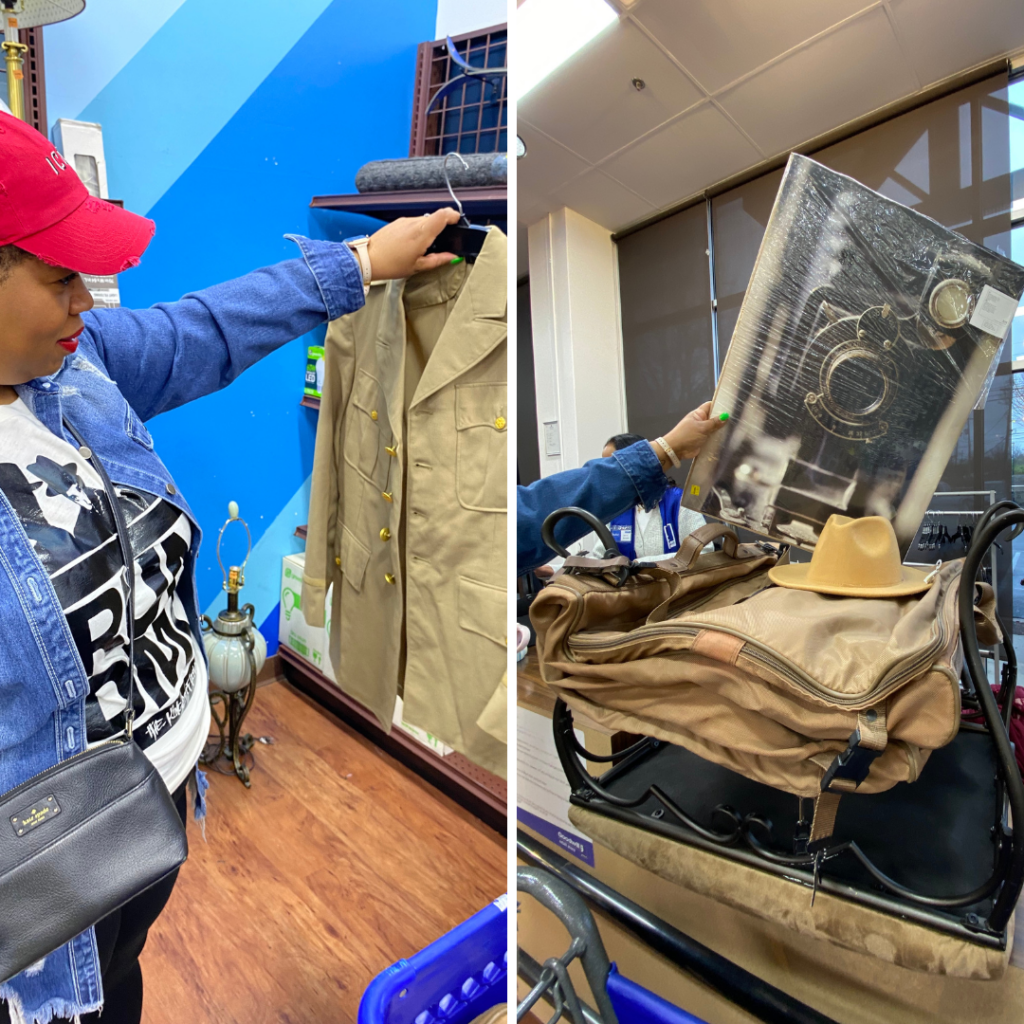 Sam, a long-time Meetup attendee, purchased a cart of punky clothing items and an oversized rubber ducky. This has to be the most unusual find of the day!
Toya and Morgan of DCFunemployment, two social media friends of mine, made me smile when I saw them pull up to Goodwill's entrance. I hadn't seen them in ages but was reminded of their thrift prowess when I spotted their spring-focused thrift hauls.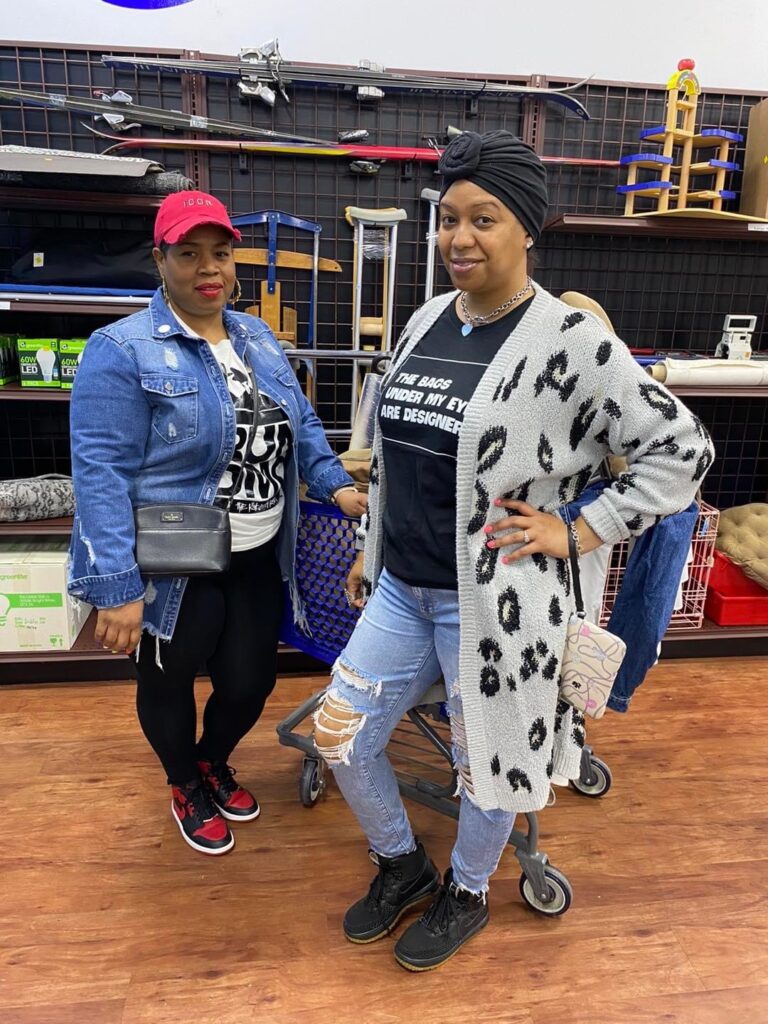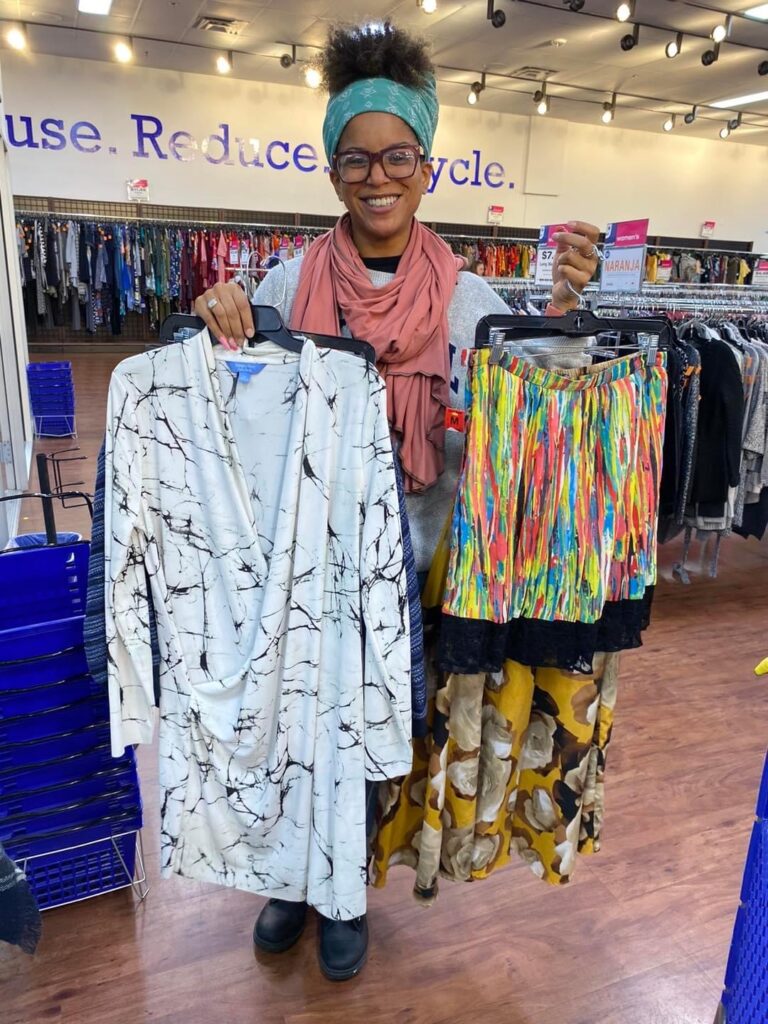 And here are some other event highlights. Below you will find:
Handmade blanket pants that I scored for under $10
Happy faces of new friends
Full baskets of goodies galore
A candid picture of me captured by Toya – love it!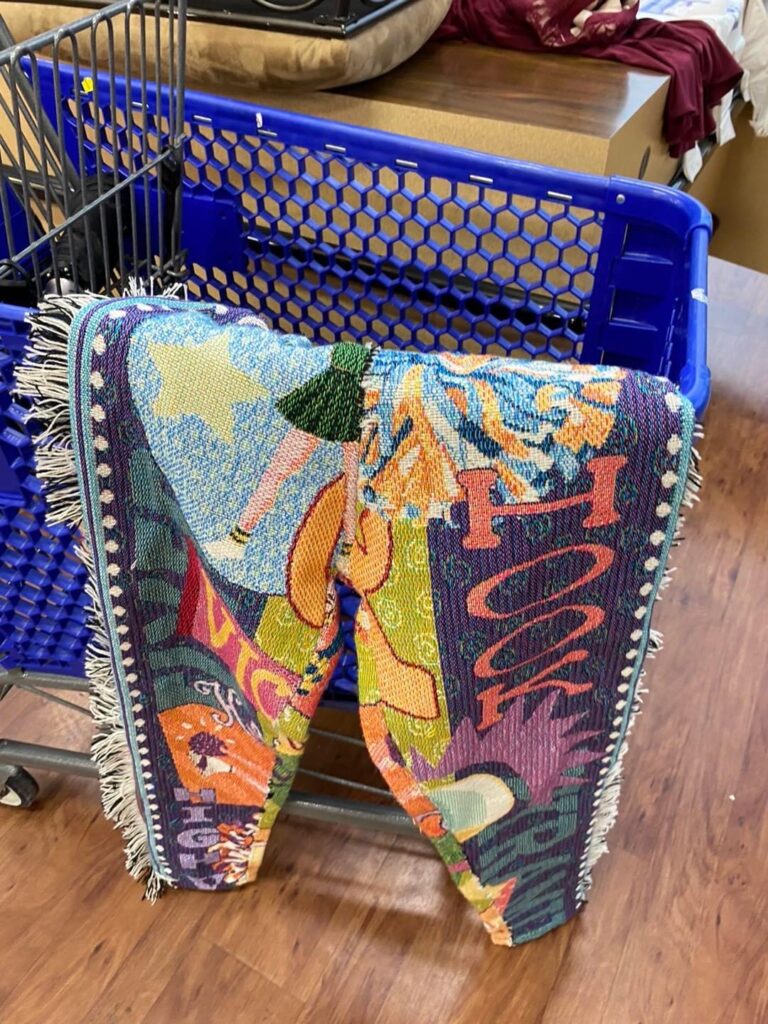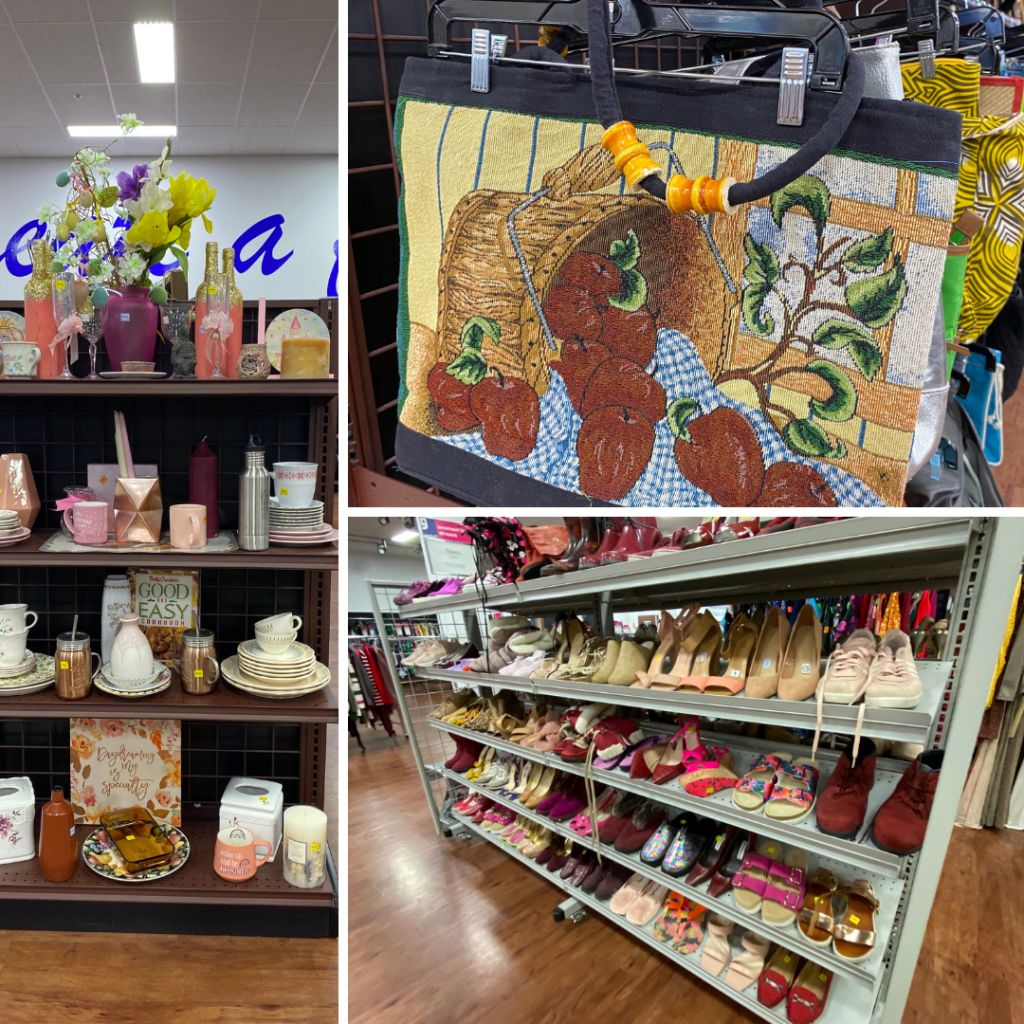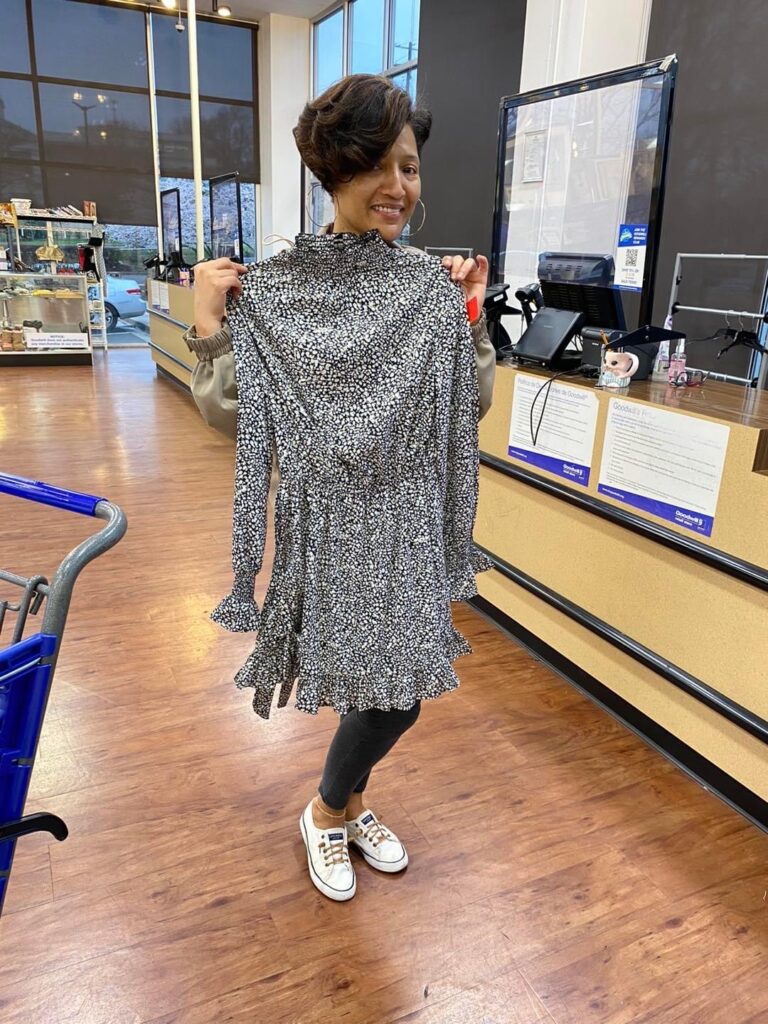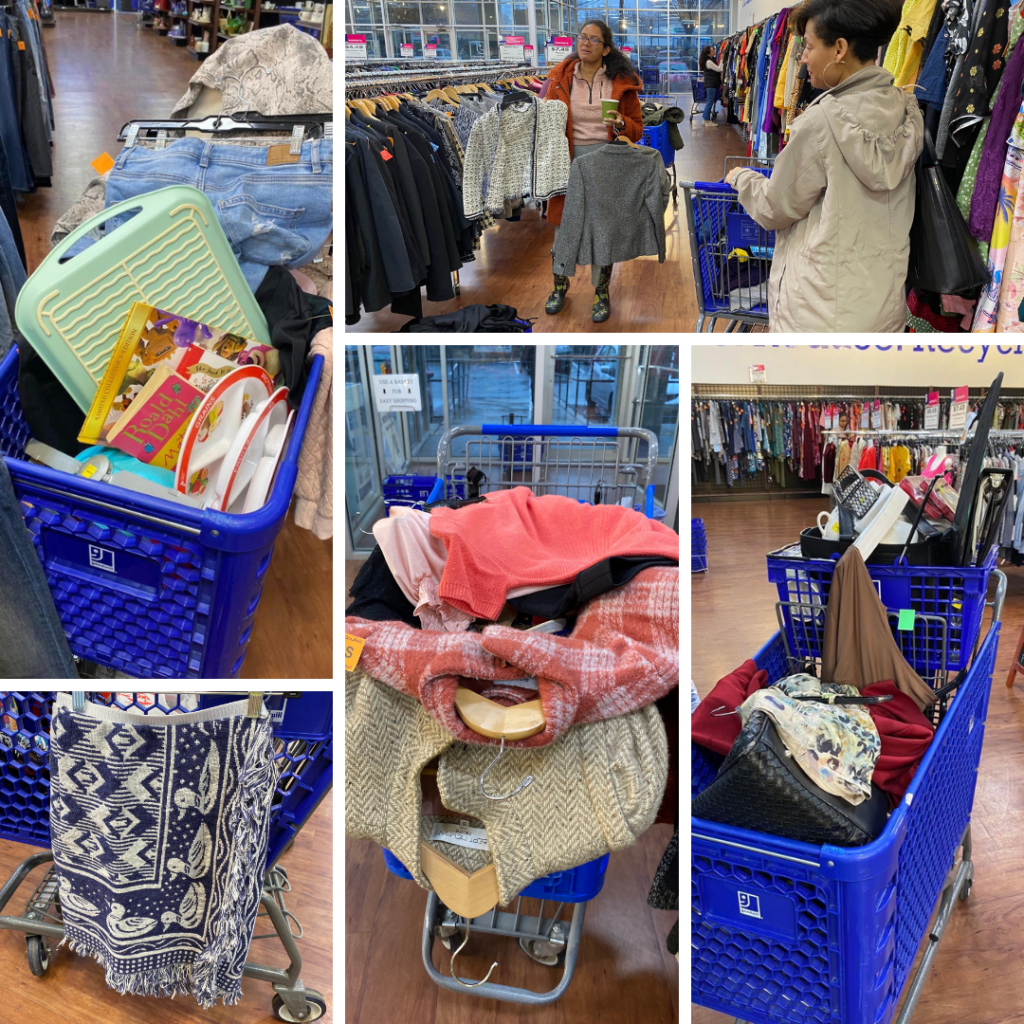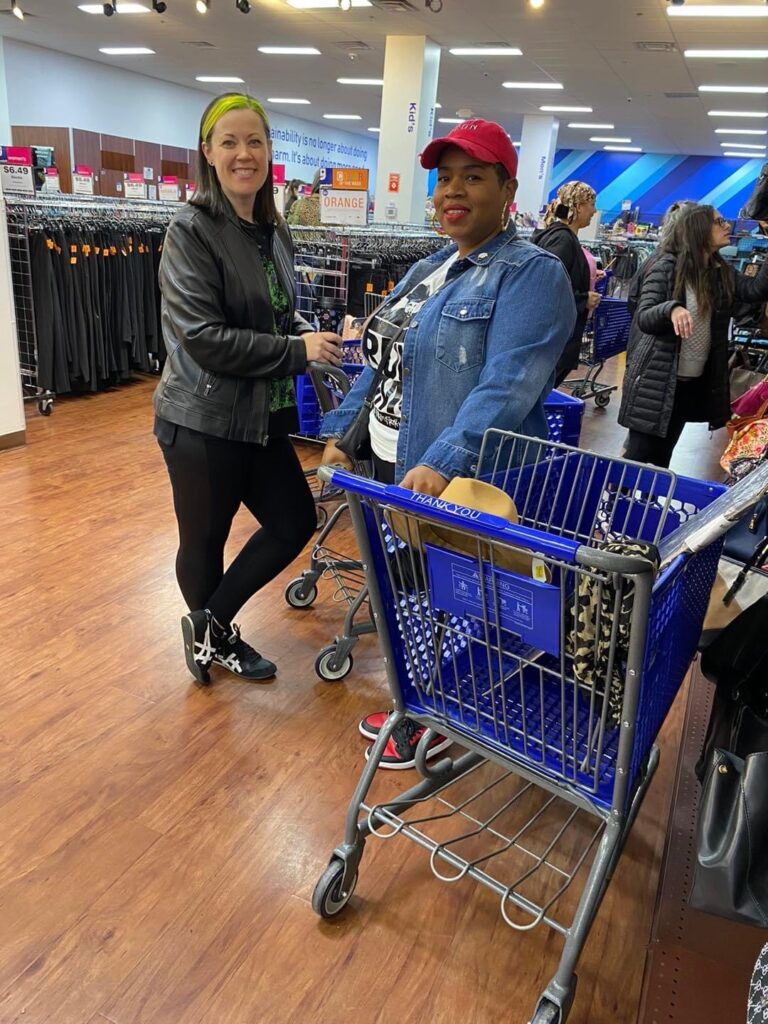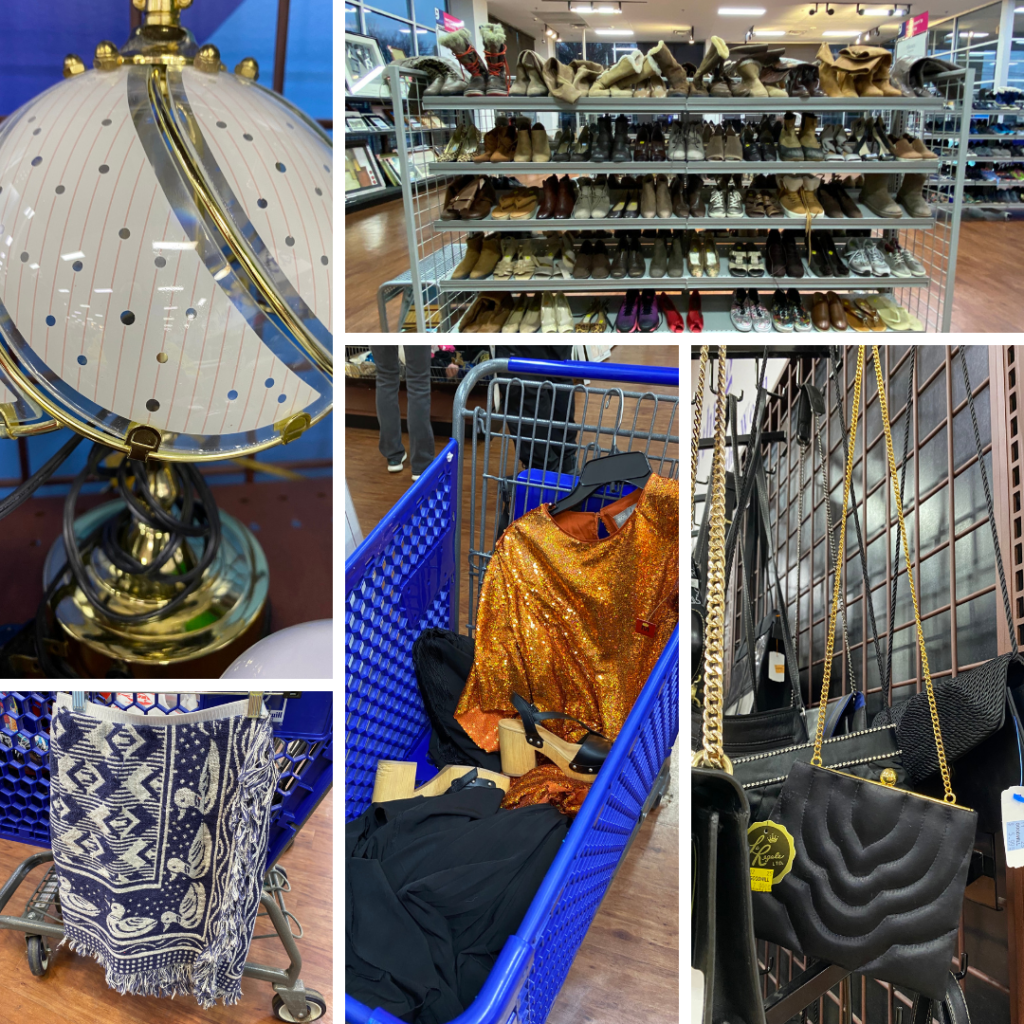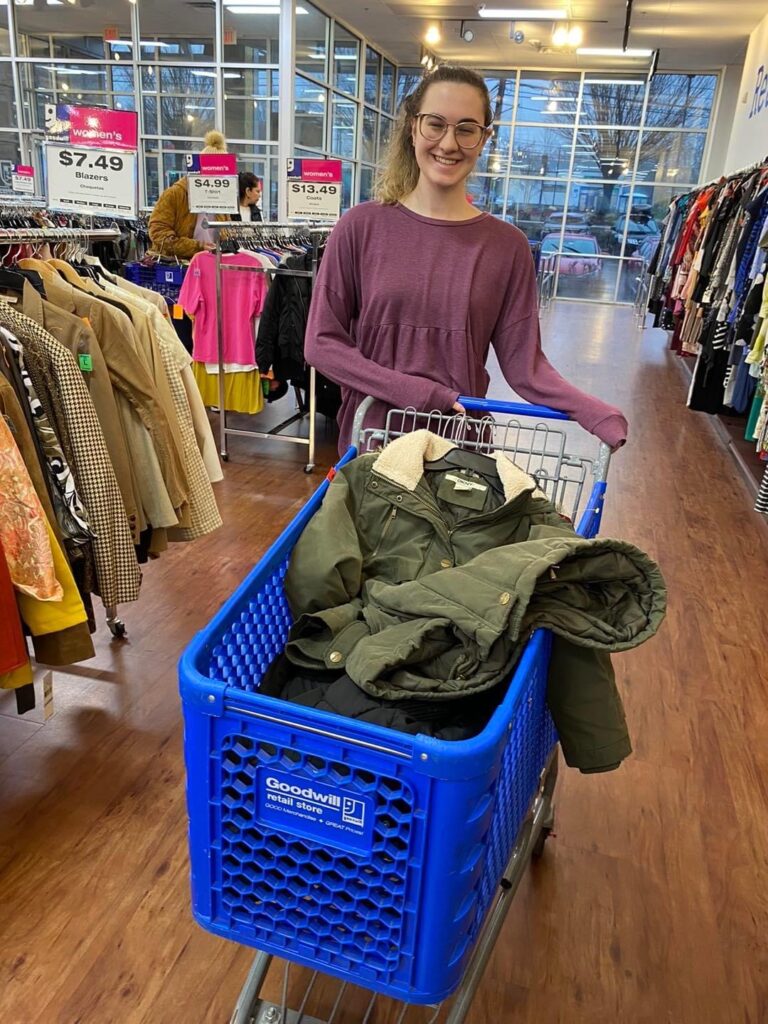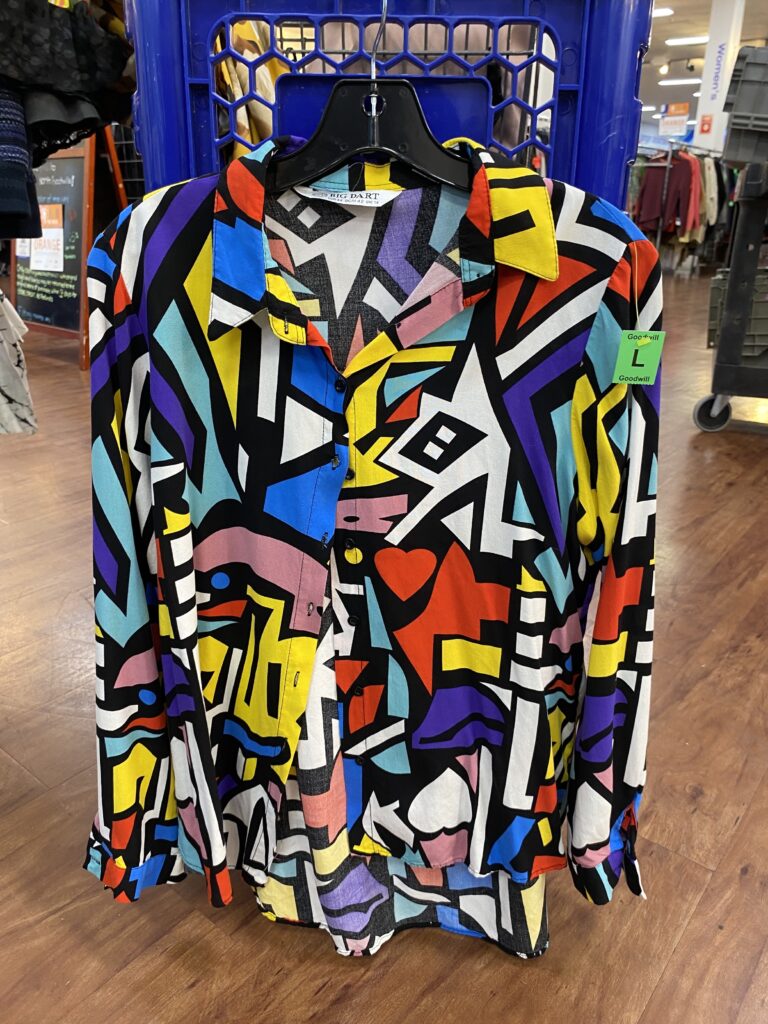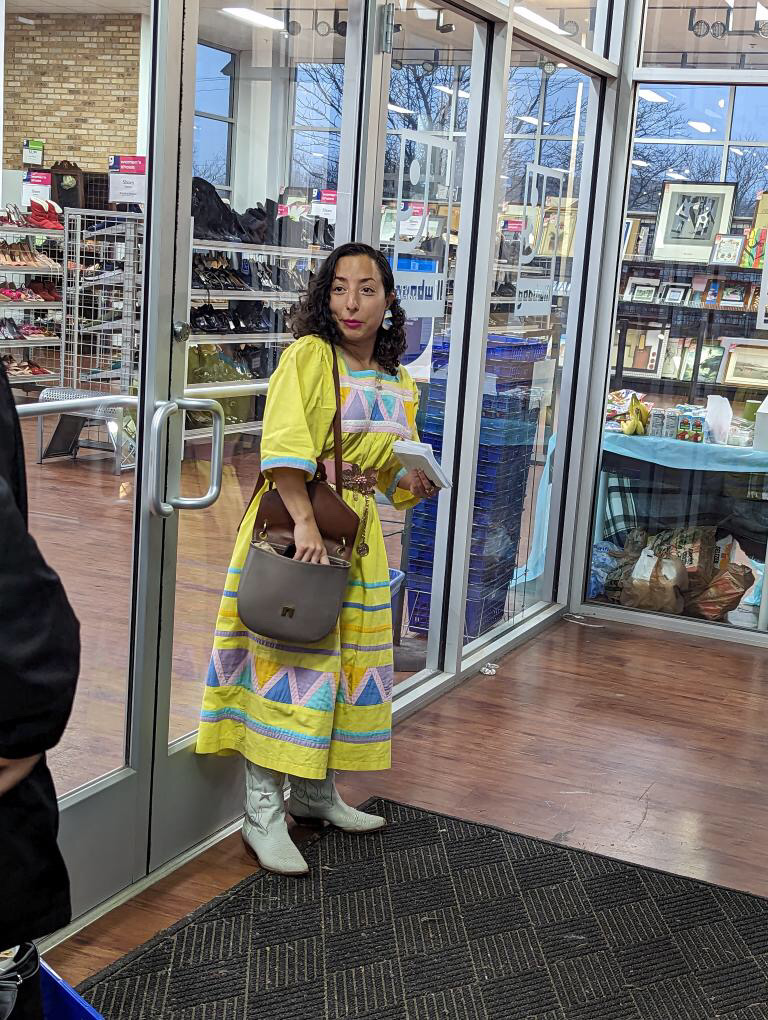 Thanks again to everyone for making it out to this early-bird event!
It really is such a pleasure to meet like-minded individuals who love style and know how to shop smart at Goodwill stores. There's nothing better than shopping for a great cause that provides job opportunities in my beloved community.
I hope to see everyone at the next Meetup!
If you couldn't make it to this one, we're hosting another one on 4/22 in Hayfield – Alexandria, VA! RSVP and sign up for our Meetup group! <3