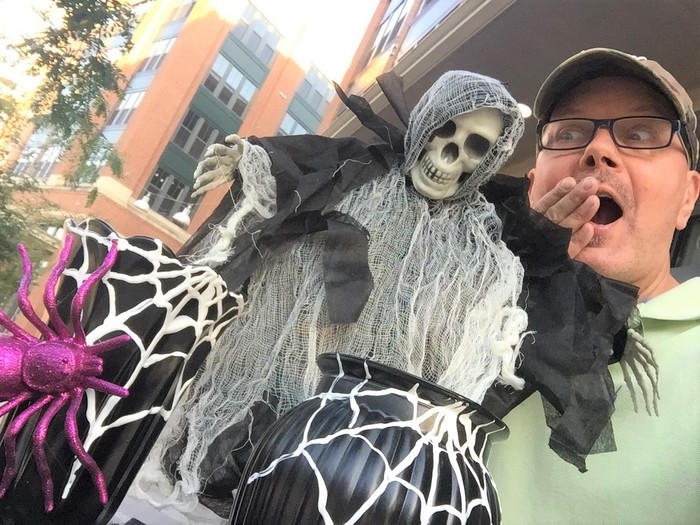 Why not transform Goodwill vases into "BOO-tiful" pieces to scare up some Halloween fun! With black spray paint, white puffy fabric paint, and seasonal accessories, you can easily create frightening spider web vases.
Age Level:  Older kids, teens, and adults
Items needed:
Glass or ceramic vases
Black spray paint
White puffy fabric paint
Fake spiders and other Halloween accessories
Glue gun & glue sticks
Time requirement: 
1 hour (not including paint drying time)
Cost: Approximately $8
$3 per vase
$5 for spray paint (lots left over!)
$3 for puffy paint (lots left over!)
$1 for fake spiders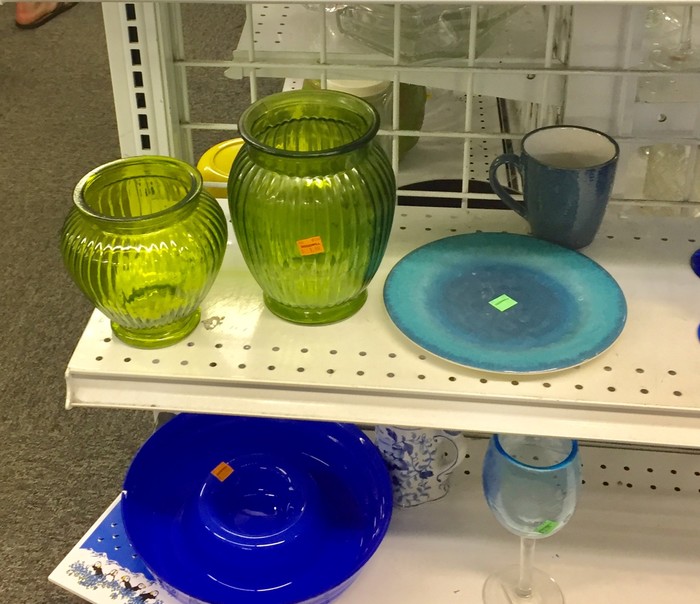 Step 1:  Slink over to Goodwill
Do spiders walk or slink? *ponders*
Either way, search for vases for this fun project in the Housewares section of your nearest Goodwill retail store.  Don't be scared; there are always many great options waiting for you.  Consider their shapes and details. Hunt for round vases with enough surface area to add your web.  I chose "gothic" looking options.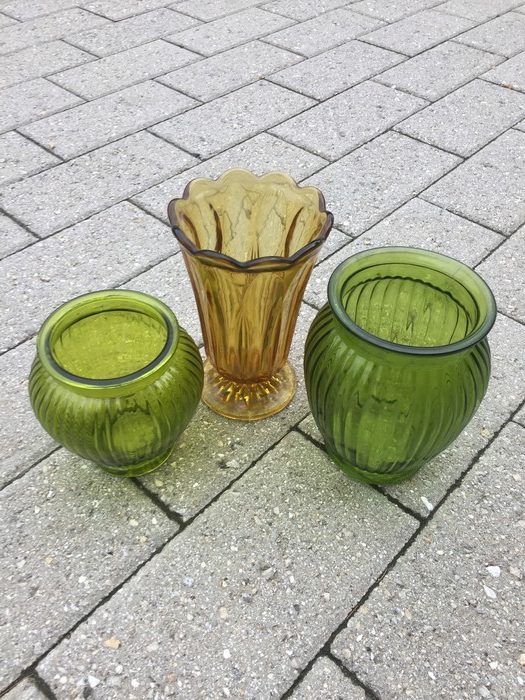 Step 2:  It's a blackout
Wipe down your vases and place on a tarp outside or in a well-ventilated area to spray paint them.  Use black spray paint in a glossy finish, ensuring you add light coats and get all sides. Be sure to spray paint the inside, too.  Let your vases dry for several hours then add additional layers until completely smooth and covered.  Once done, then let your pieces dry overnight.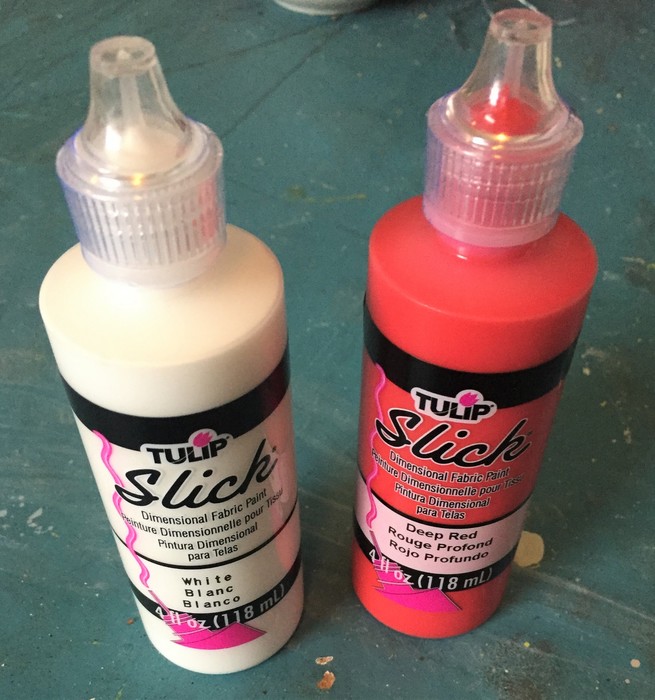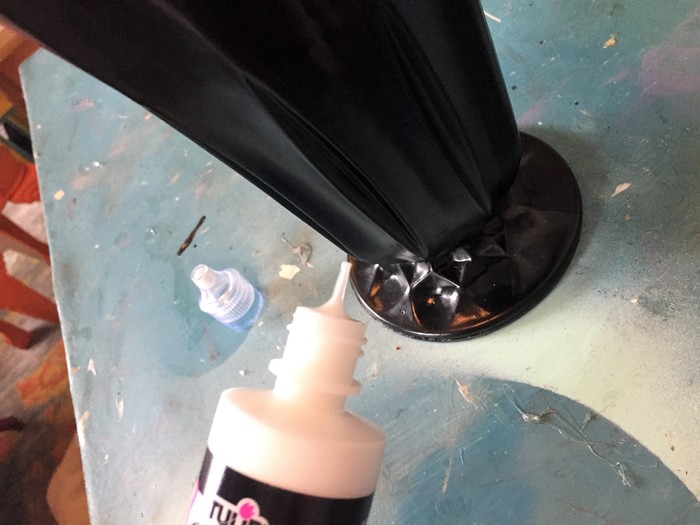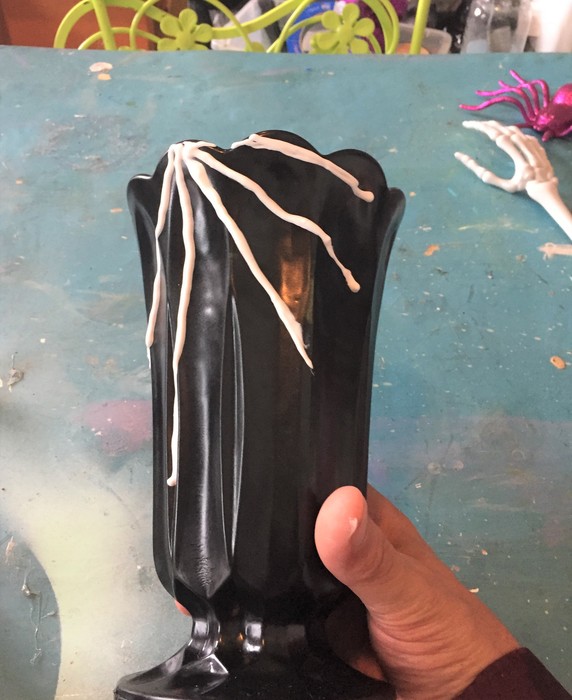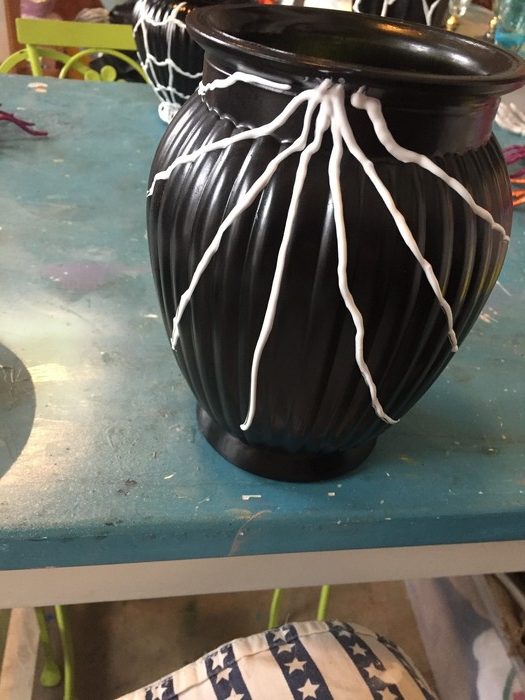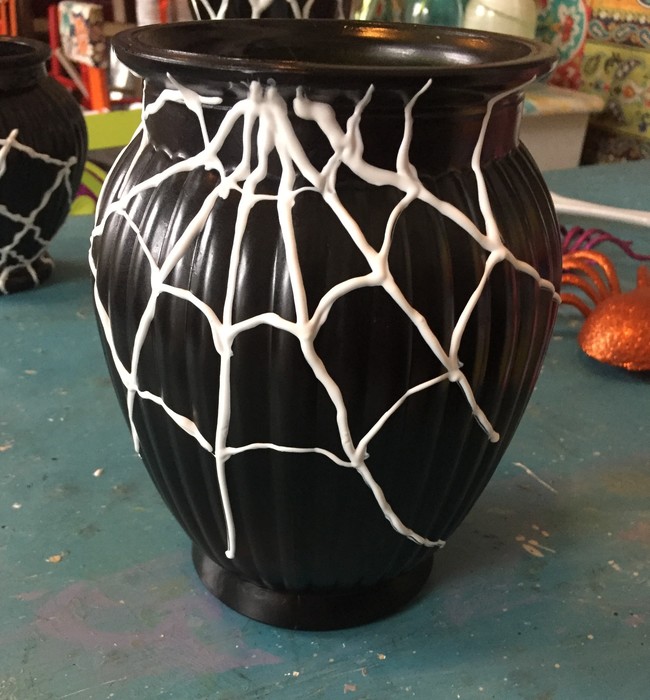 Step 3: Add your web
With your white puffy fabric paint, add lines from a central point moving outward, almost like a starburst.  Connect these lines by "scalloping" the paint from one line to the next starting at the center then moving outward. Don't worry if your lines aren't perfect in their thickness or dimension as it will add to the overall organic look of the web.  Let this dry, too, overnight.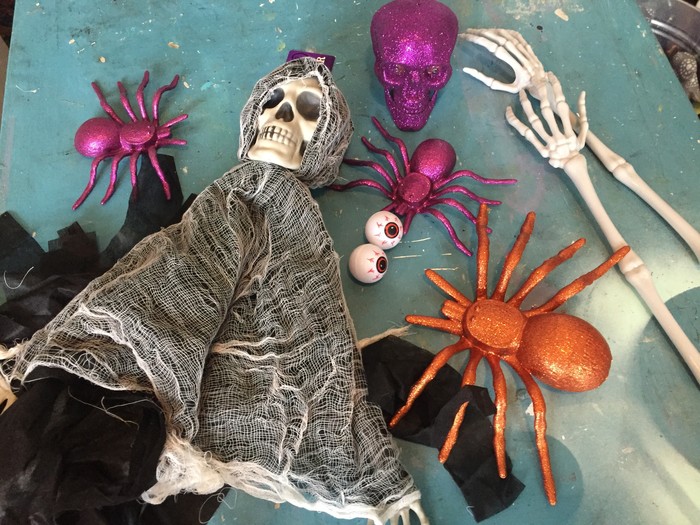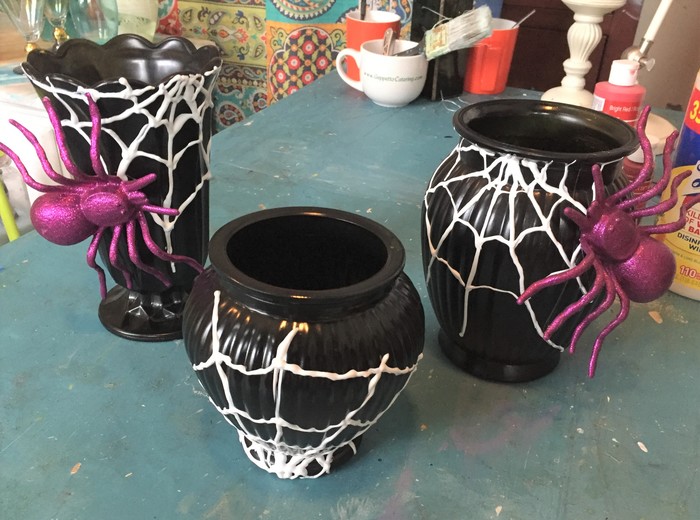 Step 4: Glue on accessories
With your glue gun, add a fake spider to the side of the vase touching the web.  If your spiders are black, you may consider painting them orange or purple to make them stand out from the black background.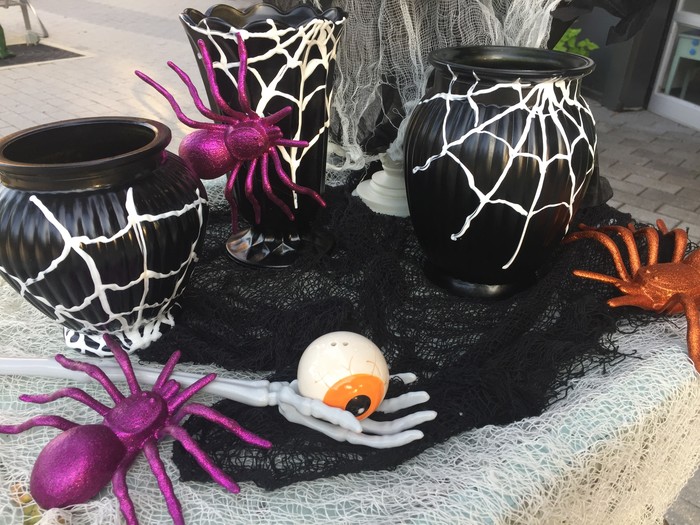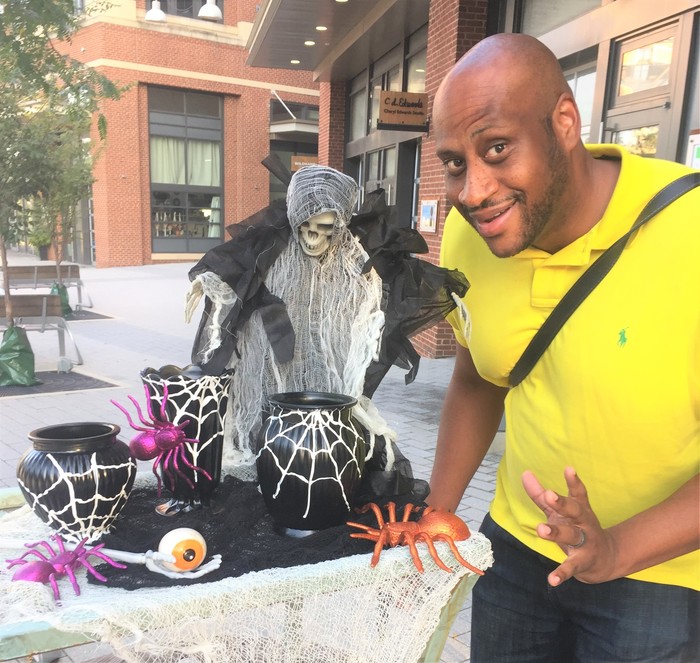 Step 5:  Stage to scare up attention
For maximum impact, place your vases together and add additional spooky Halloween accessories such as fake skeletons, eyeballs, and additional spiders.  Staged in a grouping like this, your vases will make a hair-raising centerpiece for Halloween party table or window-scape.  However you use them, you will have frighteningly great fun!
Tim Kime is an artist, life coach, connector. He is President of Kime Leadership Associates offering executive coaching, meeting facilitating and motivational speaking.  He is also Chief Creative Force of Transformation Junkies which upcycles furniture and other household items into functional works of art. He combined his two passions—unleashing the potential in people and transforming items with the launch of the Art of Possibilities Workshops.  These workshops are part upcycling, part dreaming, part goal setting.