Have you ever had a hobby, dear readers, that no one else really understood? Maybe your friends tried, they'd listen to you talk about it, but they didn't really get your passion. That's me and my Goodwill addiction… until this weekend! This weekend, on the Modage fashion bus tour, I met my people. Fellow savvy shoppers who understand how fun Goodwill shopping is and love bargain hunting as much as I do!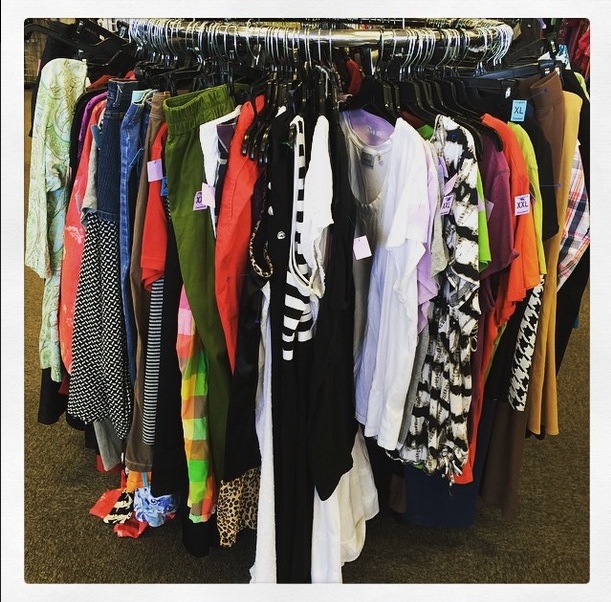 We met up bright and early at the DC Goodwill location to board the bus to our first stop.  We were traveling in style, with WiFi, a movie playing, and plenty of snacks.  Our first stop was Dale City, and we got the ground rules: for being a part of the bus tour, we'd get 10% our purchase, and the the store staff had pulled a selection of curvy girl clothes just for us!  This was my first time in the Dale City store and I was really impressed.  They have such a great selection of clothes that's very well organized.  I also noticed they had a selection of perfumes for sale in their display case, which I've never seen before at a Goodwill.  Definitely worth checking out if you're into designer fragrances.
Our next stop was Columbia Pike, where everyone was excited to check out the shoe selection.  If you love shoes, you have to visit the Columbia Pike store.  There's a big display of shoes, organized by color, by the fitting room, but that's just the tip of the iceberg.  On top of most of the racks of clothes are even more fabulous shoes just waiting to go home with you.  I didn't find any shoes at Columbia Pike this time, but I did walk away with a brand new H&M clutch!
We had a quick lunch at Panera, then boarded the bus to check out the Rockville store.  One of the best parts of the bus tour is the time on the bus, getting to know other fashionistas, and swapping style stories.   While we were on our way to Rockville, out fearless leader, Lerkia, held a raffle for a $25 Goodwill gift certificate and her signature Style Maven shirts!  We pulled up at the Rockville store and the manager met us at the door to welcome us and shake our hand!  Talk about the VIP treatment!  I was really impressed with the selection of professional clothes at this location.  They had some really great blazers, suits, and blouses are a perfect fit for corporate America.  Definitely check it out if you're looking to update your work wardrobe.
After Rockville, we headed back to the DC location, our final stop.  I really like the size of the DC store.  It's not so small that you feel like you're not going to find anything, but not so big that you feel overwhelmed.  They had their clearance rack out and everything on it was 50%!  A sale on top of already low prices?  That's my kind of math!
As you can tell, I had a great time on the bus tour!  It was so much fun to shop with other Goodwill fashionistas and visit the locations I rarely get to.  Make sure you follow Modage Style on Facebook and I hope to see you on the next bus tour!