Fashionistas, now that the weather is getting warmer, it's time to hit the streets and run!
For fitness activities, you should own a pair of stylish performance leggings and sports bra that are both comfortable and breezy. Today's #MyGoodwillFind will do just the trick.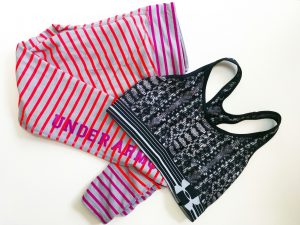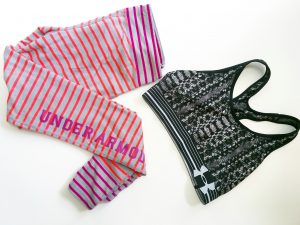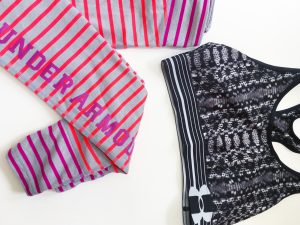 Today's find is a pair of size small, stretchy, neon striped, Under Armour leggings that fit the ankle when worn. They're snug and have the Under Armour logo printed on the leg. The stripes on this gem are extremely bright in color, almost vibrating against the contrasting gray. At full retail, these would have sold for around $50.
Along with these leggings, I spotted this snakeskin, black and white, Under Armour brand sports bra on the Goodwill racks. In a size small, it has a classic fit with an elastic branded band at the bottom. This snazzy bra will look great under a loose tank with these loud and funky leggings.
With workout gear, it's more than 100% okay to pattern mix. So both of these workout gems can be rocked together.
To pull the whole look together, I recommend embracing the pattern party and rocking some vibrant Nike, or other name brand, running shoes. Since there are so many colors in these two items you can really pick whichever colored shoe you'd like.
Along with some sneakers, you always need a headband and duffel bag for workout festivities. And for these items you can either go simple or a little spunky. Pattern mixing can be done through these means as well… the world is your oyster when it comes to fitness fashion. Even better news is you can find cute duffel bags at Goodwill for under $5 a pop. I found my favorite Le Sportsac bag at a Goodwill.
Finally, I'd rock some small gold studs with my workout look. I know it's uncommon to sport bling at the gym, but who says small studs will get in the way?! I always like to add a little bit of glitz to my gym get-ups for an extra ounce of oomph. Gold and shine create slightly more visual complexity to an ensemble.
What's your go-to gym look, fashionistas?