While it might be super hot outside, and you don't want to even think about wearing any type of jacket, now is the perfect time to think about sweaters for the fall.
Yes, you heard me correctly. Now is the time to shop for sweaters. Like I always say, summer is the perfect sweater weather….for shopping at Goodwill. Because it's so hot outside, not many people think to shop ahead for a cold season. Rather, they focus on building their collections of tank tops and tees. It's funny; during the summer, I see the tank top areas sometimes dried up, and the sweater section rich with product. In fact, I've gotten some of my most fashionable and stylin' sweaters at Goodwill in the heat of July.
This current season, I've had my cream of the crop. Best spottings include designer finds, items NWT, chunky sweaters, sequin shrugs, patterns pieces…the list goes on.
So next time you go to Goodwill, head straight to the sweater section. And even jackets, too!

This sweater is one of my favorites of the season. It's a brand new with tags White House Black Market sequin sweater shrug, that originally retails for $80+.
Anything black and white is a clothing staple. This item can be worn with so many items – my favorites include colored denim or a black pencil skirt. My favorite part of this item is the little sequin detailing. It's subtle, but adds a nice touch of bling and sparkle to a could-be-basic garment. I'd wear this item to work, any day!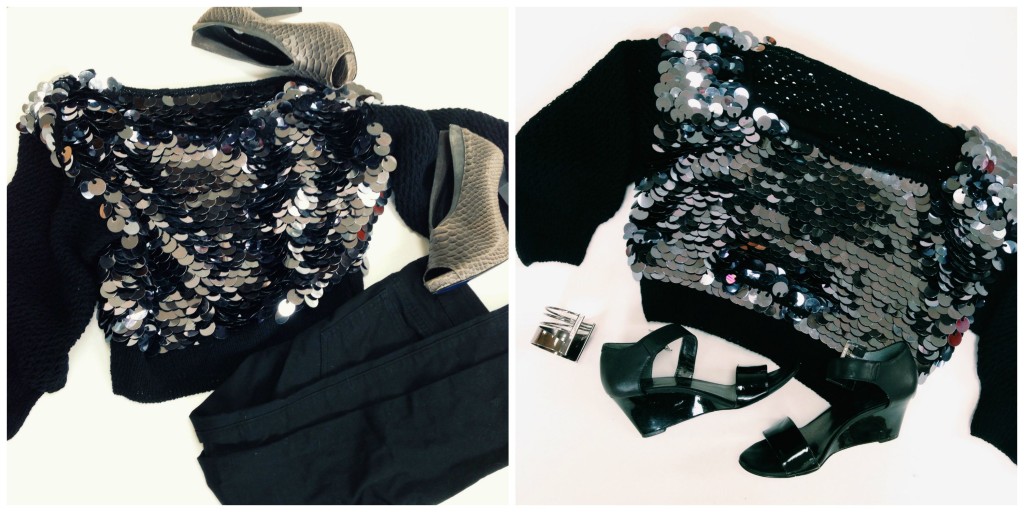 This next sweater is the opposite of the one above. There's a sequin dance party all over this number. I'd try and wear this to work because my office doesn't have that many dress-code regulations. However, it's definitely more appropriate for a date night or event out with the girls. There wasn't a tag on this item, but I would think it's vintage or designer. It's really of great quality. I'd wear this with a pair of black denim, or over a dress. Possibly even a black skirt too. Either way, this garment should be the star of the outfit.
And finally, this sweater is a bit more prep than the rest. It's from J.Crew and probably originally retailed for $60+. What I love about this piece is the pink and green  pattern on the front, combined with the cut of the necklace. I'd rock this with a collared skirt underneath and a statement bib necklace. The style and cut would DEFINITELY work well as a business casual outfit, especially with a pair of nude pumps.
Do you look in the sweater section at Goodwill during the summer? If so, have you been as lucky as I have with scoring must-have garments?