My mom was in town for the long Veteran's weekend and one of our favorite activities to do together is visiting our local Goodwill.
For our journey, we started at the South Dakota Ave Goodwill location and went straight back to the housewares section to take advantage of….
My favorite Goodwill color special!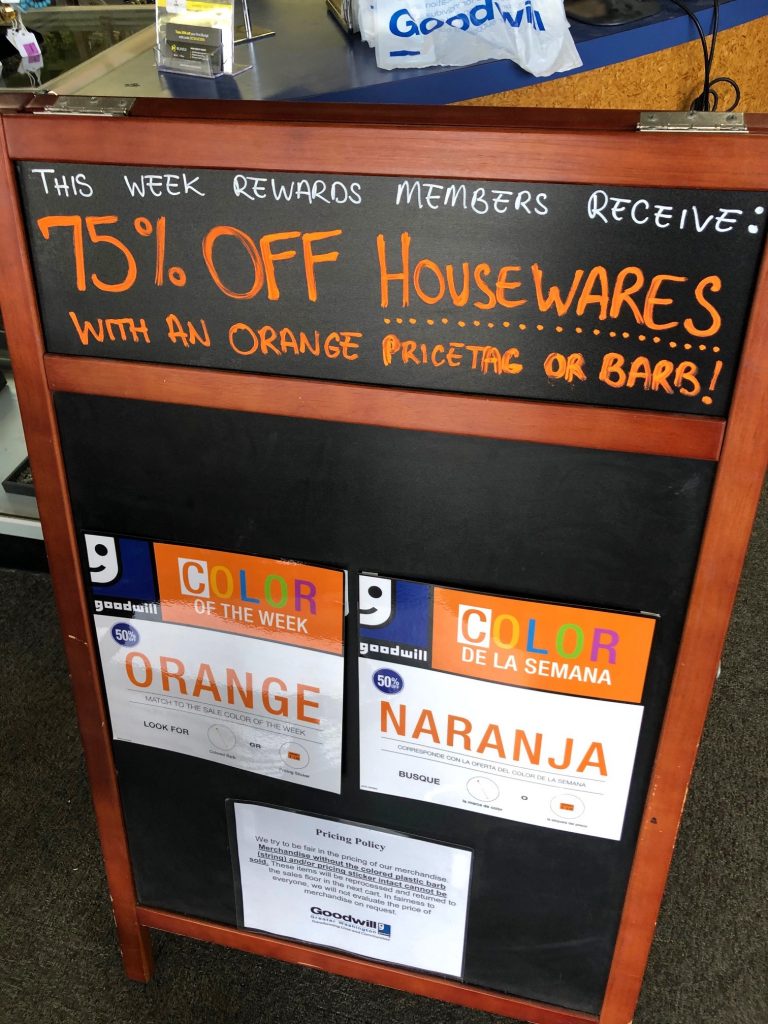 This past week's color was orange, which means any product with an orange tag or barb was be 50% off. Additionally, the week's super special for Rewards Club members was 75% off housewares, also with an orange tag! My passion is food and fashion, so I don't usually find myself in the housewares section. However, finding items for a few pennies is hard to ignore.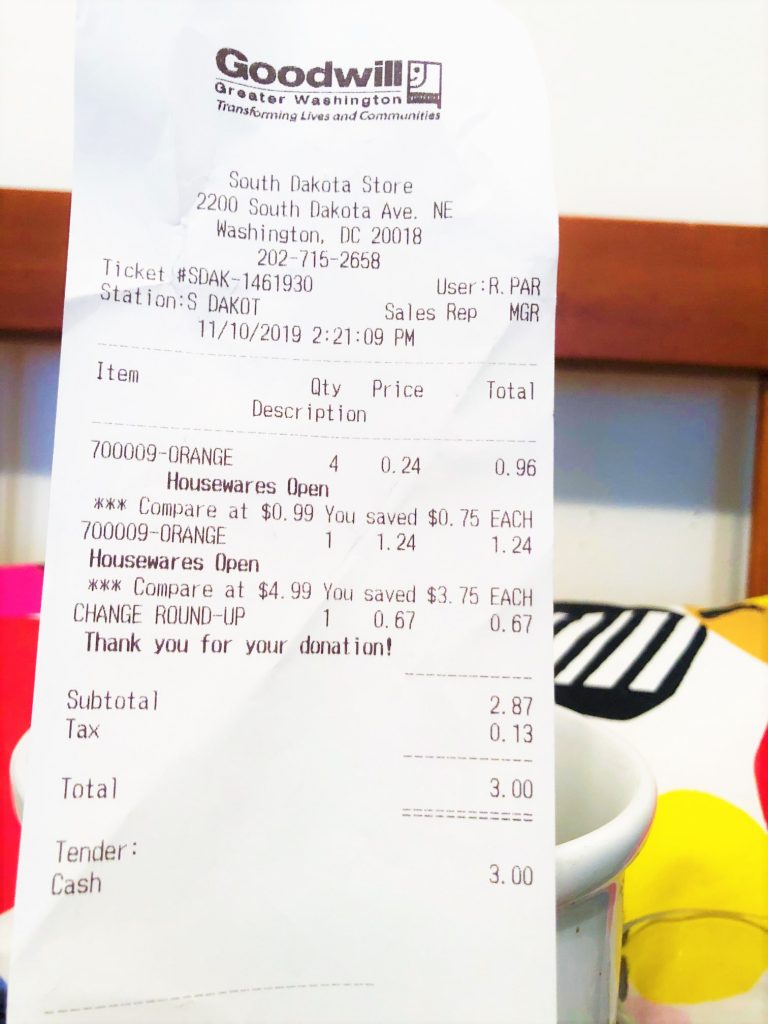 May I tell you a secret?
If you might think my favorite area in my apartment is the closet…it's not. I really love to hang in the kitchen!
Therefore, my kitchen lacks no dish or utensil. However, I'm also looking for other items to spice up my area of food magic-making.
While browsing the Goodwill shelves, my mom found some cool clear glass mugs – there were 6 available on the shelf and she convinced me to get 4 of them since I didn't need the whole set.
While shopping the day before, I also spotted a utensil container with the word "Prep" on it, which I absolutely adored! Luckily for me, the tag was orange, so you know it was going in my cart the following day. It's rare for a Goodwill find to be in stock for multiple days! It must have been fate.
As we wandered to the checkout line, we tried to predict the total. We thought around $5 for the mugs and container. When we got there, everything came to a whooping $2.87, which I rounded up to $3.00! 

​We then traveled to the Bowie location, which is about 20 minutes from the DC store.
This time, we took our time through the store – from the shoes, to clothes and finally the housewares.
We did pick up a few Fall clothing items, before the wares. But the housewares was once again, a steal.
While back there, I found a mason jar, glass cruet for making salad dressing, and two glass mixing bowls.
My mom also found some cool discounted housewares of her own. This time we really thought we had a solid idea of the final cost. Each item was 99 cents each, which bought each kitchen item to a quarter!
All of that, with tax included added up to $1.02. I quickly rounded the total up to $2.00 and was on my way.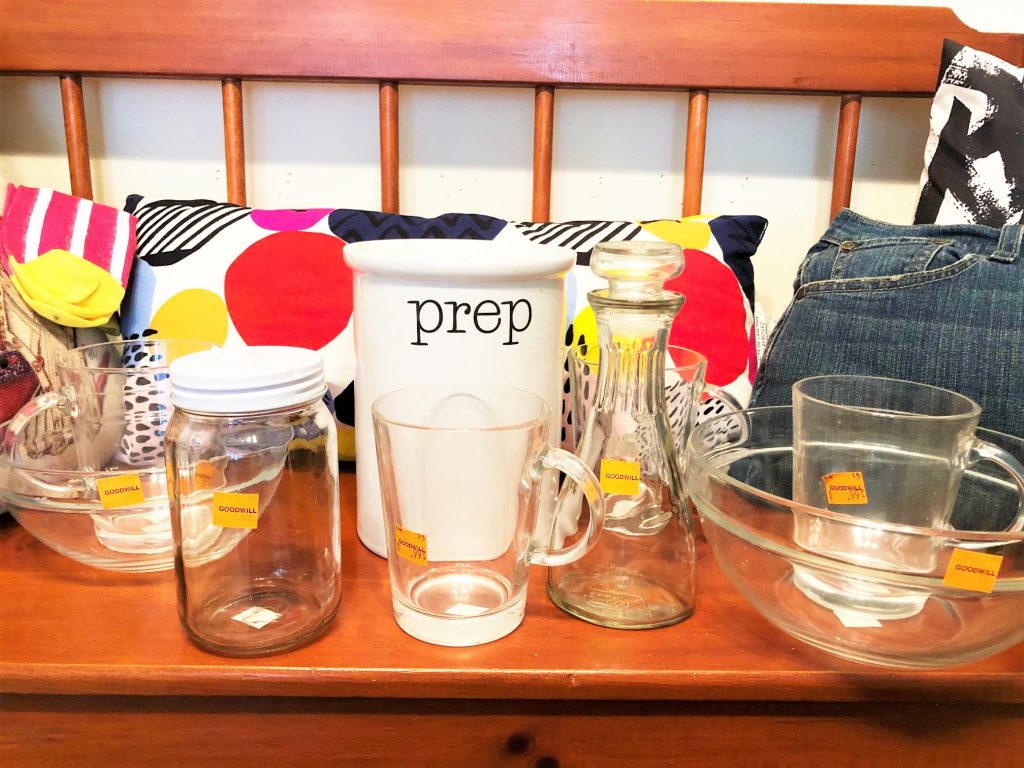 Whoa! Who would believe all those good kitchen items for $5.00?! In the process, I was also able to donate some unused kitchen items to make space for my new favorites. I can't wait to try them all out!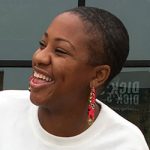 Amber Mixson
Amber is 
fashion-blogging
 foodie and Instagram influencer with a passion for thrift store shopping. Her blog Eat N Style details her flair for cooking up not only tasty treats but inspired outfits as well. She has a passion for her community and is proud to serve others with her gifts. Follow her on Instagram (@eatnstyleblog) for more stylish tips and culinary adventures.