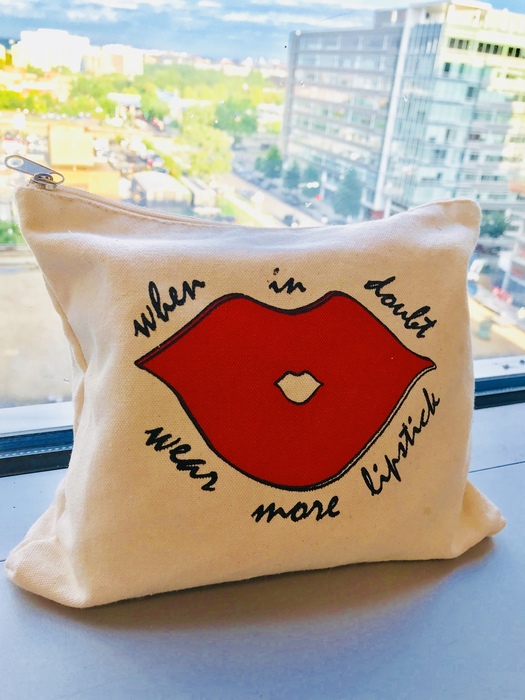 Greetings, savvy fashionistas! After a long, fun summer spent with the sun wreaking havoc on my skin and hair, I thought I would share some of my favorite affordable drugstore beauty products that keep me looking fresh on a budget. Of course, this wouldn't be a DCGF post if I didn't share my favorite cosmetic bag nabbed for $2.99 at Goodwill!
Mascara: Maybelline Lash Sensational is hands down the best mascara I have ever used. It glides on smoothly, with little clumping, and it lifts the lashes to create serious volume. Often times in summer, I go sans-makeup…but I still need mascara! This usually runs about $6. You'll never catch me without a wand of this in my bag.
Face Cleanser: St. Ives Apricot Scrub is a product that has been in my skincare regimen since I was in high school. I use it in the shower to exfoliate my face and chest. It's an affordable product to slough away dead skin after being the sun! You can find this for about $4.
Astringent: Witch Hazel. It's a multi-purpose tonic! From treating scalp sensitivity to preventing acne, I use this in so many ways during summer. Most often, I put some on a cotton ball and run it all over my face after washing. It gives my skin a soft glow and helps control oiliness. Perfect for summer! Best of all? It's less than $5 for the store brand.
Setting Spray: NYX Matte Finish Setting Spray is a recent discovery that I truly can't live without in summer months. I almost purchased a big name brand setting spray but I really couldn't justify spending $30 on it. Instead – I picked this up at Walgreens for $5, spritzed it on before a sweaty night of dancing and BOOM – my face was still on! Often times, I'll only wear a little mascara on the weekends and I still spray my face with this to control my oily shine.
Moisturizer: This is probably not your average moisturizer suggestion but I am obsessed with Neutrogena Body Oil. I use it all over my skin after a shower and use it on my legs when I wear shorts, skirts, and dresses. If you're into essential oils, this makes a great carrier base if you want to change up the scent. It goes on much easier than your average lotion. It'll run you about $10 at a drug store.
That's my top five, folks! Taking care of your skin is critical because after all, it's a part of every look you create. I would love to hear some of your favorite products for summer beauty routines.
Karen Wathen is a young professional and self-proclaimed "thriftanista." Her passion for fashion and her savvy spending habits make shopping second-hand one of her favorite hobbies. Wearing many (frugal and fashionable!) hats, Karen is a highly caffeinated Special Olympics coach, passionate community volunteer, amateur foodie, farm dweller, newlywed, and cheap wine connoisseur. When she isn't scavenging the racks at DC Goodwill stores, you can find her barefoot in her kitchen, blasting country music and cooking up locally sourced foods from her Southern Maryland community. Follow her on Instagram (@k_wattt) for a peek into her savvy life!