I'm starting a new series of designer spotlights to showcase how you can find pieces of your favorite brands for unbeatable prices. With these posts, I'll introduce you to brands, their missions, what they're known for and most importantly, how you can score them for a fraction of retail prices. I'm kicking this series off with one of my personal favorite workplace fashion brands and mission, Ann Taylor.
Ann Taylor is a classic women's fashion retailer that makes pieces for work and play. I'd describe the style as approachable – the brand incorporates runway trends without going overboard. Her styles are also classic and timeless – providing just the perfect amount of trendiness to keep up with the times. I turn to Ann Taylor for many of my work dresses and skirts. The fit of the dresses is incredibly comfortable and the sizes are very true. I've been wearing this brand for at least the last 10 years and I can assure you the quality of this brand is superior, too.
In terms of women's fashion, I wouldn't go so far as to say that Ann Taylor is incredibly affordable. It's in the middle of the road – a little more expensive than The Limited and a hair more than it's sister brand, The LOFT. It falls in line with J Crew (not Factory!) in terms of pricing. Dresses cost between $80.00 – $170.00, blouses usually run about $30.00 – $70.00, skirts and slacks sell for $50.00 – $100.00 and their denim is about $90.00.
If you're a budget fashion fiend like me, the aforementioned prices may not allow you to have much (if any) of this brand in your closet. That's where Goodwill comes into play. I've gathered together a few examples of Ann Taylor pieces I've found at Goodwill (some even brand NEW with tags) so you can see how second-hand shopping will allow you to incorporate quality designers into your closet – regardless of budget!  Here's what I've found: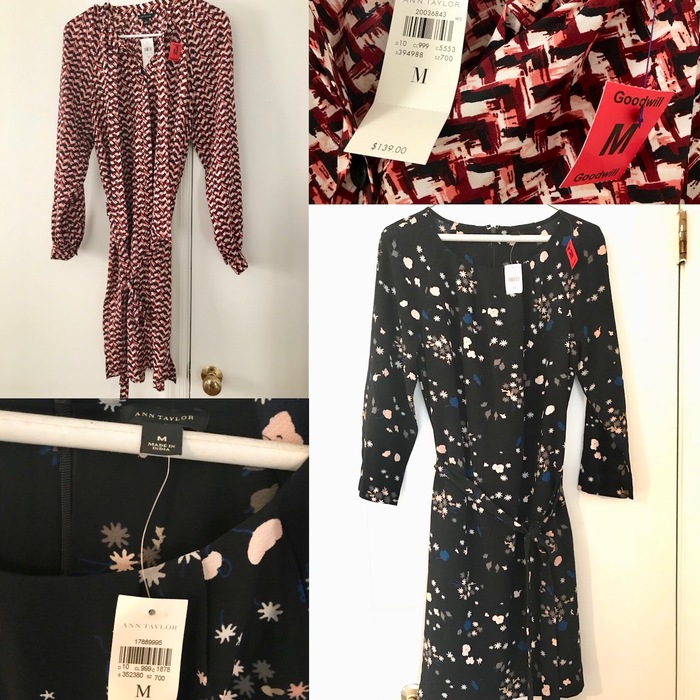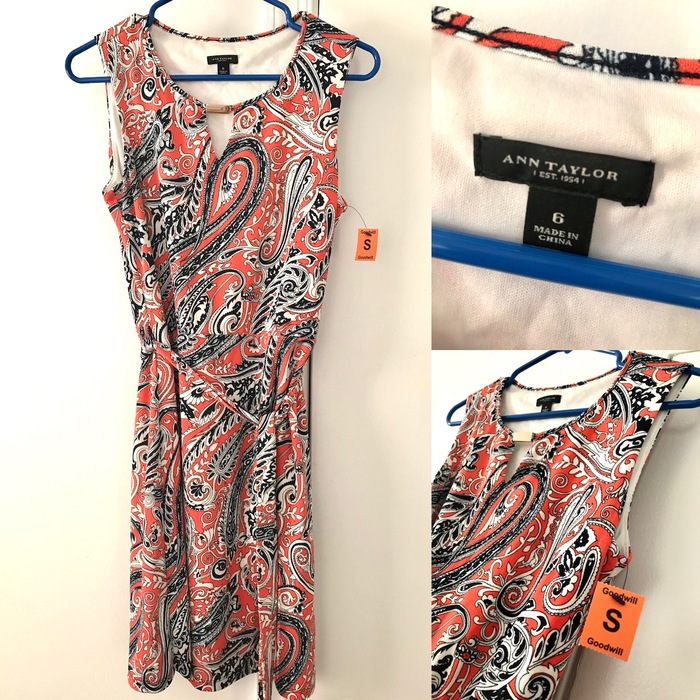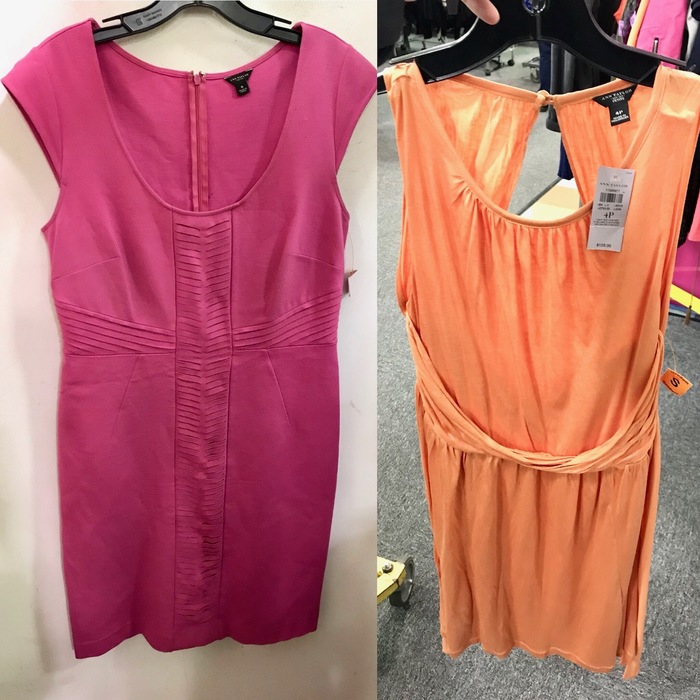 I told y'all that I adore Ann's dresses and during my couple of visits to the Bowie, MD Goodwill store I hit the jackpot and found 5 of them! Three of my finds from the recent DCGF Meetup still had the original tags reflecting their retail value of $129, $149 and $139. Unfortunately, that cute solid orange number was too small so I left it behind but I took the other four home. It just so happens that most of my finds will be perfect pieces to start incorporating into my spring wardrobe with all their bold colors and prints.
I paid $4.50 for the dresses I got on sale at the DCGF Meetup and I paid $8.99 for the couple I found during my next visit. If I do a little math here, that means I got 5 dresses for the price of ONE at retail. Say WHAT? Amazing deal, right?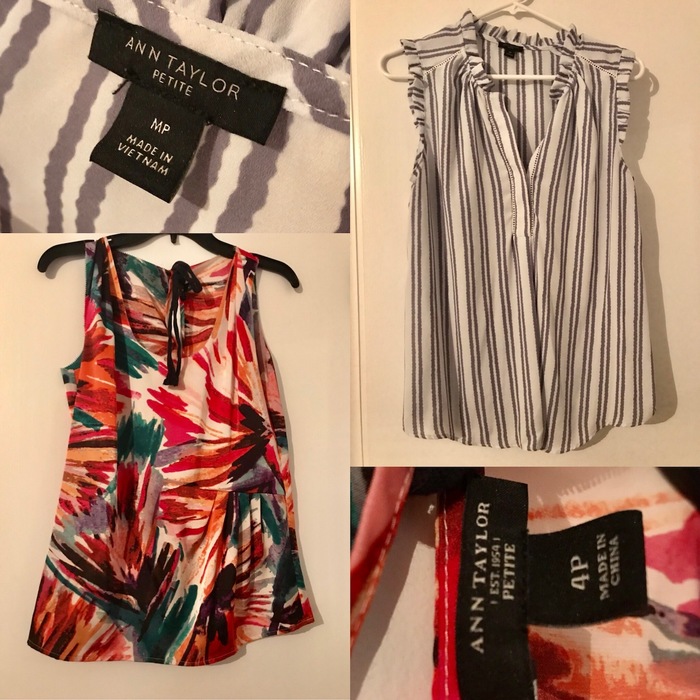 Some other recent Goodwill Ann Taylor scores included these super sweet sleeveless blouses I got for $2.99 (remember – sleeveless blouses are my ultimate must-find when thrifting because their value is unbeatable!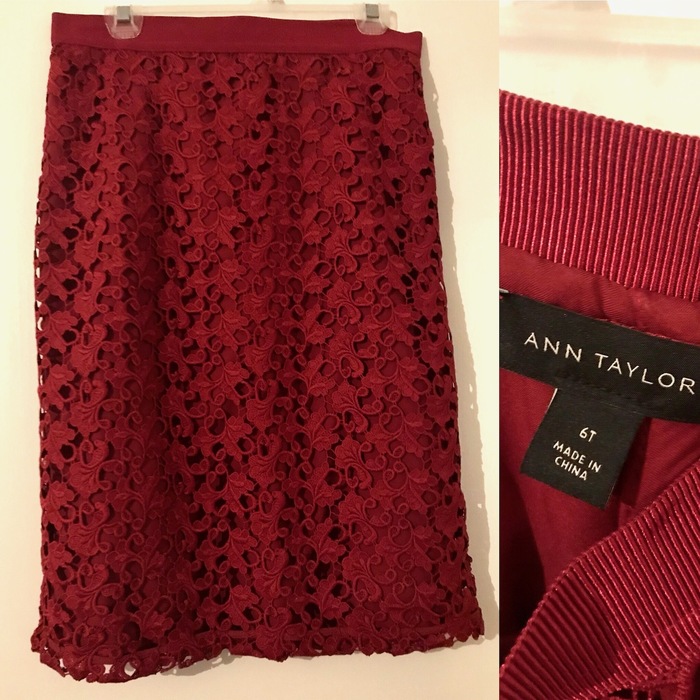 As well as this stunning oxblood lace skirt ($5.99 at Goodwill). Finding Ann Taylor at Goodwill lets me sport the classy, trendy Ann Taylor styles for a literal fraction of the retail value.
What other brands do you love to wear? Leave your suggestions in the comments below and I will keep them in mind for my next Designer on a Dime post! 
Karen Wathen is a young professional and self-proclaimed "thriftanista."  She has brought her love of writing, food and affordable fashion together on her blog, County Meanderings, where she frequently posts about her thrifting adventures. Follow her on Instagram  (@k_wattt) for a peek into her savvy life.