What could be more perfect to kickoff the unofficial start of summer than a crisp, white summer dress? Today's My Goodwill Find comes to you with just that summer crispness your wardrobe needs. If you're a frequent reader of the DCGF, you know I've already named the shirtdress as a must have trend for 2015. I even scored one of my own at DC Goodwill – now, I am returning the favor and offering one up for you! The best part about this sweet summery dress? It is light enough to wear on even the hottest of days but its embellishments give it the polish of a heavier piece!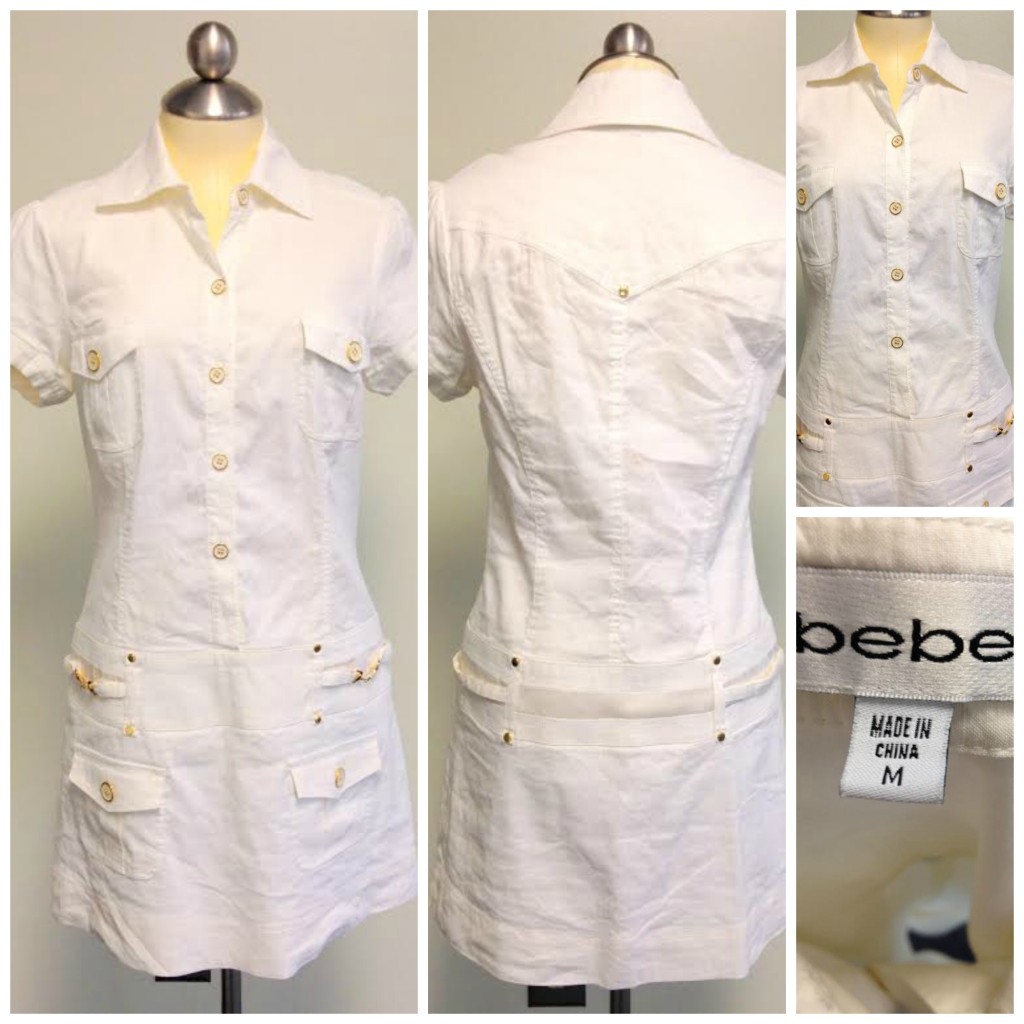 I've named the shirtdress the perfect busy gal staple because of its one-piece convenience. This piece, hand selected by yours truly, is made by well-known brand bebe. Bebe is known more for their club wear – so, I'll be honest, I was surprised to see this was one of their pieces! I don't traditionally spring for their clothes but having a blind eye to brands when shopping can give you so many more options. It's a women's size medium so it should fit sizes 2-6. The neckline features a popover style button arrangement with ivory and gold accents as well as a sharp, classic cut collar. The sleeves are short which warrant them to be worn with or without a layer over top! The waistline of these piece also has uniquely delicate buckle features and two flat front flapped pockets. The color of this piece is a beautiful crisp white!
When I think of style, I can't help but dream up some polished looks with this shirtdress as a base. First, it's solid white color makes me crave some bold and fun accessories. Think of a bold floral scarf, clutch or wedge style sandal as a perfect partner to this piece. If you're wearing this when the temperatures are fluctuating, its pressed collar style makes a great medium for layering. Any bright cardigan would give life to the solid style of the dress. Since this piece features gold hardware, try and shoot for that in the bauble department.
How would you style this piece, fashionistas?