Today's #MyGoodwillFind has me feeling like I'm on a tropical island.  If this baby fit me, you know I'd be rocking it with white slacks to the beach!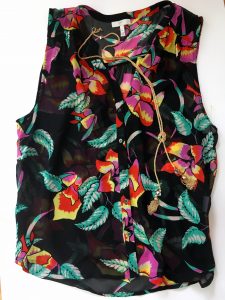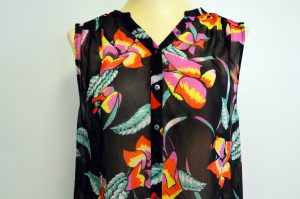 In a size medium, this flowy, silk, sleeveless Joie blouse has a fun pink, yellow, black, and green floral print. The vibrant, beachy colors and sheer material would be perfect under the island sun. It has a high-low waist and buttons up to a v-neck.
At full retail, this would have sold for at least $100 at stores like South Moon Under, Neiman's, or Bloomingdale's.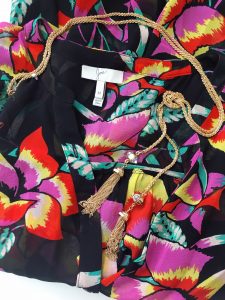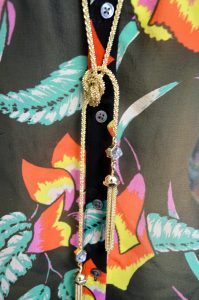 I would style today's blouse with a bit of glitz and prep with this long gold tassel necklace from Banana Republic. And guess what, fashionistas… This piece can be yours too!
This Lariat-style bling is constructed with a gold tassel and clear glass beads. It hits the chest when worn and originally sold for around $25 at full retail.
This ensemble is pretty much all put together already. But in terms of bottoms and shoes, I would further embrace the tropical vibes.
Of all types of bottoms this is THE perfect blouse to rock with white pants. The white will allow the printed floral fabric to really pop under the warm sun. Plus, since the top is black, the white will be more breathable and add a nice balance while keeping you cool in the tropical temps.
For shoes, I'd either keep it minimal with a nude wedge or flat or add one last pop of color and print. Since my ideal look would have plain white pants, this allows for an opportunity to integrate another element of pizzazz without being too over-the-top. My colors of choice would be yellow, blue, or pink floral shoes.
How would you style this tropical top, fashionistas? Would you wear any other gems besides the necklace?