Give your piece that special something by reusing lace as a stencil. This eye-catching and elegant touch will take your transformation from pretty to perfect!
Thanks to Toké & Katie for giving me the chance to turn this "seen better days" farmhouse vanity into a show-stopper that will always ensure a lovely reflection.
Supplies:
1. Furniture piece with flat surfaces
2. Lace clothing item
3. White paint
4. Paint brushes
5. Painter's tape
6. Crystal knobs
7. Gray & "French Blue" spray paint
8. Sanding block
9. Scissors
1. Pick the perfect piece
Take a break from all your Zoom calls and at-home work to zip on over to Goodwill where great things await you.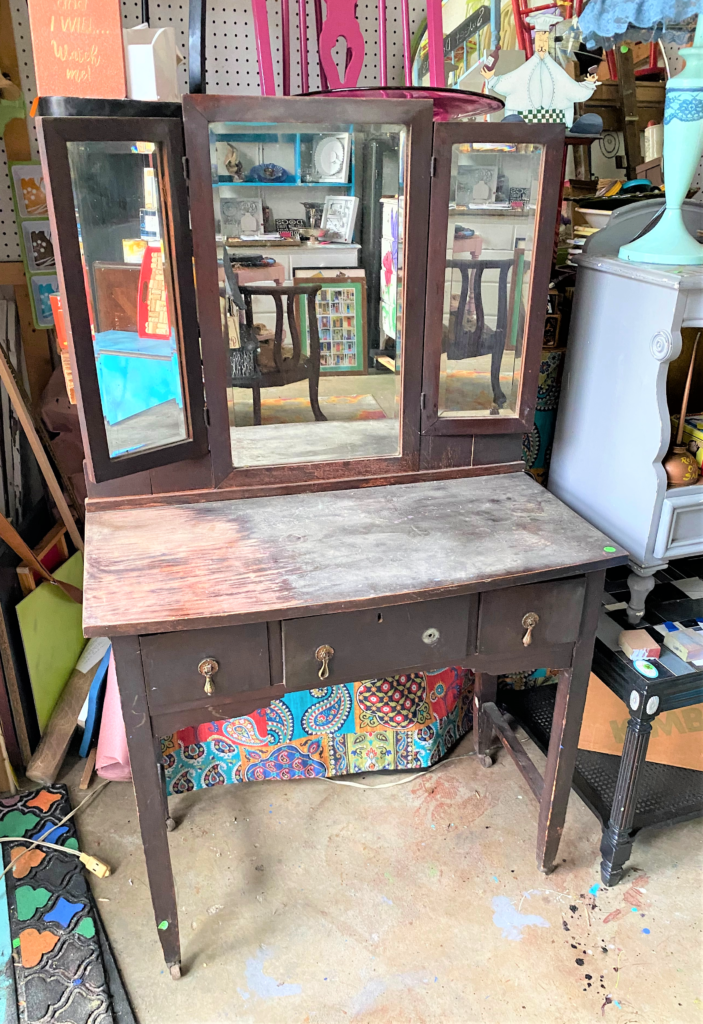 Look for a solidly build piece of furniture to take home with you for this easy and elegant transformation.
This vanity was wonderful—and worn out. It's charm and appeal are its beveled mirrors, deep drawers and sleek size. As always, do your very best to look beyond current appearances to see what a piece could be. Find one with good, solid construction and with a flat surface or two to try this DIY project. And as all Goodwill regular shoppers know, there are always interesting things available and truly amazing prices.
2. Bring it back to life
Before we get to the lace stencil, we want to create a canvas on which to be creative.
First off, remove all hardware to reuse for your project or another upcycled opportunity.
Next, a good sanding from top to bottom removed years of dirt and dust while making it more paint-friendly. Sand your picked-up piece by using a medium grade sandpaper or sanding block to rough it up and to help make the paint adhere better.
Afterwards, wipe it down with a damp cloth to ensure a clean and clear "canvas."
3. Paint on the transformation
After using painter's tape to protect any parts, add a light layer of paint on your piece. Be sure to move around it to get all edges and sides.
Repeat this step several times to give your piece good and solid coverage. Based on the piece you are upcycling, you may want to lay it on its sides or back to ensure you get all of those hard to see nooks and crannies. Clearly this piece was too fragile given its age and its mirrors to do that, so I stood, knelt and laid by it as I brushed on this much needed refresh.
With each layer of bright white paint added, years melted away and this vanity took big steps into its new life.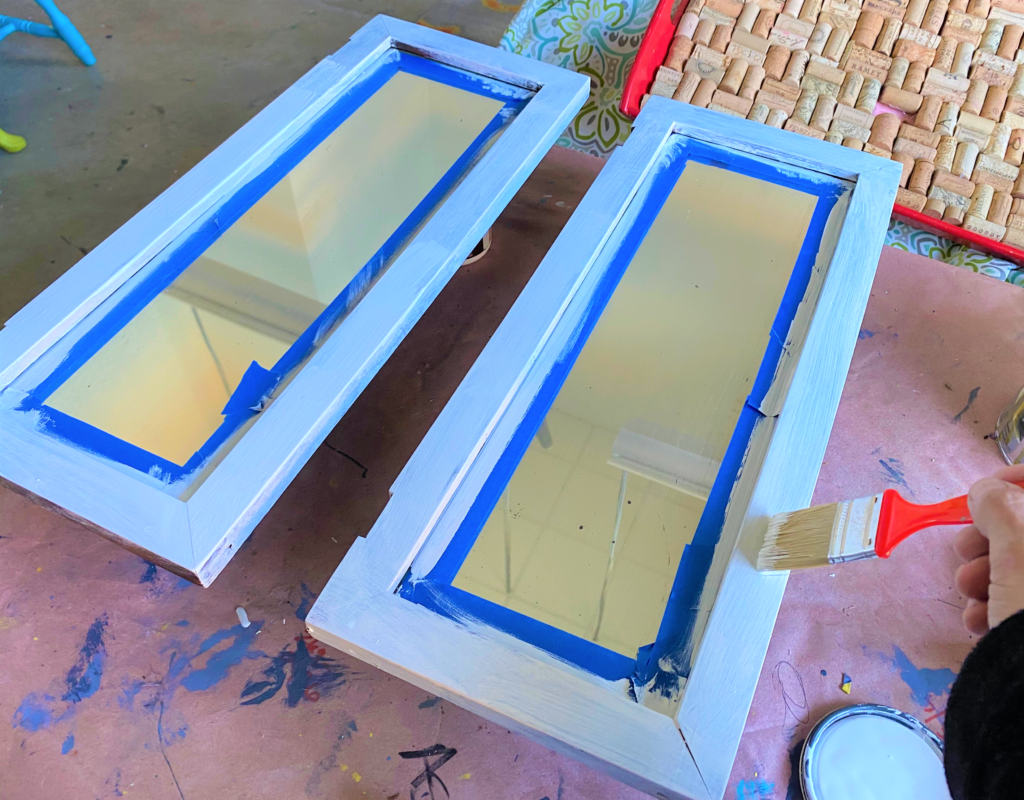 After the paint was dry, I "distressed" the vanity by sanding away the paint along the edges to bring out the color below. This simple step made it sing a little bit louder!
4. Lay on the lace
While at Goodwill, stop in the Women's Apparel section to see what options you have, lace-wise that is.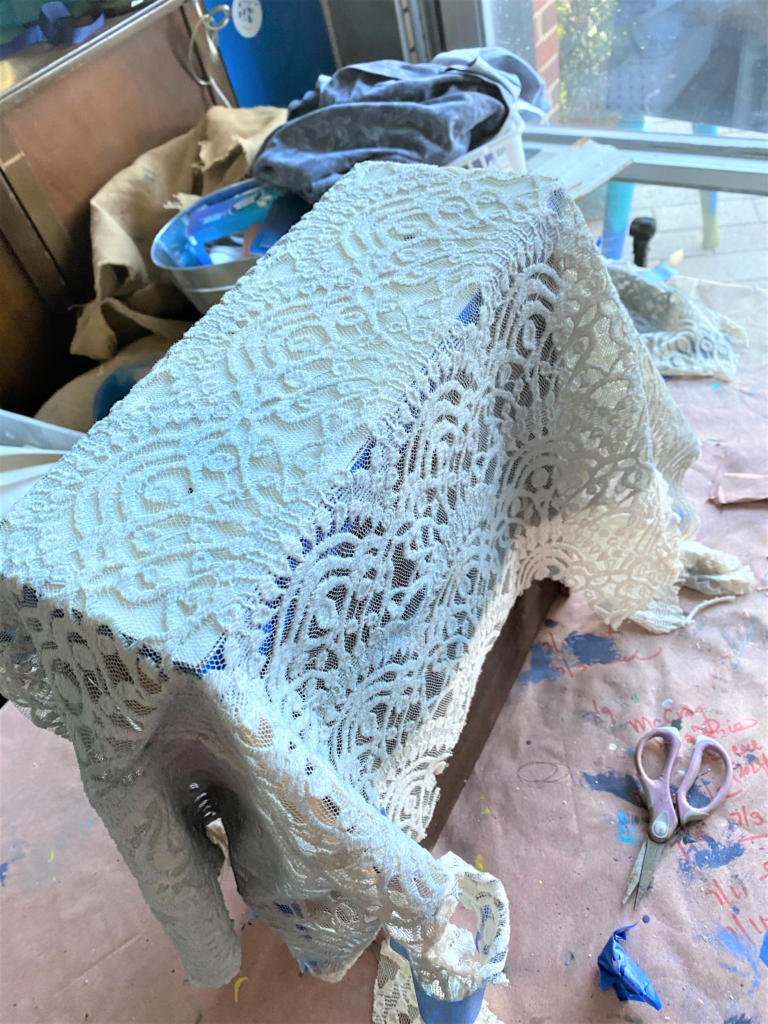 I totally scored with this jacket because of its curvy, peacock feather-like shapes. As lace goes, it felt more contemporary and up-to-date than the kind your Grandmother might have worn. Some Goodwill stores have wedding dresses that could be taken apart for this project.
Cut apart your lacey clothing item to remove edges, buttons and other parts you don't need. I cut the sleeves of the jacket then opened up the seams to provide a good piece of lace to use.
I carefully placed it on top of the drawer and positioned the lace so its designs were centered and balance. A couple of pieces of painter's tape held this in place and then I sprayed a light layer of gray spray paint.
To add extra visual interest and dimension, I added a very light layer of the French Blue paint too.
Carefully remove the tape and the lace to reveal your eye-catching pattern! It truly is that easy.
Again, I felt very lucky to find the lace jacket that I did because it was wide enough to cover the top of the vanity. I taped it in place, too, and added to little pieces of lace to spots where the jacket arms had been sew on. Again, a light layer of gray spray paint and a light layer of the French blue were added then the lace was removed. It was so exciting to see the pattern left behind and the way it made this piece looks so lovely!
5. Add some bling
While the exiting handles were nice and interesting, this piece was given some bling with clear crystal knobs with beveled edges that matched those of the mirrors.
The knobs reflect light and look timeless and inviting. Great selection Toké & Katie!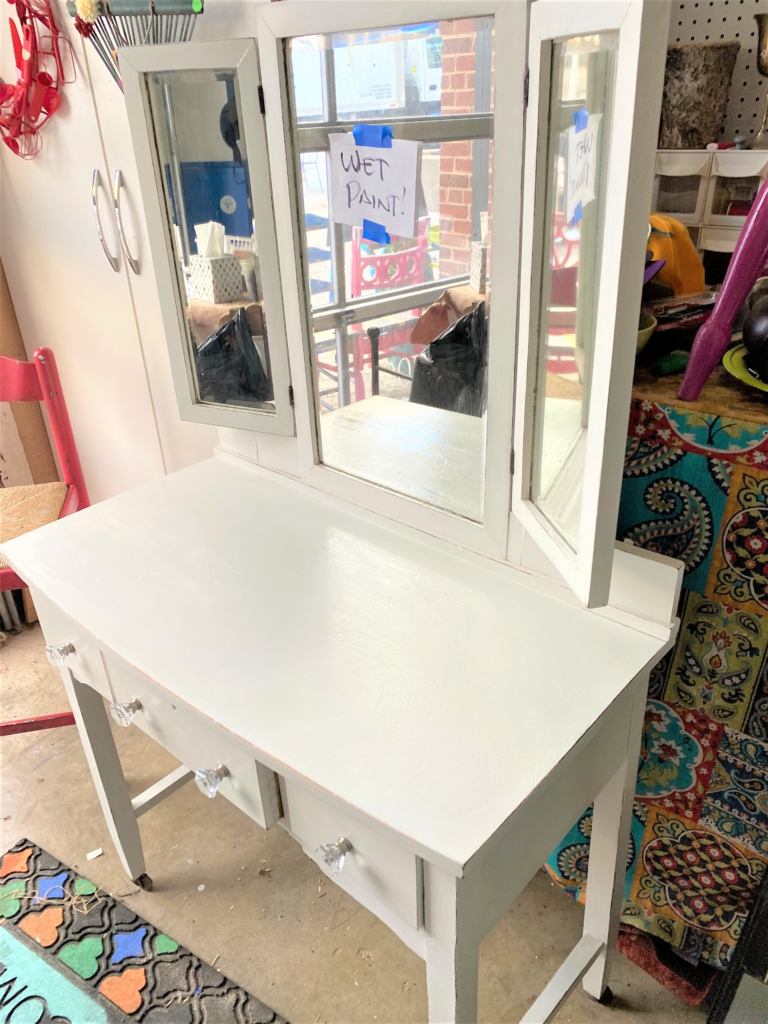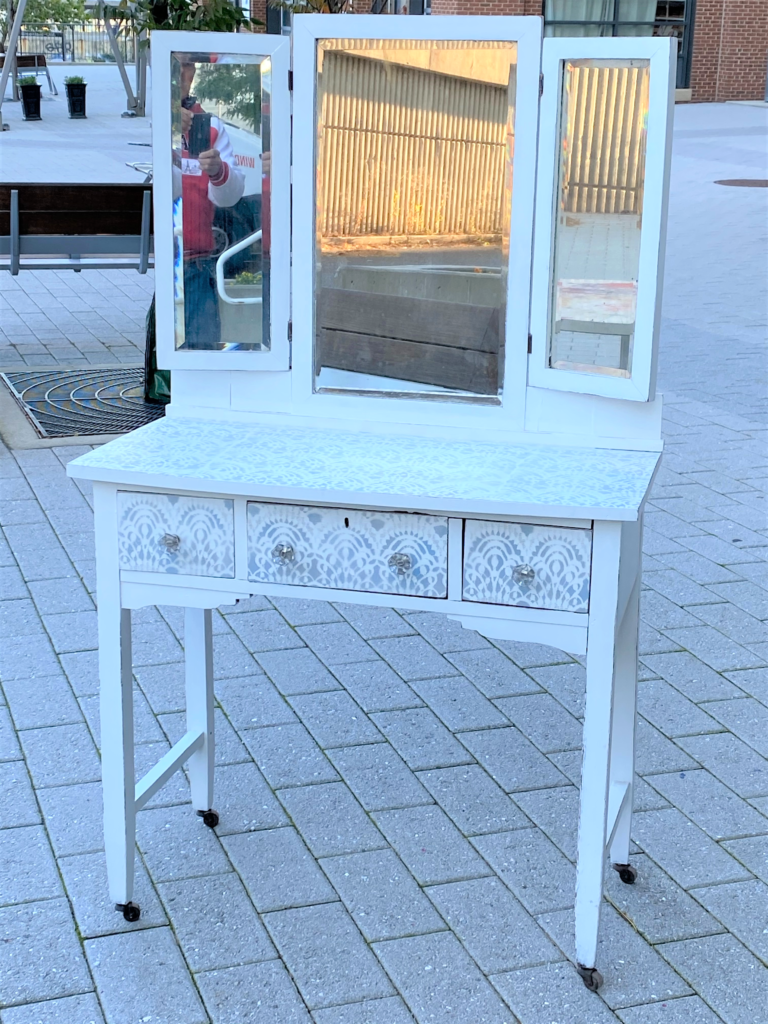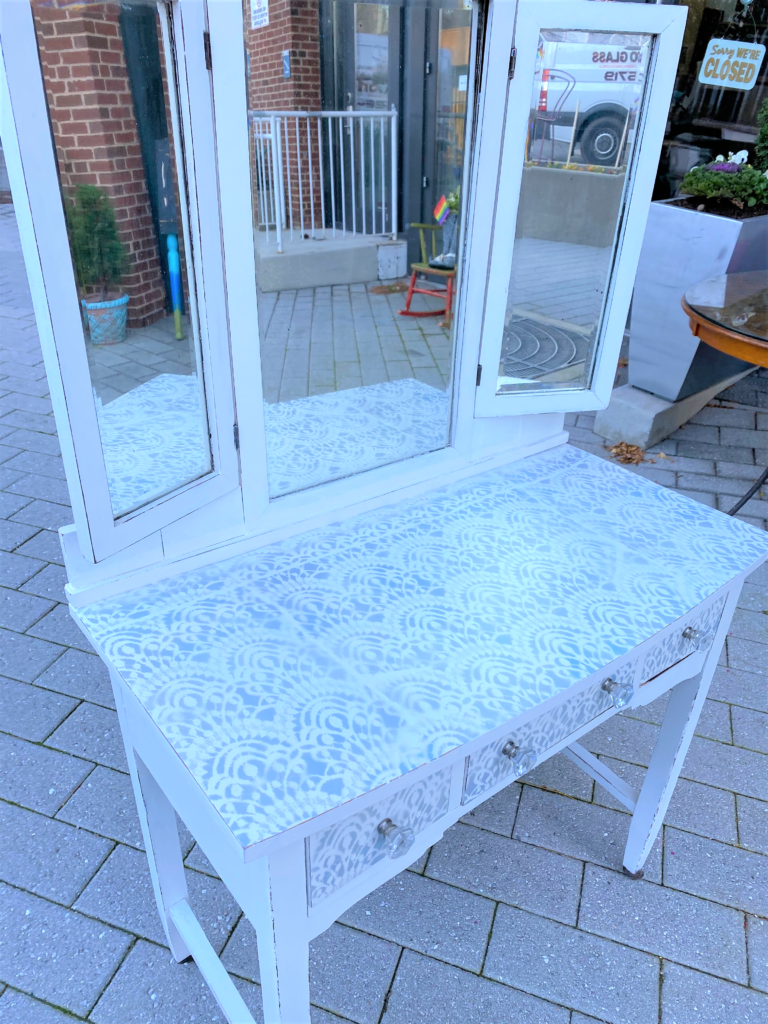 I could see using this DIY idea on dresser drawers, tabletops, serving trays and even picture frames.  How might you use lace stencils to transform something?  Share your pictures to inspire us and our readers!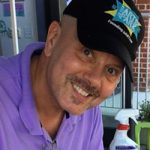 Tim Kime
Artist, Motivational Speaker, Life Coach
Tim Kime is an artist, life coach, connector. He is President of Kime Leadership Associates offering executive coaching, meeting facilitating and motivational speaking. He is also Chief Creative Force of Transformation Junkies which upcycles furniture and other household items into functional works of art. He combined his two passions—unleashing the potential in people and transforming items with the launch of the Art of Possibilities Workshops. These workshops are part upcycling, part dreaming, part goal setting.