September is always a month where the weather is quite erratic. Do I wear summer clothes or do I transition to fall? This is just one of many questions I ask myself when styling outfits for this hectic 30-day period.
Sometimes, I like to fuse summer and fall vibes into one look so no one (especially me) is questioning what I'm really trying to go for. I'll blend the best of the best vibes from each season to make a compelling look that ultimately keeps me comfortable and feeling good.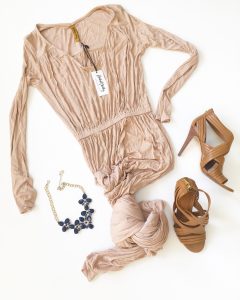 For today's #MyGoodwillFind look I have two designer gems, making this ensemble the ultimate contemporary higher-end duo.
This look takes cues from a summer color palette. The light, warmer neutrals and beiges reflect the sun without being too colorful, preppy, and beachy.
Yet, it still has a fall vibe with a long sleeve maxi style and dark cooler tones of navy blue in the necklace.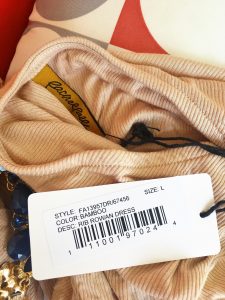 For the dress, we have a new with tags, modern, formal, designer, ribbed, bamboo colored, soft, Rachel Pally maxi dress in a size large. The neckline is a v neck with the length of the entire piece hitting the floor. At full retail, this would sell at stores like Saks for over $200.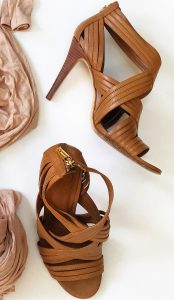 To further accent the browns of this maxi, I am pairing it with these strappy, tan, authentic Tory Burch heels in a size 7.5. Ornamented with gold hardware, the open-toed shoes are sassy, yet sophisticated. The heel on these is a bit tall, but they're still comfortable when worn standing for a long period of time. These retail for over $200 at higher-end department stores.
Finally, to tie this look together and add a pop of color, I used a dark navy blue and gold bauble necklace. By adding color with a necklace, it draws your eye to the face and upper body, accenting the neckline and unique style of the designer dress.

Fashionistas, I hope you're as excited about this designer duo look as I am! It perfectly fuses aspects of my two favorite seasons with two of my favorite brands. 🙂