Podcast: Download
Subscribe: Apple Podcasts | Email | RSS
Want to start new creative projects and experiment with crafting, but have no idea where to begin, what to paint and how to source materials? Do you have a desire to make more handmade items and gifts but are afraid to fail? To mess up?
Three makers in DC's DIY community, Tim Kime of Transformation Junkies, fashion designer Evan Ibrahim, and Elle VanDyne of CollabCreateDC join us this week to take you inside their creative minds to explore ways to find your own unique inspiration. They're providing tips on how to navigate the creative process, how to find canvases at Goodwill, and words of wisdom on what to do when you're not an artist but want to dabble into upcycling.
About the artists:
Tim Kime of Transformation Junkies: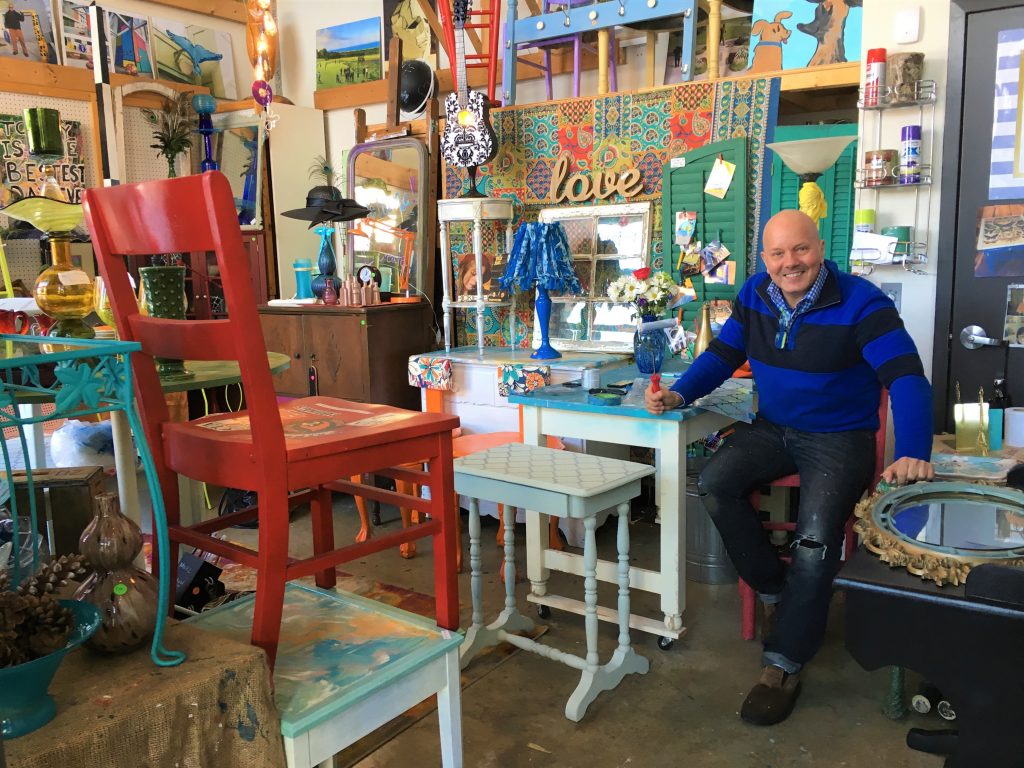 An award-winning and accomplished leader, Tim Kime is passionate about transforming individuals, organizations and communities. He is the President of Kime Leadership Associates offering executive coaching, meeting facilitation, motivational speaking, and team-building for organizations of all sizes. He is a certified Expert Professional Life Coach. Among his clients are The Bill & Melinda Gates Foundation, George Washington University, Children's National Medical Center, Goodwill of Greater Washington, National Cooperative Bank, Covenant House Greater Washington and Covenant House Ilinois.
He also leads the Art of Possibilities Workshops that combine his passion for repurposing household items and helping people to be their best. Part "upcycling," part team-building and part coaching, these very engaging sessions which uses art and the transformation of a household item as a metaphor for change and for what's possible. Tim's transformed furniture items were featured in the first-ever "Art of Transformation Exhibit" at PEPCO's Edison Place Gallery in partnership with Goodwill of Greater Washington in 2016 and his "Let's Sit Together Awhile" bench was commissioned to be part of Dance Place's 8th Street Arts Park, also in 2016.

Elle VanDyne of CollabCreateDC:
Elle is a community leader and entrepreneur living in Washington, DC with her partner, 1 kid, and 3 cats. Currently, her work focuses on CollabCreateDC, a new collaborative network connecting creatives + small businesses. If you're a DC area creative or small biz, or want to tap in to the amazing resources our community has to offer, be sure to sign up for their mailing list here for all the latest. Come join CollabCreate DC on Instagram for local features, events, and more.
When Elle is not connecting people + promoting the DC creative community, she loves sharing home design + holistic lifestyle tips, cooking up delicious healthy-ish food, and tackling the never-ending project list at our brick row home. She shares what she's up to behind the scenes and around DC over at theDIYphilosopher – come say hi!
CollabCreate DC is building a network for creative entrepreneurs to connect with each other and the community at large. Through our newsletter and social media we promote creatives + small businesses. We also promote and host a variety of events + workshops in the Washington, DC area.
Evan Ibrahim, fashion designer, artist maker:
Evan is a DC designer, artist, maker and overall jack-of-all-trades. He is the mastermind behind @palmer_road and @threadskin_.