Fashionistas, fall is really here! So now it's officially time to whip out those long sleeves and sassy boots.
One style I love to wear is a unique, asymmetrical shirt or dress. This particular style is always flattering because it shows off the leg without being too risky.
Today's #MyGoodwillFind is a high-low dress with pink, blue, purple, and black watercolor stripes in a size large. The material of this dress is soft and stretchy, making it a comfortable but snug fit for the fall. The neckline is cut as a scoop neck and has quarter-length sleeves.
This dress is made by the brand American Rag, a line sold at Macy's and originally retails from $20-$100.
Paired with this fall-friendly dress are two-toned, leather, high boots from Goodwill.
When you wear taller boots with an asymmetrical dress, it allows you to accentuate and draw attention to the legs in a positive manner. The length of the boot elongates the legs, while the cut of the dress creates a nice frame to showcase the actual boot style.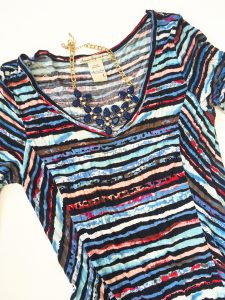 Finally, to round out the look, I added a bauble necklace that echoes the neckline of the dress and will put the cherry on top of the look! Here, I'm showing a navy neck-piece that draws in colors from the dress. However, jewelry that takes in any other color from the dress will work well too!
How would you style today's artistic asymmetrical dress #MyGoodwillFind, fashionistas?