Just in time for the fall we're adding some mandatory J Crew to your wardrobe!
Every season, I find at least one J Crew item. Their lines of clothing are always fun, funky, and cutting-edge no matter what time of year.
Each line of clothing they release tends to have a theme. They can range from pinup to 70's floral to mod. Out of all of their collections, my favorite lines tend to take cues from the summer, such as the ones centered around tropical climates or sailing.
Although fall is now upon us, I believe it's absolutely okay to wear summery, aquatic-themed clothing. Why let a season command what you can and cannot wear? If it's cute and you like it, why not rock it?!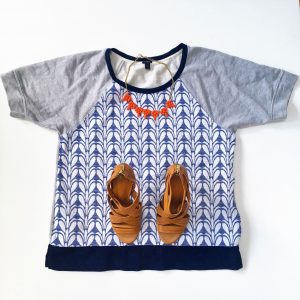 For today's #MyGoodwillFind we're offering up a size large, quilted, blue and gray, patterned, baseball-style, short sleeved J Crew top to add a nautical element to any fall ensemble.
The actual material of this short-sleeve is quite thick and not too stretchy, making it the perfect number to keep you warm on a sunny, breezy, fall day.
As you can see in the pictures, the neckline of this top is a small scoop with the bottom length hitting the waist.
At full retail, this top would be sold at J Crew stores for at least $50.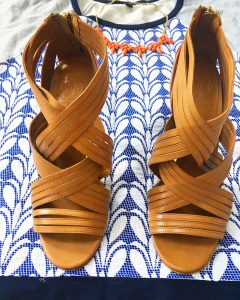 With this top, I'd wear neutral colored pumps or boots along with a vibrant artsy necklace.
Although the blue in this top is bright and cheerful, it does need one more pop of color to bring it over the top.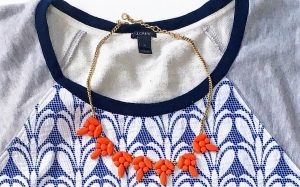 For this look I'm coupling this top with statement salmon J Crew necklace from my own collection. The shapes of this sculptural piece pop well against the small tight pattern of the blouse without it being too distracting or clashing.
You can actually find J Crew necklaces just like this one at Goodwill stores, usually for under $10!
Although not pictured, I'm thinking a pair of solid colored pants, denim, or classic J Crew pencil skirt would be the bottom of choice to round out this ensemble. You don't want to wear anything too loud to allow the necklace and top of be the focal points of your desired look.
So, fashionistas, how would you style this nautical-turned-fall J Crew #MyGoodwillFind?