Last week, I had the amazing opportunity to visit our blogger/DIY expert, Tim Kime, at his art studio. While there, I was able to obtain a greater sense of the magic that happens when he embarks on his signature DIY upcycles for the blog.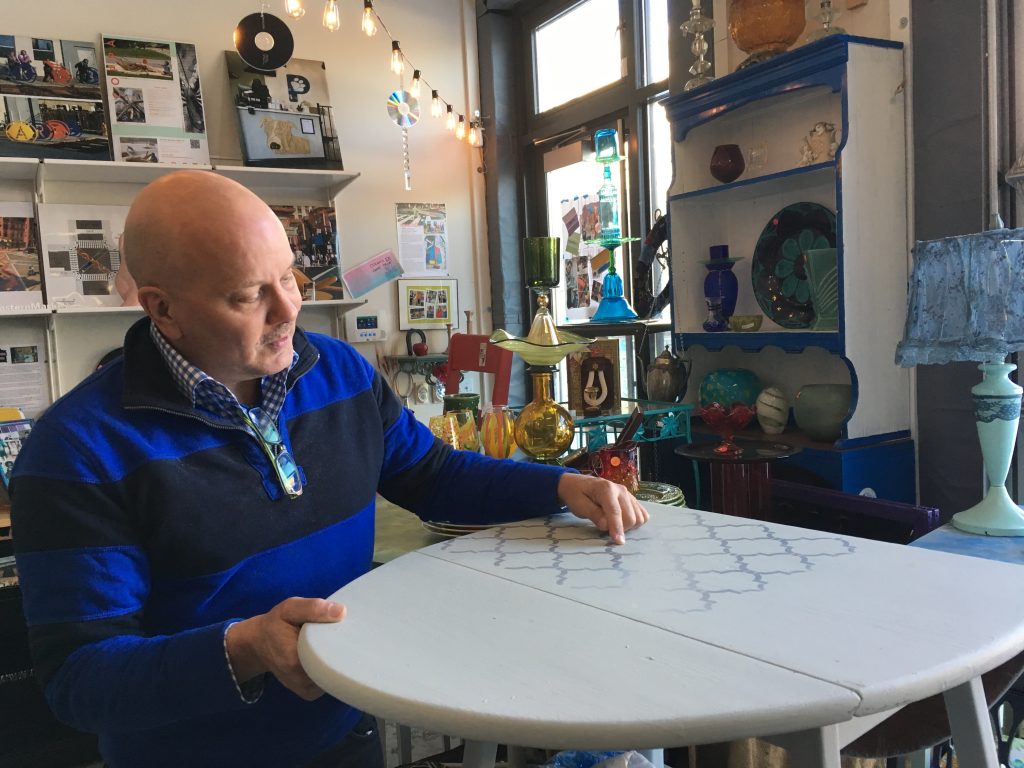 Upon arriving at Tim's studio, I was delighted to find out that his space is a part of the Brookland, DC Monroe Street Market Arts Walk, a bright corridor where many DC artists have spaces to complete their work. A variety of local artisans have spaces here, including notable local illustrators such as Marcella Kriebel.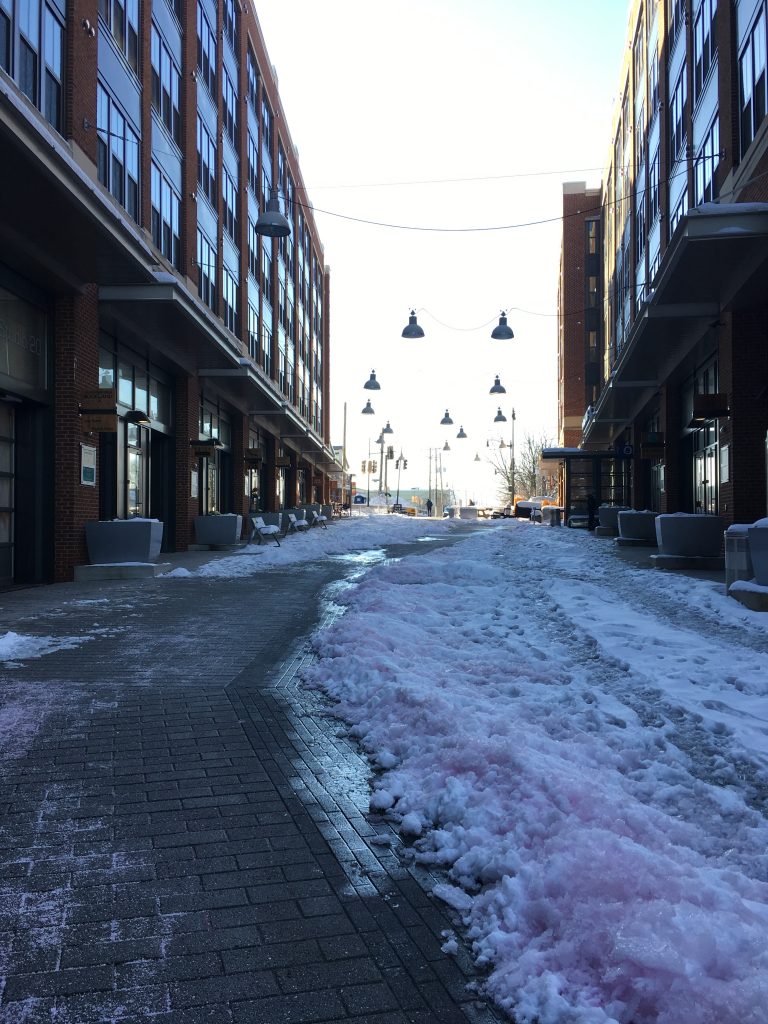 As soon as you arrive at Tim's studio at the end of the walk, you'll instantly be inspired by these motivational chairs that sit in front of his doorway. The vibrant color of these beauties is a big hint of the colorful nature of Tim's work space.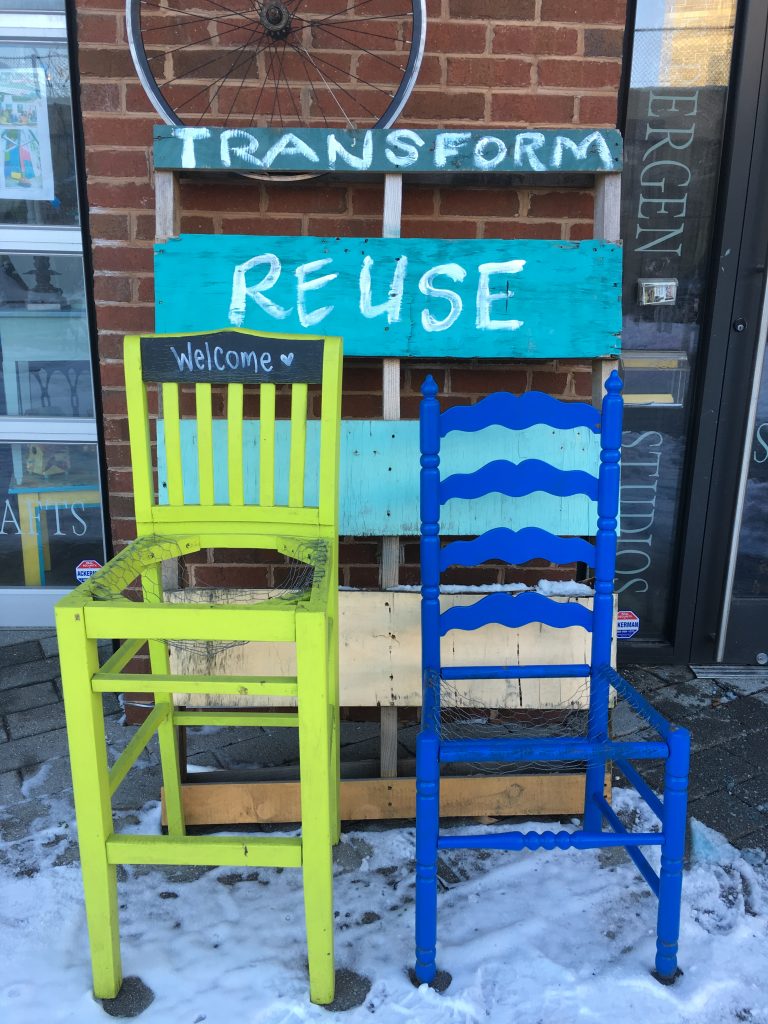 After you're graced with these art-like chairs, Tim's space overwhelms with excitement and eclectic aesthetics.
Honestly, Tim's space is an artisan's dream. The colors, the patterns, the textures….it's extraordinary. I'm thinking this spot would be great for a vintage pattern-mixing fashion photo shoot!
Finished home creations for sale!

Pinkies out for tea!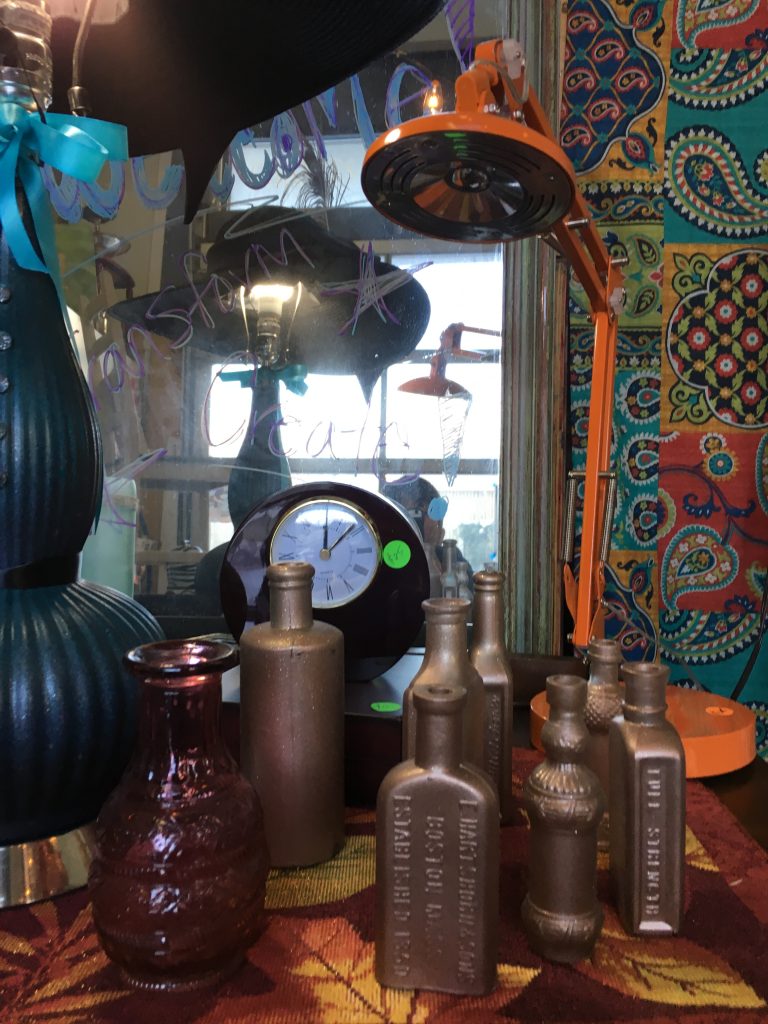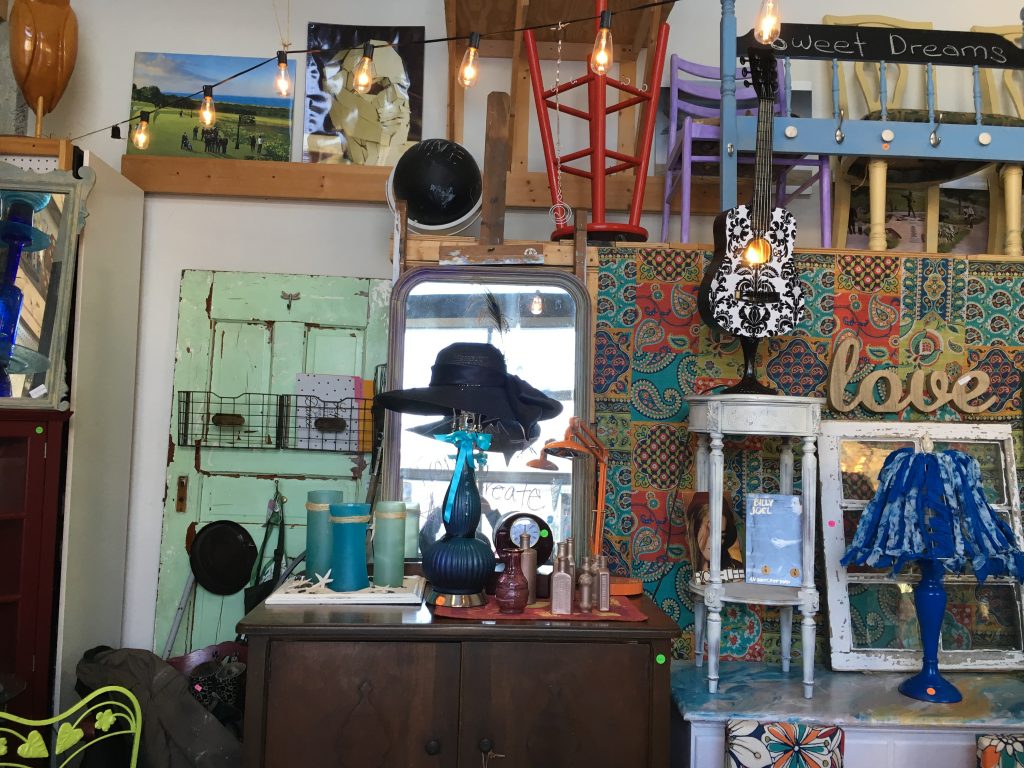 You'll notice that Tim's cove isn't just inspiring via DIY works, he has a collection of many great pieces of literature as well, including this hardcover by the great Baltimorian, John Waters.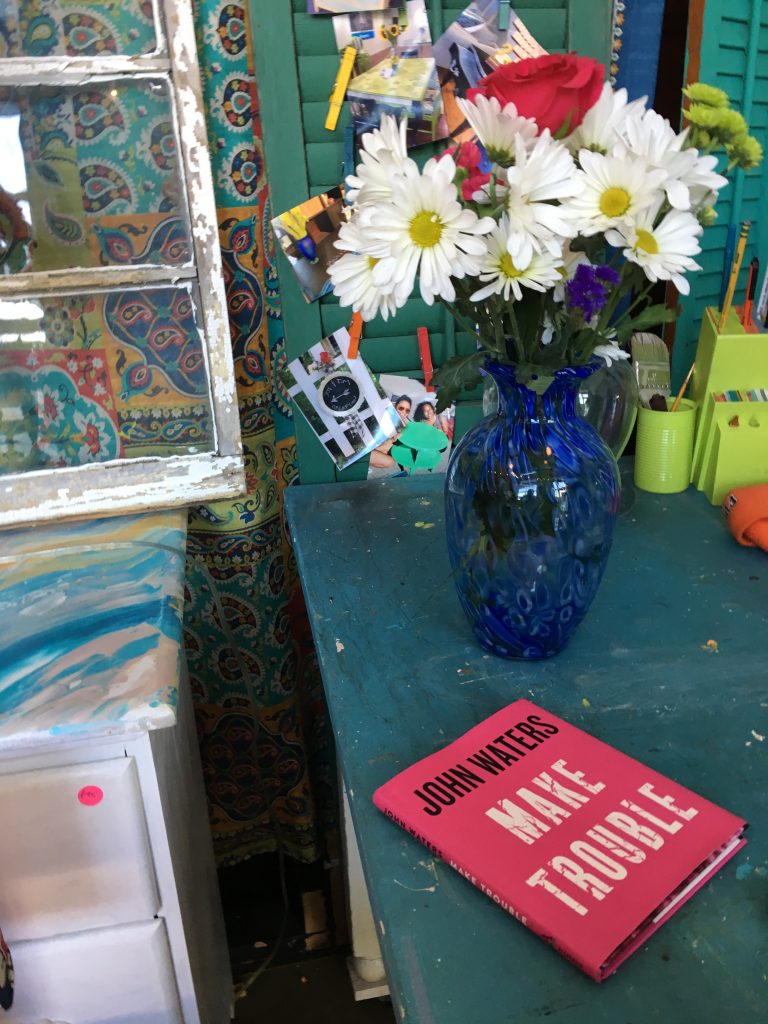 What I loved most about visiting this studio was seeing the DIY projects that were in progress – such as this patterned table set.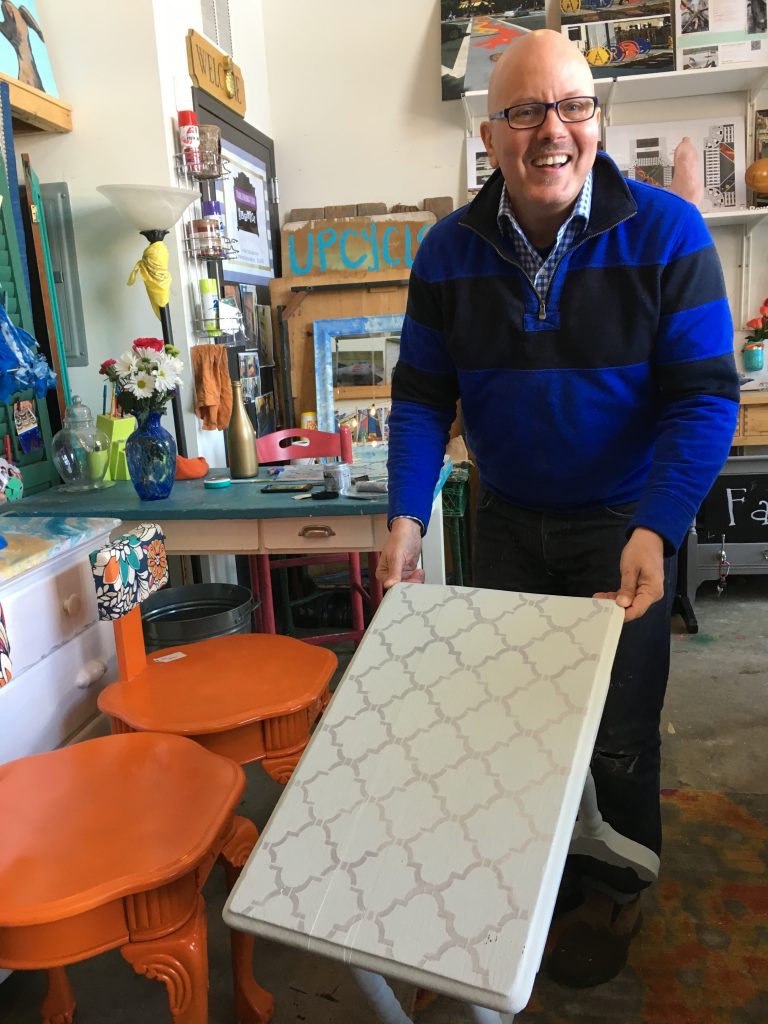 By seeing all of the materials and raw furniture, I had a deeper glimpse of the work it takes to properly perform an upcycle….and the work seemed easy and very doable for any creative explorer!
The amount and types of supplies present in the workshop were refreshing – each item could easily be obtained at a craft store.
Thanks again Tim, for allowing me to come visit! I love collaborating with you on all things Goodwill, spreading the mission through a creative outlet.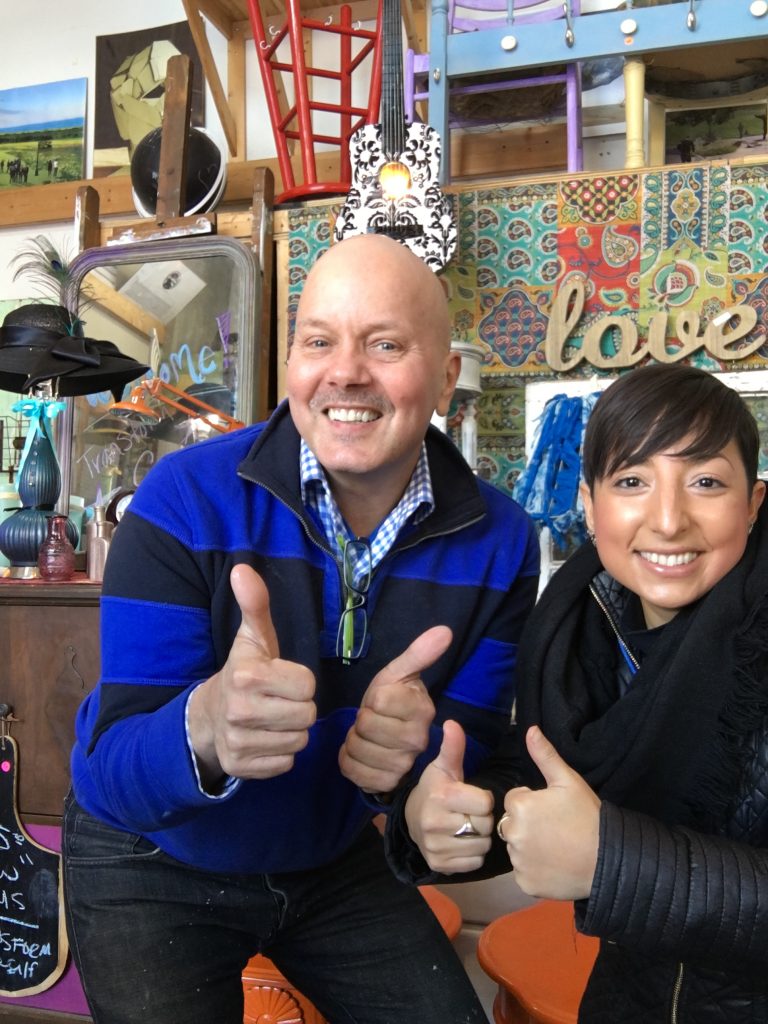 Let's do a fashion shoot this year!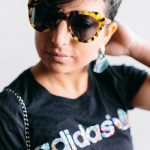 Carolyn Becker
Creative/Marketer/Vintage Maven
A self-proclaimed thrifty spunky petite fashionista who works in the marketing field by day, and is an artist and musician by night. You can find her bragging about her designer Goodwill thrift finds on her Instagram: @petite_punk.