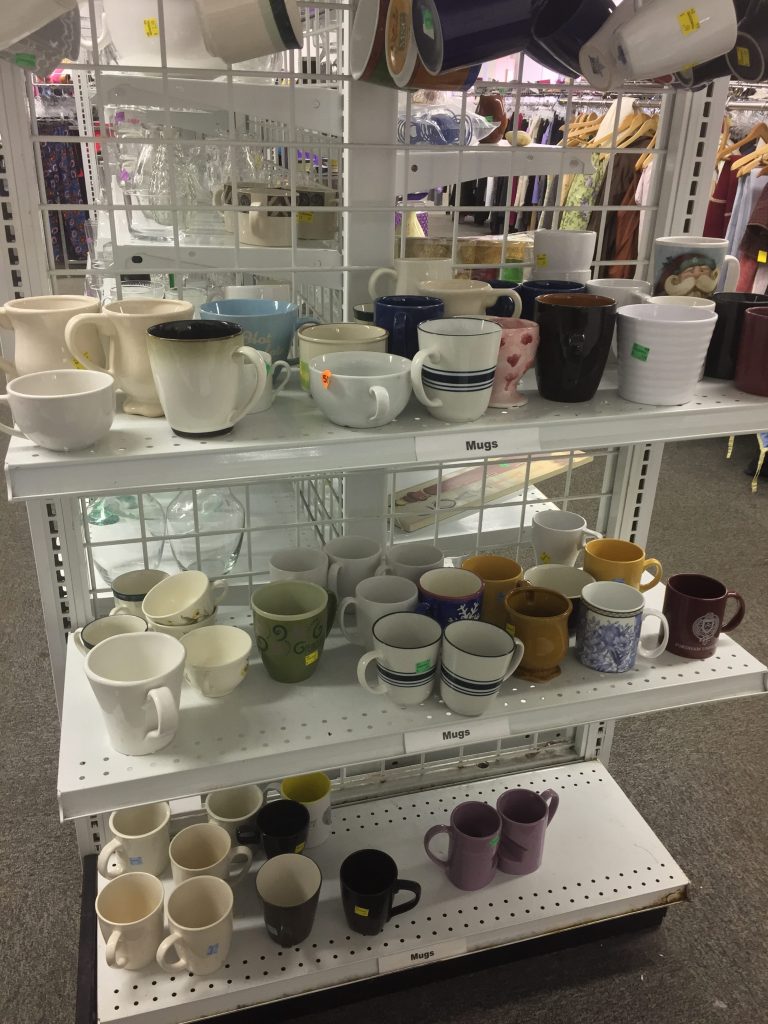 Candlelight always adds flickering, shimmering ambiance to any event. These unique candles are sure to spark smiles when added to your Thanksgiving table, included in your holiday décor or given as Christmas gifts. Goodwill has so many wonderful cups, mugs and other containers that can be turned into one-of-a-kind candles. Pick a teacup that matches your décor or, if given as a host or holiday gift, select one in the recipient's favorite color.
Ability level: Moderate
Age Level: Ideal for teens and older because of hot wax

Items needed:
1. Teacups, mugs or other small containers
2. Packet of wax
3. Wick string
4. Candle scent (optional)
5. Small paint brushes (chopsticks, pencils, and pens work, too)
6. Tape
7. Potholder
8. Paper towel
9. Microwave-safe measuring cup
10. Microwave
Time requirement: 30 minutes (not including wax drying time)
Cost: Approximately $6 per candle
$1 to $3 per teacup, mug or container
$10 for wax packet (makes approx. five candles)
$3 for wick string
$3 for candle scent (not much needed)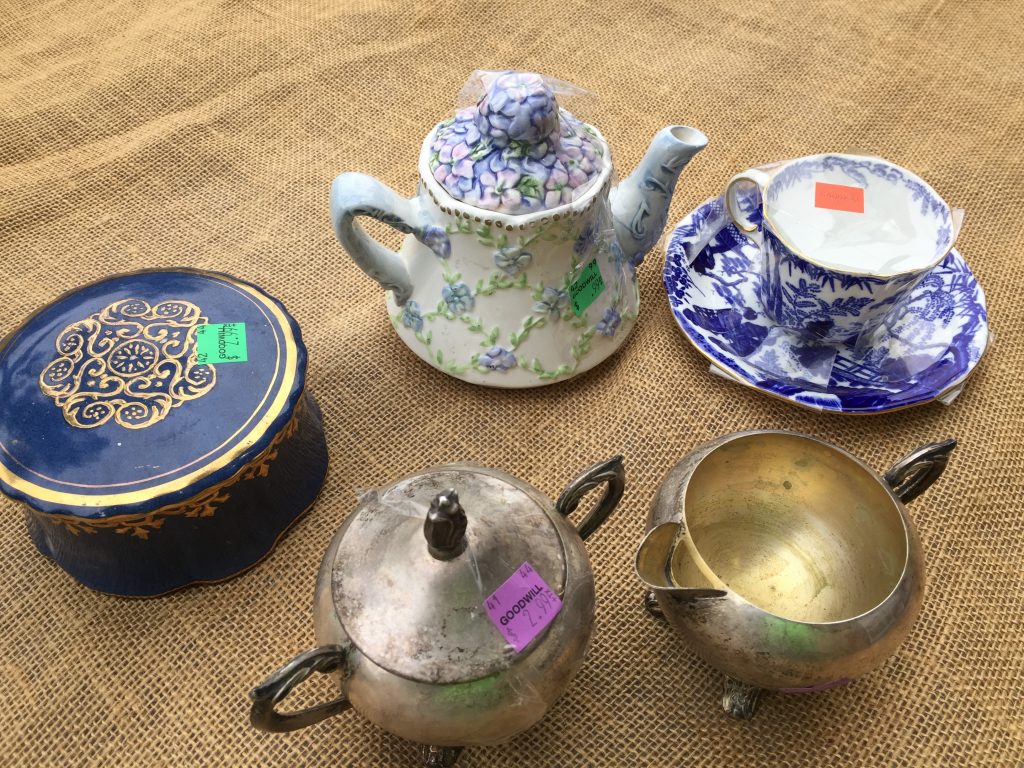 Step 1: Time to Tea Off
For this charming project, your friendly neighborhood Goodwill has so many options that you will feel like you hit the jackpot. When picking tea cups, mugs or other containers (small teapots and silver tea set pieces are perfect!), consider how or where your candle will be used. If adding flair to your holiday decorations, consider matching your color scheme. If given as a host/hostess gift when you go to a party (so much more memorable than a bottle of wine or tin of cookies), select a mug with winter colors and/or holiday images. These also make perfect gifts for loved ones, so chose a teacup or mug with your friend's favorite colors. And don't be shy about sharing one with the men on your gift list. Turn a sports team mug into a candle that your guy will happily use throughout the house. Trust me, "real men" do like candlelight!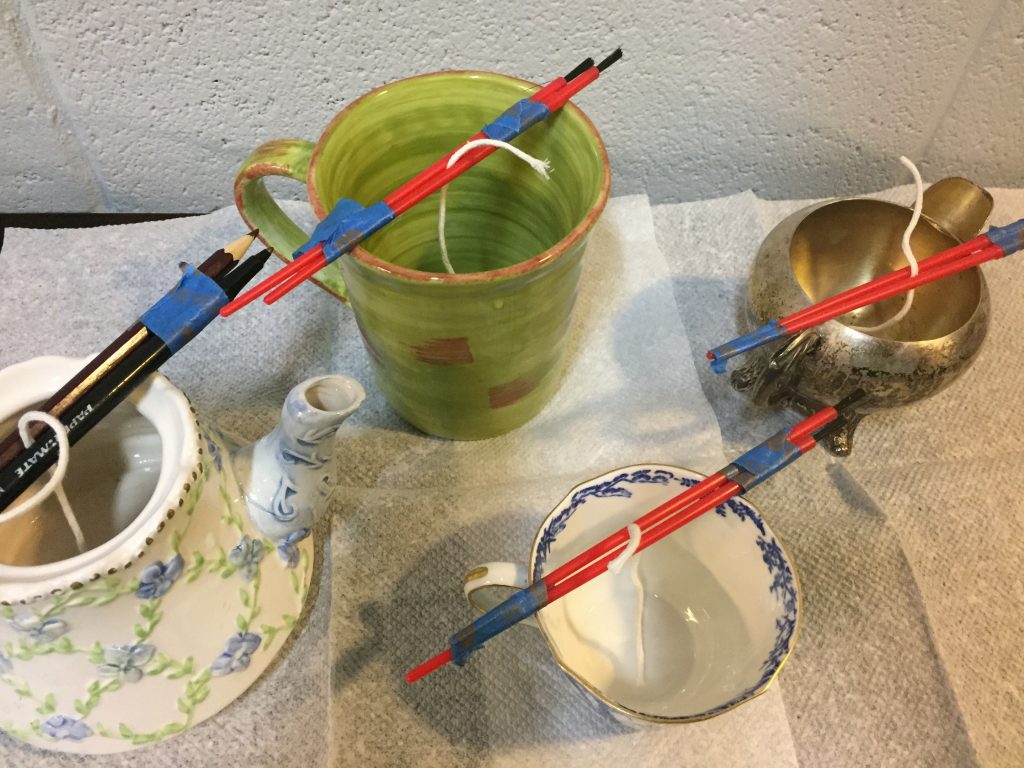 Step 2: Work the Wick
After you clean your teacup, cut a piece of the wick string to go from the inside bottom to about two inches above its top. Place the cut piece between two small paint brushes, chopsticks or pencils, whatever you have handy. Use tape to hold in place. (While I used painter's tape, scotch or masking tape are fine, too.) Put the wick, being held tight between the taped together paint brushes, in the center of the teacup. Ensure the wick sting hangs down to the bottom center of the cup. To make clean up easy, set the teacup on a paper towel to collect any spills that may occur when pouring wax.
Step 3: I'm Melting!
For this project, I purchased a packet of candle wax from my local arts & crafts supply store. If you are like me and always one to reuse items, you could certainly use candles you already have. Cut the wax into pieces and place in the microwave-safe measuring cup. Put it into the microwave and heat on high power until the wax is totally liquefied. It might take 5 minutes or so, based on the microwave, so keep an eye on it.
Step 4: Careful, Careful, Careful: Pouring Hot Wax
When the wax is totally melted, it is likely to be clear in appearance. Using a potholder, carefully remove the measuring cup from the microwave. If you want a scented candle, add a squirt of the fragrance now. I selected "Sugar Cookies" so when lighted, the candle will add a sweet scent to the room. With the holidays, you might consider cinnamon or pumpkin spice. (A friend loves lavender so I will use that scent for her special candle.) Carefully pour the liquid wax into the teacup until it comes almost to the top lip.
Step 5: It's Chill Time
After adding the wax, you might need to adjust the wick holder to ensure it is in the center of the teacup. Now let it sit in a safe place for several hours to allow the wax to cool and harden up. While you may use colored wax or add a crayon to add a special tint, I think white wax is the most elegant and looks good for every season.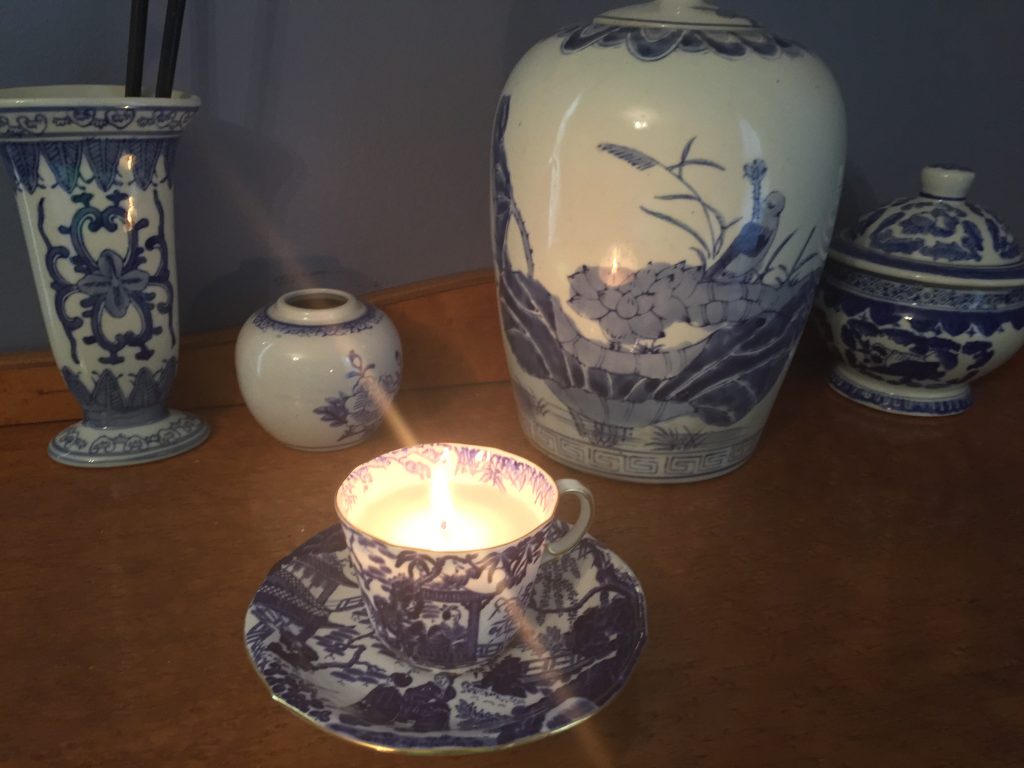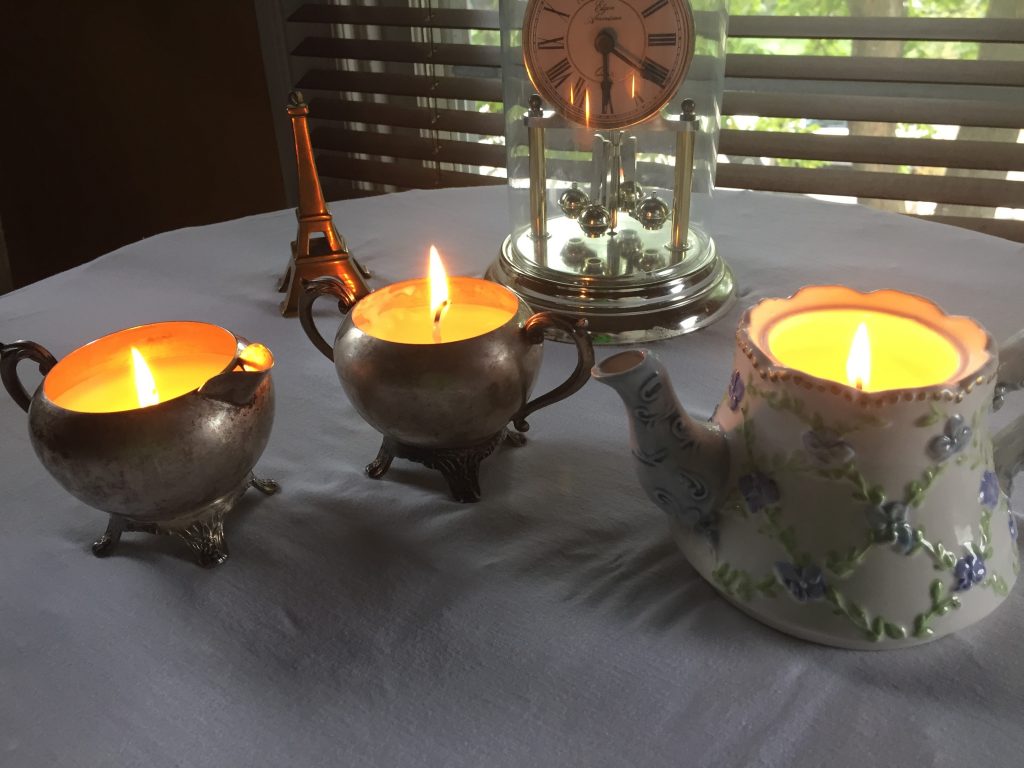 Step 6: Let there be Light!
After your candle has cooled completely overnight, you now are ready to spark your teacup into a new purpose as a candle. Consider grouping several, along with ornaments or fruit, as a centerpiece. Add to your guest bathroom to brightly greet visitors. Place in a gift bag to give as that special Christmas gift. No matter how you use it, this charming candle will be a favorite during the holidays, and all year long!
Tim Kime is an artist, life coach, connector. He is President of Kime Leadership Associates offering executive coaching, meeting facilitating and motivational speaking. He is also Chief Creative Force of Transformation Junkies which upcycles furniture and other household items into functional works of art. He combined his two passions—unleashing the potential in people and transforming items with the launch of the Art of Possibilities Workshops. These workshops are part upcycling, part dreaming, part goal setting.