As we approach Valentine's Day, here are seven ideas of things to lovingly make for that special someone—even if that special someone is you! There is something magical that happens in us when we take even a moment to create something. As Psychologist & Harvard Professor Howard Gardner once said, "Creativity begins with an affinity for something. It's like falling in love." Rock Star Lenny Kravitz also has his take on it when he said, "Love, creativity, and opportunity is in the air. Take it in and do your thing."
So for Valentine's this year, do your thing by showing the ones you care about some of your unique expressions of love and creativity. While I am all about flowers and chocolates for presents for your significant other, these gifts will be appreciated and remembered well after the holiday has come and gone. Many of the items featured here were purchased at Goodwill or inspired by the finds you may find while shopping there.
And all these DIY projects show some love for Mother Earth too, because you are reusing, repurposing and rethinking items that may have ended up in the landfill. These projects are truly a win-win, or shall we say a "love-love" situation for all involved!
1. Heart Collages
You're gonna fall in love with this project which is fun for families and groups to do together. This project creates art from discard papers like old cards, calendars and out-of-date magazines.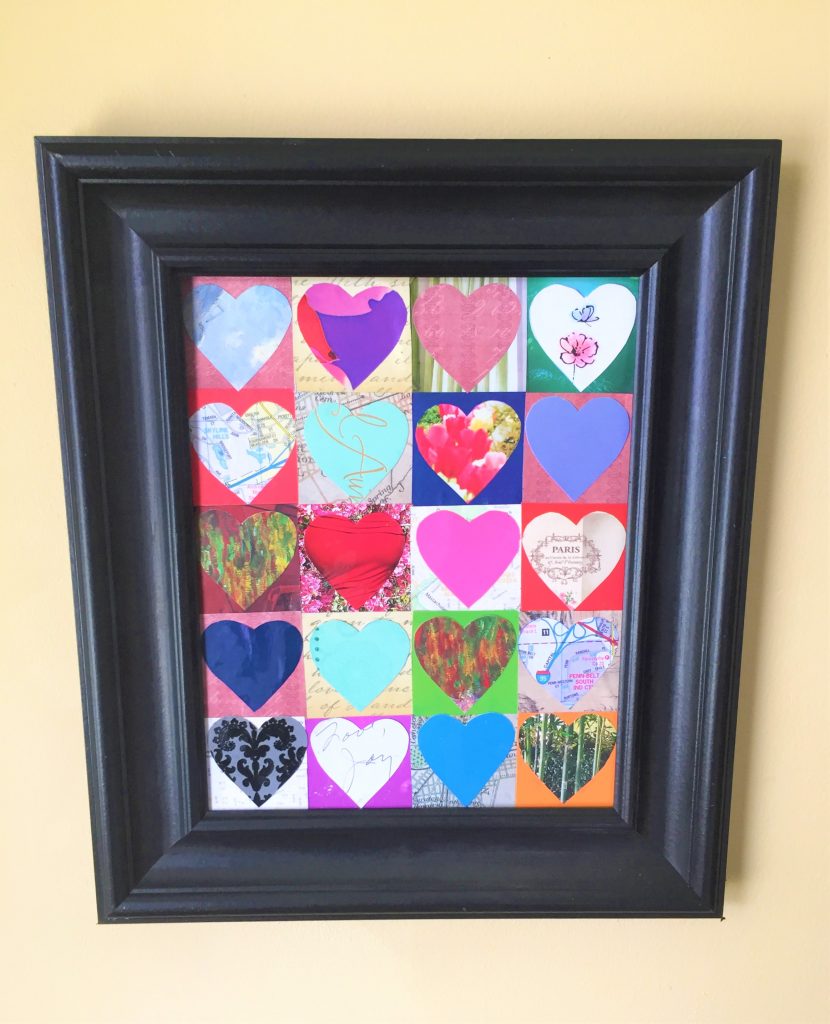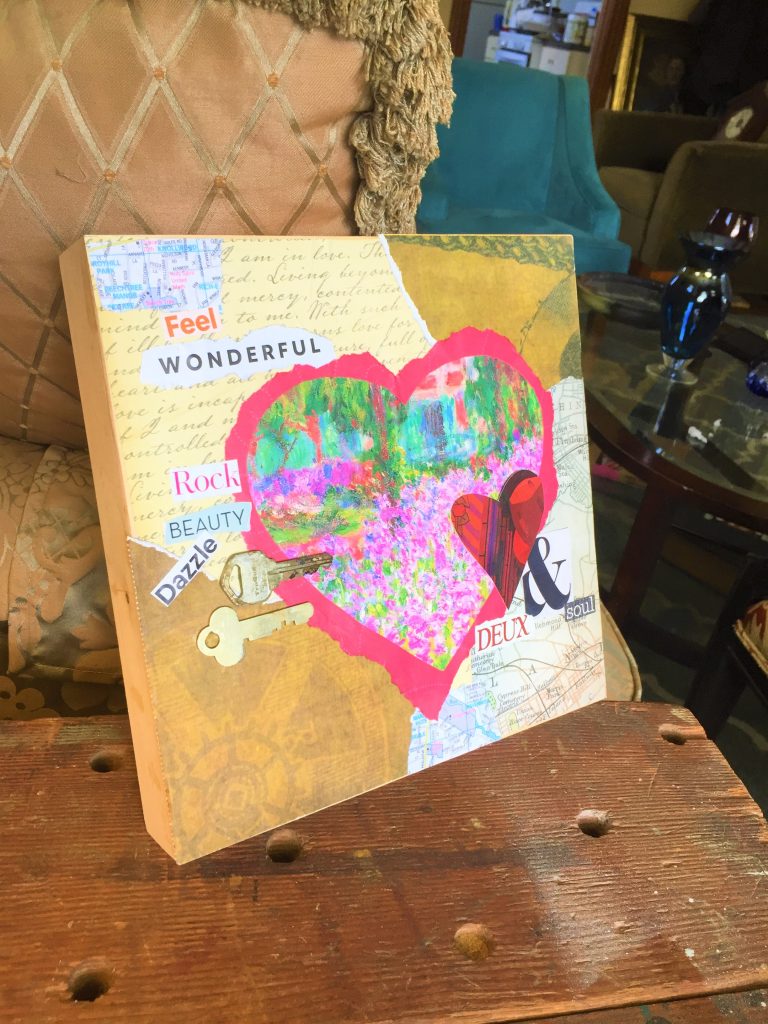 Here's how:
One approach is to use an old frame and fill it with hearts of the same size and shape.
Measure out the amount of space you have to work and create a grid on the surface to be glued.
Then cut both a small square and a heart pattern out of cardboard or a heavier weight of paper.
Have fun going through magazines, cards or other papers to find colors on which to trace your heart and square then and cut them out.
With Mod Podge, glue the squares in place. Then, adhere the hearts on top.
When dry, place in the frame and you have a gift full of hearts that will make yours beat quickly!
The second approach is more free form and just as fun.
Cut or tear your paper then glue in on your frame.
Cut out a heart and place in the center. Clipped from magazines, add works that are relevant like, "Love," "You & me," "Rock." If you have them available, glue on old keys to align with the phrase, "Key to My Heart."
Let dry, then give it away or hang it up!
2. Painted frame/heart stained-glass window
This approach will allow all to easily see right through to the love in your heart. An unused frame makes for an eye-catching "stained glass" window.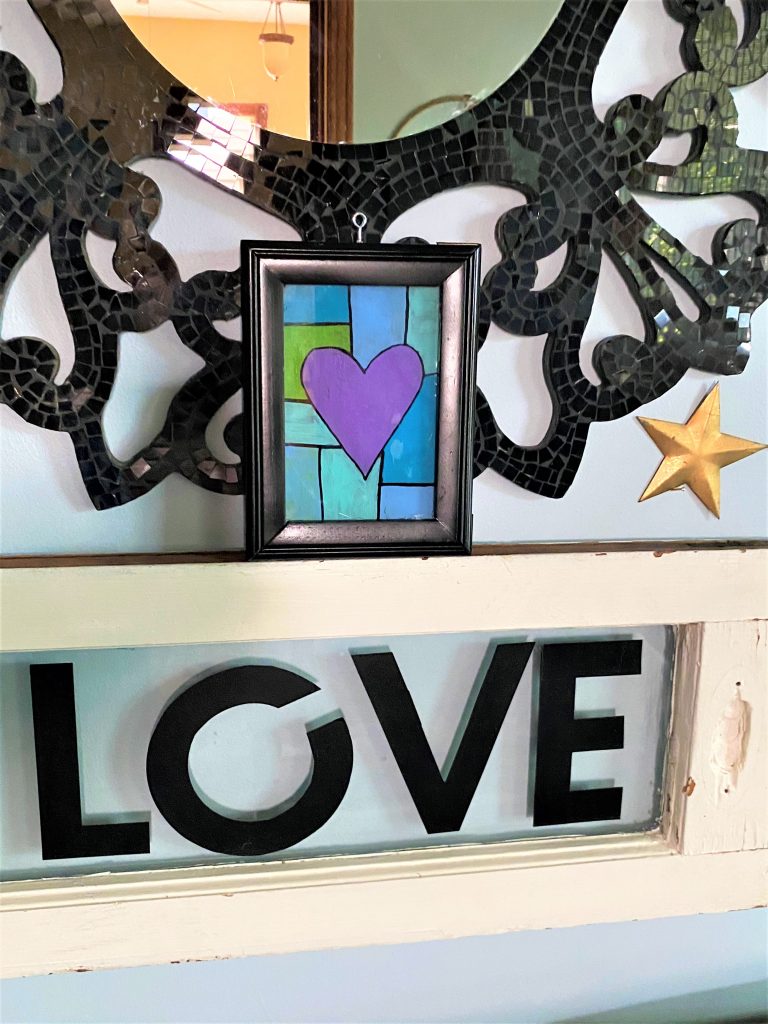 Here's How:
Take apart a small or medium-sized picture frame.
Toss out all parts that hold it together and keep just the glass and the frame. Be careful handling the glass as its edges could be sharp. If small children are involved, please do this step for them.
Trace around the glass on a piece of paper then carefully set the glass aside.
Inside the traced square paper, draw a heart in the center then lines to connect it and add visual interest.
Once done, return the glass on top. With a black Sharpie, draw on the lines from your heart pattern.
With craft paints, brush on colors in the various compartments.
After it's dry, add glue around the inside edge of your frame and return the glass piece, now featuring your painting on artwork, back into the frame.
Let the glue dry, add a hook on top for hanging. This can be displayed in a window to let the love shine through!
3. Heart-shaped chalk board
Reuse a pie pan, shaped like a heart, as a way to express loving messages.
Here's How:
With some painter's tape, add a line of tape along the inside edges of your pie pan.
Brush on two to three coats of chalk board paint (picked up at your local hardware store), along the bottom of the pie pan and inside the painter's tape.
Allow time for the paint to dry between coats.
After the final coat, let it dry overnight.
Carefully remove the paint's tape.
Keeping with the repurposed theme, enlist an old belt as a hanger.
Glue in place along the outside edge.
Write in your message of love, then hang it up! Super easy—and very charming, don't you think?
4. Jewelry signs/artwork
Create signs and art from repurposed jewelry for a sparkling way to express yourself.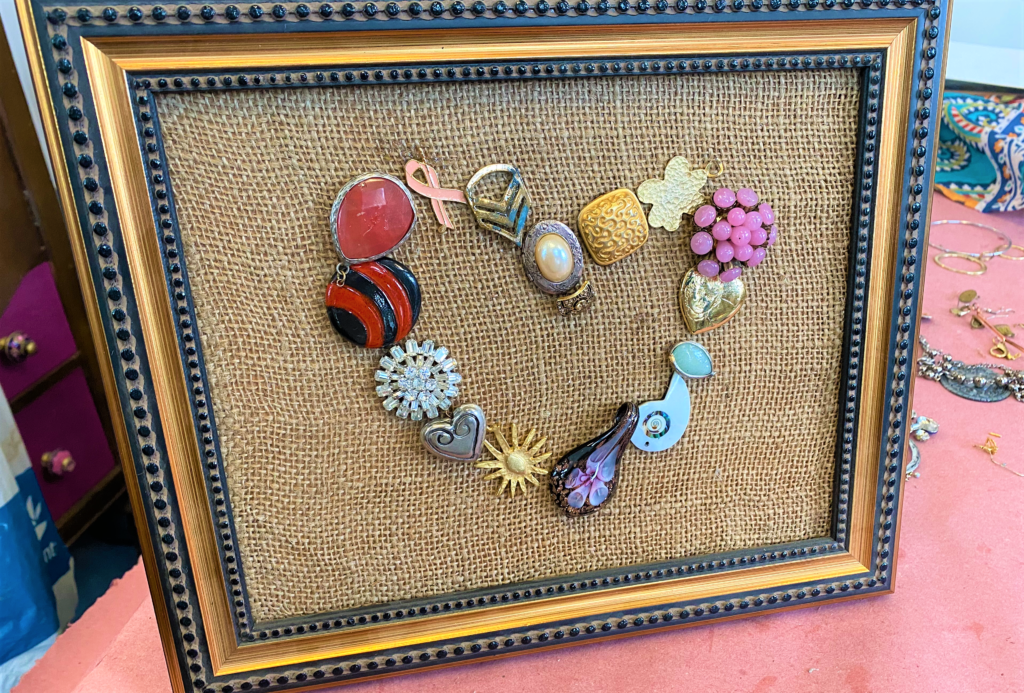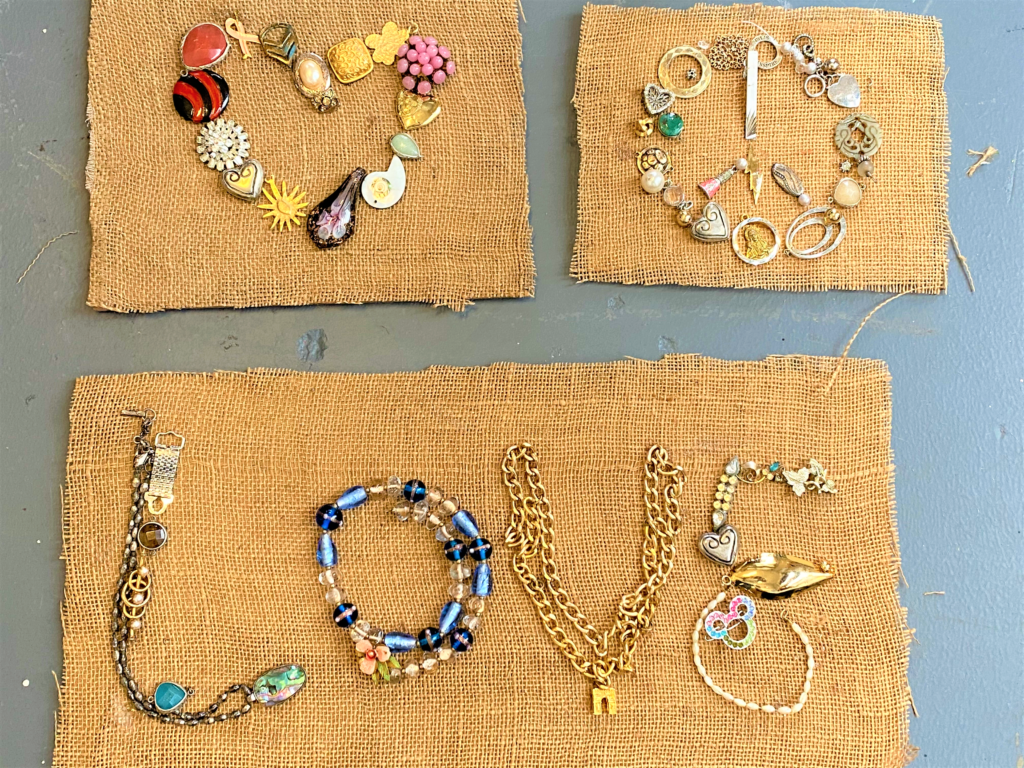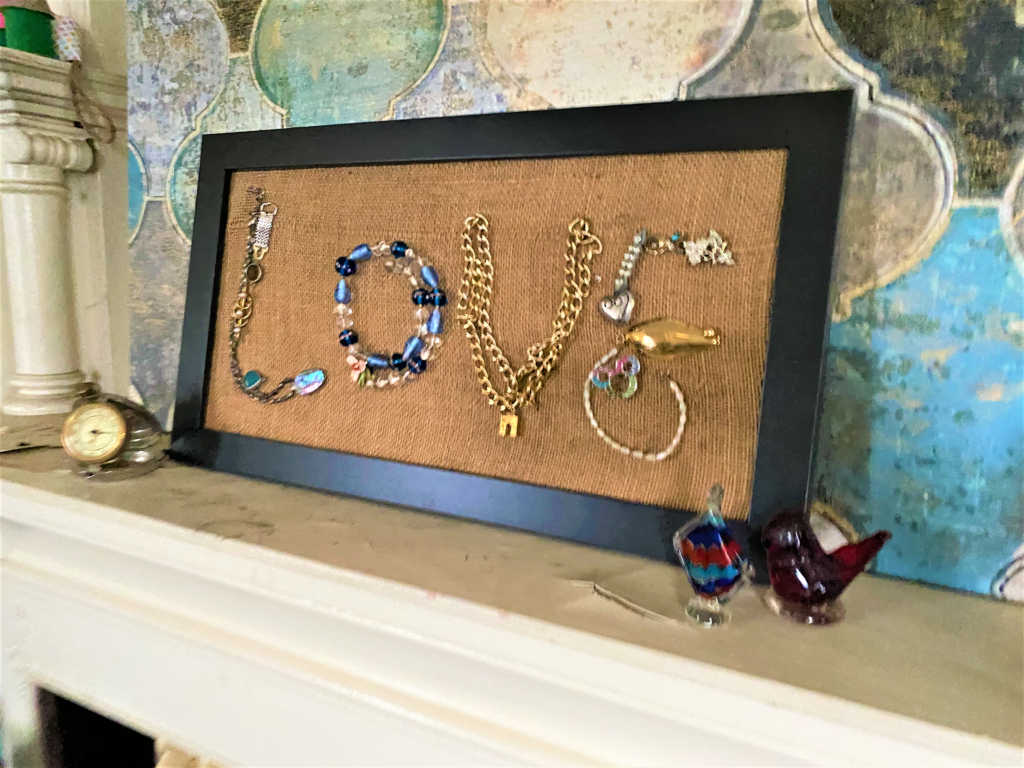 Here's How:
Use an old frame and carefully remove and discard the glass.
Glue a piece of burlap or other neutral colored fabric to the inside back part of the frame.
With old costume jewelry parts and pieces, spell out "Love" or other meaningful words. You can also lay out your items in the shape of heart.
Secure the jewelry with quick-drying epoxy glue for a strong and secure finish.
Return the frame back on top for a wonderfully eye-catching and sparkly way to show your love.
5. Teacup/pot candles
Transform teacups (or tea pots, sugar containers and more) into elegant candles with a few simple steps.
Here's How:
Pick up or order online some candle-making supplies, including wicks and oils used to add candle scents.
Cut the wicks so they touch the bottom of your teacup with plenty left over to tie around a pencil or chopstick.
The pencil or chopstick will be placed on top edge of your teacup with the wick hanging and positioned in the center of the cup.
In a saucepan, melt pieces of old candles of the same color. Add any desired scent oil now too.
Carefully pour the liquified wax into your teacup so it comes up near its lip/top edge. You may need to readjust your wick and the pencil/chopstick to ensure it stays in the center.
Let dry overnight.
Cut the wick from the pencil/chop stick and place the cup on its saucer. When lit, it will make for a wonderful glow visually and in your heart or that of the person who receives it.
6. Wine cork serving tray
Reuse those corks from bottles of wine and champagne enjoyed together with your special someone.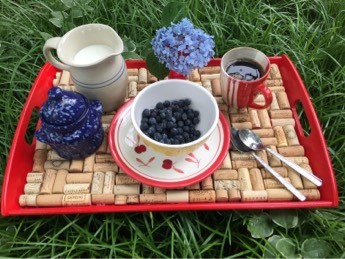 Here's How:
Spray paint a wooden serving tray red to tie into the Valentine's Day color scheme.
Arrange your corks so that the entire tray surface is covered. You may need to cut some corks in half so they fit well.
Once done, use your glue gun to secure each one in place.
Now, use your tray to serve breakfast in bed to your sweetheart! Not only is this functional, it will be covered with memories of wine shared during every day moments.
7. Front door/porch update
Give your front porch a welcoming and inviting update using the color red as its centerpiece!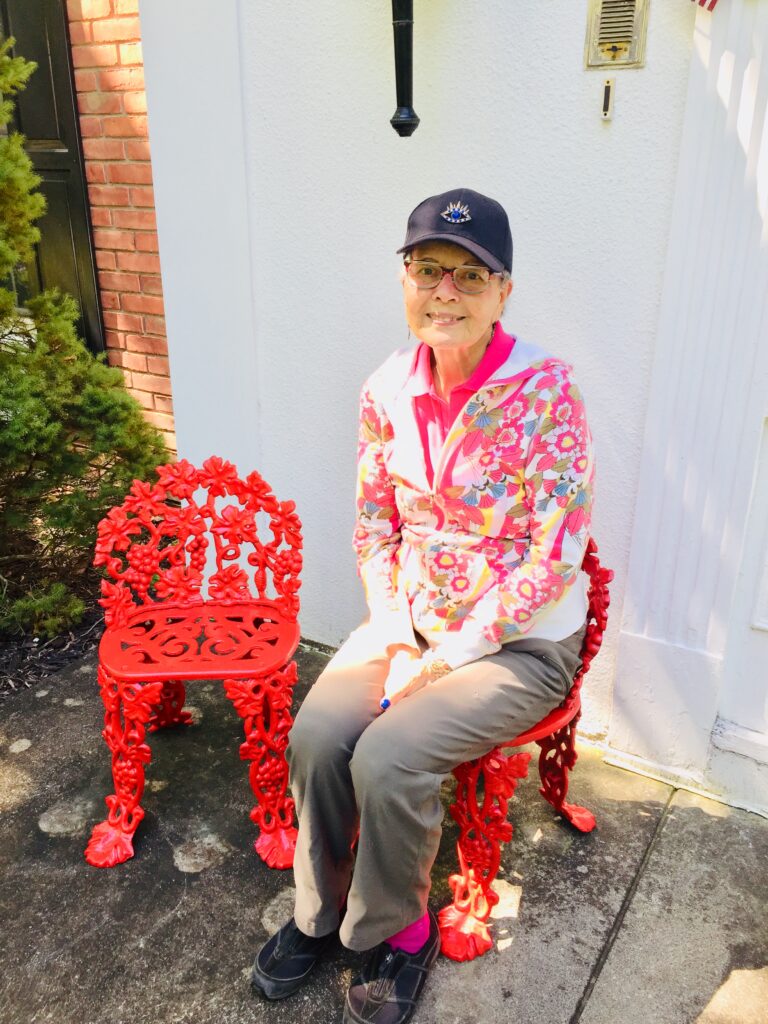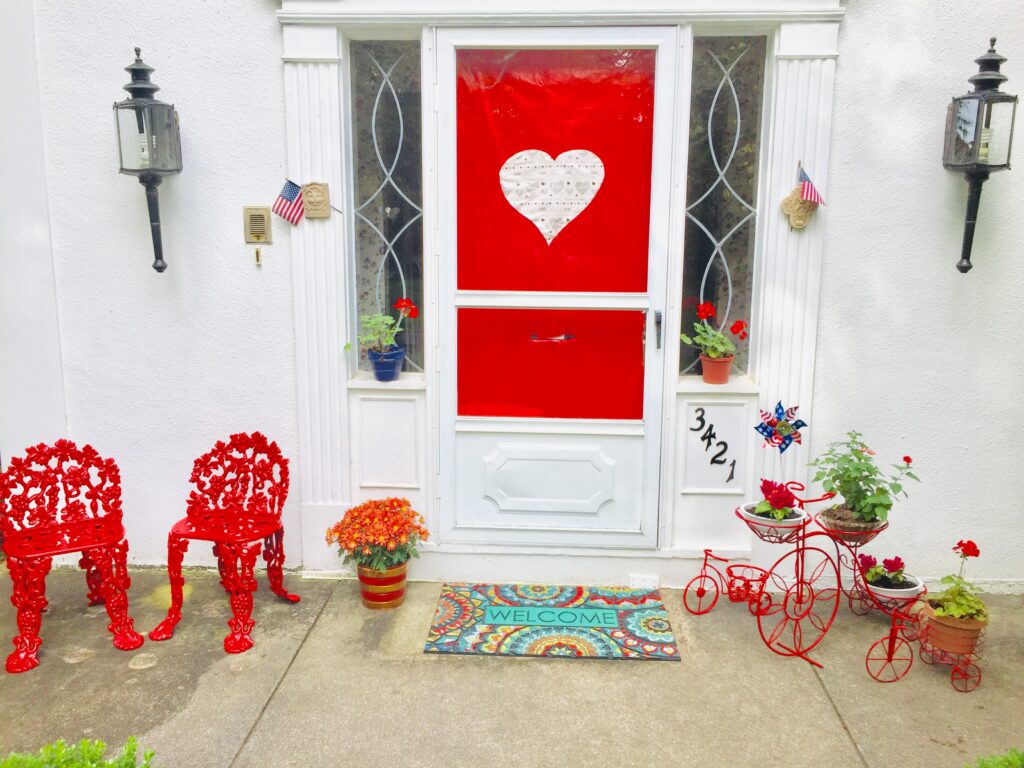 Here's how:
Start with your front door or that of a loved one. (The porch featured here belongs to my folks and was done as a gift to them by my sister Tammy and me.)
Cover the entire front of the door with red wrapping paper, cutting it to fit. Then, tape it into place.
Trace and cut out a big heart from contrasting paper to make it stand out. Tape that in place, too.
While you could stop there, consider taking the over all look of your front outdoor entry space to the next level.
Spray paint chairs and other accessories in a bright red. That surely will get your pulse going because it will look so vibrant and inviting. And since February can be very gray weather-wise, this pop of color will warm your heart, too.
What other ideas do you have that tap into the love for all things creative and DIY? What items can you upcycle to make Valentine's Day (or any day) special for someone else? Please share your ideas and photos with us as we LOVE to be inspired by you!
Here's a great quote to end this blog and get your DIY energies flowing that is from Osho, a Native American mystic, godman and teacher. "To be creative means to be in love with life." I so agree!!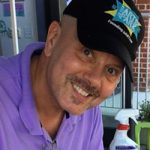 Tim Kime
Artist, Motivational Speaker, Life Coach
Tim Kime is an artist, life coach, connector. He is President of Kime Leadership Associates offering executive coaching, meeting facilitating and motivational speaking. He is also Chief Creative Force of Transformation Junkies which upcycles furniture and other household items into functional works of art. He combined his two passions—unleashing the potential in people and transforming items with the launch of the Art of Possibilities Workshops. These workshops are part upcycling, part dreaming, part goal setting.