Fashionistas, now that spring is in full swing I thought it would be fun to put one of these posts back into the mix: a Goodwill $6 under $6 challenge!
So I popped over to the Goodwill in Gaithersburg this past weekend and spotted some finds that will have a great place in your home or closet this season. Everything ranging from clothing to housewares… DC Goodwill has you covered!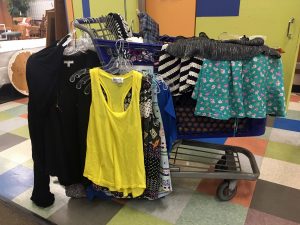 But before I begin, take a look at the full cart from my trip. Most everything in here was actually under $6 a piece. What a steal!
Now, let's begin!
1.) Coachella Vintage and Boho Sleeveless tops
As an avid music lover, I keep track of the big yearly music festivals. This includes the great and influential spring festival, Coachella. Known for its music and fashion, this festival has been popular for many years. Concert attendees typically dress in all types of styles, but one main trend is always summer/spring vintage/boho chic.
On my recent trip to Goodwill, I saw these sleeveless, modern, and vintage tops that would undoubtedly be worn at the festival. And all of them were under $3!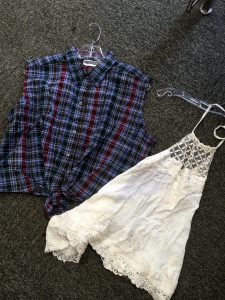 This vintage number is a favorite one of mine! It's very grunge/Nirvana-chic.
2.) Vintage Bakeware
As you know I'm trying to cook more this year. And what better way to do so than with some snazzy cooking items! For about $2-$5 an item, you can find some practical baking gems at your local Goodwill that also function as works of art. Pyrex? Check! Corningwear?! It's also available!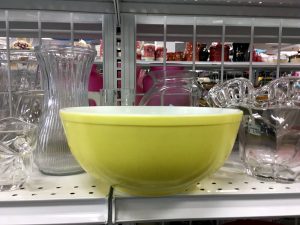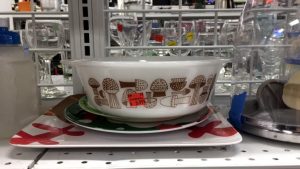 I'm especially in love with this yellow Pyrex bowl and vintage milk glass platter.
3.) Tea Time!
As a tea aficionado my eyes are always peeled for new cups to sip my never-ending flavors of tea from. So when I spotted this vintage, 1970's, melamine set of olive tea cups for $6 for the whole set, my heart skipped a beat.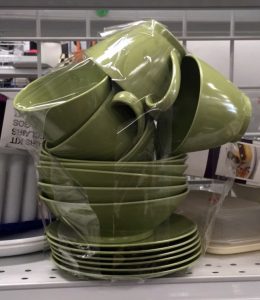 Melamine is a classic material that's known to withstand the test of time. The material is quite sturdy and comes in fun colors. This cup and bowl set is a perfect example!
4.) All the Accessories!
This one is pretty self explanatory and timeless. Goodwill is always stocked with cute sandals and earrings for under $6 an item.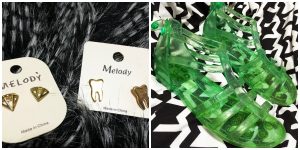 Jellies and statement earring studs will forever have a place in my closet every spring season.
5.) The Glory of NWT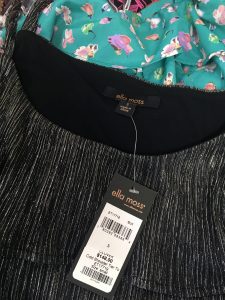 Did you know that Goodwill carries a lot of NWT (new with tags) items on a daily basis? When I find these on the racks, I feel like I'm shopping at a regular department store… especially when I see gems that could be sold for $150!. I love Ella Moss, this South Moon Under store brand, staple. 🙂
6.) Designers on a Dime!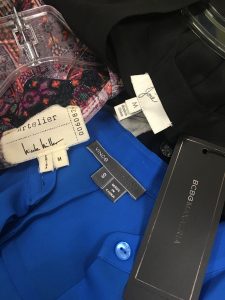 Speaking of designers, if you want a less than $6 an item wardrobe that is worth hundreds, designer labels are a mainstay at DC Goodwill stores. Check out out some of these brands I took home this weekend! Vince and BCBG are names that are typically at least $100 an item at full retail. But guess what? These were each under $6.
So there you have it, fashionistas! Goodwill is THE place to shop of you need to add some inexpensive flair to your wardrobe and home. I spent less than $50 for everything I listed above! Happy Shopping!