Fashionistas, as you read in last week's post, I'm on another moving adventure! I recently moved from one part of DC, Columbia Heights, to another part, Takoma Park/Brightwood.
This moving process has me in a frenzy but I'm learning a lot of moving tips and tricks now that I'm doing this tango again.
As I've been going through this transition, I have realized there are many mandatory items I need to fill my space properly.
Without these, my space will either look bleak, empty, or seem disorganized or inconvenient.
Today, I'm talking about five items I found I needed (ok, maybe not necessarily need… but really want! :)) when hopping from home to home: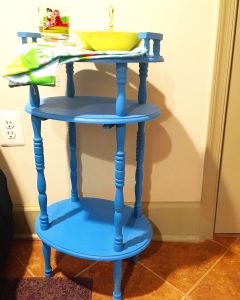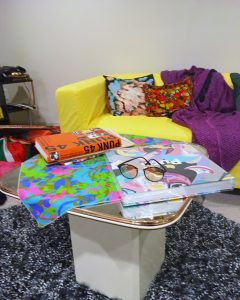 1.) Side Tables
Side tables are the absolute best accent piece to any couch, chair, or bed in a living space. They not only serve a decorative function but are necessary and practical when you need to set down your cup, book, or jewelry.
They're also easy to pick up and move – the size of side tables makes it easy to haul them around in a tiny car.
Through the years, I've scored many side tables at Goodwill for under $20. But oddly it seems I haven't acquired enough.
I know I will need a vintage side table to accent my yellow couch and another one to put my jewelry on in my bedroom.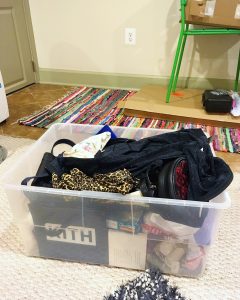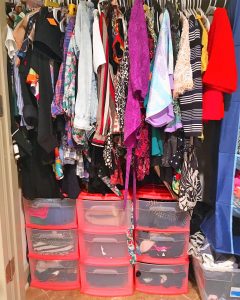 2.) All the Storage!

You can never have enough storage bins and drawers!
During my move, I needed to use plastic bins from Goodwill to safely carry my items from point A from point B.
While these are not too expensive brand new, they nearly cost pennies at DC Goodwill locations and are usually barely used.
I also use storage receptacles for organizing skirts, pants, and intimates. While I did buy these pink ones brand new, I need to scour Goodwill for a few more sets to further organize my hosiery and makeup.
I know I'll be able to find these at Goodwill for under $10 a piece. I just need to spend a weekend morning venturing to all my favorite Northern Virginia locations.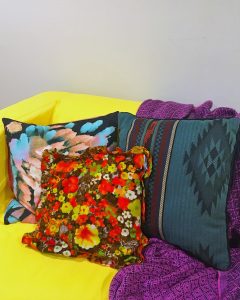 3.) Pillows

Pillows are a great way to spruce up a home without paying an arm and a leg.
A simple pillow can make a couch pop and a bed go from basic to brilliant in one fell swoop.
Not only do decorative pillows serve an aesthetic purpose, they can be practical because they give your guests something soft and comfortable to lean on without dirtying up your sofa.
I've found some vintage throw pillows at Goodwill for under $5, but I'm in search of a few more floral patterned ones for my couch and bed.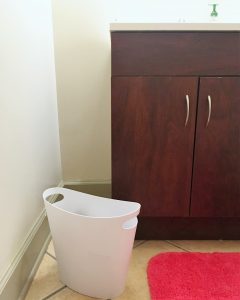 4.) Multiple Trash Cans

While you can use plastic bags as trash cans when you first move (I know I still am!), you really do need a firm and sturdy trash can in every room, whether it's small or big, to store debris without messing up your space.
For under $5, I quickly picked up this trash can from Goodwill for my bathroom. It's basic and does the job right.
However, I do need a few more cans for each room in my new basement space. I'll be going back to Goodwill to find my last needed pieces!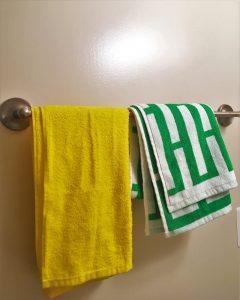 5.) Towels

This is an obvious one, but you need a towel for the first night you're staying in your new digs!
For that morning or evening shower, you need a good sized towel to keep you dry  – and Goodwill sometimes has these new with tags for under $5! I particularly love buying vintage hand and dish towels from Goodwill.
Fashionistas, what items did you realize you needed when moving? I feel like everyone is moving this season!